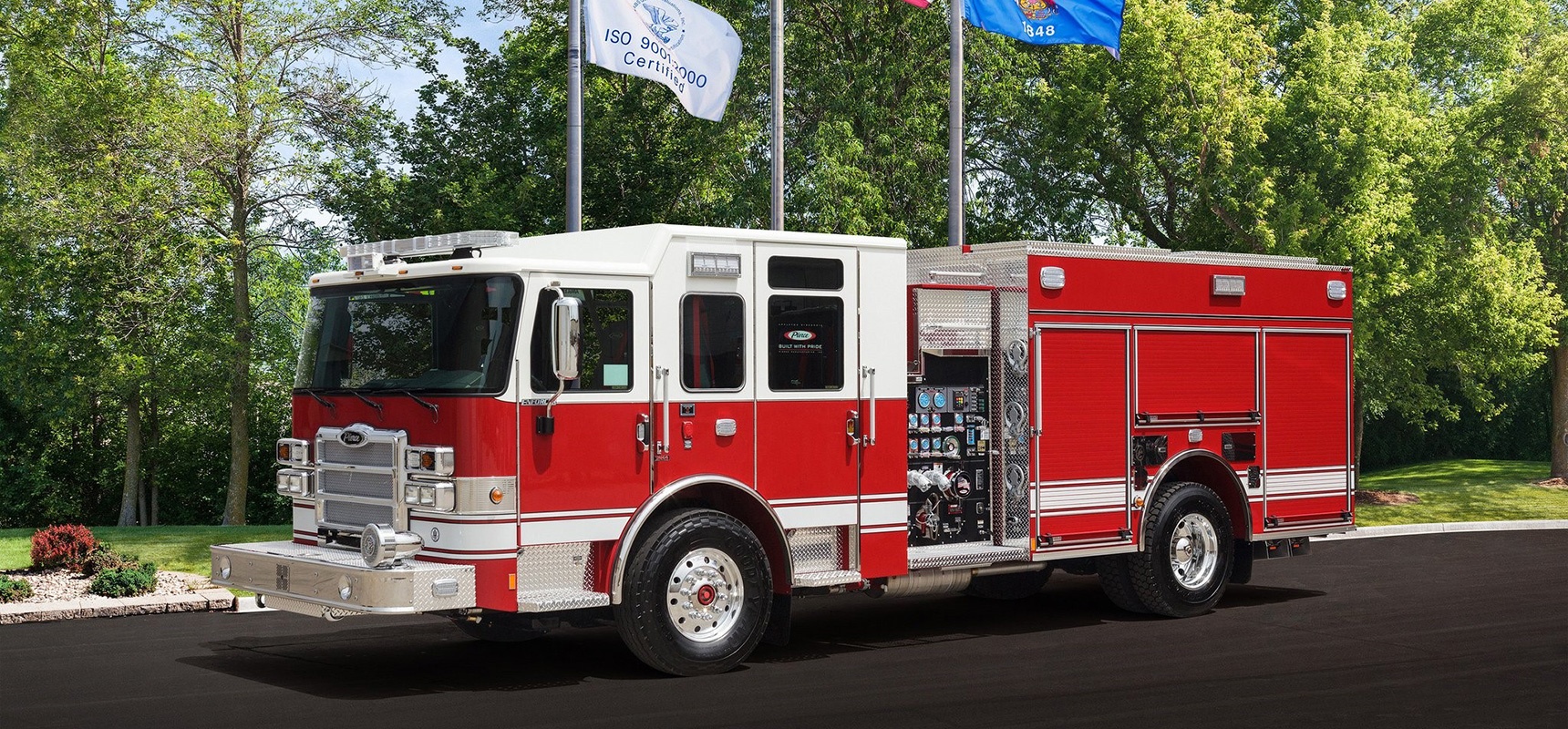 Pierce Manufacturing has sold nine Pierce® Enforcer™ apparatus to Horry County Fire Rescue located in Conway, South Carolina. The purchase includes eight pumpers and one Pierce Ascendant® aerial ladder. Pictured here is an Enforcer pumper similar to those that will be delivered in 2017.

APPLETON, Wis. (August 8, 2016) – Pierce Manufacturing Inc., an Oshkosh Corporation (NYSE:OSK) company, announces the sale of nine Pierce® Enforcer™ apparatus to Horry County Fire Rescue located in Conway, South Carolina. The purchase includes eight Pierce Enforcer pumpers and one Pierce Ascendant™ aerial ladder. The apparatus – purchased through a national cooperative purchasing organization – will be delivered in 2017.

"Horry County Fire Rescue is an excellent department, responsible for one of the largest and most diverse fire protection districts in the southeast, and we're honored to be selected by them," said Matt McLeish, Pierce Manufacturing vice president of sales, marketing and customer service. "The Enforcer chassis continues to grow sales and increase market share due to the value and versatility it represents. The chassis is an outstanding choice to meet the needs of this department and the communities it serves."

"With these new Enforcer apparatus, we are well into the process of standardizing our fleet, to develop vehicles as similar as possible for our firefighters and maintenance personnel," said Joey Tanner, fire chief for Horry County Fire Rescue. "Pierce's quality and safety technologies are among the reasons we went with them. We obtained the apparatus through FireRescue GPO purchasing cooperative, which enabled us to better evaluate our department's needs and then determine the manufacturer who can best meet our requirements."

The eight Pierce Enforcer engines each feature seating for five firefighters and full height compartments with ladder storage through the body. The upper portion of the vehicles' passenger side compartments can be converted from standard rescue equipment compartmentation to portable drop tank storage, a versatility that enables urban and rural applications. Each vehicle's firefighting system includes a 1500-GPM single-stage pump, a Husky™ 3 single agent foam system, a 1,000-gallon water tank, and a 22-inch front bumper extension containing 150-feet of 1.75-inch hose.

The Ascendant® 107-foot single rear axle aerial ladder is the most popular new aerial apparatus in Pierce's history. The aerial delivers a full 107-foot vertical reach and a 100-foot horizontal reach with a below grade operation of -10º. Its 100-foot horizontal reach is an astounding 32 feet greater than a typical single rear axle aerial.

"We really like the new Ascendant – with its single rear axle, it can maneuver into areas where a tandem axle simply can't go due to size and weight restrictions, and that's going to be a game changer for our firefighters," added Chief Tanner. "We're used to having 75-footers in our fleet, and now we'll have an extra 32 feet of reach for a similar investment. That's what I call a win-win for everybody."

At over 1,134 square miles, Horry County is the largest county east of the Mississippi River, with a wide range of both rural and urban communities. Myrtle Beach, one of the most popular tourist destinations in the country as well as the entire Grand Strand area are both located within the county. Horry County Fire Rescue operates 39 fire stations and is comprised of over 345 full time career staff and more than 450 volunteers.

Pierce dealer, Spartan Fire & Emergency Apparatus, with headquarters in Roebuck, South Carolina, provides local service and support. Visit www.spartanfire.com for more information.