January 3, 2017
Oshkosh Corporation is celebrating 100 years of moving people and materials at work, around the globe, and around the clock, performing important missions in demanding conditions. Founded in Oshkosh, Wisconsin in 1917, Oshkosh employs more than 13,200 people around the globe. The company has grown and evolved into the world's leading designer, manufacturer and marketer of a broad range of specialty access equipment, commercial, fire & emergency and military vehicles and vehicle bodies.
Where did it all start?
Oshkosh trucks were born out of innovation and resiliency. The two founders received 53 rejection letters on their two innovations from various manufacturers before they decided to simply start manufacturing trucks themselves. That commitment to innovation and unwavering resiliency are two consistent elements in the company's 100 year history of making a difference in the lives of team members, the community, and most importantly, customers.
What's the significance of Pierce and Oshkosh's long history?
Oshkosh Corporation developed into the world's leading specialty vehicle company through both organic opportunities and by acquiring leaders in niche markets, leveraging numerous strengths to capture and maintain leading market shares.

Pierce Manufacturing was acquired by Oshkosh Corporation in 1996. Pierce became one century strong in 2013 and is excited to welcome its parent company, Oshkosh Corporation, to the illustrious centennial club in 2017. Since the companies histories intertwined, the combined resources have made substantial impacts on customers, the community, and Oshkosh team members. Longevity is important to customers that count on Oshkosh and Pierce and to the communities they serve. This creates a sense of pride among Pierce and Oshkosh employees.
Two Centuries of Innovation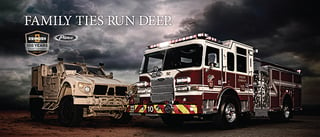 Nearly everything that each of Oshkosh Corporation's business segments manufacture moves on wheels, providing tremendous technology, purchasing, distribution and manufacturing synergies. As a subsidiary of Oshkosh Corporation, Pierce has access to an arsenal of cutting edge technologies and revolutionary processes.
We're able to leverage cross-segment manufacturing benefits.
We leverage purchasing power through a single supply chain organization.
We share technology across segments, with examples including: Command Zone™ multi-plexing technology, TAK-4® Independent Suspension, and E-Coat corrosion protection.
We share distribution in multiple markets globally.
Together, these advantages create a business whose value, we believe, is greater than the sum of its parts.


What's next?

Oshkosh has an exciting year planned to celebrate its 100th Anniversary. Stay tuned to the website as details are released or to learn more about how Oshkosh will continue to make an impact as it opens the door to a second century in business.