Firefighters' Notebook: A Guitar Fit for the Fire Service
From guitar player to custom design builder, the unique story of how a hobbyist took the custom design look of Pierce fire trucks to a whole new level of cool.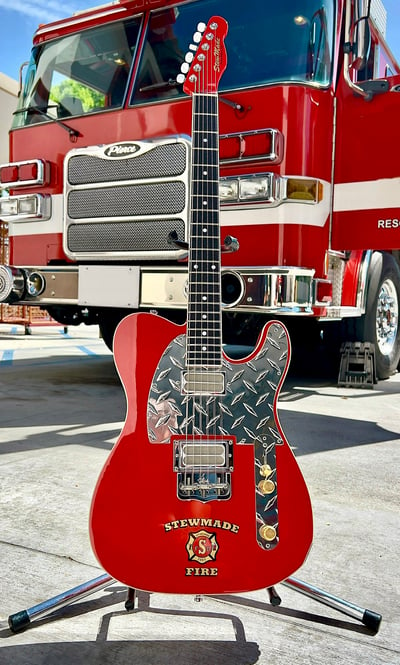 A Hobby Pays Homage to Firefighters
David Stewart has been a guitar player for more than 35 years. With a passion for music, he played semi-professional for years, in bands, at church and with friends all around California. He had one guitar in particular that had just the right feel, and its construction fascinated him to the point that he began researching how a guitar was built.
Fast forward a few years and David is retired and a full-time hobbyist now more ingrained in building guitars than playing.
With a guitar market saturated in basic, look-a-like models, David decided to take a unique, artistic look at guitar design. He has built a following on social media that helps him decide what to build with feedback on added features, color and more. From surfboard themes and boats to a 1970s throwback guitar colored avocado green, David's passion delivers one-of-kind guitars to buyers and collectors worldwide.
So what's his connection to fire trucks? The story goes back to his childhood.
David has been around fire trucks for as long as he can remember; his Grandfather used to collect
1940s fire engines and his father in law was a local fire chief. In high school, he received extra credit working for the U.S. Forest Service, where he was tasked with time outdoors and spending time in his local fire station. From trailblazing pathways to cleaning apparatus, David got an inside look at fire trucks and the firefighting community.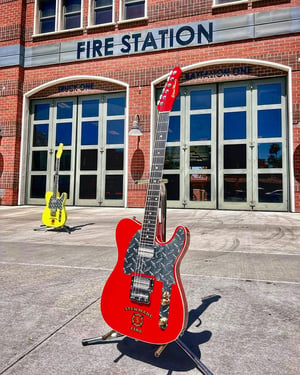 As David was developing new ideas for custom guitars, he had an idea to build a fire truck themed guitar. In fact, he toyed with the idea for more than 15 years before he decided to start building. Each guitar takes approximately three months from start to finish. He walks through every guitar build on his Instagram account, giving followers step-by-step details on each stage of the process.
He designed his first fire truck guitar to mimic a Pierce fire truck because he appreciated the unique design elements, and in particular, the detailed front grill that adorns many Pierce chassis. The guitar features diamond plating, much like the stair treads of an apparatus, raw brass control knobs, to mirror an operator's panel switches, and of course a grill, or in guitar terms, the pickups. He chose fire engine red, the most popular color of fire trucks and mimicked the look of gold leaf in the design. He even consulted the Pierce website to learn more about the detailed painting process and how fire trucks are manufactured.
He loved the look of the red guitar and wondered how a safety yellow guitar might look. He polled his followers on the design concept and they encouraged him to build his second fire-truck themed guitar.
David was thrilled with the outcome of both guitars, which he plans to eventually sell, and feature in his annual calendar.
If you're interested in learning more about these guitar builds or to see more detailed images, find and follow David on Instagram @stewmade_guitar