Firefighters' Notebook: Donated Victory Bell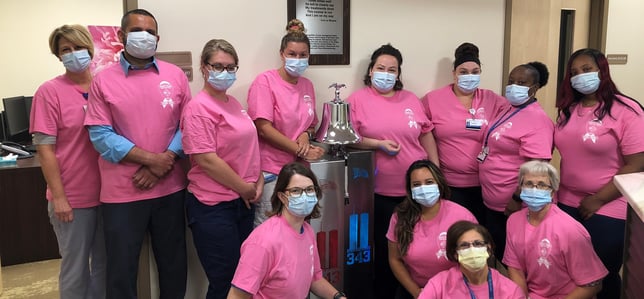 Firefighters' heroic work often leaves an impact, but sometimes, it builds lasting friendships and leads to inspiring acts and opportunities to give back in meaningful ways.
Donated Victory Bell Symbolizes Hope
When the staff at the University of Rochester WCI Greece Radiation Oncology Center (WCI Greece) smelled smoke one day in January 2019, they called the Ridge Road Fire District to be safe. After Battalion Chief Chris Mazzaferro and his team thoroughly checked the WCI Greece building for fire, Chris noticed the center didn't have a victory bell for oncology patients to ring after their last round of treatment.
"Finishing your last treatment is a happy event, and it's a proud event to recognize the heroism of these patients and the bravery and strength they need to get through this fight," said Chris. "As soon as I got back to the fire station I started making calls, asking around to see how I could get this clinic a bell."
Chris contacted Nancy Marou, M.S., R.N., O.N.C., Clinical Manager in Radiation Oncology for Wilmot Cancer Institute at Highland, who told him WCI Greece would love to have a bell, but it would have to be donated.
After hearing this, Chris reached out to several colleagues to see how they could find the right type of bell. Their search proved unsuccessful, so they reached out to John Alfieri, the vice president of apparatus sales for Churchville Fire Equipment and mayor of East Rochester.
John knew the Pierce Manufacturing facility in Appleton, Wisconsin used a victory bell at the annual 9/11 Memorial Stair Climb. John then asked Chad Miller, plant manager at Pierce's Appleton facility, and Jeff Seidner, Pierce's senior manager of customer experience, if they would be willing to build a similar bell for the WCI Greece clinic.
In just one month, the bell was constructed and safely sent on its way to WCI Greece. "Nobody hesitated at my request," said John. "Everyone came together like it was a no-brainer to make this happen."
The bell was presented to the WCI Greece team by Captain Gebo and others from the Ridge Road Fire District at a special ceremony.
Nancy and the staff from WCI Greece continue to feel immense gratitude toward the Ridge Road Fire District and Pierce Manufacturing every time a patient rings the bell. They will forever treasure the friendships they made with everyone involved in the act of kindness.
"When a patient finishes treatment, they receive a certificate, and an announcement is made over the loudspeaker stating, 'We have a bell ringer!' and all available staff come out and share in the joy," she said. "Many patients, family members, and staff get teary-eyed with mixed emotions."
You can read more on this story, here.