Firefighters' Notebook: We'll Always Remember Firegirl 15A1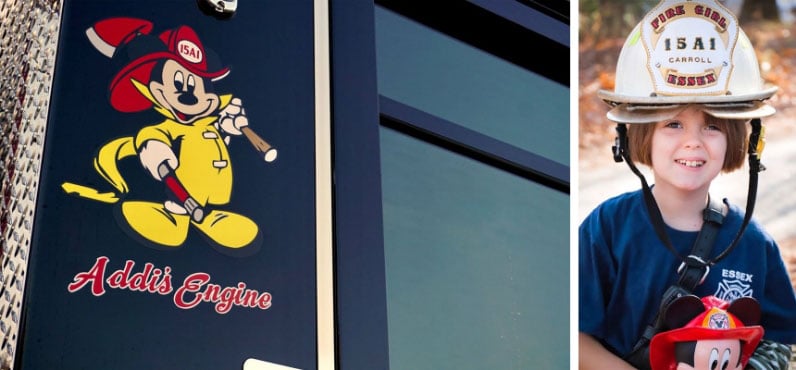 The definition of family and a fire department's impact on its local community takes on an entirely new meaning when it involves a very special girl and the Essex Fire Department.
A Story of Resilience and Determination
Addi Carroll was born with a mysterious, previously unknown, fatal disease. As luck would have it, she met members of the Essex fire department when they filled her new pool and the rest is history.
"As soon as we met her, our entire fire department loved Addi and adopted her as one of our own," said Charlie Cole, fire chief of the Essex Fire Department.
From visits to the first station to getting her own call number, firegirl 15A1, and radio to listen to calls, Addi was a full member of the team. She received her very own Mickey Mouse firefighter, which she promptly named "Chief Charlie," and the station trucks routinely went past her house after service calls to flash the engine lights.
In 2020, Essex Fire Department was working with Pierce on a new Arrow XT pumper but because of the pandemic, the department couldn't visit the factory during production. As such, Pierce sent photos and videos of the progress to the Essex Chief and he forwarded them along to Addi's mom so Addi could have a behind-the-scenes look at every stage of truck production. Addi started referring to the engine as "my truck" and shared all the details with her doctors at Boston Children's Hospital.
According to Chief Cole, it was a "no-brainer" to name the truck after Addi. The department designed a logo with firefighter Mickey Mouse and the words "Addi's Engine."
Addi and her family were at the station when the engine was delivered in November 2020. "She was very excited to see that the fire truck had a logo of her Mickey Mouse doll and her name," Chief Cole said. "We put her in the front seat and took her for a ride in the truck."
Addi tracked the department's calls more than ever once the truck went into service. She would wonder, 'Did my engine go out?' Her care and concern for others were always apparent and her love of the fire service family she was humbly welcomed into never wavered.
On Friday, June 10, 2022, at the age of 12, Addi Carroll passed away peacefully in her parents' arms at Boston Children's Hospital.
Addi's mom, Tammy Carroll, feels the fire engine is a visible symbol of her resilience and determination. "That fire engine will take care of Addi's fire family for many years to come, and that means a lot. The truck is a representation that she is always watching over her fire brothers and sisters until they are safely back to the station."
Read more about this story on the Pierce blog.