Firefighters' Notebook: Life-Saving Lunch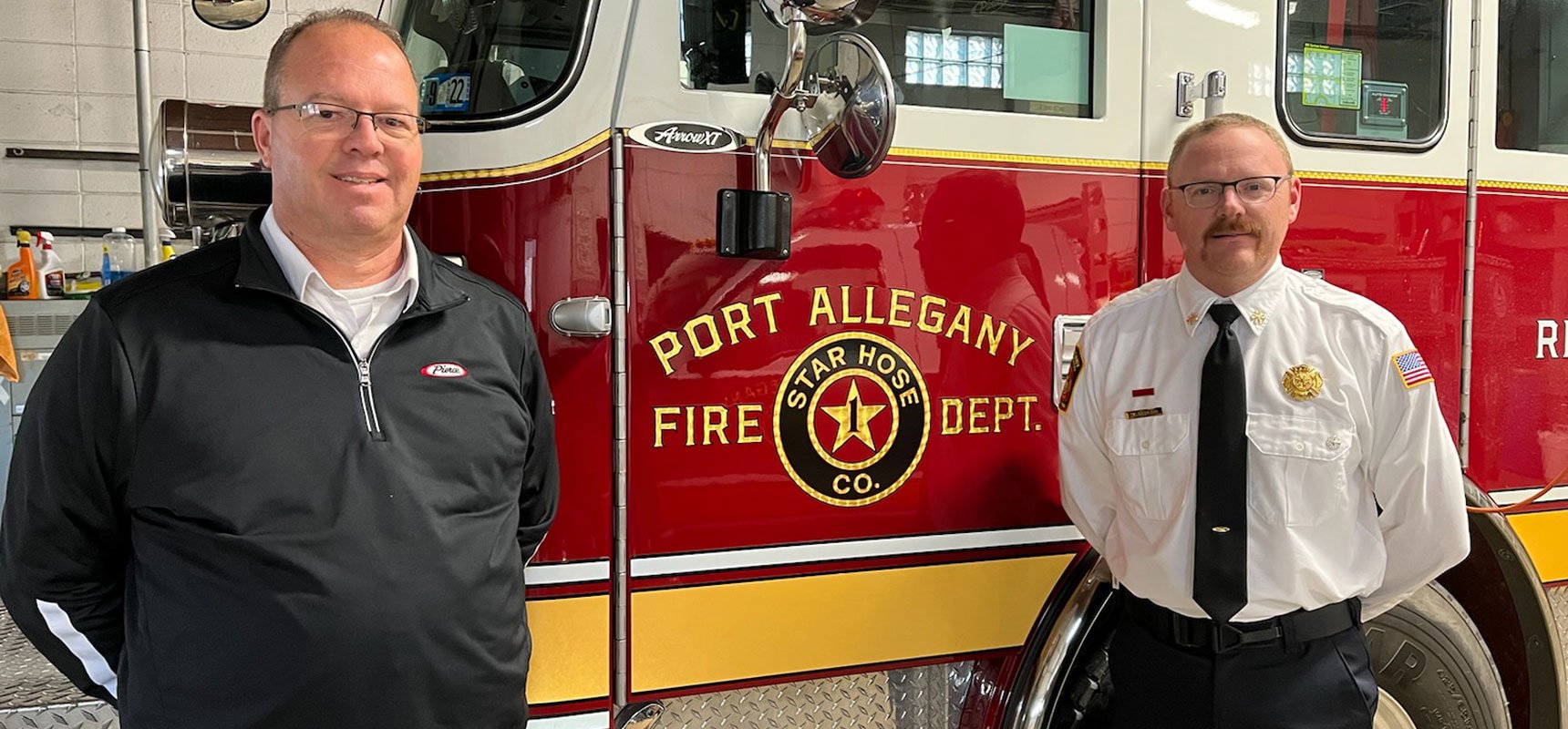 Firefighters perform heroic acts every day; their critical work takes people out of harm's way and saves lives. Most often, they work within the communities they serve, but sometimes their skills and bravery are called upon hundreds of miles from home.
The Right Place at the Right Time
Members of the Port Allegany Fire Department, located in north-central Pennsylvania in the foothills of the Appalachian Mountains, played a critical role in saving a life during a trip to Pierce's headquarters in Appleton, Wisconsin. They were in the right place, at the right time, to provide help for someone experiencing a medical emergency.
Mike Johnson is the volunteer deputy fire chief at the Port Allegany Fire Department. Firefighting is in his blood – his father, uncle, three cousins, and three brothers have all been a part of the department at one point or another.
Mike and his brother Andrew traveled to Pierce's main production facility in August 2021 to review the design and progress of their new apparatus. On the last day of the trip the brothers finished their meetings and stopped for lunch at a local restaurant with Joe Wrenn, their sales representative from Glick Fire Equipment. As they walked to their table, they noticed a commotion and someone lying on the ground. One of the restaurant's servers, a former police officer, had already started chest compressions on the man, who was unconscious and suffering from what appeared to be cardiac arrest.
The three men were uniquely qualified to step in and help. Mike is an emergency medical responder (EMR), Andrew is an emergency medical technician (EMT), and Joe is a retired firefighter and paramedic. They took over the patient's care, talked to the 911 dispatcher, and made sure there was a path for the ambulance crew to access the area.
"Thankfully, the patient started breathing again after a few minutes and regained consciousness before he was taken in the ambulance," Joe said. "The local first responders who came on scene in Appleton were fantastic."
A responding fire chief from the town of Grand Chute, Wisconsin, offered the group thanks and even t-shirts if they could stop by the station on their way out of town. Unfortunately, they had a flight to catch, but Glick team members made sure to send them t-shirts and a note of appreciation.
Mike insists what they did was not extraordinary. "It was not different from what we experience in our jobs at home," he said. "We just wanted to do what we could to help."
For Joe, the incident was a reminder of the culture of service among first responders of all types. The patient called him a few days later to express his thanks as he was home and doing well.
In this case, Mike, Andrew, and Joe's quick action to follow those steps and put their years of emergency service experience into action resulted in a very happy ending.