Firefighters' Notebook: A Surprise Wedding Guest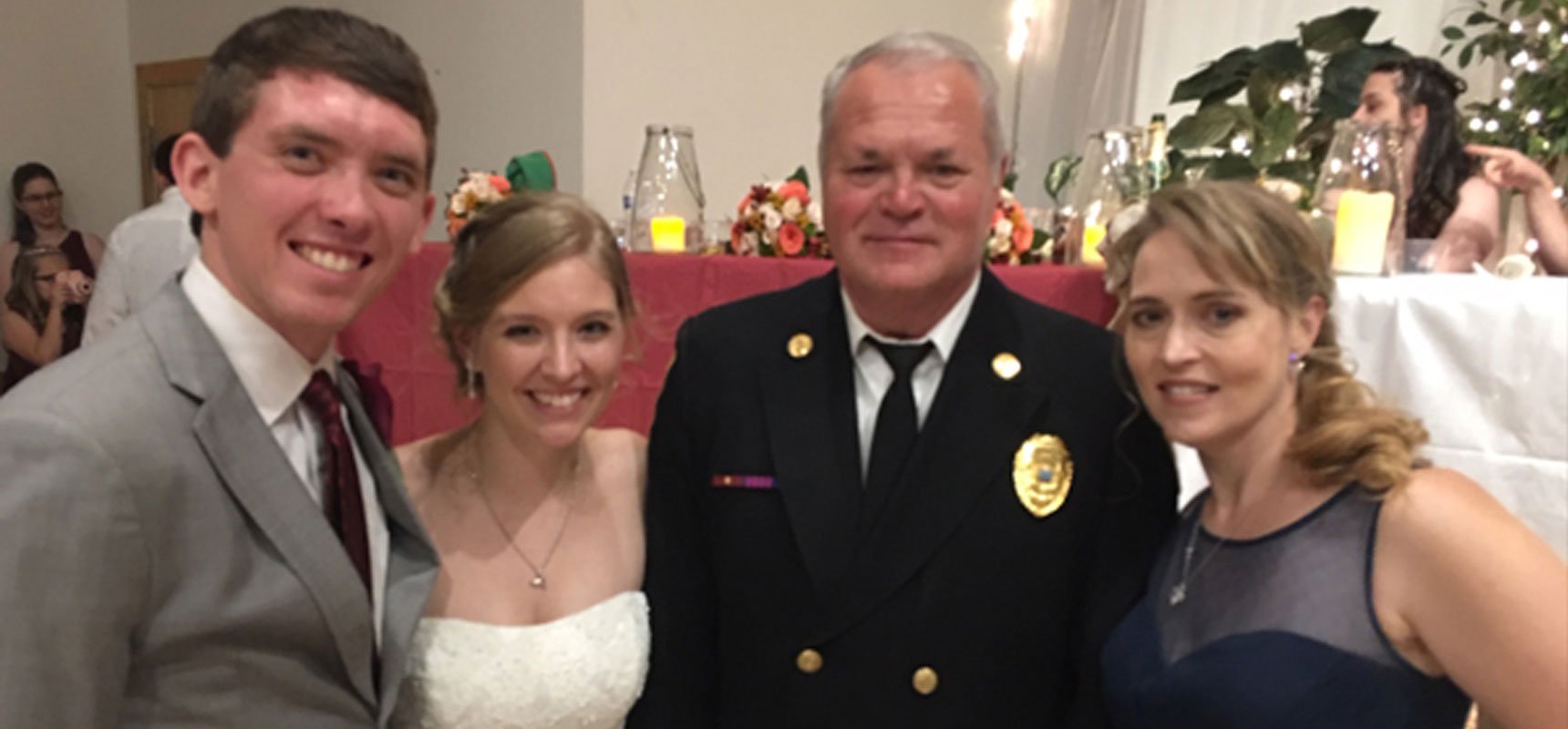 No one understands the rewards of working in the fire service like a firefighter does. Thankfully one firefighter was invited to see just how impactful his rescue efforts had been, 22 years later.
A Firefighter Sees the Impact He Made 22 Years Later
Spartan Fire and Emergency Apparatus sales representative, Alan Axson, was a member of the Columbia, South Carolina Fire Department for 28 years and retired as Special Operations Battalion Chief in 2008. One of Alan's most memorable calls, and one which had a profound impact on his life occurred November 8, 1996.
"It seemed like a typical motor vehicle accident call until we arrived on the scene," said Alan. "In our team's immediate assessment of the situation, we were struck with the realization it wasn't likely anyone involved in the accident would survive."
Like many firefighters who are first on a scene, Alan and the other Columbia Fire Department members were composed in their actions and put training and instinct into motion. It was discovered a nine-month-old baby girl, Tara, and her mother, Melody, were trapped in a vehicle which had been struck by a drunk driver. Alan and his team worked quickly to get Melody out of the vehicle, and baby Tara's car seat had to be cut out of the vehicle as her airway was closed.
Through these acts of service, Alan and his fellow team members helped save Melody and Tara's life, and just two days after the accident, visited Tara in the hospital, with both mother and daughter on the road to a full recovery.
"While we were in the hospital, a nurse came into Tara's room and told me our group of rescuers were there to check on us," said Melody. "I thought this was really nice and definitely above and beyond their call of duty. I was so grateful to them, and I invited them to Tara's first birthday party."
Reflecting on the experience, Alan stated, "As firefighters / EMS, we show up and do our job, but we don't always get to see the outcome of a call. Visiting Tara in the hospital gave us the opportunity to see the significance of our efforts, which was amazing."
Just three months after the accident, the rescuers attended Tara's first birthday party, but went on to lose touch over the years. Melody and Tara never forgot the heroes which were there for them. In the summer of 2017, while Alan was attending the Fire Rescue International (FRI) Conference in Dallas, TX, he received an email from a former colleague with a note and photo from Melody.
"I had to step out from dinner with clients to a private area because the tears were starting to flow," Alan said. "I read the letter from Melody, and looked at the attached photo which showed me and my colleagues holding Tara in the hospital. Melody wanted to invite us to Tara's upcoming wedding."
On November 10th, 2018, 22 years after the accident, Alan attended Tara's wedding to her husband, Mitchell. Melody wanted to surprise her daughter and the only other person who knew about her plan was Mitchell.
"I asked Alan to wear street clothes to the wedding and his blues for the reception," said Melody. "He was introduced during the reception and reflected on how first responders don't usually get to see the impact they make on people's lives or their work come full circle. Tara was amazed we were able to pull off the surprise and there wasn't a dry eye in the room."
At the wedding, Alan and Tara realized they have something in common. Alan was born nearly fifty percent deaf and Tara has a passion for sign language, holding a degree in American Sign Language. She is committed to giving back by sharing her skills to teach sign language to the fire service community and emergency medical specialists.
Melody and Tara will be forever grateful for Alan and his past team members and thankful for the impact they made in their lives. Melody said, "I feel such joy this incredible team of first responders will be able to see our major life events, and because they helped us through a disastrous situation, we will go on to thrive."