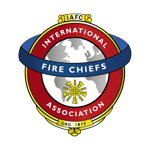 Pierce is a proud sponsor of the IAFC Fire Chief of the Year Awards, honoring career and volunteer fire chiefs for their dedication and leadership in the fire and emergency services. The 2014 recipients are:
Volunter Chief Chris Barron of the Manchaca Volunteer Fire Department and Career Chief Randy Miroski of Tuscaloosa Fire & Rescue.

Volunteer & Combination Officers Section of IAFC (VCOS)
The Volunteer & Combination Officers Section was formed in 1994. The VCOS delivers information, training, and education to the Chief Officers who manage volunteers in the Fire, Rescue, and Emergency Medical services. The educational services of VCOS help promote excellence in volunteer and combination departments. Pierce proudly supports the VCOS efforts and underwrites a portion of the cost of instructors.