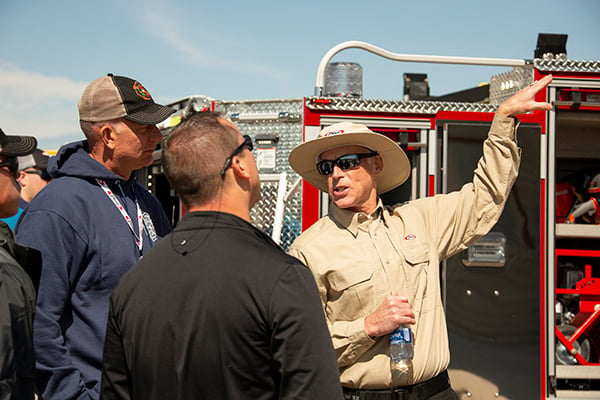 Join us on the road for educational and hands-on engagement opportunities with advanced fire apparatus as an extensive selection of products arrive at locations across America.
The Road Rally features a diverse set of Pierce fire trucks and encompasses an immersive and educational experience that allows current and prospective customers to have the chance to view, operate, and ask questions about products that will best serve their community's unique needs.
Thank you to all who participated in our 2019 Road Rally events, as well as the Pierce dealership and fire department hosts. Check back for future dates and locations.
Previous Events
| 2019 DATES | LOCATIONS | DEALERSHIPS |
| --- | --- | --- |
| Monday, June 10 | St. Louis, MO | |
| Tuesday, June 11 | Nashville, TN | Emergency Vehicle Specialists |
| Wednesday, June 12 | Pelham, AL | Emergency Equipment Professionals |
| Thursday, June 13 | Mobile, AL | Emergency Equipment Professionals |
| Monday, June 17 | McDonough, GA | Ten-8 Fire Equipment |
| Tuesday, June 18 | Columbia, SC | Spartan Fire & Emergency Apparatus |
| Wednesday, June 19 | Charlotte, NC | Atlantic Emergency Solutions |
| Thursday, June 20 | Zebulon, NC | |
| Monday, July 15 | Allentown, PA | |
| Tuesday, July 16 | Burlington, NJ | |
| Wednesday, July 17 | Parsippany, NJ | |
| Thursday, July 18 | Patterson, NY | |
| Friday, July 19 | Walpole, MA | |
| Monday, July 22 | Syracuse, NY | Churchville Fire Equipment |
| Wednesday, July 24 | Zelienople, PA | Glick Fire Equipment |
| Thursday, July 25 | Columbus, OH | Finley Fire Equipment |
| Friday, July 26 | Toledo, OH | Finley Fire Equipment |
| Tuesday, July 30 | Wixom, MI | Halt Fire |
| Wednesday, July 31 | Whitestown, IN | Global Emergency Products |
| Thursday, August 1 | Aurora, IL | Global Emergency Products |
| Saturday, August 3 | Slinger, WI | Reliant Fire Apparatus |

Arrow XT™ 100' Ascendant® Heavy-Duty Aerial Tower

Enforcer™ 107' Ascendant® Heavy-Duty Single Axle Aerial Ladder with PUC™ Pump

Enforcer™ 107' Ascendant® Heavy-Duty Tandem Axle Aerial Ladder

Impel® 110' Ascendant® Heavy-Duty Single Axle Aerial Platform

Enforcer™ 75' Aluminum Aerial Ladder

Velocity® 100' Heavy-Duty Aerial Platform

Enforcer™ PUC™ Pumper

Saber® Pumper with Ford Power Stroke® Turbo Diesel Power Train

Ford CRU-22 Critical Response Unit