Overview
The future of fire apparatus is electric. Electric fire trucks offer municipalities the opportunity to achieve zero emissions with no compromise on safety, response or operational effectiveness.
This electric fire truck reference guide covers all of the information a fire department needs to understand about electric vehicles and how they integrate into an existing fleet.
What is an Electric Fire Truck?
An electric fire truck, also referred to as an electric fire engine, is a fire truck powered by electric power.
There are several electric fire trucks on the market today, each with its own list of attributes and unique design and manufacturing qualities. The common factor between all brands is that while the majority of truck operations are fueled by electric energy, they all have a backup source of power. Backup systems ensure lifesaving efforts are not delayed based on depletion of charge or lack of power supply.
Types of Electric Fire Trucks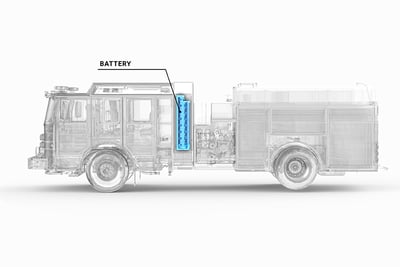 As demand for electric vehicles increases, a few manufacturers have introduced considerably different concepts in recent years. The types of electric fire trucks fall within two main categories, listed below.
Parallel-electric drive train fire trucks
operate independently in either all-electric or internal combustion engine modes. The benefit of choosing a parallel-electric drive train fire truck with an internal combustion engine (ICE) is that the chassis operates under electric power in all normal operational situations and leverages the internal combustion engine only for backup power in extended emergency operations. When the fire truck is under these extended conditions, it operates with the engine coupled directly to the drive line with reduced complexity and added resiliency.
Range-extended electric vehicles run on battery power and utilize a generator or engine as backup power. Once the battery's state of charge drops below a specified threshold, the generator or engine engages and the battery continues to power all operations while the ICE powers the batteries. Unlike the parallel-electric drive train fire truck which bypasses the batteries completely, a range-extended vehicle continues to use the battery at all times.
What are the Benefits of an Electric Fire Truck?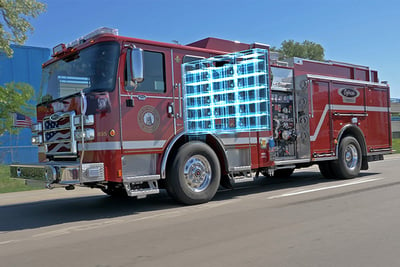 There are many inherent benefits that come with the use of an electric fire truck.
Reduced emissions. An electric fire truck substantially reduces overall emissions and offers a sustainable solution to reduce a fire department's carbon footprint. An electric fire truck with an internal combustion engine to power the parallel drive line is more resilient than a range-extender, which relies on the batteries to transition the electrical energy back to the drive line.
Meeting new environmental standards. Across the world, states, provinces, cities and towns are striving to achieve 100% clean, renewable energy. Electric vehicles are an essential step to reach these goals, and many leaders recognize the value of investing in electric fire trucks to lead the charge.
Minimize fuel use and fuel cost. With an electric-powered fire truck, the overall use and costs of diesel fuel diminish, saving municipalities money while supporting their environmental goals.
Less noise. An all-electric fire truck offers improved communication in the cab, reduced on-scene noise and improved communication for the firefighters, and less stress on others involved in or who are receiving the focus of the emergency response.
Improved firefighter safety. The reduction in carbon emissions means firefighters will have less exposure to toxins in the air at the fire station, on scene and at combustion fueling centers. With less fuel use, firefighters will also have less direct contact exposure. This directly supports the

CARE Initiative,

a program designed to raise awareness about carcinogen exposure and encourage more safety precautions for firefighters to reduce cancer risk.
How is Zero-Emissions Achieved?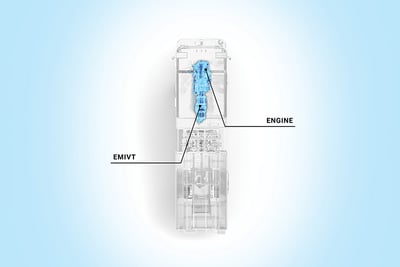 Pierce® Volterra™ electric fire truck technology consists of an Oshkosh patented parallel-electric drive train featuring an electro-mechanical infinitely variable transmission (EMIVT) which allows zero-emissions operation when powered by the integrated onboard batteries.
The integrated electric motors in the electro-mechanical infinitely variable transmission are always providing the output to the driven components, whether it's the pump or the drive axle.
Because the EMIVT can also be coupled to the internal combustion engine, it will always provide continuous and uninterrupted power to the pumping system or drive system.
Learn more about fire truck electrification modes here.
Why is There Growing Demand for Electric Fire Trucks?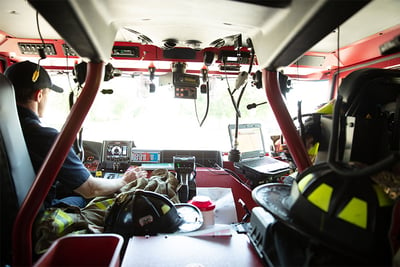 From demanding environmental goals to reduced emissions, a smaller carbon footprint and cost savings, there are many reasons why fire departments across the world are seeking electric fire trucks.
Here's a look at some of the reasons why the demand for electric fire trucks is growing.
Changing regulations and legislation. With each passing year, more and more local and state governments develop clean vehicle policies to reduce greenhouse gasses, improve air quality and increase sustainability. In the United States, over 170 cities, more than ten counties and eight states have goals in place to power their communities with 100% clean, renewable energy. Electric fire trucks provide municipalities with a sustainable solution to help meet their local and state legislative requirements.
Environmental initiatives. Currently, emissions from vehicles contribute to about one-third of all U.S. air pollution. Tailpipe emissions have detrimental effects on the health, safety and welfare of community members. More municipalities are taking the initiative to address constituents' concerns about the environment. By prioritizing environmental programs and choosing electric vehicles, municipalities are leading by example for the community at large. Choosing electric vehicles for municipal fleets sets a standard for excellence with a focus on improving overall community health. Municipal fleets operate routes that are aligned with range. Buses, refuse, delivery and fire apparatus all leave and return to a common site on a daily or frequent cycle. This allows them to leverage infrastructure which is more commonly available in urban environments.
Cost Savings. Fire trucks represent a significant source of fuel consumption and can ultimately cause a detrimental environmental impact. The adoption of electric fleet vehicles can help significantly cut both fuel costs and the negative impacts of fuel consumption. In addition to saving on fuel costs, municipalities and fleet managers can anticipate savings on preventive maintenance, ongoing engine repairs and down time spent on re-fueling.
How Do You Charge an Electric Fire Truck?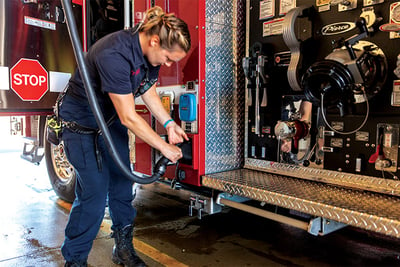 An all-electric fire truck with an internal combustion engine charges much like a typical home electric vehicle connected to an electric power source.
Choosing a zero-emission electric vehicle requires solutions to recharge, whether it's at the fire station, or other municipal or community settings.
Fire departments are finding success with the installation of charging solutions at the station. When you partner with Pierce, charging solutions are easier than you may think to install. Pierce and its network of trusted energy partners manage all aspects of planning, charging installation and ongoing maintenance and support.
The integration of overhead charging stations for electric vehicles matches the infrastructure of most existing firehouses and is beneficial because it doesn't take up valuable floor space.
The charging process itself is simple. Plug in the power and in most scenarios, an electric fire truck can regain full charge in one hour. Depending on the state of charge, normal charging times are often quite less.
Learn more about the process in this blog post: Electric Fire Truck Charging Infrastructure Overview
Does Emergency Response Change with an Electric Vehicle?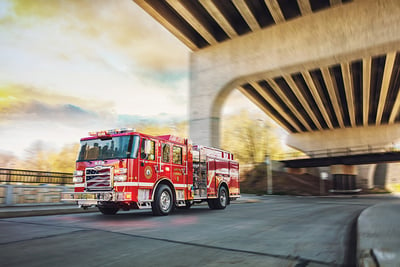 Electric fire truck manufacturers are committed to the safety of firefighters and their lifesaving work. As such, electric fire trucks are designed to maintain the high level of operational standards firefighters demand with no compromises.
Pierce electric fire trucks offer the same reliability and functionality as all traditional apparatus. This includes optimal:
Driveability. The truck feels and looks like a traditional vehicle. As a result, there is a significant improvement in firehouse operational efficiency; system controls and components can be in the same locations across an entire fleet and training can be streamlined.
Operability. Pierce Volterra electric vehicles offer the same maneuverability and operability as other available Pierce apparatus because the design and manufacturing components remain consistent across all chassis and vehicle types. Pumphouse layout and configurations, and body and compartment space configurations remain unchanged between traditional apparatus and Volterra apparatus configurations. Consistent configurations with existing fleet vehicles improve operational efficiently and truck familiarity for operators.
To learn more about integrating an electric fire truck into your fleet and how Pierce electric fire trucks are serving local communities now, reach out to your local dealer.
Electric Fire Truck Service and Maintenance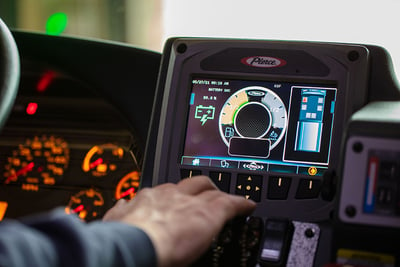 Electric fire truck service and maintenance largely follow traditional fire apparatus day-to-day service and maintenance. However, the added bonus of an electric fire truck is that you should expect less frequent engine and engine-related component maintenance because they are not used as often, therefore the intervals occur less frequently. Other systems, like braking, may also see less frequent repairs (depending on driving conditions) than a traditional apparatus due to regenerative braking from the electric drive line.
With any electric fire truck, battery and high-voltage component maintenance will be required. In these cases, trained maintenance technicians will require high-voltage tools to complete service.
Use-based maintenance, like oil changes, are completed following regular engine protocols. However, because the engine is used less frequently, standardized maintenance needs should decrease as well as the overall cost of preventative maintenance. Most importantly, the vehicle will not be out of service as often because of the longer intervals between standardized maintenance.
In terms of servicing charging infrastructure, it's actually quite simple! There is not a lot of necessary maintenance because there are not a lot of moving parts. Following basic intervals for inspection set by the charging solutions provider will ensure the infrastructure maintains its ready state.
How Does a Fire Department Set Up for an Electric Fire Truck?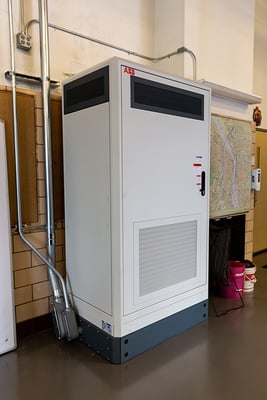 When you choose to purchase a Pierce Volterra electric fire truck, you're not just investing in a truck; you're investing in a complete electric vehicle solution. Understanding how an electric fire truck can fit in your station, on your power grid and into your service model are all items that Pierce and its energy partners help manage on your behalf.
Pierce representatives align experts to support your needs so you can focus on your daily work and not on the technical details of your new apparatus. This includes:
Assessing your firehouse to understand the electric fire truck and charging infrastructure requirements.
Working with your local utility to establish the right sized source and coordinate any necessary updates to support the charging infrastructure.
A seamless installation process that allows fire departments to work with one team from concept to commissioning with transparent and open communication.
To appropriately power the Pierce Volterra™ platform of electric vehicles, a fire station will need enough 480-volt three-phase power to support the charging infrastructure. This is standard for any commercial power requirements. If 480-volt power is not available, this power requirement can be accomplished with a step-up transformer.
While smaller charging units may be used to provide support, they will limit the ability for fast charge recovery and negatively impact response-readiness.
Full station energy planning is the optimal choice because it considers both short and long-term energy goals and provides solutions to ensure departments are aligned with operational expenses and budgeting. Starting with an EV charging solution that can support future growth and long-term energy goals across all specialty vehicles is important and is often a better long-term investment.
Integrating the necessary electrification components in a fire station and getting an electric fire truck up and running is a straightforward and seamless process. Learn more about this six-step process in this blog post.
How Does an Electric Vehicle Fit Into My Current Fire Truck Fleet?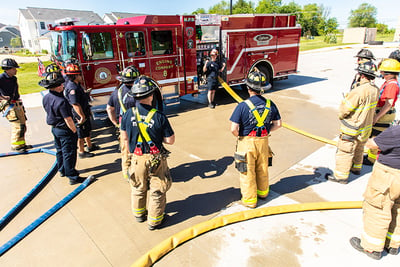 The process of integrating an electric fire truck into your department fleet can run as seamlessly as adding any other type of apparatus—ultimately, it comes down to planning and power.
Adding an electric fire truck to a fleet doesn't necessarily translate into more planning steps, but to promote efficiency over time, it may involve additional discussions around future energy objectives. For example, a municipality may look to add an electric ambulance or other electric utility vehicles to the fleet, and thinking through future goals can help set up the department for success.
Look at the needs of your fire departments, your future energy-saving goals and your local or state legislature to give you a timeframe regarding when to integrate electrification technology.
The process of planning for, selecting, manufacturing and integrating any new fire truck into your fleet takes time. Adding an electric fire engine is no different. You can count on Pierce to help manage the process and support your fire truck needs before, during and after you receive your new electric fire truck and provide service support for the lifespan of the apparatus.
Electric Fire Truck Design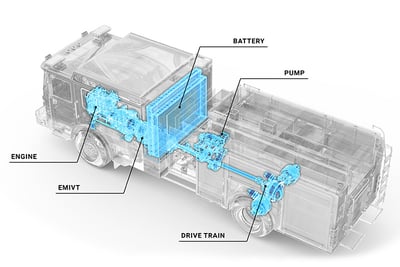 Fire trucks come in all shapes and sizes and electric fire trucks are no different.
The Pierce Volterra™ platform of electric vehicles is designed to look like a traditional North American fire truck and match the style and operational configuration of the existing trucks in your fleet.
Each truck is equipped with the Oshkosh Patented Parallel-Electric Drive Train, which includes:
Electro-mechanical infinitely variable transmission (EMIVT)
Integrated onboard batteries
Internal combustion engine (ICE) for continuous and uninterrupted power to the pumping system or drive system
The parallel-electric drivetrain featuring an EMIVT allows zero-emissions operation when powered by the integrated onboard batteries.
The electric fire truck operates independently in either the all-electric or internal combustion engine modes; the EMIVT can leverage either source of power to provide uninterrupted performance in extended emergency operations. Moreover, this simplified solution allows traditional vehicle accessories to be powered by the EMIVT as well.
Internal combustion engine engagement is automated with seamless transition after batteries have been depleted, and overall, EMIVT's parallel electric drive is more resilient than a range extender.
Standardized Pierce pumping configurations, up to 2000 gpm, are driven through the EMIVT and are powered by either the integrated onboard batteries or the internal combustion engine. The driveline allows for zero-emissions during quick attack responses, with the ability to transition seamlessly to internal combustion power for extended pumping operations.
Learn more about the design details of the electric fire truck now.
Electric Fire Trucks on the Road Today
City of Madison Fire Department
The first Pierce Volterra zero-emissions pumper was placed in service in 2021 with the City of Madison Fire Department, making this the first electric fire truck in service in North America. The Volterra pumper is serving front line duty at Station 8, the City of Madison's busiest fire station. The department is made up of 14 fire stations serving an area of nearly 100 square miles and a population of over 250,000.
"The City of Madison is committed to many sustainability initiatives allowing us to meet our needs without compromising those of future generations," said former Chief Davis. "Pierce's Volterra electric pumper allows us to keep an environmentally-conscious focus on reducing emissions while maintaining our traditional pumper configuration without impacting our operational procedures. We are eager to lead change by responsibly supporting our environment together with achieving our critical daily missions."
Portland Fire and Rescue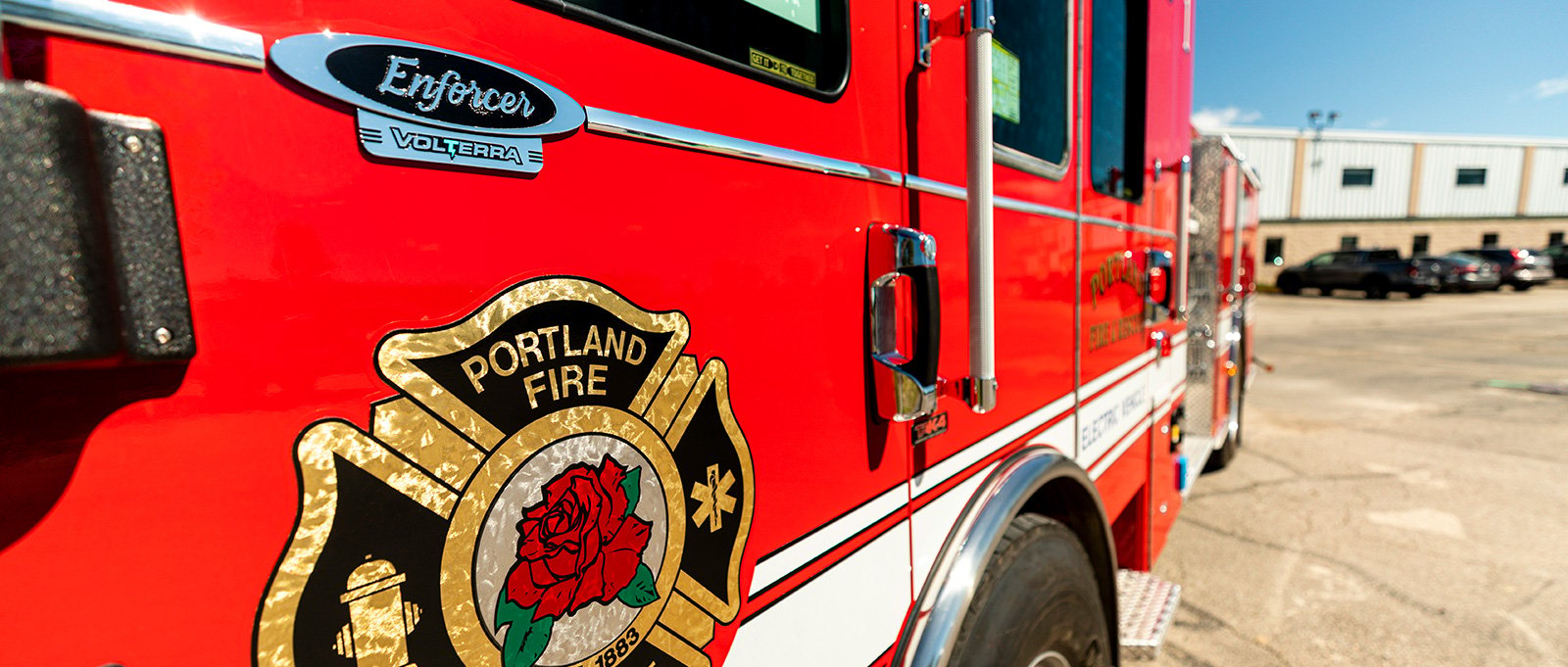 Portland Fire and Rescue is made up of 31 fire stations serving an area of 151 square miles and a population of over 650,000. Fire Chief Sara Boone considers the addition of Pierce's Volterra electric pumper a significant contribution to the city's sustainability efforts.

"In 2016, the city achieved its 2030 Environmental Performance Objective for Fleet when 35-percent of fuel use came from renewable sources," stated Chief Boone. "Fleet electrification is expected to be a primary driver of carbon emissions reduction from city vehicles, and exploring the role of the Pierce Volterra electric pumper within our fire apparatus fleet is a big step toward reaching our future goals."
Where Do I Learn More About Electric Fire Trucks?
If you are interested in more information about electric fire trucks, these resources may be of interest to you:
Don't' forget to download our Electric Fire Truck Reference Guide to send a copy of the information on this page directly to your inbox.