Overview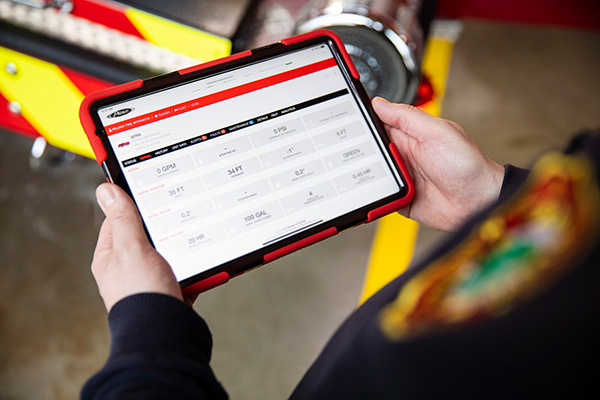 It's time to change the conversation. Every modern firefighting apparatus contains elements of multiplexed and hardwired electrical systems. Only Pierce engineers systems that are purpose-built to serve the fire industry with features poised to seamlessly evolve with technology.
No clunky retrofits or complicated third-party software. No troubleshooting your troubleshooting. Utilizing proven military grade hardware and wire harnesses, Pierce
electrical systems give you technology built from the ground up for your department.
One source. One intuitive, singular system. Available in feature packages that provide your desired level of interface, diagnostics, prognostics, maintenance, navigation and more.
Foundation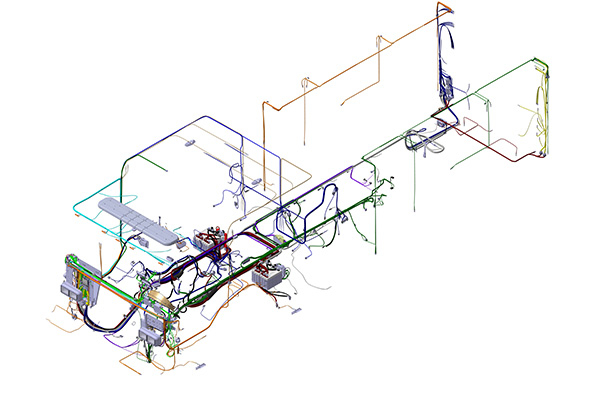 Pierce's electrical systems are purpose-built to evolve with technology in the fire industry, but it all starts with a reliable, maintainable and configurable foundation comprised of proven military-grade hardware and wire harnesses.
Every Pierce custom chassis comes standard with:
Electrical distribution centers located strategically throughout the vehicle.
Serviceable electrical components readily accessible.
Power/signal protection & control components protected against corrosion, heat, vibration, physical damage and water spray.
Distribution centers that contain battery power and ground studs for ease of customer supplied component installation.
Wiring run in conduit or loom where exposed; wire raceways built into cab structure.
IP67 waterproof connectors specified throughout the chassis.
Component Specification
Circuit breakers that conform to SAE standards; harnesses conform to SAE, NFPA, NEC, UL, ASTM and WHMA standards.
Wire, relays and solenoids sized to 125% of maximum current.
Wire insulation is high temperature crosslink.
Wire harnesses that include color, function and number coding; function and circuit number stamped at 2" intervals.
Validation
Voluntary third party (UL) auditing for electrical compliance to NFPA 1901.
Third party EMI/RFI chamber testing to ensure emissions are suppressed at the component source.
R&D cycle testing of new components.
WiFi / Touchscreen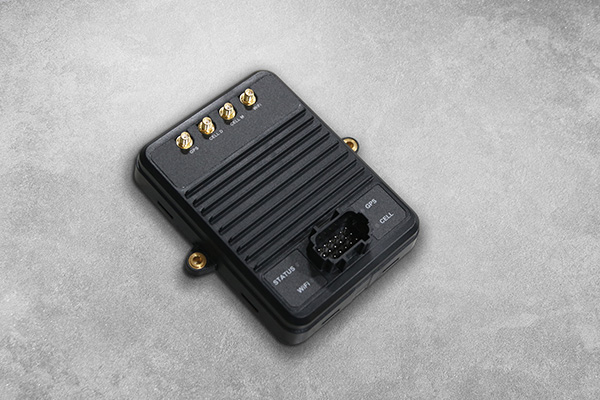 Integrated into this foundation are available Command Zone™ features designed to provide an enhanced vehicle interface experience. Ranging from the 7" color touchscreen display to the full ClearSky™ cellular telematic solution, Pierce offers the level of control, diagnostics, real-time data and prognostics your department needs.
Provides a higher level of apparatus interface via a locally connected WiFi-enabled device or an optional 7" color touchscreen including:
Connect up to five WiFi enabled devices within 300 feet of the vehicle.
Review active or historic faults with text descriptions and real time J1939 driveline data bus information.
Auto day/night display backlight mode.
Administrator setup features accessed
through a configurable password
security level.
Opportunity to integrate seat belt monitoring, tire pressure monitoring and camera images in a single touchscreen display.
Primary Display Screens: transit gauges, scene gauges, notifications/faults, diagnostics, timer/clock/date, OneTouch camera selection.
Hardware
7" color resistive television.
Telematics Control Unit (TCU).
Control module.
Roof mounted WiFi/GPS antenna.
Control
Heat, defrost and air conditioning control from touchscreen & WiFi enabled device.
Diagnostics
View active or historic faults with text descriptions and real time J939 driveline data bus information.
Optional Integration Packages
Bendix SmartTire tire pressure monitoring.
Camera systems.
Command Zone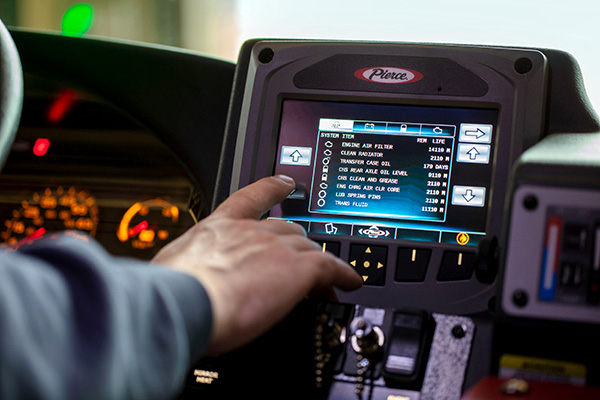 Provides the highest level of Command Zone interface, control, diagnostic and prognostic capability. Includes the features of WiFi/Touchscreen along with the features below:
Full complement of solid state Command Zone input/output modules located strategically throughout the apparatus to reduce wire bulk.
Virtual switch panels for touchscreen
control & WiFi-enabled device.
Virtual switch panel configuration through the administrator setup menu.
Dynamic or static graphical "Do Not Move Truck" screen.
Command Zone debug diagnostics available on the password protected touchscreen and WiFi-enabled device menu.
Connect cellular telematics hardware is
included. Access to Connect is available
through the Internet dashboard subscription.


View real time vehicle/fleet status from the secure Internet dashboard.
Receive customizable e-mail notifications for vehicle alerts, faults and maintenance notifications.
Hardware
D-Series power, input, and output modules.
7" color resistive touchscreen.
Telematics Control Unit (TCU).
Control module.
Roof mounted WiFi/GPS antenna.
Control
Heat, defrost and air conditioning control from touchscreen and WiFi enabled device.
Virtual switch panels on display and WiFi
enabled devices.
Truck-specific I/O configuration.
Diagnostics
Visual "do not move truck" indication.
Command Zone I/O debug mode.
Load manager status.
Pump and throttle interlock status.
ClearSky™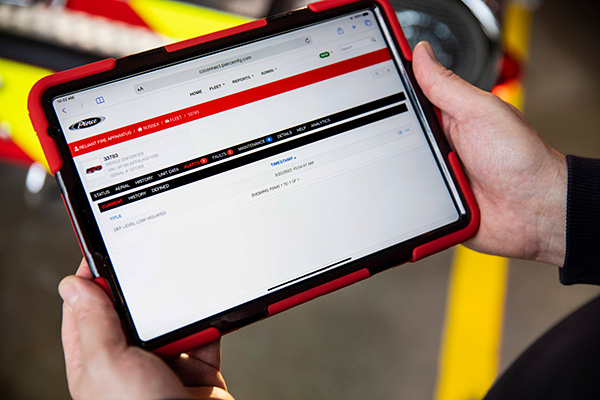 Remotely access fire apparatus data through a computer or portable electronic device with the ClearSky™ web-portal. Users have the ability to view, track, diagnose and assist with troubleshooting, expediting service support, intervening when critical failures occur to prevent further damage, improving budget forecasting, maintenance planning, geofencing and more.
Standard options with ClearSky include:
Receive customizable alert notifications for fleet metrics, real-time alerts and maintenance notifications via e-mail.
Reduce maintenance downtime by developing preventative maintenance schedules.
Create scheduled fleet status reports.
Monitor fleet status with geofencing.
View fleet metrics.
View real-time data points for engine, pump and aerial status/history.
Remotely view active and historic faults.
PORTAL LOGIN
Hardware
Command Zone™ equipped apparatus.


Connectivity
Uses 4G LTE cellular network and web portal to display vehicle information.
TCU transmits data via 4G LTE to the web portal for access.
Subscription required.
Optimized Capabilities
Remotely diagnose and monitor faults
via web portal.
Receive alert notifications via email or access web portal.
Create maintenance plans and reminders.
Remotely access active/historic apparatus data via web portal.
Receive alerts, fault and maintenance messages via email.
Track, manage and monitor a single apparatus or an entire fleet.
Optional Features

Ascendant® Class of Aerials
Setup determination and aerial
information on chassis touchscreen.
Understand if the vehicle is properly placed to use the aerial prior to leaving the cab.

Aerial Stabilizer Cameras
Provides a top down view of where the aerial stabilizers will be planted.
Outline of extended stabilizers overlaid on camera image.

Tire Pressure Monitoring
Bendix Smarttire system monitors each tire's pressure & temperature.
3 Alert Levels

Critical low pressure.
Pressure deviation.
High temperature.

Idle Reduction Technology (IRT)
IRT pairs automatic diesel engine controls with high-performance lithium-ion batteries and lead-acid batteries to reduce idle engine hours and fuel costs, CO2 emissions and on-scene noise.
Operator on/off control.
Operator HVAC climate control.
Battery system state-of-charge level.
Chassis electrical load.