Partnership
Since 1913, Pierce has been the leading global fire truck manufacturer producing highly customized, carefully designed and engineered pumpers, tankers, aerials and rescue units.
For more than 60 years, PACCAR has engineered and produced innovative, reliable, productive and efficient heavy-duty diesel engines for customers throughout the world. PACCAR operates two technologically advanced engine research and development centers with 47 engine test cells and a powertrain dynamometer to enhance engine design and manufacturing capabilities.
We are bringing together two premium brands, providing a first-class engine for custom fire apparatus.
Although the PACCAR engine was going to be a change from the normal for us, we knew the long history of PACCAR and the affiliation with Kenworth and Peterbilt and having that knowledge, along with having several distributors/shops here in Florence, we knew PACCAR was going to be the right choice for our investment. Since receiving the apparatus, we have been very pleased with its performance and have had no issues with the engine itself or with the DEF system associated with it.

Shannon Tanner
Fire Chief | City of Florence Fire Department
View the Florence Fire Department Aerial
MX-13 Overview
The PACCAR MX-13 engine is built by PACCAR at their Columbus, Mississippi facility. From the CNC machining centers for engine blocks and cylinder heads to robotic assembly, MX-13 engines are manufactured to extraordinarily high standards. In order to achieve excellent repeatability and high quality, the plant utilizes torque controlled tooling, and all engines are 100% hot tested before they leave the facility.
The PACCAR engine plant in Mississippi opened in 2010 to build PACCAR MX-13 engines exclusively for Kenworth and Peterbilt trucks which are also owned by parent company, PACCAR. In 2021, PACCAR began offering the MX-13 engine to Pierce exclusively for the fire truck industry.
The PACCAR MX-13 engine incorporates industry-leading design features that improve uptime, optimize fuel economy, reduce maintenance costs and maximize your return on investment.
Optimized Weight + Fuel Economy
Compacted graphite iron castings

75% stronger + 20% lighter than grey iron

High pressure common rail fuel injection

Improved combustion efficiency
Outstanding Low-End Torque
Incredibly Durable
Weatherproofed wiring - no cable rub
Fractured cap technology - high shear strength
Ultra Quiet + Ultra Smooth
Rear engine gear train design reduces noise
Maximum engine braking power over a wide range of speeds reducing the need for multiple gear shifts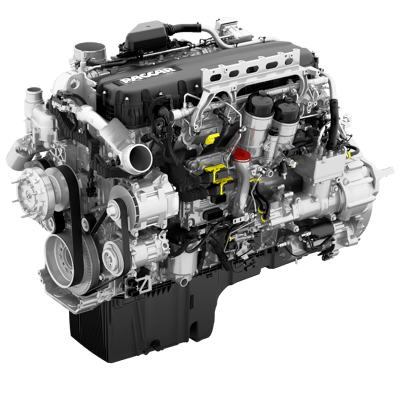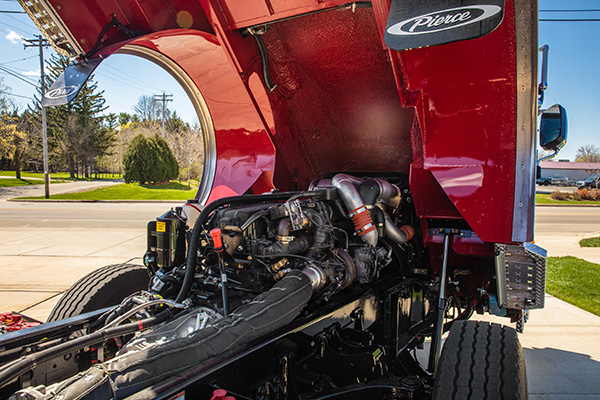 Specifications
| | | | |
| --- | --- | --- | --- |
| Custom Chassis | | Configuration | |
| Bore x Stroke (mm) | | Displacement | |
| Dry Weight | | Oil System Capacity | |
| Horsepower | | Peak Torque | |
| Governed Speed | | Clutch Engagement Torque | |
| Warranty | | | |
Serviceability
Easily serviced with extended intervals
Over 900 Pierce, Peterbilt and Kenworth service centers in North America
Service is available at select Pierce dealerships
98% retail parts availability from Peterbilt and Kenworth
Easy-to-access replaceable maintenance parts