Overview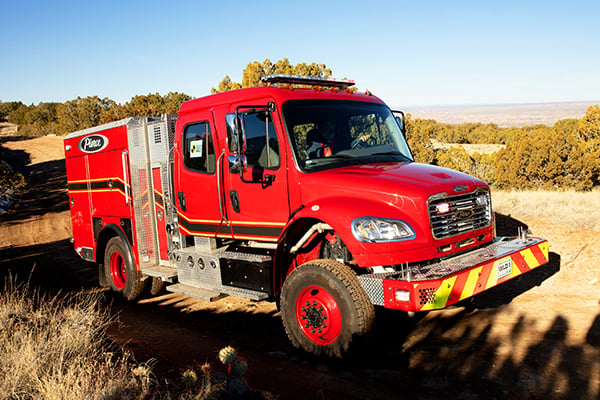 Top Pierce features and space-saving design come standard on the new mission-critical BX™ Wildland. The air ride cab comfortably fits 5 personnel. The stainless-steel body integrates full-depth left side compartments, 6 standard fender compartments, lowered compartment doors for better ergonomics and large undercab compartments. Departments can expect aluminum hosebed covers, integrated hatch compartments with top and rear access, flush-mounted hinged body doors, fully enclosed low height ladder storage and dedicated dry storage areas for more extensive deployment.
Standards include a 70-gallon fuel tank, bumper extension with left/right/center hose trays featuring aluminum lids, 2 bumper outlets, a hydraulic auxiliary pump for true pump-and-roll and a powerful Husky™ foam system with hose reel.
Beyond the ergonomic ladder storage, the BX™ Wildland deadlay is recess-mounted in the front pump module. Its rear plumbing connections have low connection points to keep firefighters on the ground, which prevents injuries from climbing on and off the truck to interface with controls.
Specifications
Design
Body Material

304L stainless steel

Body Length

101" standard

Body Width

98" standard

Cab

4 Door

Commercial Chassis

Freightliner M2-106, International HV

Compartment Space

Up to 119 cu ft

Structural Body Warranty

10-yr

Usable Compartment Depth

Left: 23.5"

Right: 11.5" upper, 23.5" lower
Performance
| | | | |
| --- | --- | --- | --- |
| Alternator | 300 - 325 amp | AWD | 4x4 |
| Compartment Load Rating | Up to 500 lb each | Engine | Cummins L9, B6.7 |
| Engine Horsepower | L9 to 350, B6.7 to 360 | Foam Capacities | Up to 20 gallons |
| Front GAWR | 12,000 - 13,000 lb | Rear GAWR | 23,000 lb |
| Pump Range | 500 gpm or 1,000 gpm, PTO-driven | Tank | 500 gallons/ lifetime warranty |
| Transmission | Allison 3,000 EVS | | |
Chassis & Electrical
Multiplexed electrical system
16" bumper extension
LS/RS hose trays for 50' of 1.75" hose
Center tray for 75' of 1.75" hose
Protected valve placement
(2) 1.5" discharges
LS brass compartment under crew cab
RS compartment or hose reel under crew cab
25°-FTL / 30°-INT angle of approach
Fire Suppression
28" pump house stainless steel construction
Stainless steel plumbing
Husky™ 3 or FoamPro 1600 foam system(s)
Components positioned for ease of serviceability
Long handle tool compartment with flush door
Improved access to the pump
Ergonomic deadlay for up to 200' of 1.75" hose
Rear Body
101" hucked stainless steel body
Hucked steel substructure
Integrated hatch compartments
Vertical ladder storage in RS body
Center dry storage hatch in hosebed
Integrated fender compartments
Vertically-hinged flush aluminum doors
Split tailboard with swing-down steps
Self supported hosebed doors
25° angle of departure