Specifications
| Foam Systems | 0.3% | 0.5% | 1% | 3% | 6% |
| --- | --- | --- | --- | --- | --- |
| Husky 30 gpm (L/min) | 10,000 (37,854)* | 6,000 (22,712)* | 3,000 (11,355)* | 1,000 (3,785)* | 500 (1,892) |
| Husky 60 gpm (L/min) | 20,000 (75,708)* | 12,000 (45,425)* | 6,000 (23,250)* | 2,000 (7,570)* | 1,000 (3,785)* |
| Husky 160 gpm (L/min) | optional | optional | 16,000 (60,566)* | 5,333 (20,188)* | 2,666 (10,091)* |
| Husky 300 gpm (L/min) | optional | optional | 30,000 (113,562)* | 10,000 (37,854)* | 5,000 (18,927)* |
| Husky 450 gpm (L/min) | n/a | n/a | 45,000 (170,300)* | 15,00 (56,780)* | 7,500 (28,390)* |
*Limited by the maximum water pump and plumbing capacities.
Features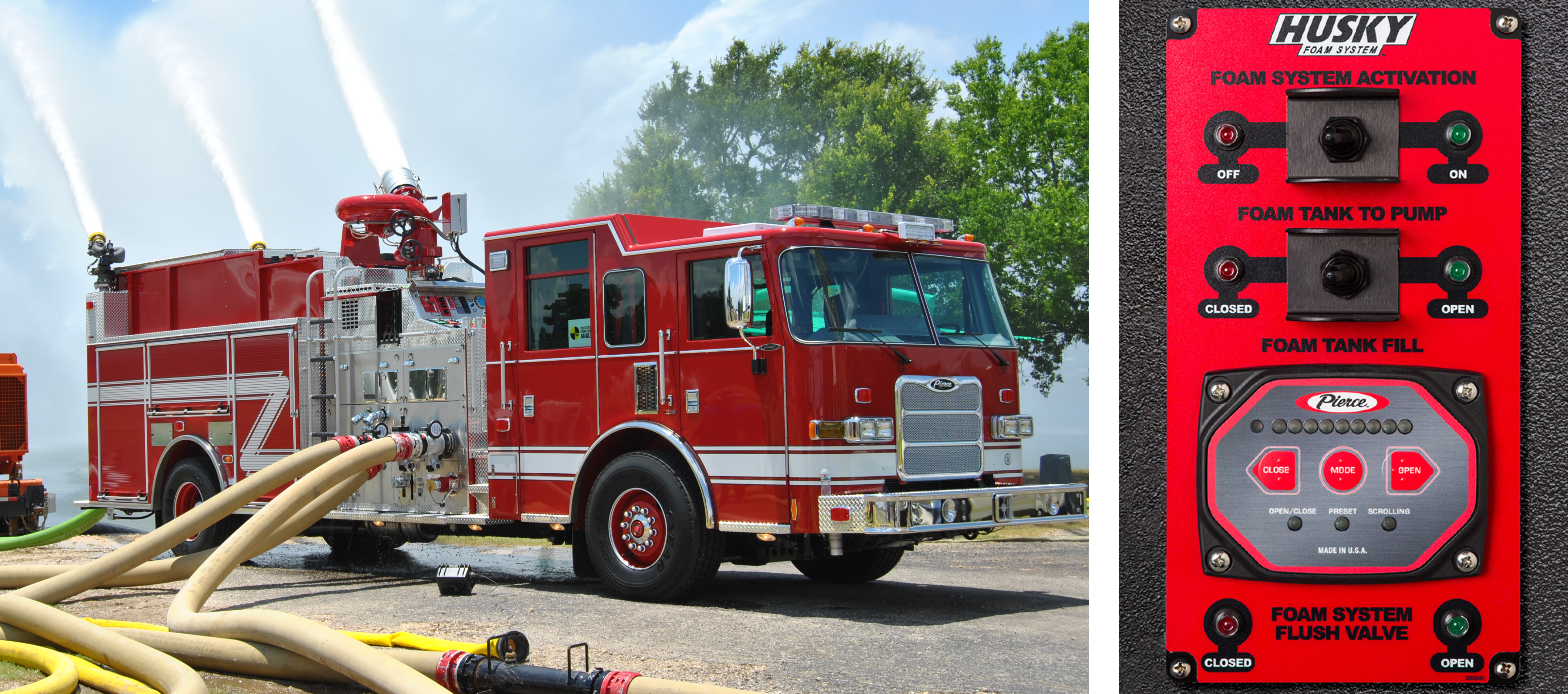 Balanced pressure system is designed for class A or B foams / 0.3%, 0.5%, 1%, 3%, or 6% foam concentrates.
Operating pressures through a range of 75 psi - 250 psi.
Each discharge outlet features its own metering valve, allowing for easy cleanup – the operator only needs to flush the discharge lines used.
Metering valve and ratio controller for every specified discharge for full transitions from cooling water to foam solution, and back.
Differential pressure gauge display tells you that the foam and water pressures are balancing, and eliminates water flow guessing and water pressure concerns– if the needle is green, the foam solution is accurate.
Foam pump has capacities up to 450 gallons per minute and capable of supporting a 7,500 gpm discharge rate while using a 6 percent foam concentrate.
Unique, patented, digitally controlled foam proportioning system responds rapidly and accurately to changes in water pressure and flow.
The flexible pump drive systems can run from either a pump transmission or PTO system depending on your needs.
The Husky system utilizes a non-recirculating automatic pressure system to ensure foam concentrate does not recirculate back to the foam tank while automatically balancing the foam pressure to water pressure.
The entire system requires less electrical energy which aids in preventing an overload of the chassis electrical system – crucial in any industrial fire.
High Flow Industrial Apparatus
Endurance tested, high flow performance.
When battling large-scale industrial fires, you need unwavering performance. Pierce's High Flow Industrial Apparatus delivers higher discharge flow rates, precise information and proven reliability for the toughest conditions. The system design and endurance capabilities have been rigorously tested and validated through third party testing.