Specifications
Additional Specifications

21' Electric awning
Exterior PA with wireless microphone
Four (4) Medium 10' slide outs, all 30" deep
Satellite Communication Equipment

Body

Frontline C-44X Command Unit

Cameras

Thermal Imaging and HD PTZ mast cameras and six perimeter cameras

Chassis

Forward Conference Area

Features a large conference table with seating for eight and two work stations, one for radar control and one for technical engineering

Generator

20 kW diesel generator housed in a custom compartment engineered for maximum air flow and insulated for quiet operation

Rear Operations Area

Has six workstations, each with voice, video, data, and individual video routing capabilities
Fire Department
Port of Virginia MIRT
The
Port of Virginia Maritime Incident Response Team
(MIRT) provides immediate on-scene maritime advice and agency liaison to the United States Coast Guard and Incident Commanders responding to fires, hazardous materials, search and rescue, and other emergencies in the marine environment. The MIRT is the first organization of its kind in the United States, and unique to any port. The Port of Virginia's equipment is stored in six firehouses in the region.
• Population: Hampton Roads Region
• Coverage: Eastern half of Virginia
• Stations: Equipment in 6 firehouses
• Area: Maritime Response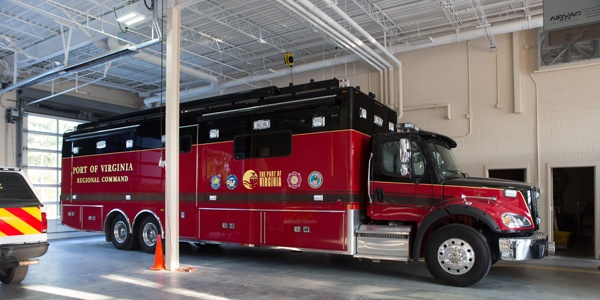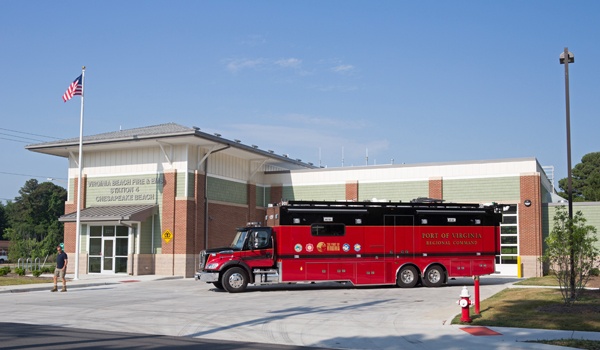 From The Chief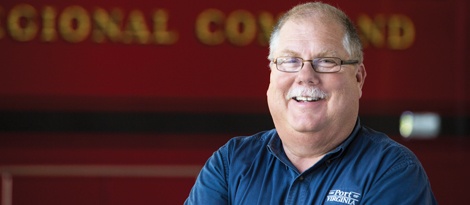 Bill Burket, Director of MIRT & Emergency Operations

"Our task force responds to maritime events along the entire eastern half of the state. Swift response and in-depth communication are absolutely critical. It's why we chose a Pierce Frontline Command Unit to serve as our mobile communications headquarters. It delivers the sophisticated audio, video and surveillance equipment we rely on to coordinate with multiple teams and make confident decisions."
The Dealer
Atlantic Emergency Solutions

Will Bascom is the Executive Vice President and General Manager at Atlantic Emergency Solutions who worked with the Virginia Port Authority on their new Frontline Command Unit. Atlantic Emergency Solutions is the total solution provider of fire apparatus, emergency vehicles, and associated equipment serving the states of Delaware, Maryland, the District of Columbia, North Carolina, Virginia, and the West Virginia counties of Berkeley, Morgan, Mineral, and Jefferson.