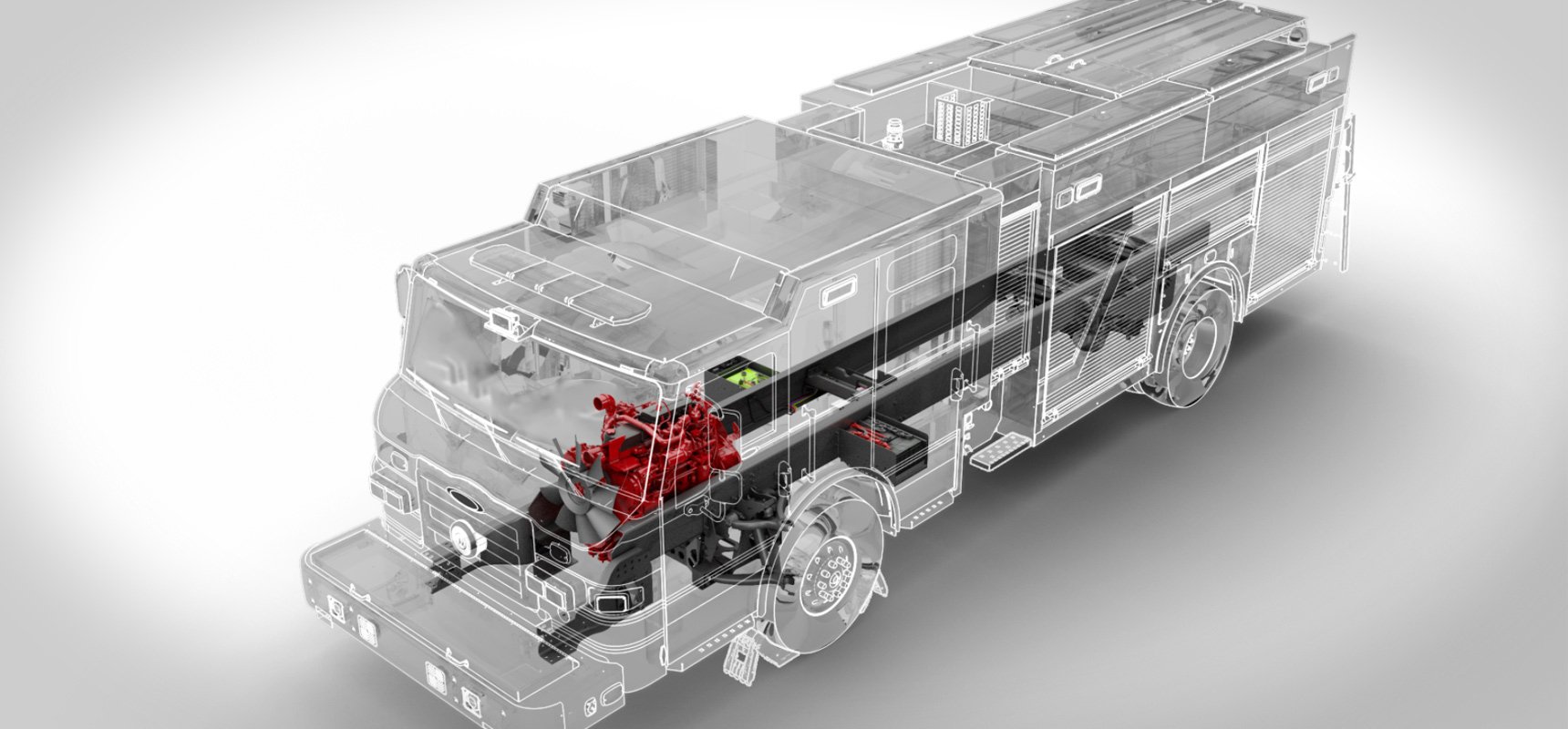 Idle reduction technology is an emerging fire truck feature that offers environmental and cost-saving benefits for fire departments. In this article, you will learn all about idle reduction technology system options for your current or future fleet vehicles including:
The benefits of idle reduction technology.
Operational features.
Battery management, placement and recharging.
Required idle reduction technology components.
What Is a Fire Truck Idle Reduction System?
Idle reduction systems are designed to reduce the amount of energy wasted when a truck is idling.
When a vehicle's engine is not being used to move, idle reduction technology can shut off the engine entirely while maintaining consistent power to perform other functions, like the use of accessories and lighting. This is achieved with power from electrical sources.
With an understanding of what an idle reduction system is, we will explore four key factors in idle reduction technology use and management below.
1. Idle Reduction Technology Can Save Fire Departments Money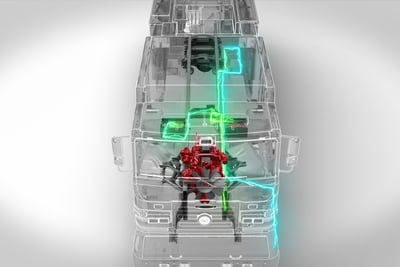 Idle reduction systems are important to support environmental initiatives and service life longevity for emergency response vehicles. Reducing or avoiding idling time altogether has several benefits, including:
Savings in fuel costs.
Decreased engine maintenance costs.
Increased time intervals between required preventative maintenance.
Extending the fire truck's engine life.
Improving operator well-being by reducing noise levels.
Decreasing emissions that are harmful to the environment.
Learn more about fire truck idle reduction system benefits.
Beyond its list of functional benefits, an idle reduction system also offers several operational efficiencies. Understanding these efficiencies starts with learning how idle reduction technology works and the types of technology systems available to fire departments.
2. Idle Reduction Technology Features Several System Options
Pierce Manufacturing offers two idle reduction technology systems: Auxiliary Power Unit (diesel-powered generators) and Lithium-Ion Batteries.

Here's a brief overview of both technology options.
Auxiliary Power Unit (APU)
This system uses an APU (diesel-powered generator) to operate all of the vehicle's electrical loads while in standby mode. When activated, the vehicle's engine is shut down, and the smaller APU engine is started. This provides standby power for the vehicle without idling the larger main chassis engine, reducing fuel consumption and extending service interval times on the vehicle's engine.
Use Recommendation: Use of an APU is recommended if the average idle time on calls is more than one hour in length, as opposed to a shorter call.
Lithium-Ion Batteries
This system uses lithium-ion batteries in conjunction with the existing lead-acid batteries and automatic diesel controls. This means the engine will shut down, and the lithium-ion batteries will power all electrical loads while on scene with the vehicle, including NFPA 1901 required devices and user-defined mission-critical tasks. If the lithium-ion batteries run out of charge, the lead-acid batteries will be used to restart the truck. This allows the operator to use the vehicle as needed without wondering which electrical systems will be supported when running on lithium-ion batteries.
Use Recommendation: The use of lithium-ion batteries as a method for idle reduction technology is recommended for departments who have calls that average run times of one hour or less and desire a "zero-emissions" standby mode.
Which option is right for your fire department?
Below, we explore the latest technology, lithium-ion batteries, in detail.
3. The Benefits of Choosing a Lithium-Ion Battery Solution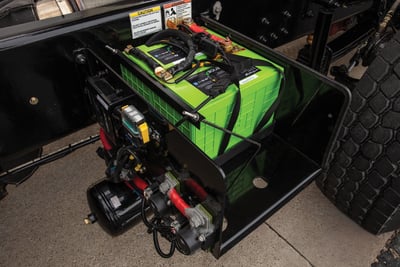 The use of a generator or lithium-ion batteries within an idle reduction system depends on a fire departments unique needs and user requirements. However, there are several benefits associated with the use of lithium-ion batteries, including:
Zero chassis emissions when operating under lithium-ion power, which reduces noise and green-house gases.
Reduces the amount of idle time for the chassis diesel engine, resulting in less wear and tear of the main chassis engine and other chassis components.
Reduces fuel consumption, lowering the total cost of ownership.
Results in less frequent service intervals over the lifetime of the truck, also resulting in low cost of ownership.
Reduces noise at a scene, offering a safer work environment for firefighters.
The use of a lithium-ion battery idle reduction technology system also helps free up compartment space and battery recharging is easier than you may think. Both topics are explained below.
Battery Placement
The configuration of any fire truck is designed specifically to use space and storage strategically. When an idle reduction technology system is placed on a new or existing apparatus, customers will not be asked to give up other valuable storage space to add this system to their truck.
Instead, the batteries are arranged with the standard lead-acid batteries on the left-hand side of the vehicle, and the lithium-ion batteries on the right-hand side. With this approach, existing battery trays can package the new system while keeping the two types of batteries co-located for ease of inspection and maintenance.
Battery Recharging
The ideal method to recharge the system's batteries is to connect the truck to a 30 amp shoreline. (Note: Most fire stations have 15 amp drops.) If the batteries are fully depleted, it will take 3 hours for a full recharge.
The other recharging method involves using the battery recharging system on the truck. The truck's battery management system uses one set of chargers that support both the lithium-ion and lead-acid batteries. The system will connect and disconnect as needed to get the optimum equalization.
4. How to Get Started With Idle Reduction Technology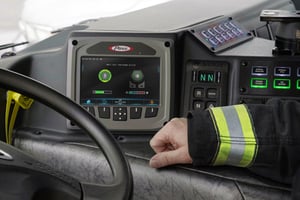 The required components for the idle reduction system include lithium-ion batteries, lead-acid batteries and Command Zone™.
Lithium-ion batteries are sized according to the NFPA 1901 required devices and all other user-defined mission-critical on-scene load requirements.
Lead-acid batteries run in parallel to the lithium-ion batteries and provide the vehicle with start-up power. When they sense that the lithium-ion batteries need to charge, the lead-acid batteries will restart the truck.
The Command Zone serves as the "brains" of the system and provides the automatic features. The 7" touch screen display is required for the system to activate or deactivate automatically.
When in idle mode, the electrical system relies on power from the lithium-ion batteries. When these are depleted, the Command Zone auto-start feature engages. The vehicle starts again and runs for a period of time so the lithium-ion batteries can recharge.
Whether you are interested in zero-emissions, reduced engine maintenance or increased operator safety, idle reduction technology is a valuable system feature to add to your emergency response vehicles.
Which idle reduction technology system is the right fit for your fire department?
Download the free brochure now or contact your local Pierce dealer to get more information.
Are you interested in learning more about fire truck idle reduction technology? Leave us a question below.