From incremental improvements to innovative bounds, fire truck designs are in a constant state of evolution and suspension systems are undoubtedly a crucial area of focus.
Suspension systems not only play a role in the overall performance and life of your vehicle but also the safety and comfort of its drivers. Additionally, superior suspension performance can protect the lifesaving equipment used by firefighters each day.
However, choosing the type of suspension system that is best for an individual department depends a lot on the type of service that is planned for the vehicle. When evaluating suspension types, a series of considerations need to be made such as, the type of apparatus and planned usage, budget, weight carrying capacity and more.
Below, we review independent suspension systems and discuss the four ways these systems help improve apparatus performance
Independent Suspension Systems for Custom Fire Apparatus Chassis
Independent suspension is any suspension system that allows each wheel on the same axle to move vertically independent of the others. This is in contrast to other suspension axle systems where the wheels are linked by a solid axle beam or housing, commonly referred to a straight axle.
In the United States, approximately 60- to 70-percent of all major fire trucks are built with a custom chassis that is engineered, designed and built to meet a fire department's exact needs. Custom chassis most often ride, handle, stop and set up at a scene better because they are developed with specific geographic elements and service applications in mind.
As part of a custom chassis design, the suspension system is a major component and consideration for fire departments. The needs of a department and the vehicle's application can strongly dictate the design and the type of suspension used, but there's no doubt that independent suspension systems offer superior performance.
In the mid-1990s, Pierce Manufacturing's parent company, Oshkosh Corporation, developed the TAK-4® Independent Suspension System used on military, severe-duty and emergency vehicles.
In 2001, Pierce introduced the TAK-4® Independent Front Suspension (IFS) System on custom built Pierce chassis to provide a better road feel, control and smoother ride over any kind of surface.
Pierce now also offers TAK-4™Independent Rear Suspension (IRS) which applies the same military proven performance to the rear suspension.
For the highest level of maneuverability, Pierce offers the TAK-4 T3, which combines the advantages of TAK-4 IRS with a mechanical rear steering system.
Here is a comparison of Pierce's TAK-4 suspension systems:
TAK-4 Independent Front Suspension (IFS)
TAK-4 Independent Rear Suspension (IRS)
TAK-4 T3 IRS with Tight Turning Technology
Custom Chassis
Enforcer™, Impel®

,

Velocity®

Enforcer, Impel

,

Velocity

Enforcer, Impel

,

Velocity

Load Ratings

18,000 - 24,000 lb

24,000 - 52,000 lb

24,000 - 52,000 lb

Cramp Angle

Up to 45

°

N/A

Up to 9

°

Wheel Travel

Up to 10"

Up to 14"

Up to 14"

Dual Steering Gear

Standard

N/A

Standard

Suspension Spring Type

Torsion Bar

Coil

Coil
Simplified Maintenance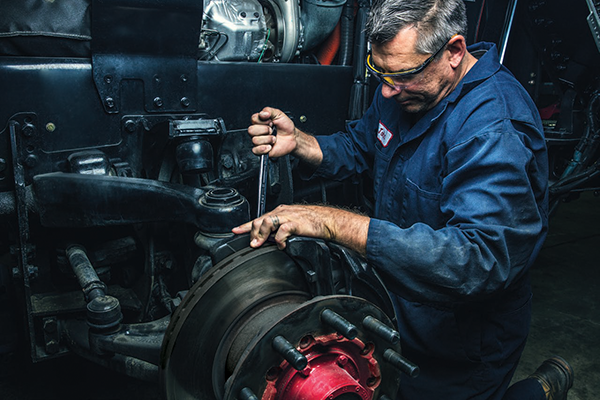 The TAK-4 design not only maximizes a truck's performance, it minimizes the wear and tear on your equipment and streamlines the maintenance process. There are no u-bolts on the front axle, no adjustments needed for the caster angle, and no need for lubricating the heavy-duty ball joints. Your rig spends less time in the shop and more time on the street.
Imperative Periodic Inspections
With a vast service network, Pierce provides you with trained certified technicians to perform routine maintenance and inspections that keep your vehicle running at its peak.
How Independent Suspension Improves Fire Truck Performance
1. Ride Quality & Control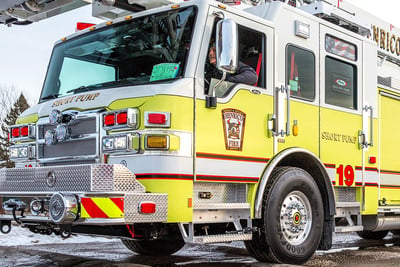 Compared to a standard leaf suspension, independent suspension delivers outstanding ride quality and vehicle control. Some systems offer up to 16" of suspension travel, a softer wheel rate, robust design and independent wheel movement – keeping tires on track for improved overall handling and performance. Independent suspension systems will provide two, to two-and-a-half times wheel travel distance over the spring systems. Superior ride quality reduces stress not only on occupants but also gear, components and the vehicle.
2. Maneuverability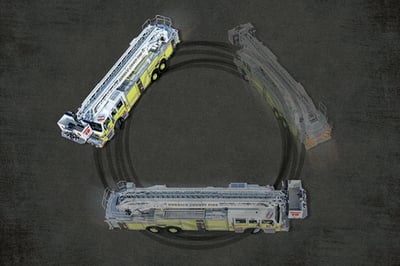 Greater maneuverability, turning radius and lane-to-lane turning are other benefits of independent suspension systems. Specifically, Pierce's TAK-4 Independent Suspension System provides fire trucks with the tightest turning radius which can safely and effectively be maneuvered into strategic locations when responding to a fire with steering at the front and rear of the vehicle. The maximum front steering angle is 45-degrees and proportional rear steering angles at the rear allow maneuverability and mobility to be maximized, while utilizing the mechanical rear steering system.
3. Steering & Braking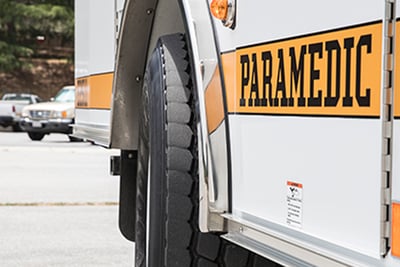 In straight axle suspension systems, when one wheel strikes and obstacle, the entire axle tilts. This will cause the opposing wheel to tilt inwards or outwards, preventing maximum tire interface with the ground. The effect can cause an imbalance and decrease in steering control causing heavy vehicles to be less responsive in cornering or braking scenarios.
With the TAK-4 Independent Suspension System, the vehicle allows for larger front brakes which transfers weight quicker to the front wheels. The lower wheel rates, made possible by a torsion bar, smooths out the road better than any straight axle rig because the wheels are allowed to be m
ore responsive and independent to the road surface. This not only maximizes performance, but minimizes wear and tear on equipment, reduces maintenance and saves on brake repairs. In fact, the system shortens stopping distance by 23-percent, has a 45-degree cramp angle and improves ride quality by 340-percent (as measured by accelerometer testing).
4. Load Carrying
Integrating a higher rated front axle allows for greater load carrying capacity which enables firefighters to add more features and equipment to fire apparatus. This may include front suction or air condition that won't exceed gross vehicle weight restrictions. With Pierce's TAK-4 Independent Suspension System, a maximum front axle weight rating of 24,000 lb. is possible with 425/65R22.5 tires.
When selecting fire apparatus suspension systems, a focus on optimizing safety, stability, maneuverability, ride quality, load capacity, simplified maintenance and more are all important considerations. The advancements in independent suspension systems have provided those in the fire service with many advantages over other suspension systems. The superior ride quality, enhanced operating features and the added confidence that the driver is in control of the vehicle, are all unparalleled qualities that continue to evolve with design and technology advancements.
Do you want to learn more about fire apparatus suspension systems that offer a high-performance, dramatically smoother ride with outstanding steer-ability?
Experience a better ride for you, your crew and your equipment by contacting an experienced Pierce Manufacturing representative.