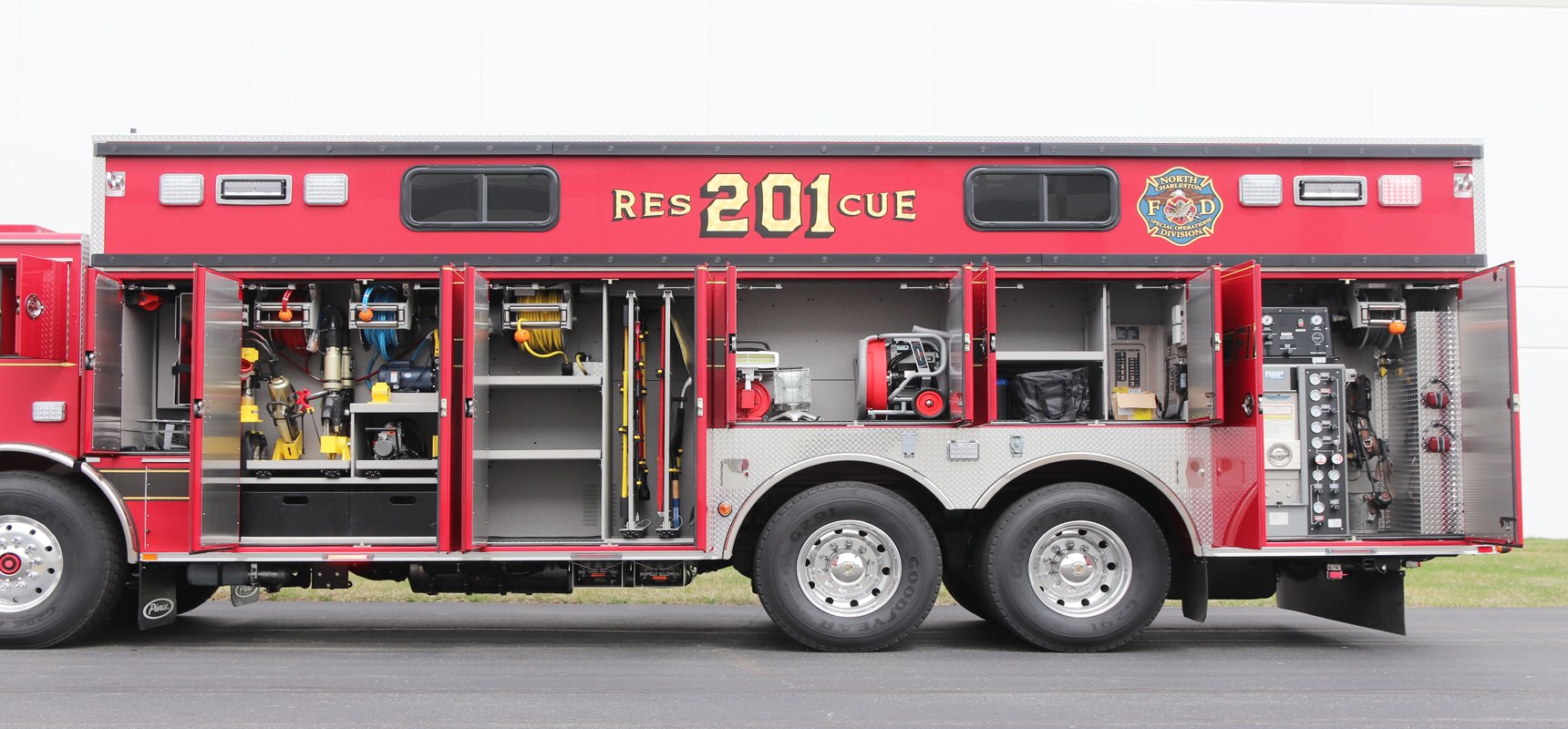 Serving as a multipurpose vehicle for fire departments around the globe, a rescue apparatus is typically designed strategically for the needs of a community. Each rescue truck is unique, tailored to the specific tasks, priorities and functions it will perform daily. Partnering with the right fire apparatus manufacturer to create a custom rescue truck is an essential consideration as your department invests in the future.

Learn about some of the key considerations and steps required to design and manufacture a custom rescue apparatus that will meet the requirements of your department.
Step One: Understand the Needs for Your Fire Department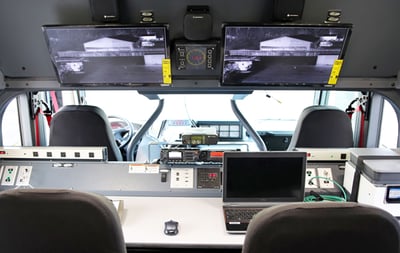 When the time comes to select a new rescue apparatus, the help of an experienced builder should be enlisted; one who is willing to sit down and ask questions of your department to help craft a vehicle that appropriately meets your needs. Building a custom rescue truck with forethought ensures that it will serve your fire department and community well for years to come.
Think of a rescue apparatus as a toolbox on wheels. Each toolbox will look different based on the tools carried and the main operational functions required. Moreover, each toolbox will store the tools differently. An experienced fire apparatus manufacturer needs to understand the tools each fire department requires and how they are used in an emergency to design a truck for high performance.
The manufacturer should work with you to help develop and prioritize a list of the five to ten main functions or capabilities of the vehicle, focusing specifically on the tasks the truck will perform.
Typically, the process to understand the needs of your department starts with the following questions:
How Many Firefighters Serve in the Fire Department?
An understanding of the number of firefighters a rescue apparatus must support is essential to help determine the number of tools and storage capabilities required. Knowing the needs of the fire department can help identify the types of rescue configurations that make sense for your application.
How Many People Will Travel in the Vehicle?
The number of firefighters an apparatus must transport to emergencies is an important factor in rescue truck selection. Some departments prefer to use rescue trucks as a means to exclusively transport tools and gear to an emergency, while other departments require additional cab space to transport firefighters. The number of passengers needed will help determine if a two-door or four-door cab would best support the fire department and the amount of storage space available in the body.
What Natural and Man-Made Disasters Does Your Department Typically Encounter?
Each fire department serves a unique community, and the rescue truck should reflect the common emergencies firefighters face on the job. Fire departments that often respond to vehicular emergencies, for example, may require vastly different transport and storage capabilities than another department that focuses mostly on hazardous material responses. An apparatus manufacturer needs to understand the types of emergency scenarios a fire department regularly encounters to help guide the best possible rescue selection.
What Are the Firefighters Trained In?
Many fire departments, or even stations within fire departments, specialize in specific tasks, functions and operational procedures. A thorough understanding of firefighter specialties can help determine the types of tools and compartmentation that may be required for an apparatus.
What Kind of Firefighter Gear Is Required?
Knowing the type of gear that firefighters need in the field will help a manufacturer understand the best configuration and storage requirements for a new apparatus. Different tools require different storage space and size considerations. The gear used for dive or ice rescue is very different than that for hazardous materials. Some gear can be rolled up in small compartments while other types must be hung in closets. This must be factored into the type of storage space required in each vehicle design.
What Tools Are Required on the Fire Apparatus?
Another key consideration in determining the best rescue for a fire department is understanding the types of tools that will be stored onboard. If the truck requires hydraulic rescue tools, the layout and design will be affected. Air-driven tools, like air chisels or jackhammers, will require special space considerations that a manufacturer will need to know upfront. Shovels, axes, pry bars and ladders all need to be taken into consideration since there are a variety of storage options and each uses the available space differently. The tools required and the priority of use of each helps to determine where the tool should be placed on a rescue vehicle.
Step Two: Incident Applications A Fire Department Should Consider
Pierce Manufacturing offers rescue truck configurations that are used for many potential incident types.

Each is unique in the storage options provided, storage placement and in the space available for personnel. These include: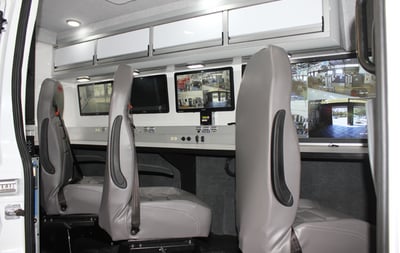 Dive Rescue
EOD Response
HazMat Response
Heavy-Duty Rescue
Incident Command
Tactical Response
Urban Search & Rescue
Learn more about the apparatus considerations for these incident applications now.
Step Three: Understand the Different Rescue Body Options Available
Walk-In Rescue Apparatus
A walk-in rescue features an open walking aisle down the center of the body that provides space for firefighters and emergency personnel to sit down, rest and replenish at the scene of an emergency. A walk-in apparatus is ideal for extreme weather conditions, allowing firefighters to get out of the elements, as needed. In addition, they can be set up for command operations during lengthy emergency calls.
Non-Walk-In Rescue Apparatus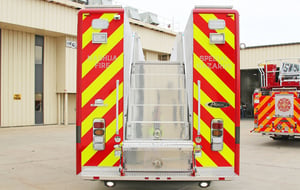 A non-walk-in rescue fire truck is the most prevalent type of rescue style in the marketplace, primarily because it offers the most storage capacity. In the past, walk-ins were required to transport more firefighters to the scene of an emergency. Modern truck cabs, however, are designed to maximize every square inch of space, allowing firefighters to sit comfortably in the cab, often eliminating the need to ride in the body compartment altogether. This allows a non-walk-in rescue body compartment to be used exclusively for tool and equipment storage.
Combination Rescue Truck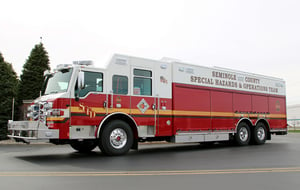 A combination rescue truck maximizes storage and still offers a small rehabilitation area. With dedicated walk-in and non-walk-in spaces, a combination rescue apparatus can be created with numerous seating and operational configurations and compartment storage options.
ENCORE®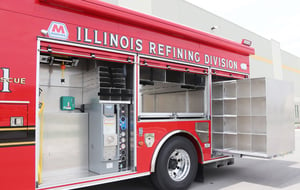 ENCORE® rescues are constructed using modular body sections. Compartments are built transversely, or crosswise, instead of lengthwise. When you open a singular compartment, you can look straight through the truck, which helps to maximize available storage space. Different configurations are available which can allow for forward and rear body modules that provide space for crew seating or command operations.
CRU-22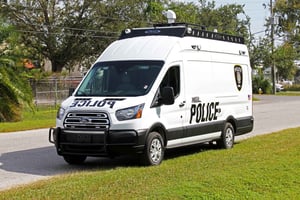 The CRU-22 is a rapid incident response unit featuring the latest emergency response communications packages on a Ford Transit T350 High Roof Extended chassis. This small, maneuverable vehicle can quickly travel to emergencies while offering full command center technology and communication capabilities. The CRU-22 can hold two to three operators, workstations, computers and video and satellite equipment. In addition, the CRU-22 can be used strategically with the Pierce Situational Awareness System by Fotokite to manage aerial operations.

For fire departments seeking to add a rescue apparatus to their expanding fleet, consider the benefits of collaborating with an experienced rescue manufacturer. From asking the right questions to tailoring a custom rescue to the needs of each department, the team at Pierce Manufacturing can help your department upgrade with the right rescue truck.

Take a look at all of Pierce's rescue truck options, or find a dealer now to get the conversation started.
Do you currently have a Pierce rescue apparatus? What unique features did you add to help support your fire station? Let us know in the comments!