What is Clean Cab?
A clean cab removes contaminants from the cab leaving the occupants in the cleanest possible environment to and from the scene. The practices of a clean cab vary by department, city and region. There is no one size fits all when it comes to clean cab solutions. Firefighters are exposed to dangerous carcinogens that are potentially cancer causing in the line of duty. With the support of the Firefighter Cancer Support Network and fire truck manufacturers, fire departments can take steps to reduce risk.
Pierce Manufacturing is committed to assisting in this effort by offering options for clean cabs, including surface materials, seating options, SCBA storage, on scene decontamination and more.

This article will discuss the CARE initiative and the steps Pierce is taking to ensure firefighters remain safe as they travel, while on scene, and through the decontamination processes
What is the CARE Initiative?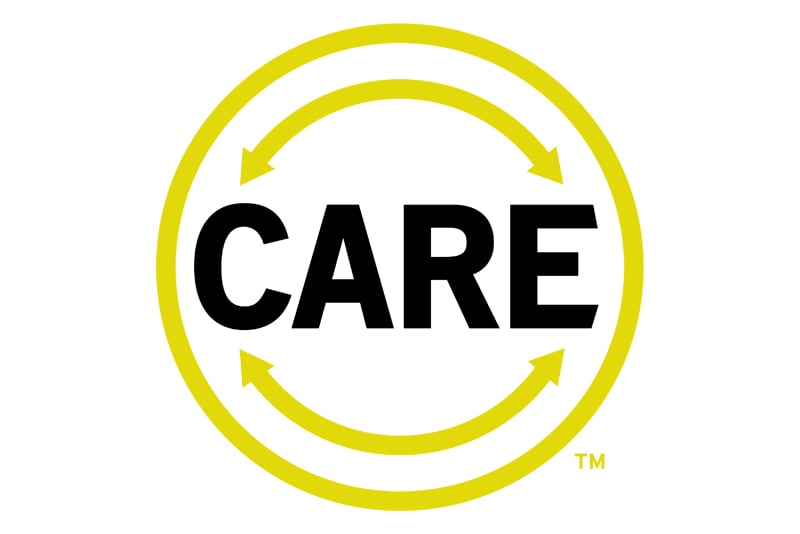 Pierce Manufacturing has partnered with the Firefighter Cancer Support Network for the development of the CARE initiative: Carcinogen Awareness and Reduction to Exposure.
Firefighters face increased carcinogen exposure when airborne chemicals are inhaled at fire scenes and settle on firefighters' turnout gear. Taking precautions can lessen firefighters' cancer risk. The intent of the program and partnership is to provide education to minimize carcinogen exposure.

Pierce has taken significant steps to help provide options to assist with fire trucks designed to keep firefighters safe as they travel and while on scene. These updates and options are always evolving as Pierce works to improve firefighter safety.
A Clean Cab Interior Can Enhance Safety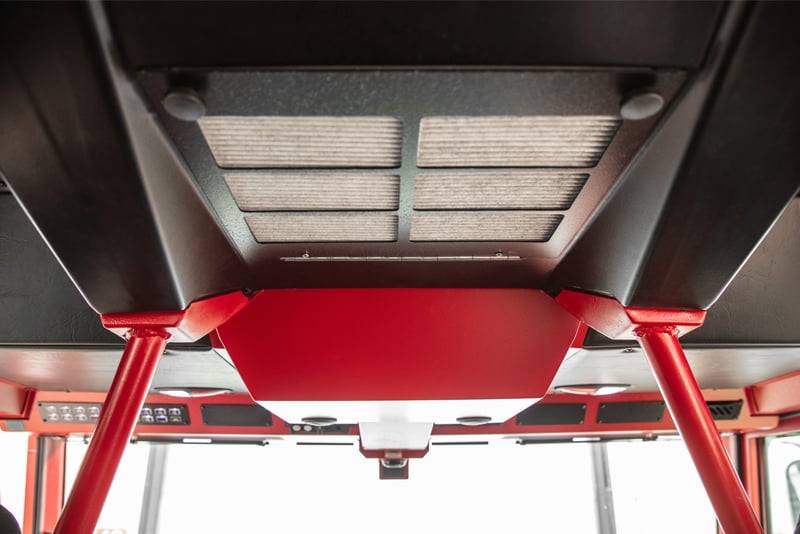 Fire departments have many options to help keep the cab interior safe.
Vinyl interior. Cab interior surfaces (excluding crimson red color) can be covered with Endue vinyl. This easy to clean vinyl is optional on the headliner, walls, engine tunnel and drain tubes.
Painted surfaces. Customers can choose to have interior surfaces painted to remove material surfaces, including the headliner, walls, engine tunnel and drain tubes.
HVAC systems/HEPA filter. The HVAC system can include a HEPA filter to provide cleaner air in the cab. HEPA filters are standard on the following cabs: Enforcer™, Impel®, Saber® and Velocity® custom chassis. HEPA filters can also be added to the ArrowXT™ and Quantum® custom chassis.
Aluminum treadplate flooring. Treadplate flooring does not absorb carcinogens or dirt and is easy to clean.
LonSeal interior flooring. LonSeal flooring is a durable vinyl material that is easy to clean. It comes in a variety of patterns and colors.
Cabinet seals and fans. Cabinet seals keep contaminated air from entering the cab. In addition, fans can be added in EMS cabinets to create a pressure vacuum that vents outside the cab, keeping contaminated air away from the apparatus.
In addition to cab components and features, seating options are another important consideration to reduce carcinogens and improve firefighter safety.
Interior Cab Seating Options to Minimize Exposure
When it comes to cleanable seats, vinyl is not the only option. Several seat suppliers offer unique product solutions tailored to support clean cabs and minimize exposure to carcinogens.
Fabric zip-off covers can be removed in pieces to be washed and hung to dry. They are manufactured to be tear-resistant and waterproof and are compatible with side roll and frontal impact protection.
There are also foam-based seats which are designed as a coverless cushion that is manufactured without seams to prevent debris from becoming trapped.
Other manufacturers offer contaminant mitigation covers that can be used temporarily to cover seats when carcinogens and/or hazardous particles are present in the cab. These velcro-based seat covers can be removed and washed after use and are available with side roll and frontal impact protection.
Regardless of seat choice, it is recommended that fire departments follow their standard operating procedures to properly decontaminate the cab.
SCBA Storage Out of the Cab Can Reduce Carcinogens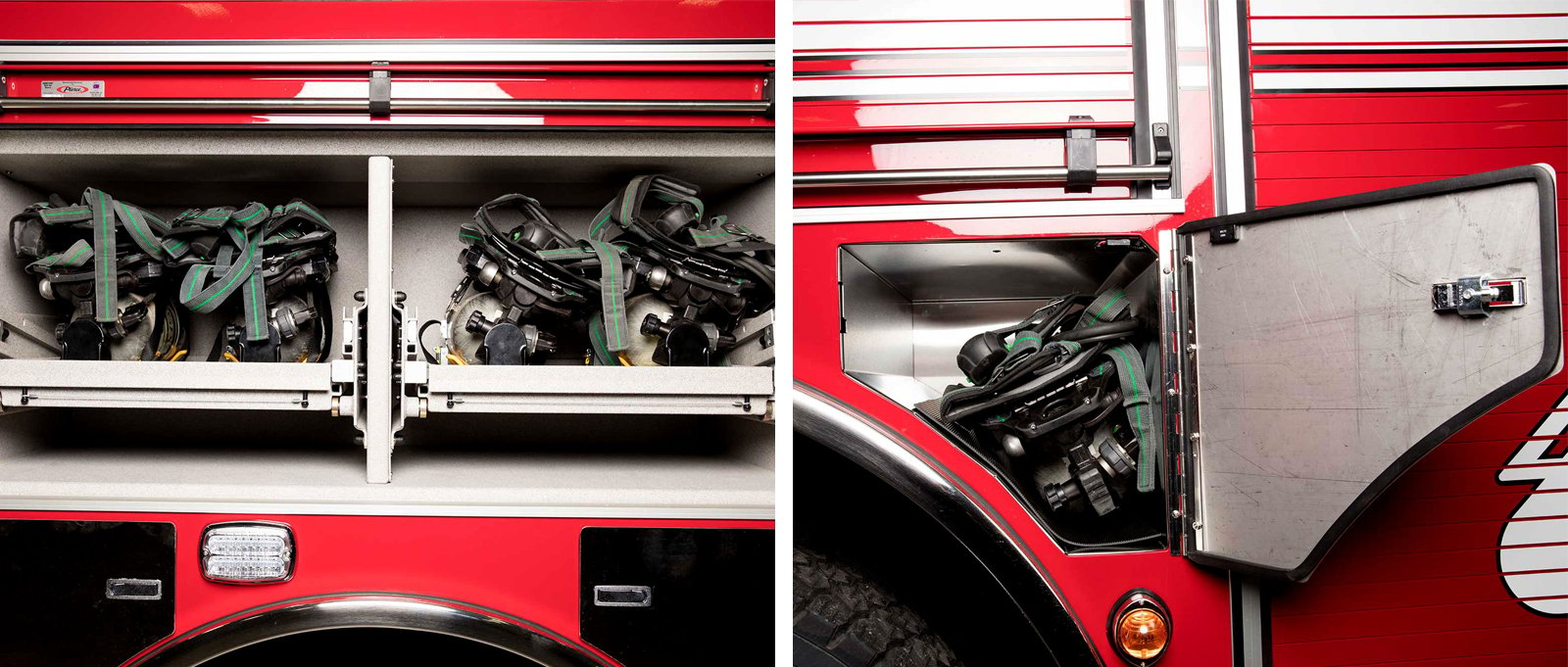 Removing SCBAs from the cab interior can reduce carcinogen exposure and is an option for a cleaner cab interior. Alternate storage locations are available throughout the body of the truck.
There are several available options for SCBA storage outside the cab.
Slide-out drop-down trays are an excellent option for SCBA storage. These trays drop 50-degrees to make them more ergonomically accessible.
EMS compartments are an alternative option that can be designed to be accessible solely from the outside of the truck.
Fender compartments offer a strategic storage location above the wheel.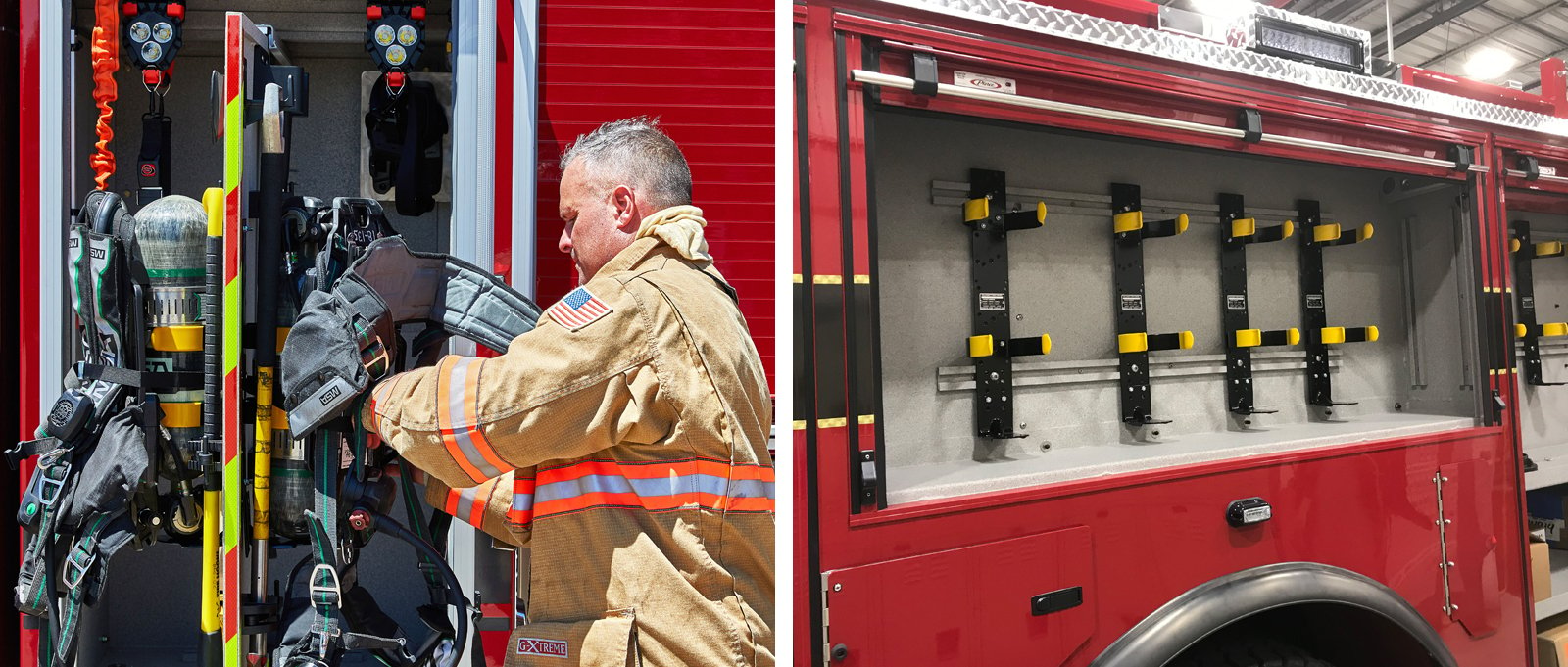 In addition, fire departments may benefit from the following SCBA storage options:
Transverse compartments in the body of the truck can be installed to feature pull-out trays offering easy access to SCBAs.
Slide-out tool boards can be installed in any body compartment, allowing firefighters to put their SCBA tanks on directly from the truck.
Body compartments can include adjustable SCBA brackets mounted to a track. They can also be mounted directly to the back wall at a fixed location.
Storage of soiled gear outside of the cab on the return trip from the fire scene back to the station helps reduce the exposure of the harmful chemical residue and fumes.

Isolated Cab and Compartment Storage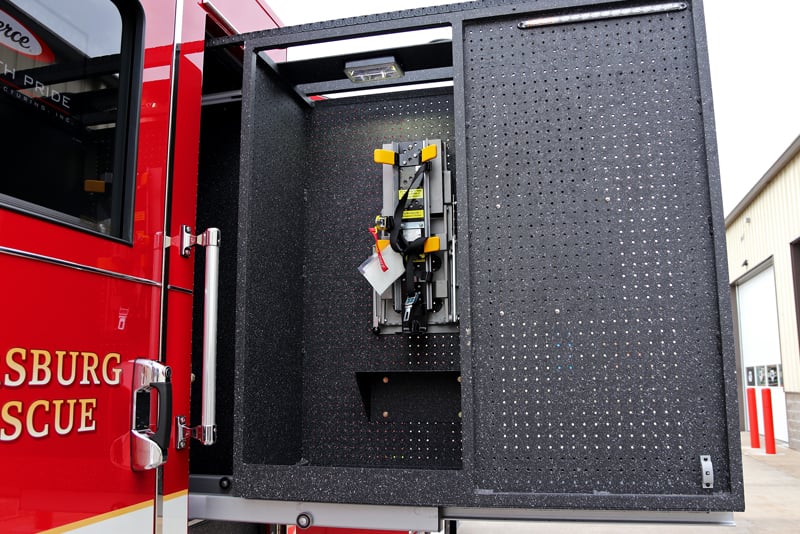 Another option to limit exposure to carcinogens found on gear and equipment is to add isolated cab compartment storage to a fire truck.
To save room in the body, a 24" cab extension can be added to the 60" Enforcer™, Impel®, and Velocity® custom chassis, resulting in an 84" overall cab length. The 60" cab interior allows customers to leave the seats in the same locations.
The extension is a transverse compartment that can be used to store SCBAs and turnout gear especially soiled garments. Customers have the option to include one tray or split it into two trays. An exhaust fan can also be added to circulate air. Pegboards can be installed to hold SCBA tanks and turnout gear.
In addition to storing SCBAs, slide-out tool boards can be configured to hold other equipment, providing further storage options to remove items from the cab interior.
Dirty Turnout Gear
To keep carcinogens out of the cab, firefighters can store their dirty gear in hatch compartments or hose bed compartment after working a fire scene. Beyond strategically storing gear, new features on fire trucks are being added to help firefighters remove carcinogens after they complete work on scene.
On Scene Safety and Decontamination Options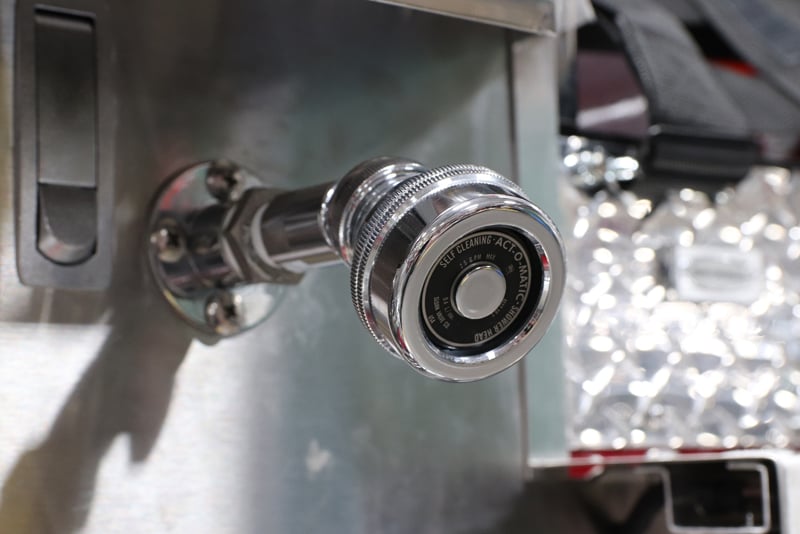 Pierce offers options to improve safety and decontamination efforts at the fire scene. Some of the options available are listed below.
Vertical exhaust. Traditional exhaust pipes are routed to the underside of the truck, which causes firefighters to potentially breathe in the fumes in and around the vehicle. Vertical exhaust pipes reduce exposure by directing the exhaust away from the apparatus.
Warm water rinse. A warm water rinse can be added to a fire truck's exterior to help firefighters rinse off their gear, clothing and body from potentially dangerous carcinogens on scene. An outlet is connected to an RV-style pump to provide low-pressure water to rinse off. The customizable system has its own water tank with a low-level sensor, so the pump does not burn out. Tank heaters are available to provide warm water powered by a shoreline outlet in the station or 12-volt immersion heaters on scene.
Garden hose outlet. A garden hose outlet can also be used to offer firefighters rinse-off options while on scene. The garden hose outlet can be fed from the water pump at low pressures or by gravity from the water tank.
Shower-head outlet. The shower-head outlet is yet another option available to fire departments. The shower-head outlet is fed from the water pump and provides a pressure protection valve to keep the pressure low.
The CARE initiative promotes several storage and cleaning options for fire departments to consider as they design a fire truck. In addition, maintenance and advanced electrical systems can also help efforts to reduce exposure to carcinogens.
Ongoing Maintenance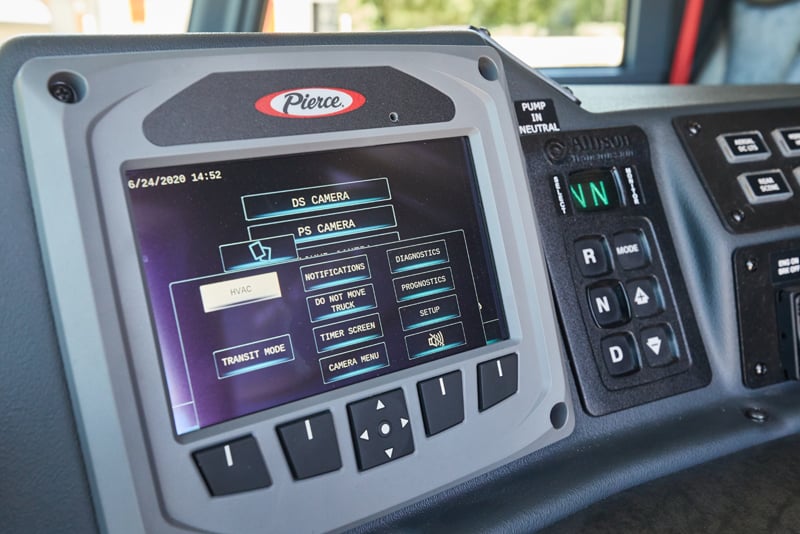 Purchasing a truck with clean cab options is only the first step toward reducing carcinogen exposure.

The Command Zone™ Advanced Electronics System can help customers keep up on cab maintenance.
The system can be programmed at no cost to remind customers to decontaminate the cab.
Cleaning Truck Surfaces
There are various ways to clean interior cab components, but certain chemicals are damaging to some surfaces. From painted surfaces to metal and plastic surfaces, interior compartments to windows, lights and upholstery, your fire truck dealer can help you understand the right cleaning protocols and considerations for your unique truck.
Pierce's CARE initiative is designed to help reduce firefighters' cancer risk and empower fire departments with enhanced safety options in the truck design and ordering process.
If you have any questions about these options, please contact your local Pierce dealer.

Is your fire department planning to include more clean cab initiatives in the future? Which options do you think would work best?