The evolution of fire apparatus electrical systems has given fire service personnel and fleet managers more to consider when deciding which system best fits their needs. Fire departments' demands are exceeding the capabilities of the traditional hardwired point-to-point electrical system at an increasing rate. In recent years, newer multiplex systems have been developed to meet industry demands and should be considered when making future firefighting apparatus decisions.

What Is Multiplexing?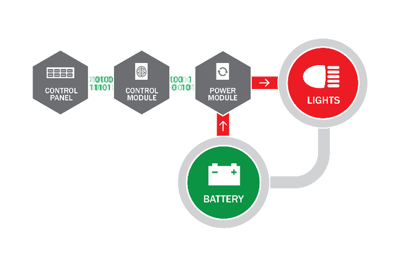 In its simplest form, vehicle multiplexing is a means of transmitting multiple simultaneous signals over a shielded twisted pair cable. System modules/nodes are connected by a communication cable which enables the modules to electronically "listen and talk" with one another. Software enabled rules ensure modules speak the same language and create an orderly conversation among components. Modules can be dedicated to receiving inputs, providing outputs, or a combination of both. Inputs receive messages or signals from switches or sensors and outputs enable the activation of lights, motors, and more. Custom programming of multiplexed electrical systems has given greater control to vehicle operators. Multiplexing decreases the likelihood of an electrical problem taking a vehicle out of service with fewer wires and enhanced diagnostic capability.
For fire apparatus, a multiplexing system is the best way to control and monitor several vehicle subsystems, such as engines, lighting, climate control, and more. In addition, multiplex systems help simplify maintenance and labor needs, as well as offer flexibility to install new components and troubleshoot existing ones. Distributing the power/control modules closer to the loads reduces wire bulk and electrical connections on the vehicle. Nodes have the ability to report their status, including fault conditions such as a short circuit, to the end user via a diagnostic screen. This valuable data can be pushed from the vehicle in the form of telematics which can then be used for predictive maintenance, remote diagnostics, duty cycle information and much more.
Two common multiplexed vehicle electrical systems used in fire apparatus include the proprietary Command Zone™ system which can only be found on Pierce® custom chassis and Weldon's V-MUX® which is integrated with vehicles utilized in industries such as fire, ambulance, RV, school bus, transit bus, mining, and marine. Both Command Zone and V-MUX originated in the late 1990s and have undergone a few major revisions to reach their current state. As the Command Zone system exclusively serves the fire industry, it has evolved and will continue to evolve, maintaining a singular focus on fire industry feedback. There are a number of other key system differences including the following:
Data Communication: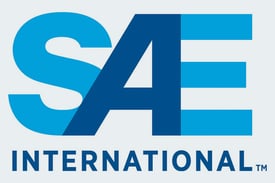 Command Zone follows the SAE J1939 protocol for vehicle communication based on a Controller Area Network (CAN). The system provides data communications between microprocessor systems. Messages exchanged can include speed, torque control, transmission to the engine, and more. CAN is primarily used in embedded systems and is a network technology that provides fast communication among microcontrollers up to real-time requirements. One of the greatest advantages of CAN is the prevention of message collision issues (no data lost during transmission).
V-MUX uses the serial communications protocol RS-485 which is less structured but more versatile than SAE J1939. V-MUX requires a CAN gateway to interface with CAN-based devices and there may be a higher probability of electrical noise impacting message data.
System Architecture and Module Addressing:
Command Zone is built upon a leader/follower architecture with one Control module collecting inputs from various nodes and then dictating the activation of outputs. The custom software for the vehicle is stored on the control module. The system has mission-critical programming that will hold the current state of input/output in the unlikely event that communication loss to the control module should occur. This means that if you are pumping, you will be able to continue pumping until the battery switch is cycled.

Command Zone uses ground matrix wires to identify the module location on the apparatus. This allows a power module at the rear to be swapped with a power module at the front with no reprogramming to aid in troubleshooting.
The V-MUX system is a peer-to-peer architecture where all modules are considered the same priority and all messages broadcast to all nodes. The individual programming of the node determines if it responds to any given message. Each V-MUX module has location-specific software and modules cannot be swapped until they are reprogrammed.
Electrical System Display:
On-board interaction with the vehicle is a significant factor when reviewing electrical systems for fire apparatus. Display capabilities serve users differently and should be evaluated based on the needs of your team and fleet management. Below is a listing of highlights and differences.
Command Zone Touchscreen
7" color touchscreen display
5-wire resistive screen
Auto screen triggers
Auto day/night backlighting adjustment
Virtual switching
External temperature
Transit & On-Scene screens
Live Data, Diagnostics, & Prognostics screens
DNMT truck, HVAC, & Aerial screens
Administrator and maintainer logins
User customizable screens
4 video inputs
Ability to connect with vehicle's local WiFi network
Advanced troubleshooting capability from display
Free telematics readiness report
V-MUX (Vista IV) Display
6.25" color display (touchscreen optional)
Auto screen triggers
Sleep mode for nighttime glare
Virtual switching
External and internal temperature
USB direct download capability
Diagnostic screen
System Information screen
DNMT screen
HVAC screen (optional)
4 video inputs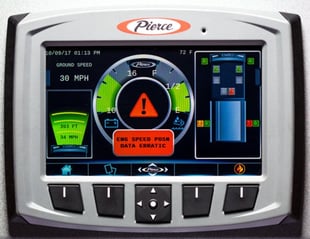 Both the Command Zone and V-MUX displays show seat belt monitoring, an active alert window, and a one-touch manual camera trigger. Each display shows the status of all the I/O points on the vehicle. V-MUX does this in list format but does not show which module or circuit number is associated with each I/O Point. The Command Zone system asks the user to select a particular module and then shows the circuit number, wire color, function code, and I/O status.
Both systems provide a visual indication of pump and throttle interlock status, as well as provide a graphical user interface screen. The Command Zone display allows the end user when logged in as an administrator to customize the information and layout of the primary screens.
Customer Support:
It is essential for fire departments to have access to prompt customer care and maintenance resources when an issue occurs with an apparatus' electrical system. When a system is not proprietary to an apparatus manufacturer, it is more likely a situation may occur where questions or issues could be shuffled around from the vehicle's body builder, to the chassis provider, to the electrical system provider. Pierce owns and controls the design of Command Zone hardware, which is solely dedicated to the fire industry. Additionally, when questions or maintenance needs arise, customers are provided with assistance from the people who engineered the system. Developing the electrical system for the chassis allows for full integration and monitoring of all subsystems.
Diagnostics / Prognostics:
Multiplexed electrical systems excel in advanced diagnostic capability. The Command Zone system allows any active or historic fault to be read in text from the vehicle display or WiFi enabled device. After logging in as an administrator, the user is able to force inputs and outputs on directly from the display. No additional computer or software is required to fully diagnose the vehicle. The Command Zone system also offers maintenance reminders of critical systems to ensure that the vehicle is kept operating at peak performance.
The V-MUX system requires a computer and software to force inputs and outputs on. It does not have an internal data logger so historic faults are not logged and there is no ability to provide maintenance reminders.
Telematics:
The automotive industry isn't the only space where telematics technology has evolved rapidly in recent years. Emerging and newly integrated fire truck telematics systems can provide firefighters and fleet managers with critical data regarding their vehicles. Some systems now provide the ability to look at truck readiness, and the overall readiness of a fleet, all within a moment's notice. Reviewing telematics data can help determine if a fire truck is reaching peak efficiency, as well as provide benchmarks for overall performance. This data saves precious time fleet managers would otherwise have to expend pulling data from various sources or manually entering data from system to system.
In 2018, Pierce introduced the expansion of its Command Zone advanced electronics architecture with the unveiling of CZConnect™, a fully-integrated telematics system. CZConnect is the first fully-integrated WiFi-based telematics solution available in the fire industry and offers a free customized vehicle readiness report containing vehicle performance data and maintenance interval information. The onboard telematics control unit continually monitors the engine, transmission, brake systems, fluid levels, system voltage, operating hours, vehicle location, and status of Command Zone I/O while the apparatus is performing its daily activities. Apparatus and GPS data is pushed from the vehicle each time it auto connects to a known WiFi network. Data analytics is performed, and a customized report is generated and designed to be viewed on mobile devices.
The V-MUX system offers Captium™ telematics technology which is cellular based and operates on a cloud platform. Through a connected vehicle platform, Captium provides access to chassis health and diagnostics, electrical controllers, water flow components, run-log recordings, and more. It also offers users a web dashboard, mobile access, and the ability to share data.
Each fire department has its own unique requirements and expectations regarding the electrical system functions of their apparatus. Multiplex systems including Command Zone and V-MUX offer versatility and flexibility that provides the end user with a wide variety of options. As fire apparatus electronic technology advances, consider integrating system options and features that will strengthen apparatus performance, safety, and maintenance efficiencies.
Do you have any questions regarding the multiplexed electrical systems that are available? An experienced Pierce Manufacturing representative would be happy to help. Contact a Pierce dealer today.