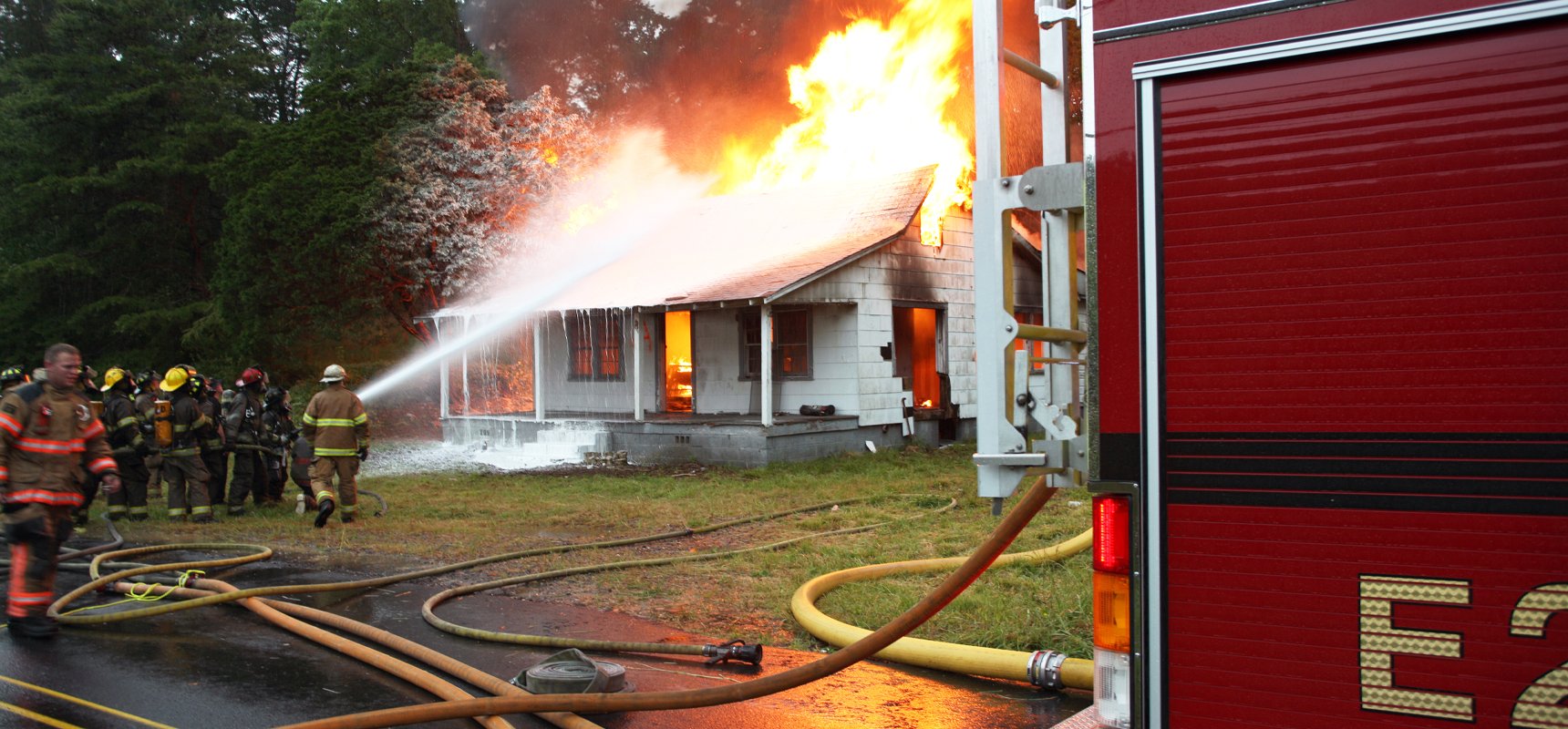 There are many integral fire truck systems that provide lifesaving resources and tools at the scene of an emergency. Fire-fighting foam systems are one such system, designed to improve the fire-extinguishing capabilities of water, enhancing on-scene efficiencies and promoting water use reduction.

Despite the growing use among departments globally, there is some confusion as to what foam systems can offer, when to use foam systems and the types of foam required for varying emergency response needs.
Continue reading below to learn more about the use of foam systems and the types of foam systems that directly support fire department operations.
What Is a Foam System and How Does It Work?
Today, Firefighters are faced with an increasing number of flammable liquid and hazardous vapor risks. From traffic accidents to industrial incidents, many situations can result in a flammable liquid or hazardous vapor occurrence.

Fire-fighting foam is made up of a mass of small bubbles of lower density than most flammable liquids and water. Foam is a blanketing and cooling agent produced by mixing air into a foam solution that contains water and foam concentrate.

A foam system allows a specific amount of foam to be mixed with water through the fire apparatus pump mechanisms. Anytime water is used, a foam system can be activated to improve water's effectiveness and help expedite firefighting capabilities.
Using a foam system in conjunction with water makes firefighting efforts 10-times more effective than water alone.
In a structure fire, water is used to remove heat from the fire by absorbing the heat in the room and cooling the available fuel. However, rather than directly contributing to the cooling of fuel below the temperature required for sustained burning, a large portion of the water hits the floor after passing through the atmosphere.

Foam concentrate, combined with water and compressed air forms a fire extinguishing agent that greatly reduces surface tension compared to that of plain water, enabling the solution to penetrate burning fuels much faster and more efficiently.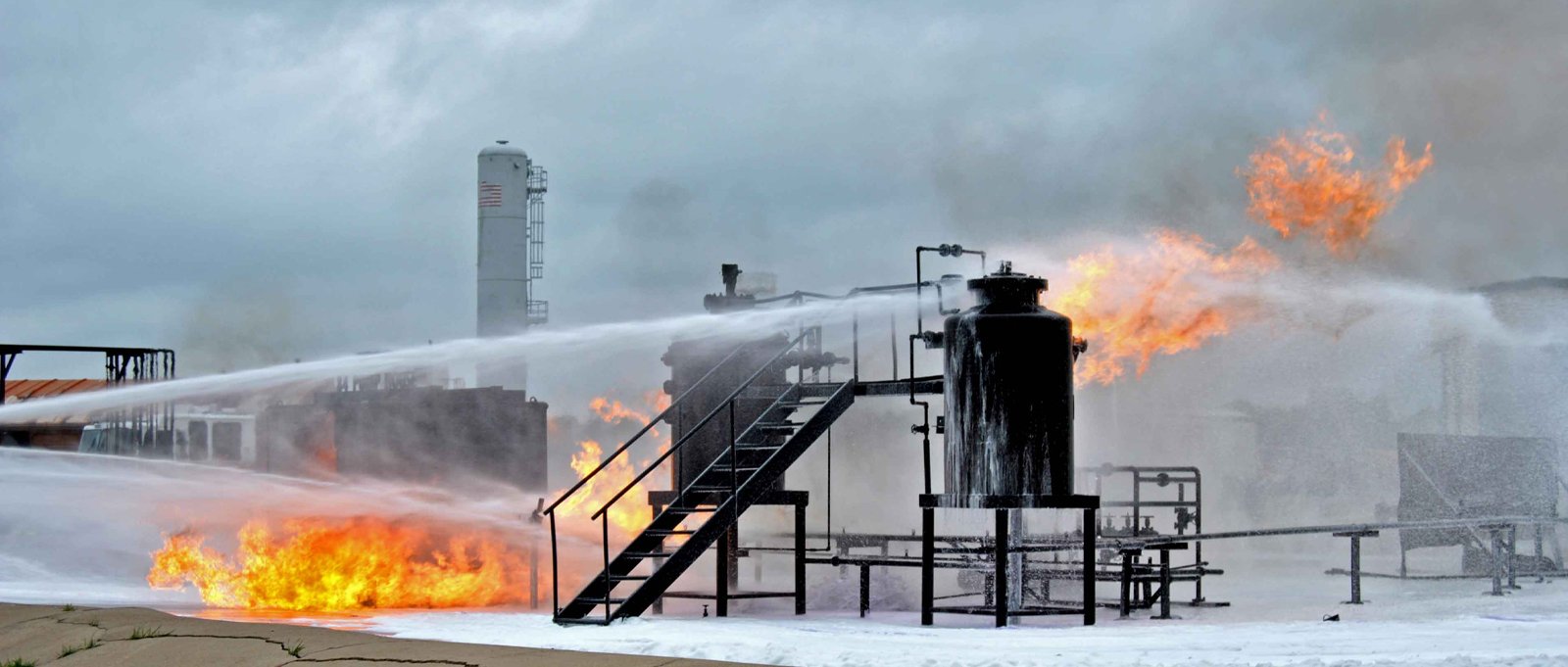 Other benefits of foam include:
Break down surface tension of water. The chemical composition of foam helps break down water surface tension, allowing water to penetrate burning materials, and thus, making water work more efficiently.
Reduce the amount of water required to fight fires. The use of foam extends the usable amount of water on the apparatus. For fire departments without mutual aid or easy access to fire hydrants, the use of foam is beneficial because it means fire fighters can use less water to put out a fire. A foam system is especially beneficial to rural and wildland fire departments, where access to a replenishing water source is not always possible.
Cling to burning materials. Depending on the type of foam being used, it can stick to the surface to help slow or stop burning and improve water penetration.
Cool surface temperatures. One of the key benefits of foam is its ability to cool surface temperatures, helping to reduce rekindling and improve water's ability to extinguish flames.
Short-term fire barrier. Foam can be sprayed in protect and prevention situations, to reduce the spread of wildfire and forest fire by coating areas before flames reach the region. The use of foam proactively helps to prevent flames from spreading to nearby surfaces, materials and terrain.
Visible from ground and air. Foam spray can be seen on the ground and in the air, which allows departments with mutual aid to work together more effectively on larger or wildland fires.
Foam systems can be adapted to meet the needs of unique geographical areas, fire department operations and even departmental preferences. Foam systems provide versatility and improved efficiency in the battle against dangerous fires.
What Is a Compressed Air Foam System?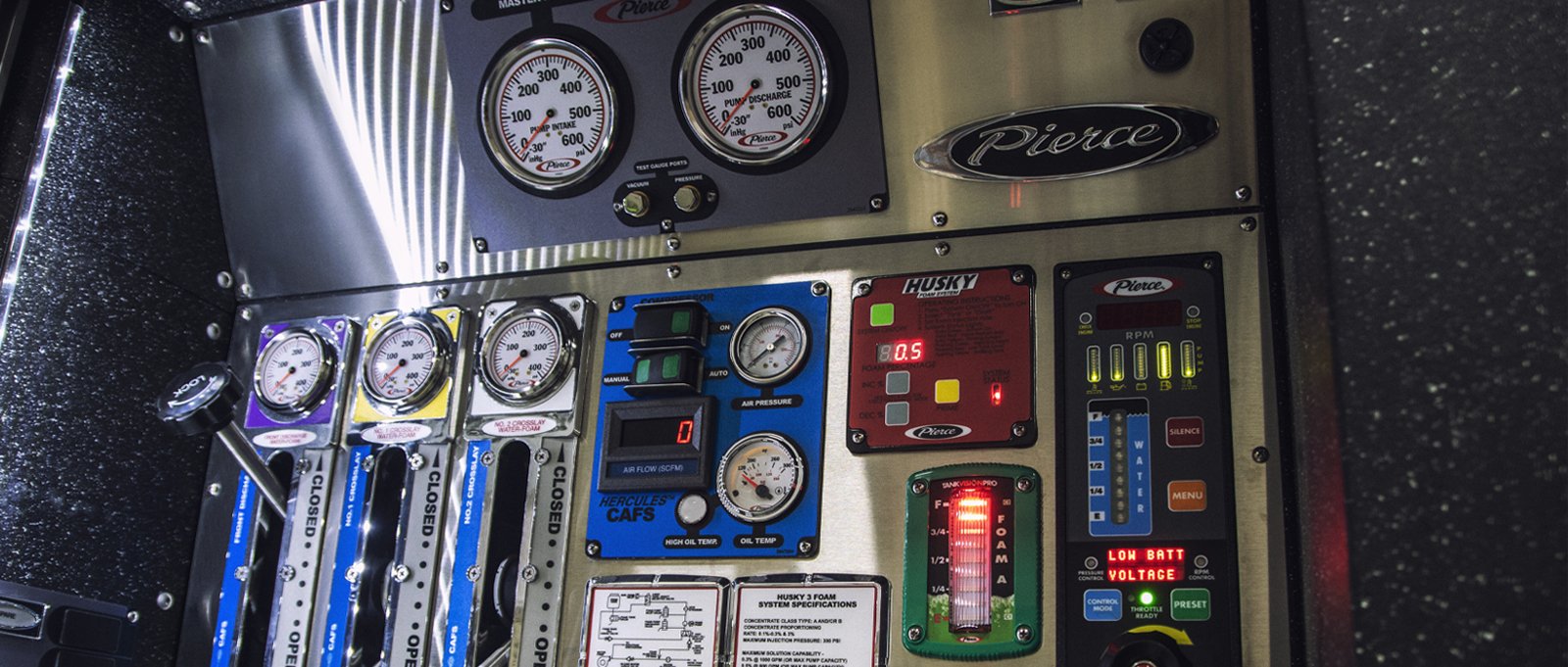 A Compressed Air Foam System (CAFS) adds compressed air to foam, allowing foam agents to penetrate and cool material faster than water and foam alone.
A compressed air foam system's ability to lower surface tension and cover areas quickly allows fire departments to use half of the amount of water normally required to achieve the same fire extinguishing results with just a foam system.
When fires are present, using a CAFS can help foam and water cling to fuel sources to help improve water penetration and cool surface temperature, and when applied as a preventative measure, it can protect areas from advancing flames. Learn more about Pierce's Hercules™ CAFS system now.

Selecting the right type of foam for the needs of your fire department and understanding how to determine the appropriate foam system are covered in detail below.
Class 'A' Foam vs. Class 'B' Foam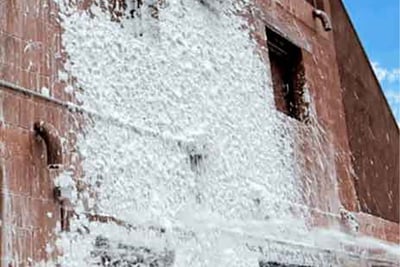 Class 'A' foam is used for Class 'A' fires, which include solid combustibles such as paper, wood, cloth and some plastics. Many Class 'A' foams are environmentally friendly and biodegradable when used in appropriate quantities.

Class 'A' foam typically runs at 0.3%, 0.5% or 1%. These are the most effective percentages based upon the foam manufacturer's recommendations; any other percentages are considered running the foam too lean, or too rich, and are not effective. The different percentages are directly related to the size and type of fire at an emergency scene, as well as the equipment being used to apply the water and foam.

Class 'B' foam is used for Class 'B' fires, which are fires that involve flammable liquids such as alcohol, ether, oil, gasoline or grease. Class 'B' fires are best extinguished by smothering or applying a blanket of Class 'B' foam, which is meant to float on the surface of burning fluid. When Class 'B' foams are sprayed with water, the foam rises to the surface to create a vapor barrier to cut off the fuel source. Class 'B' foams require special clean-up after a fire by state or federal authorities.

Class 'B' foam typically runs at 1%, 3% or 6%. These are the most effective percentages based upon the foam manufacturer's recommendations. Much like Class 'A' foams, the percentages are directly related to the fire size and type as well as the equipment used.
How to Choose the Right Foam System
Much like any component, part or feature of custom apparatus, determining the right foam system requires a thorough understanding of a fire department's needs.

As you work with a fire apparatus manufacturer, like Pierce Manufacturing, the dealer and design team will need to understand some basic elements, listed below.
How does your fire department intend to use a foam system? The first consideration is how foam will be used, what a fire department currently does now and what they may be planning for in the future. Providing education on the benefits of a foam system to match the department's needs is critical. The goal is to provide the right system to appropriately serve each fire department based on the type of fires and emergency situations they face.
Determining the use of Class 'A' foam, Class 'B' foam and the appropriate percentage requirements for each run. Understanding the types of calls a fire department manages regularly and the scenarios where foam will be used will determine the recommended size and type of foam system.
What is the worst-case scenario? Sometimes it is helpful to walk-through a worst-case scenario situation so a fire truck manufacturer can understand how a foam system will be used as well as an appropriate fire truck configuration to support on-scene operations.
Compartment and storage space available. How a fire department configures a fire truck and the storage and compartment space required for equipment and tools is critical to determine how much foam storage will be available on a given apparatus.
How much foam will your fire department use in "X" amount of time? In the design of apparatus, understanding an estimated foam system use percentage as well as the associated foam tank and cell storage can help approximate the foam system size required.
With understanding the requirements of a fire department, a fire apparatus manufacturer will help determine which foam system best matches the needs of a department.

There are multiple foam system manufacturers available to fire departments and without guidance, it can be difficult to determine the right foam system for your application and environment.

At Pierce, we work with each department to determine which foam system appropriately fits the custom apparatus design and size required for a typical emergency response. By offering and installing several name brand foam systems, Pierce ensures every fire department is appropriately equipped and satisfied with their foam system choice.

What Are the Benefits of Choosing a Husky™ Foam System?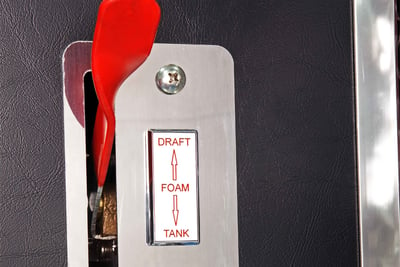 With a focus on innovation and cutting-edge apparatus components, Pierce has developed its own foam system to offer fire departments an alternative at a cost-effective price.

There are many benefits to choosing a Pierce Husky™ Foam System. System offerings include:
The lowest amp draw of any similarly sized foam system on the market, which allows for more amperage for the end-user for other truck components and tools.
A cost-effective solution with high-performance capabilities.
Foam that can be drafted from the ground, as standard, with no additional costs, on all Husky systems.
The most distinguishing characteristic about Husky Foam Systems is the fact that every system is calibrated, tested and witnessed by Underwriter Laboratories (UL) on the physical truck after it is built.
Every Husky Foam System is tested after apparatus installation for foam production accuracy and adjusted accordingly so it is ready to perform.
Other foam systems are tested by the original foam system manufacturer on a test bench, not on the fire truck itself. This means there is a chance of inaccuracies as the foam system is used, costing departments money every year on a foam system that is too lean or rich.
A Single-Source Supplier Saves Money
Choosing to purchase a foam fire suppression system from a single-source supplier offers fire departments many additional benefits. All the parts and pieces contained within the system come from one supplier, which means that it is easier to obtain replacement parts and provide system service if needed. In addition, there is no middle-man markup, resulting in a cost-effective foam system option for fire departments. Lastly, Pierce does not sell its proprietary foam system to any other fire apparatus manufacturers, which means Pierce can control quality testing and standards.
The Difference Between Husky 3 and Husky 12 Foam Systems
Both the Husky™ 3 and Husky™ 12 foam systems are the most accurate foam systems available in the market today. Below are some key differences between the two that your fire department should consider in the selection process.
Husky 3 Foam System Facts
The Husky 3 Foam System is an entry-level 3 gpm foam system.
It can carry or use one type of foam at a time on the vehicle.
It is typically meant for end-users who want to use Class 'A' foam.
It can use Class 'B' foam, but only at lower percentages.
Learn more about the Husky 3 Foam System in this video.
Husky 12 Foam System Facts
The Husky 12 Foam System is a higher-end, 12 gpm foam system.
It can carry and use multiple types of foam at a time on the vehicle.
It is meant for end-users who want to use both Class 'A' or Class 'B' foams.
It can proportion class 'B' foams that are available on the market today.
The foam system control head is very intuitive and has multiple menus and diagnostics screens providing the end-user with several data options to review while the system is running.
Learn more about the Husky 12 Foam System in this video.
Fighting fires is challenging, demanding work, but with an addition of a foam system to emergency operations, fire departments can save time, money and resources with a more effective means to combat fire.

Learn more about Pierce's foam systems now or contact a dealer to see how to enhance your fleet in the future.

Do you currently use a foam system? Share your experience in the comments below!