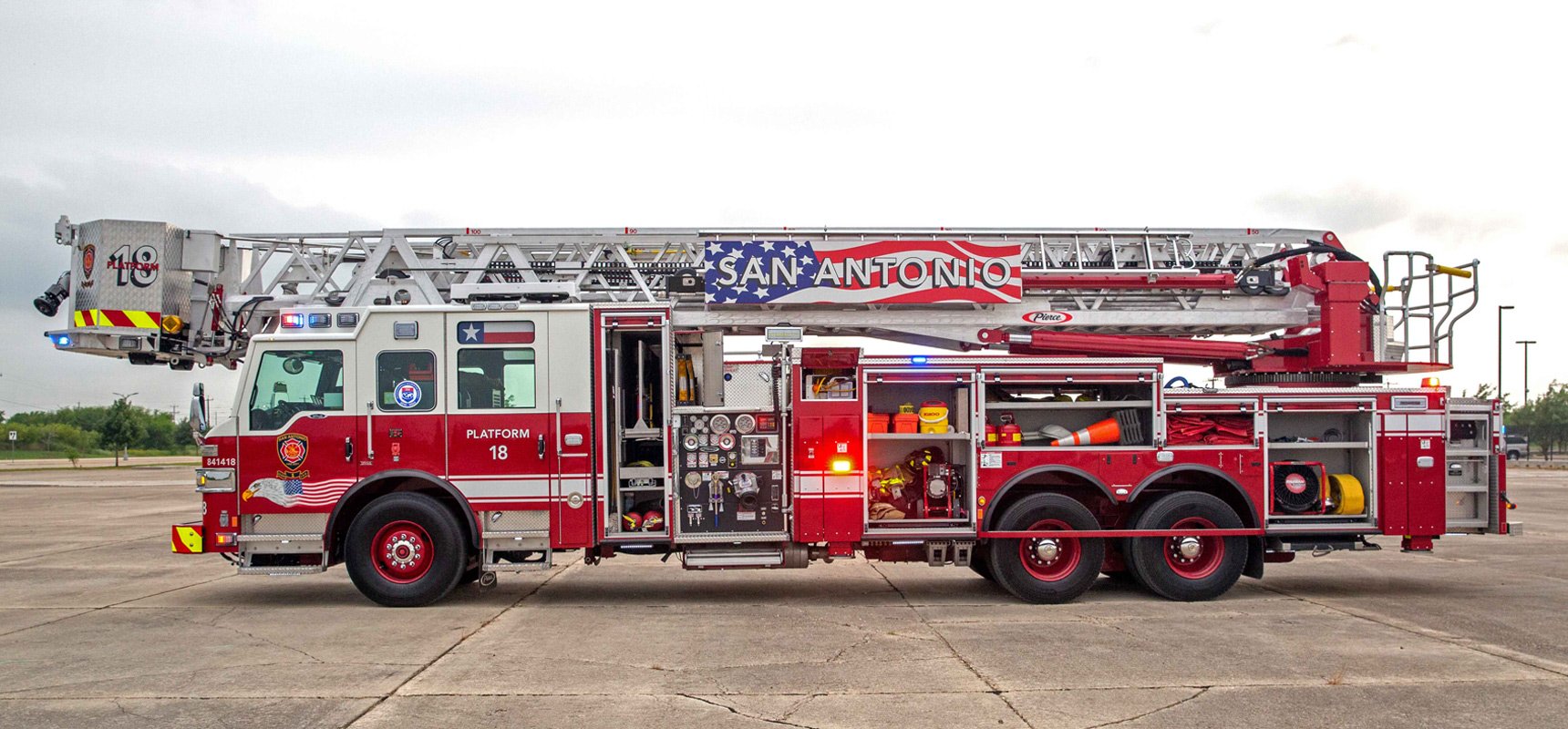 Fire truck compartments provide strategic opportunities for storage and functional workspace, while simultaneously dictating the flow of operations at the scene of a call, contributing to enhanced safety and efficiency.

How smart is your fire truck compartmentation?

Pierce Manufacturing is an advocate for manufacturing strategic, custom fire apparatus configurations that meet the needs of each fire department. This includes a focus on customized compartmentations and reduced carcinogen exposure through our Carcinogen Awareness and Reduction to Exposure (CARE) initiative.
Below, we explore several aspects of fire truck storage systems and compartmentation, frequently asked questions and outline some of the considerations fire departments should review as they design the storage space in their next fire apparatus.
Why Is Strategic Compartmentation Essential for Fire Apparatus?
Balancing the function of the fire apparatus with the storage required is critical. Not only must a department follow specific requirements to meet the needs of municipal and established department standard operating procedures, but it must also consider the primary use of the apparatus.
Benefits of Smart Storage and Compartments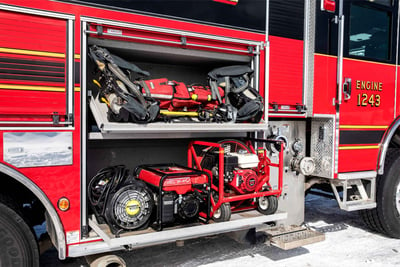 Fire apparatus compartments are designed and organized by the equipment that requires storage on board. Everything must have a place. The organization of compartment storage can enhance department operations, safety, time and efficiency.
Safety. Smart and strategic compartmentation should mount heavy and frequently used equipment down low. This would include rescue extrication tools and ladders, for example. Lighter tools or tools that are not required immediately upon arrival at an emergency should be placed higher, as a secondary need.
Time and Efficiency. Designing truck compartments based on how an apparatus is used and positioned during calls can help improve time and efficiency when every second counts. When firefighters are trained on the location of tools on the truck, and the truck is designed to optimize space and movement from task to task, everyone benefits.
When a fire department evaluates its options for truck configurations, storage is often a key consideration. As a fire apparatus manufacturer, our team at Pierce ensures that smart storage strategy is highlighted early in apparatus design.
FAQ: Fire Truck Compartment Storage
What Are Some of the Common Compartment Storage Areas Requested on a Pierce Fire Truck and What Are the Benefits of Each?
Bumper Storage. Due to the easily accessible location, many fire departments elect to use the apparatus bumper for the storage of vehicle extraction equipment and the hydraulic lines. Other departments use the space for front discharge outlets and front suction inlets.
Cab Storage. Fire truck cabs have unique opportunities for storage. Based on the requests of a fire department, EMS cabinets are designed to meet the needs of the department with internal or external access. Additional storage areas are provided under seats and complete transverse areas at the back of the cab.
Pump House Storage. The pump house and associated plumbing can be customized to allow for increased storage availability. The pump house area can include transverse compartments (side to side storage) and flexible storage in the area above the pump. Pierce configurations help maximize storage space.
Body Compartment Storage. Fire truck bodies vary in length and depth to provide versatile storage solutions. Body compartmentation is available in many different configurations and each compartment can be uniquely based on requested specifications.
Hosebed Storage. Fire departments can choose between traditional flat hosebeds or low hosebed configurations. Depending on the needs of the department, additional storage for ladders, hose packs and equipment can be added to the hosebed.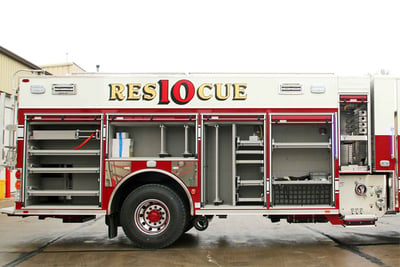 Regardless of the storage configurations a fire department selects, Pierce apparatus are designed to ensure each storage option is explicitly based on the needs of the fire department and the function of the apparatus on calls.
Do You Have Cubic Footage Measurements for How Much Storage Space Pierce Trucks Offer?
Every truck is unique, and thus, determining a standard cubic footage calculation is difficult. However, there are several Pierce products that offer significant storage cubic footage, including a pumper product with up to 500 cubic feet of storage space.
Important Factors to Consider When Designing Compartments for Fire Apparatus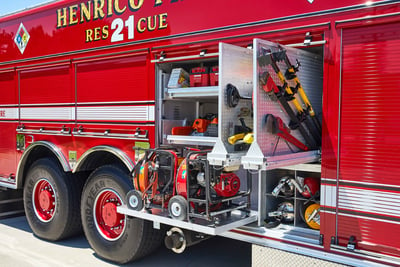 Here are a few key questions your department should review as you consider a new truck with custom storage and compartments.
What are the needs of the community?
What is the function of the truck?
What kind of equipment is required on the fire truck?
What kind of tools will require storage?
How many firefighters will travel in the vehicle?
What are the firefighters trained in?
What type of firefighter gear must be onboard the vehicle?
At Pierce, our experienced team can walk you through these questions and help determine the right type of truck and storage configurations to meet your needs. Find a dealer near you now.
How Does the CARE Initiative Relate to Cab Customization?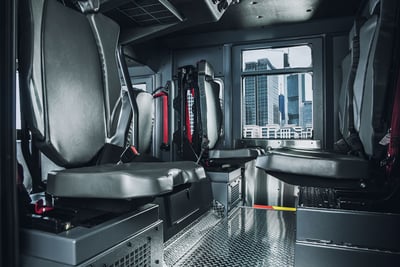 The Carcinogen Awareness & Reduction to Exposure (CARE) initiative is a partnership between Pierce Manufacturing and the Firefighter Cancer Support Network. CARE is intended to bring awareness to our customers and provide solutions to help reduce fire personnel exposure to carcinogens. Each fire department determines what the CARE initiative means to them and how they'd like to include some of the goals of CARE into their daily operations.

Pierce custom cab configurations do offer many elements that are specifically designed to support CARE and reduce exposure to carcinogens.
These CARE-focused cab storage and compartment customizations can include:
Custom Seats. Pierce offers seats from several suppliers made from materials that are easy to clean. Some seats feature removable covers that can be washed, while other seats are light in color to better show dirt and debris that must be cleaned away.
Custom Interiors. Pierce offers light color interiors that show debris. In addition, departments can select several flooring options that do not have seams to reduce the build-up of dangerous dirt and debris.
Air Filters. HEPA filters can be added to any cab to help reduce air pollutants.
Cab Compartments. Interior-only or exterior-only compartments sealed from the inside area can help reduce the transfer of carcinogens.
Cab Configurations. Pierce offers a cab option with an extension that can provide a dedicated area behind the seat for gear and equipment storage.
Custom SBCA Locations. The removal of SBCAs from the cab area can help reduce exposure. There are several options that can be considered when the SCBAs are removed from the seats: SCBAs can be relocated to fender compartments; stored in brackets in any compartment; stored in a case inside a body compartment; mounted on tool boards and trays in the body compartment; mounted on slide-out tilt-down trays, or mounted in over-the-wheel compartments.
Water Rinse Options. Pierce offers a wide variety of fire truck water rinse options including, low-pressure wash outlets on the truck, showerheads and warm water rinse stations.
Vertical Exhaust. Custom vertical exhaust solutions ensure that exhaust discharges above the vehicle away from firefighters and fire personnel.
Pierce is proud to be an advocate for the CARE initiative and to offer apparatus customizations that meet the needs of the department and help protect firefighters.

Pierce Manufacturing takes pride in creating custom fire apparatus solutions to meet the needs of each unique community. Fire departments will find the storage and compartmentation options available are almost endless. With the customer in mind, Pierce will listen to and deliver the requested customizations.

Talk to a dealer today to learn how you can design a custom fire apparatus with strategic storage and compartmentation.

How has smart compartmentation helped your fire department? Let us know in the comments!