In cold weather climates, fire departments are faced with unique challenges as they seek to protect and maintain the operational functionality of fire apparatus. But it's not storms, snow or ice that firefighters cite as their biggest winter weather challenge; it's rust and corrosion of fire apparatus.
Combatting winter weather-related rust and corrosion starts with an understanding of the adverse effects of deicing agents and how to integrate proactive preventative maintenance into daily operations.
Learn more about corrosion, the harmful effects of deicing agents and receive helpful preventive maintenance tips to protect your fleet throughout the winter months below.
The Facts About Deicing Agents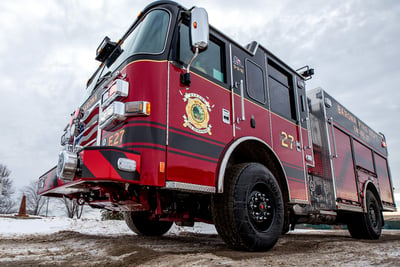 Winter weather-related fire truck corrosion doesn't happen overnight. It occurs as a result of exposure to aggressive deicing agents that eat away at exposed metal surfaces.

What are deicing agents?

Deicing agents protect communities and keep roads safe by reducing the freezing temperature of water and preventing dangerous ice from forming on paved surfaces.
Sodium chloride, or rock salt, is one of the most commonly used deicing agents. However, it has limited effectiveness in frigid temperatures and will not melt ice when temperatures fall below 20⁰F.
Magnesium chloride and calcium chloride are used in addition to rock salt to help prevent ice formation. These chloride chemicals work at a lower temperature and help prevent ice formation in temperatures as low as -25⁰F. These chemicals are often distributed on sidewalks and roadways up to 48 hours before a storm hits.
Common rock salt causes minimal rust and corrosion because it dries out when a vehicle is parked in a garage. Magnesium chloride and calcium chloride are sticky, by design, and love water. As they sit on a metal surface, the chlorides pull moisture from the air to continue fueling corrosion. Sand, beet juice and other deicing agents can cause surface damage, but they are not as aggressive or as damaging as magnesium chloride and calcium chloride.
Until physically removed with warm water and detergent, magnesium and calcium chloride will continue to draw moisture from the air and eat away at any metal surface.
The perception is that if a fire apparatus is used only once or twice in the winter, it is safe from rust and corrosion. The truth is that a single incident of exposure to magnesium and calcium chloride, without prompt removal, can continue to eat away at any exposed metal surface, even if your vehicle is parked in a heated, low-humidity garage.
Scratches, dents or other damage will corrode without stopping until the chloride chemicals are removed. These chlorides flourish in high humidity environments, making fire departments particularly susceptible to accelerating rust and corrosion.
Winter Weather Maintenance Tips for Fire Departments
Rust and corrosion prevention start with proactive measures. Outlined below are several tasks your fire department can weave into any preventative maintenance routine to help combat the negative effects of winter weather and deicing agents on apparatus.
#1. Wash Fire Apparatus Regularly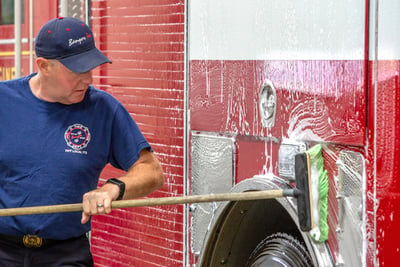 Washing your apparatus may seem like an obvious solution, but many fire departments have not adapted their apparatus washing practices to meet the changing use of chemicals in the environment.
Power washing is not required. Washing apparatus with warm water and detergent is the best solution to dilute the chlorides that stick to the apparatus and wash them away.
Washing apparatus immediately after exposure to deicing agents is critical. Exposure to salt doesn't cause rust immediately, but once the chemical process of corrosion begins, it doesn't stop until the chemicals are washed away.
#2. Don't Forget to Wash the Undercarriage and Frame Rails
Unlike other trucks on the road, fire truck frame rails are recessed, making them nearly impossible to clean as the body of the truck is washed.
To properly clean fire apparatus undercarriage and frame rails, you need to get underneath the truck. Luckily, there are some tools available that can help. Look for underbody, chassis or undercarriage flush tools and use those regularly to remove salt and other chloride agents. Mix a solution of warm water and detergent to remove all deicing agents successfully.
To help expedite the cleaning process, some fire departments have installed underbody flush stalls within their stations. While this may not be possible for every fire department, your local fire truck dealer may be able to help. Some Pierce dealer service centers offer underbody flush units and others sell under truck rinsers that fire departments can use to clean the underside of fire apparatus.
#3. Perform Regular Inspections and Surface Damage Repairs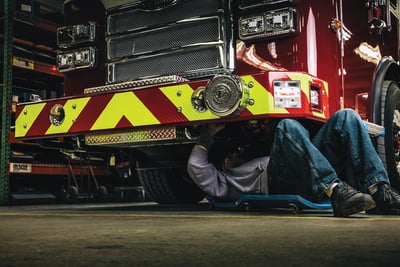 Routine inspections offer a proactive solution to help reduce surface rust and corrosion. As you inspect your fire apparatus, note any scratches, dents or damage that breaks the paint surface or protective coating, exposing the metal below. Any damaged surface areas should be sealed and repaired promptly.
Much like the washing process, don't forget to inspect the undercarriage. It's easy to inspect the body of the apparatus, but don't overlook the importance of examining the undercarriage and frame rails for surface damage. Many fire departments align undercarriage and frame rail inspections with routine oil changes. If any damage is found, seal it and paint it to prevent corrosion.
#4. Protect Your Fire Truck From the Bottom Up
Carwell, or other corrosion prevention products, are sprayed on fire apparatus to displace water. These products penetrate between metal surfaces and into crevices, adding an extra barrier of protection. Most corrosion prevention products can be applied with a hand sprayer.
In the autumn before winter weather hits, spray the protective coating on all fire apparatus and repeat the application in spring. One important note: pressure washing can disturb the protective barrier provided by corrosion prevention products, which is yet another reason to wash all fire apparatus with warm water and a detergent mix.
How Does Pierce Design Fire Trucks to Protect Against Winter-Weather and Corrosion?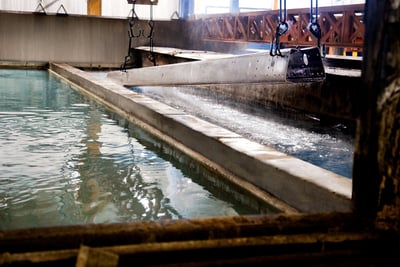 For cold weather climates, or in geographic areas where rust and corrosion may be a concern, Pierce representatives and dealers often work with fire departments to select the right fire truck elements to ensure optimal performance for the demands of the environment.
Pierce has a number of other steps in the manufacturing process that are designed to help combat corrosion.
Electrodeposition coating, or E-coat, is a primer applied to a physical substrate that offers corrosion resistance and exceptional resistance to peeling. The E-coat process offers 100-percent surface coverage including all through holes, crevices and uneven edges. E-coat immersion provides coverage for fire truck chassis, frame rails and many parts of apparatus undercarriage.
Hot Dipped Galvanize Coating is an option for frame rails IPO e-coat.
Dielectric tape or grease is used in the assembly process to keep dissimilar metals from causing galvanic corrosion.
Protective adhesive coverings are used to ensure that painted surfaces are not chipped, scratched or otherwise damaged in the assembly process.
Extra coatings of paint, joint sealer and/or topcoat are often available for frame rails to add additional protection from corrosion.
Undercoating and Rustproofing is available for cabs, bodies, doors, frames and substructures as well.
Wire harness connectors are rated for corrosion and water protection and are placed to prevent water intrusion.
Are Warm Weather Climate Fire Trucks Made Any Differently Than Cold Weather Climate Fire Trucks?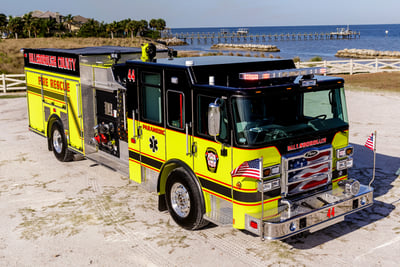 Fire truck dealers and Pierce representatives are often asked if the climate of a geographic area changes how a given fire truck is manufactured. The answer is, of course!
Pierce manufacturers custom fire apparatus designed to match the specific needs of a fire department. This includes an understanding of the local terrain, the daily tasks of the apparatus and the climate.
Interestingly, corrosion and rust affect some fire departments in southern climates as much as it affects those in cold-weather climates. Fire departments located near the ocean often have corrosion issues because of salt in the air. Chlorides (the corrosive component of salts) can travel as far as seven miles inland when ocean water evaporates leading to fire truck corrosion.
As such, fire trucks are designed and manufactured to match the demands of the environment to ensure optimal performance and extend the life cycle of the apparatus.
Accelerated rust and corrosion of fire apparatus can cause increased apparatus maintenance costs and decrease the time in service. Use the information and tips cited above to help keep your fleet in top shape and prevent weather-related corrosion.
Were you aware of the adverse effects of deicing agents? What changes have you made to your routine maintenance to better protect your fleet?