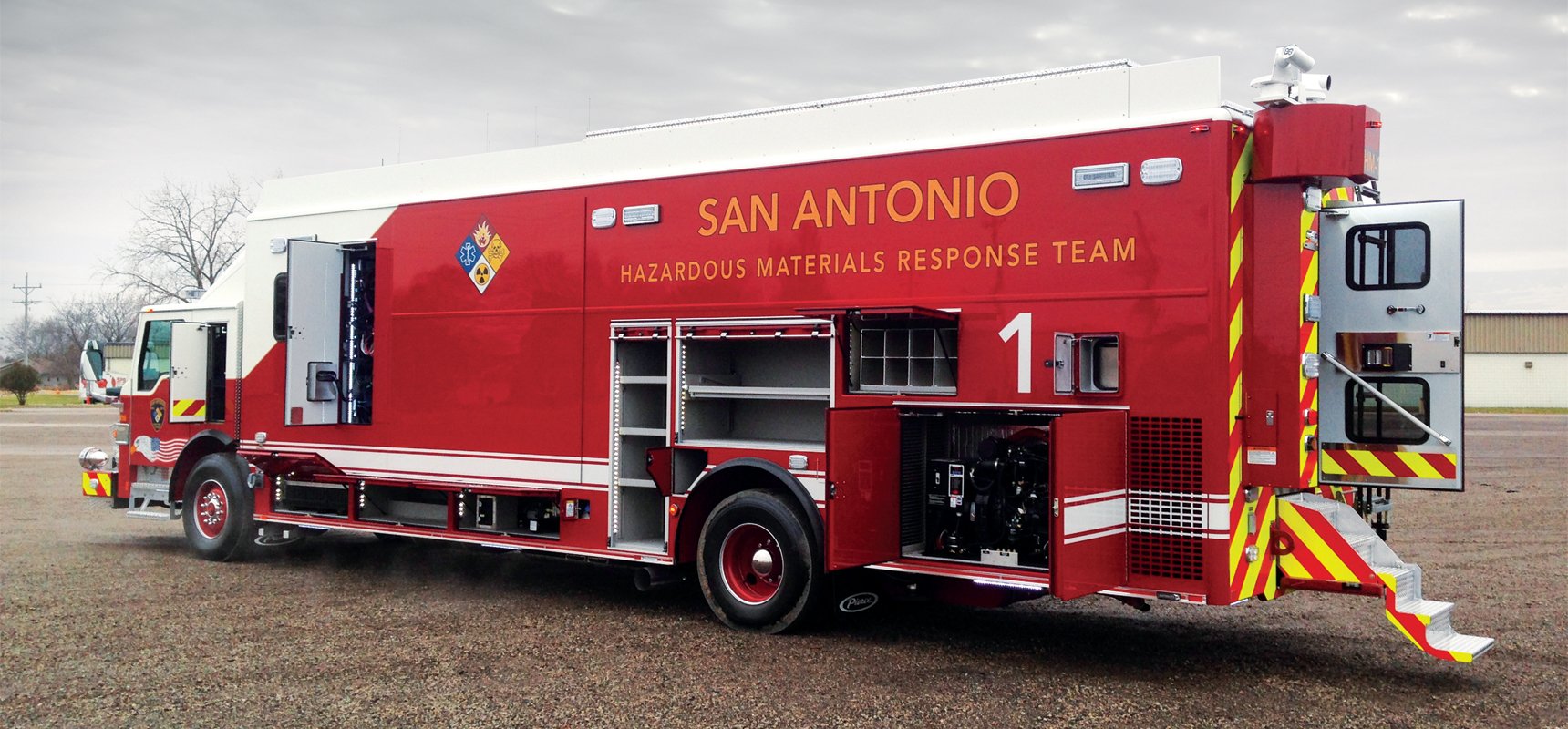 Hazmat fire trucks are becoming more and more prevalent in fire departments across the country, but how are they defined and what is on board?

This blog post walks through everything firefighters need to know about hazmat fire trucks and highlights the design and components of several hazmat fire trucks that are currently in service.
What is a Hazmat Fire Truck?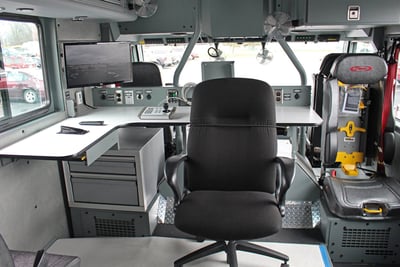 A hazardous material fire truck (hazmat) is used by emergency service personnel to respond to calls involving potentially hazardous substances or materials.

From local gas stations to nearby chemical plants, hazardous materials can exist in almost every community. Firefighters have basic training in managing the most common hazardous materials, but in some instances, specialized rescue vehicles are required.

A hazmat unit is designed to respond to an emergency carrying the tools, equipment, technology and personnel with the expertise to manage hazardous situations.

How do you know if your department needs a hazmat fire truck?

If a fire department is considering a new apparatus, it's important to consider the fire jurisdiction's buildings, structures, and business types. The hazards in a fire department's service area can often dictate what type of apparatus may be required to manage emergency scenarios.

The information below speaks more specifically about the design and equipment for hazmat apparatus as well as how to start planning your next apparatus purchase.
Is There a Common Hazmat Chassis, Engine or Configuration Type?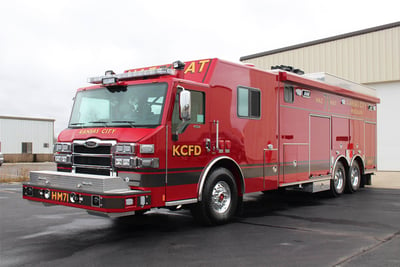 A hazmat fire truck can come in any size, shape, vehicle body, or chassis type. Much like the selection of any type of apparatus, it comes down to several key questions:
What is the primary mission of the fire truck?
What key capabilities must be considered in apparatus performance?
What tools and equipment are needed?
What type of storage will support the tools required on board?
How many people does the apparatus need to carry?
Are personnel seated or at command stations?
What technology must be included on the apparatus?
In the examples shown below, you'll notice that many fire departments choose a combination rescue apparatus to allow for ample storage and interior space for a command center. But there are also other distinguishing characteristics fire departments should consider in the design of a hazmat apparatus.
What Are the Distinguishing Features of a Hazmat Fire Truck?
A hazmat fire truck is designed to manage the potential hazardous materials situations that may occur in the local community and be prepared to support additional hazardous situations as required.

As such, there are several distinguishing characteristics that hazmat fire trucks feature that a regular pumper, rescue, or aerial may not.

A Command Center Designed to Support Hazardous Scenario Management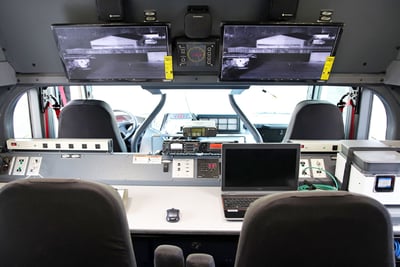 When a hazardous scenario arises, having a command center on an apparatus means that firefighters are able to stay out of danger with the ability to maintain full control of the situation.

A command center can feature any number and combination of technology systems for communication, video and audio recording, visibility of the scene, and more. It can include tables and chairs, workstations, WiFi, phones, weather monitoring systems, and even an enclosed laboratory to test chemicals on board. Once a fire department determines what may be required in the command center, Pierce, as a leading hazmat fire truck manufacturer, can bring it to life.
Hazmat Suits and Storage
It's no surprise that many hazmat fire trucks are equipped with special gear to manage hazardous and unknown materials. Because the gear is not required on every call, there may be strategic storage, lockers or cubbies on the apparatus designed to hold various levels of gear to match the emergency situation. Additionally, there may be storage areas that are compartmentalized and sealed from the rest of the truck to quarantine contaminated suits, tools and equipment.
Equipment Designed Specifically to Contain Spills and Hazardous Materials
In addition to personal protective clothing items, hazmat fire trucks are equipped with equipment specifically designed to evaluate, contain and clean up hazardous materials.
For example:
An overpack drum is a large container designed to go over the top of a 55-gallon drum with a leak. The overpack drum is then flipped and sealed to contain the leak inside the container.

A plug kit is outfitted with plugs and wedges designed to fill punctures in tanks, cylinders, drums and gas lines to control liquid, gas, or bulk material leaks.


Containment berms, blankets and absorbent booms are helpful to control spilled liquid materials, like gasoline. These devices help mitigate the expansion of the hazardous area and prevent hazmat materials from running into sewers and drains.
Below, there's a more extensive list of items a fire department may want to consider including on hazmat apparatus.
What Key Components are Typically Included on a Hazmat Fire Truck?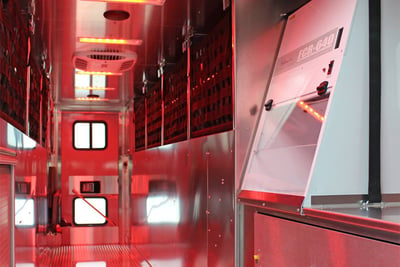 As a fire department considers the addition of a hazmat fire truck to its fleet, reviewing the National Fire Protection Agency, 1901 Standard can provide a great list of possible components to include.
In the Appendix of NFPA 1901 (A10.9.3), an equipment list includes items that may be considered on a rescue apparatus if the primary use of the apparatus is for hazardous material containment.
Some of these items include:
Gas detection and radiation-monitoring equipment
pH testing kit
Different types of protective suits
Disposable boots and gloves
Long-handled scrub brushes
Garbage bags
Plug and patch kit
Absorbent materials
Drum kit
If your department is not sure where to start with the tools, equipment and gear to include in a new hazmat fire truck design, review NFPA 1901 and keep reading to learn more about possible technologies to include on board.
What Technology Is Found on Hazmat Apparatus?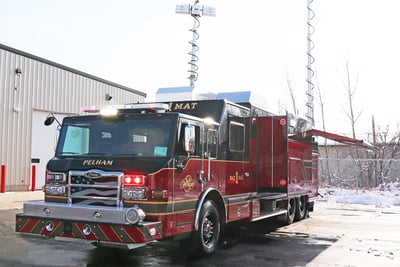 Based on the mission of a hazmat fire truck, there are many possible technology options that can be integrated into the design. Below, we list several popular options.

WiFi and Phone Systems: Being prepared on a call with various communication methods is always good practice. Hazmat apparatus can be outfitted with hardline phone systems, WiFi capabilities and related system components to ensure open communication channels at the scene.

Satellite Weather Tracking Systems: To ensure firefighter health and safety, tracking weather patterns, particularly wind, is a critical consideration. If hazardous material particles are in the air, fuming into the sky or causing smoke, it is important that personnel remain upwind. Monitoring any changes in the wind to ensure rigs can move accordingly will help protect firefighters from unnecessary hazardous materials exposure.

Camera Systems: When a hazmat truck or command center is called into action, it is beneficial to have cameras on the exterior of the apparatus with the ability to monitor the scene from a safe interior location.

Monitors: Whether firefighters are watching the weather, local news, or monitoring cameras outside of the truck, having monitors set up inside the vehicle can offer visibility and keep communications moving in real-time.

Laboratories: When the analysis of hazardous materials may be required, hazmat trucks can be designed with a laboratory inside the body cavity. Labs can feature enclosed plexiglass areas with fume hoods and the ability to test chemicals and substances to detect the level of present danger. A direct phone line out can also help firefighters contact agencies that can help with substance identification.

Broadcast Video and Audio Recording Equipment: The ability to record and broadcast information in a timely and efficient manner may be required in command center operations. These technologies can be included in hazmat truck design to help support the flow of pertinent information offsite.
Hazmat Fire Truck Examples
San Jose Fire Department - Combination Rescue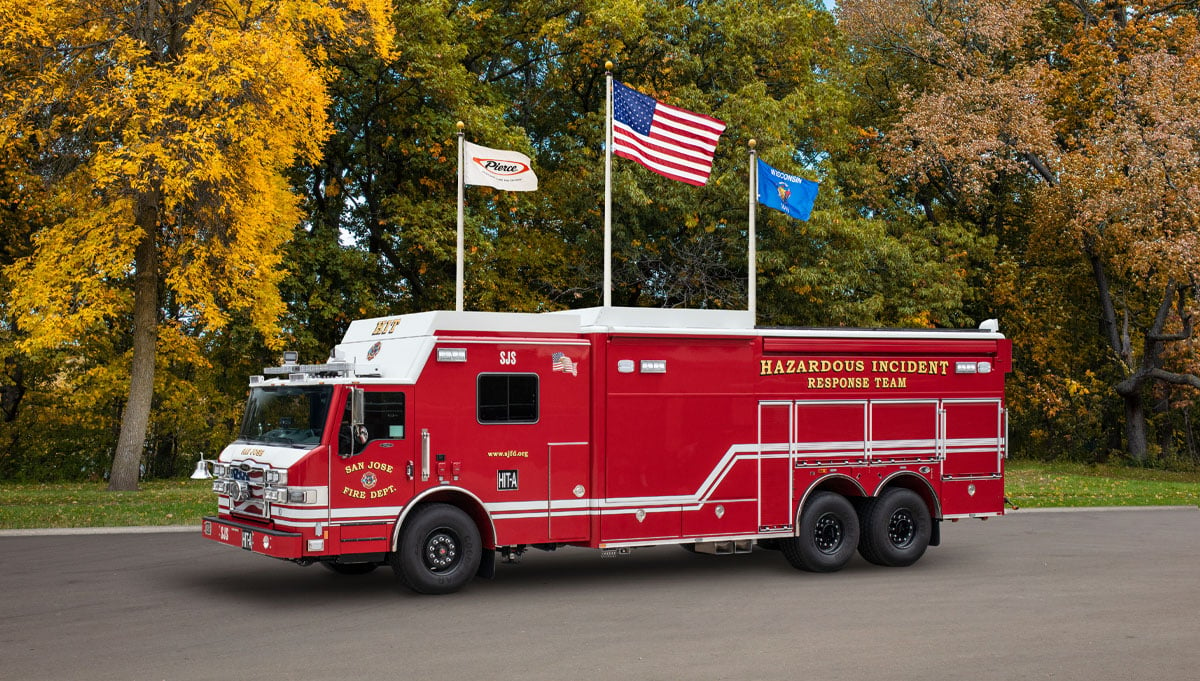 The San Jose Fire Department's combination rescue apparatus is specially designed for hazmat incident response. The full-tilt 3-door cab is built on a Velocity™ chassis and features a TAK-4® Suspension System and a 600 hp Cummins X15 engine. The interior walk-in space includes one slide-out room. There is a fume hood for the analysis of chemicals and a video camera positioned on an exterior tower at the rear of the truck.
Pelham Fire Department - Combination Rescue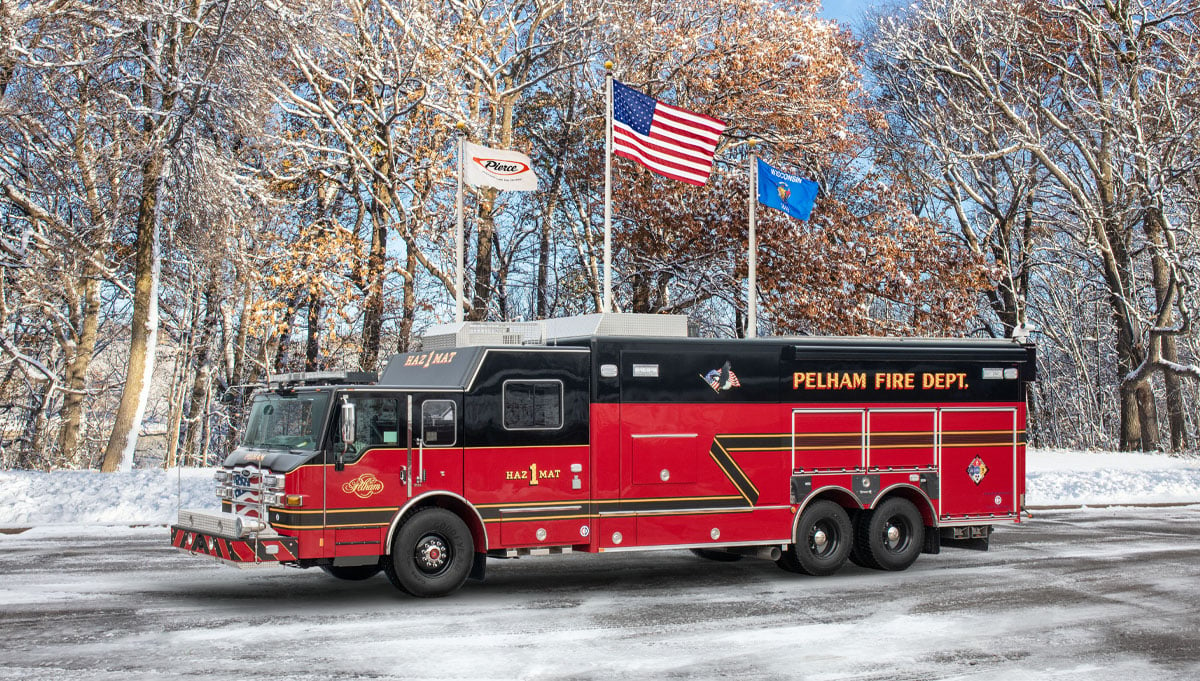 The Pelham Fire Department combination rescue is a split-cab on a Velocity™ chassis. It was designed so the rear portion of the crew cab does not tilt so it could be equipped as a command center. The command area in the body has two slide-out modules which support a desktop workstation with computer technology, a weather monitoring system and added storage. The apparatus also includes a video camera tower at the rear of the vehicle body.
Sacramento California - Combination Rescue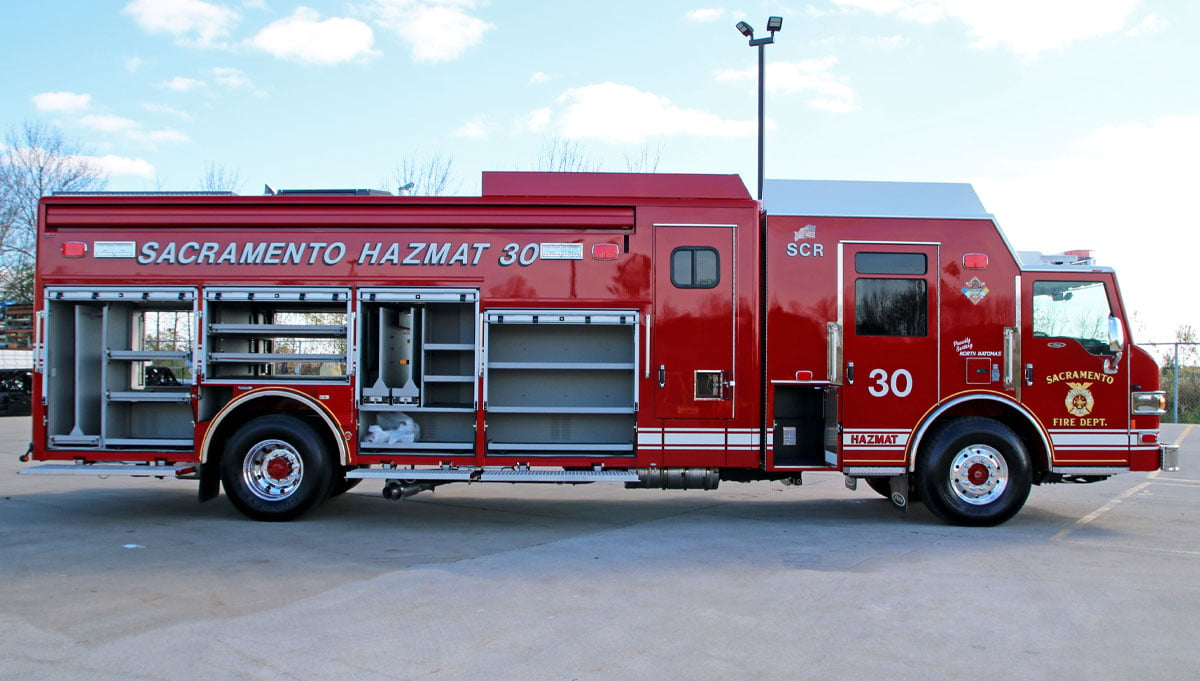 The Sacramento California Fire Department's combination rescue apparatus is built on a Velocity™ chassis and features cab-to-body walk-through. It includes a command center and an isolated fume hood area.
Oregon State Fire Marshal - Combination Rescue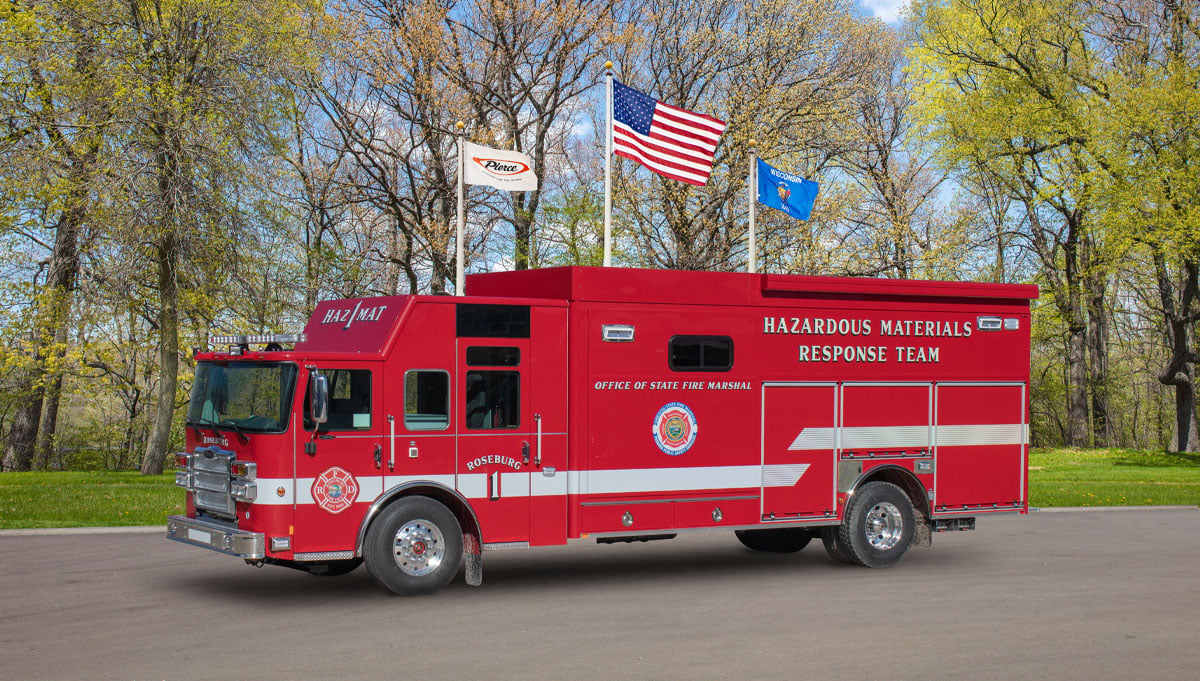 The Oregon State Fire Marshal rescue features a combination body on an Enforcer chassis with a Cummins L9 450 hp engine. The four-door cab includes a full-width desk in the crew cab with two command chairs. A cab-to-body walk-through opening, and a passenger's side entry door, both provide access to the forward portion of the body. A smaller work-station area is also provided in the body interior.
Port Arthur Fire Department - Combination Rescue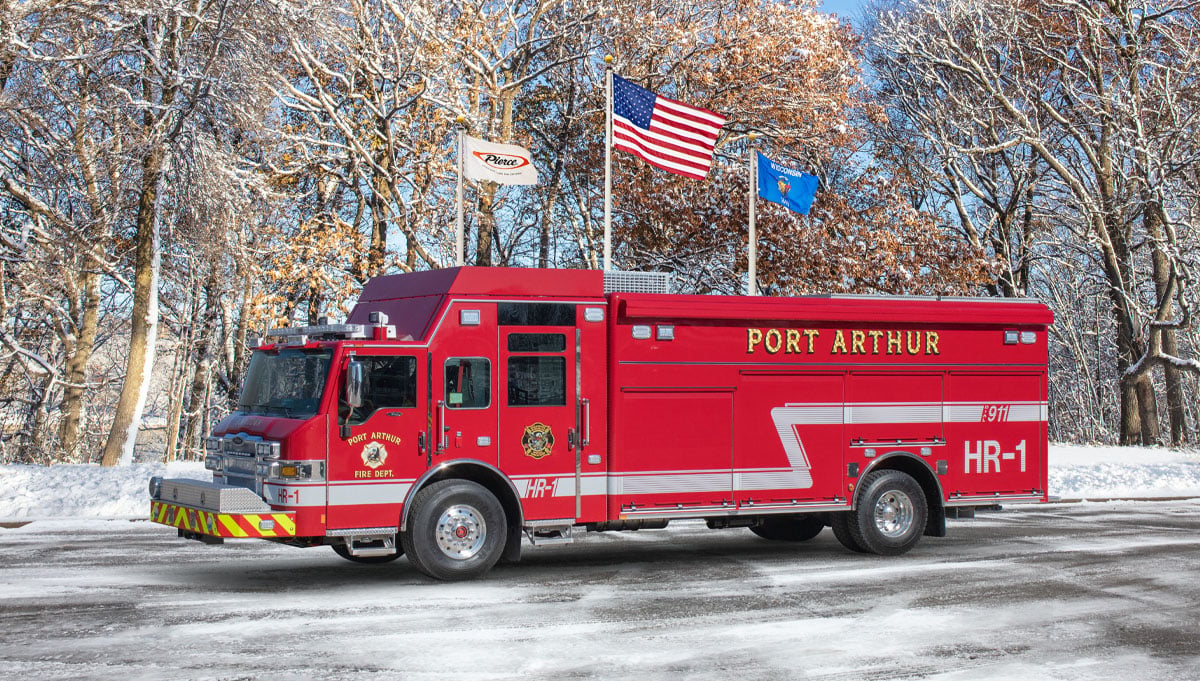 Port Arthur Fire Department's combination rescue is built on a Velocity™ chassis and features a 450 HP Cummins L9 engine. It looks like a non-walk-in rescue from the outside, but it does include a cab-to-body walk-through. The interior space is designed primarily for storage to keep air and weather monitoring equipment and TV monitors safe from the elements and at a consistent temperature.

Does your community have a need for hazmat support and you're not sure where to start?

Learn more about Pierce's rescue fire truck options or contact your local dealer now to learn about recent deliveries in your area.