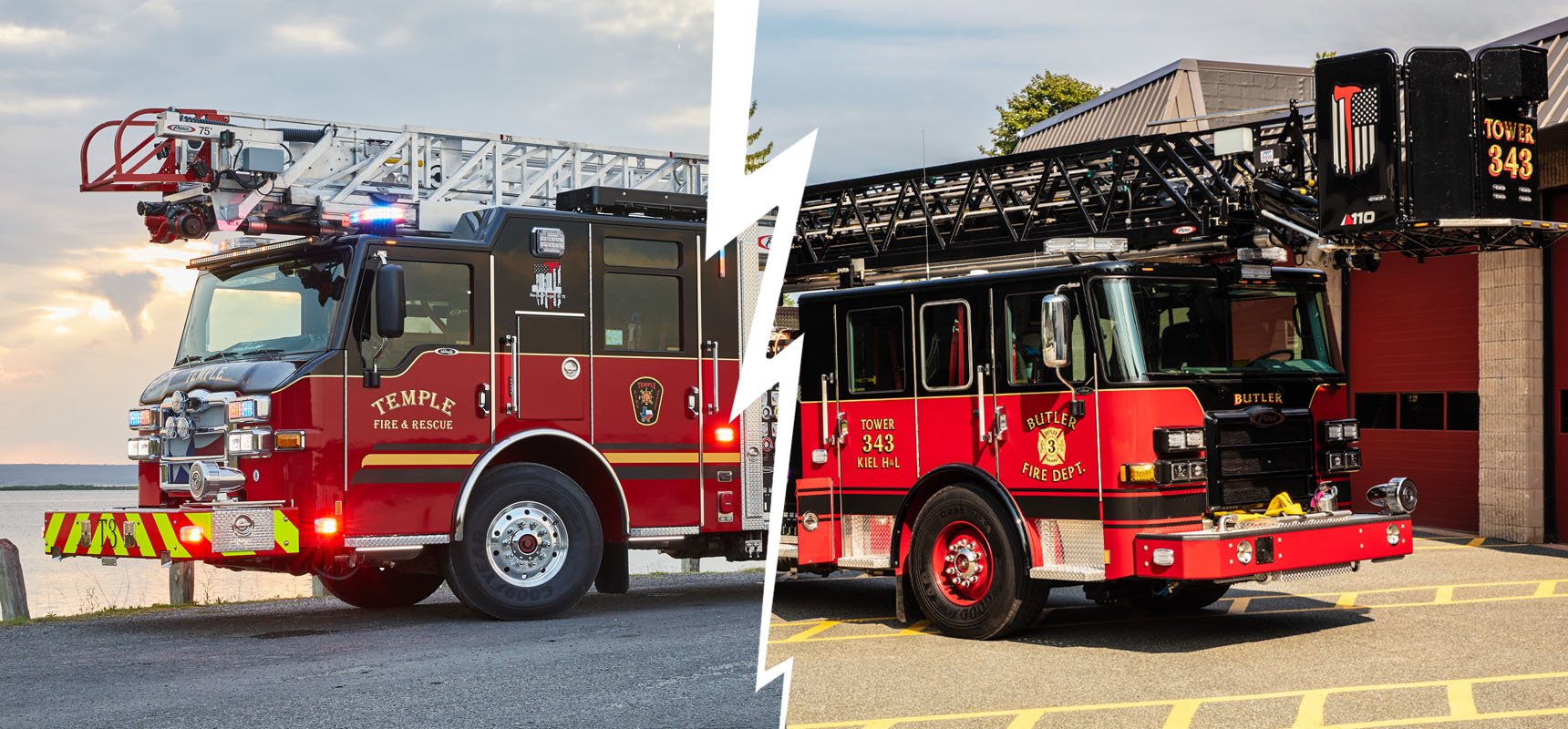 Choosing an aerial fire truck for your fire department comes with a lot of questions and comparisons. But what every firefighter wants to know is—which is better—a ladder truck or a platform truck?

The simple answer is, it depends.

Reviewing the commonly cited advantages and disadvantages of ladder trucks and platform trucks is a great place to start. Continue reading to see feedback from real firefighters on the pros and cons of ladder and platform fire trucks.
Ladder Fire Truck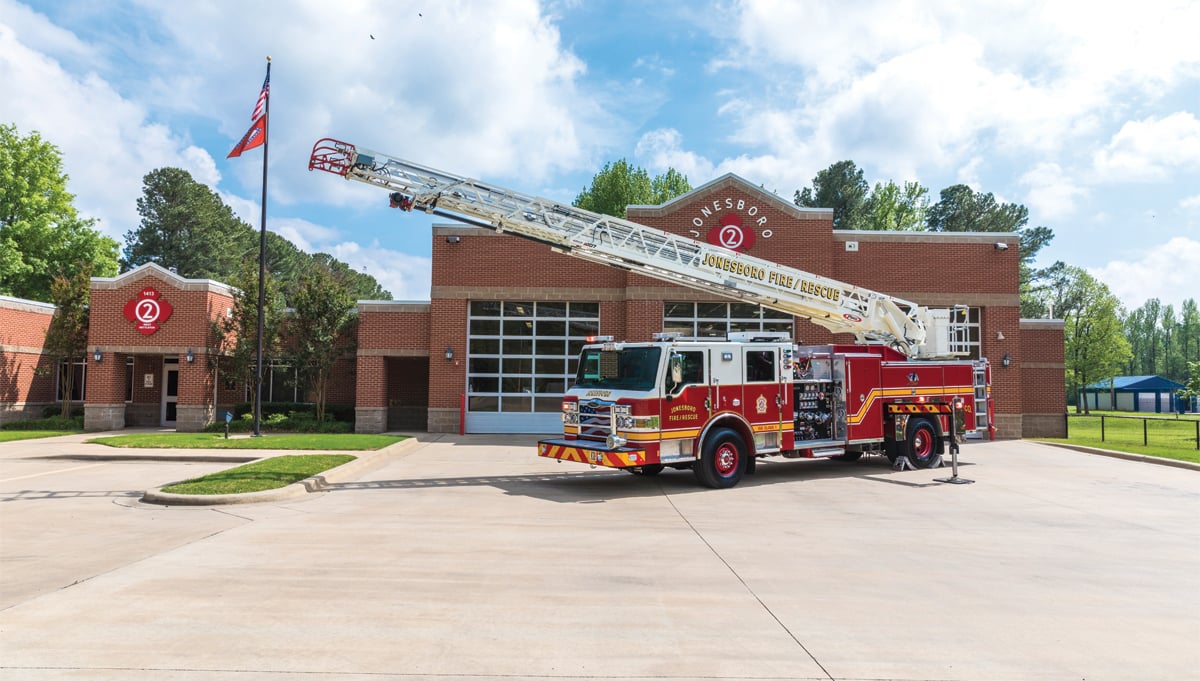 A ladder fire truck is a basic tool for rapid response, ventilation, extinguishment and rescue operations in the fire service. An aerial ladder truck stands out in a fleet because of the highly visible ladder device on the top of the truck with either a mid-mount or rear-mount application.

Ladder fire trucks are often touted for their shorter length and lower weight, which allows them to fit more easily into fire stations with older infrastructure and in communities with narrow streets and mature trees. Ladder trucks are also designed to maximize vertical reach for ventilation or rescue operations.

Ladder fire trucks are ideal for rescue operations in tight quarters with a lot of overhead obstacles to overcome.
Ladder Fire Truck Advantages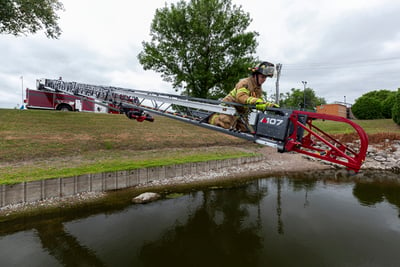 Ladder fire trucks, also referred to as straight sticks or straight ladders, are designed simply to get the job done.

Here are some of the key advantages:
Compact in size. Ladder trucks are often smaller in stature with a lower vehicle weight and vehicle height.
Excellent maneuverability. In contrast to a platform truck, a ladder truck can more easily maneuver through treetops, overhead electrical wires, balcony railings and between closely spaced buildings.
Longer ladder lengths. Ladder trucks can offer longer ladders with improved reach capabilities for rescue and ventilation efforts.
Less gross vehicle weight. In contrast to the heavier platform options, a ladder truck is smaller and weighs less.
Shorter stabilizer stance. A shorter stabilizer stance affords ladder trucks with the ability to work well in tight spaces, around parked cars, and in narrow roadways and alleys.
Lower handrails. Ladder trucks feature lower handrails allowing for easier access off of the side of the ladder when required and lower overall vehicle height.
Greater water tank capacities. With less weight in the aerial device itself, it leaves more room on the truck for a larger water tank.
Less costly.

An aerial ladder can cost $50,000 to $100,000 less than a platform aerial fire truck.
Ladder Fire Truck Disadvantages
It wouldn't be fair to talk about all of the advantages of a ladder fire truck without addressing what some fire departments deem as the disadvantages. Here are some things to consider:
Less payload capacity. With a smaller stature and shorter stabilizer stance, the payload capacity is also lower, meaning fire departments cannot carry as many people and/or tools as a platform fire truck.
Less water flow capacity. The aerial ladder does feature an elevated stream, but it has less capacity than its platform counterparts.
Personnel must climb the ladder. Firefighters must ascend and descend the ladder device on their own.
Limited rescue features at the tip. Because the ladder truck just offers a ladder, there are limited options for adding rescue features and tools at the tip of the ladder.
Cannot travel between windows with people on the ladder. Because of a lower tip-load capacity, firefighters cannot travel from window to window carrying people in rescue operations.
Platform Fire Trucks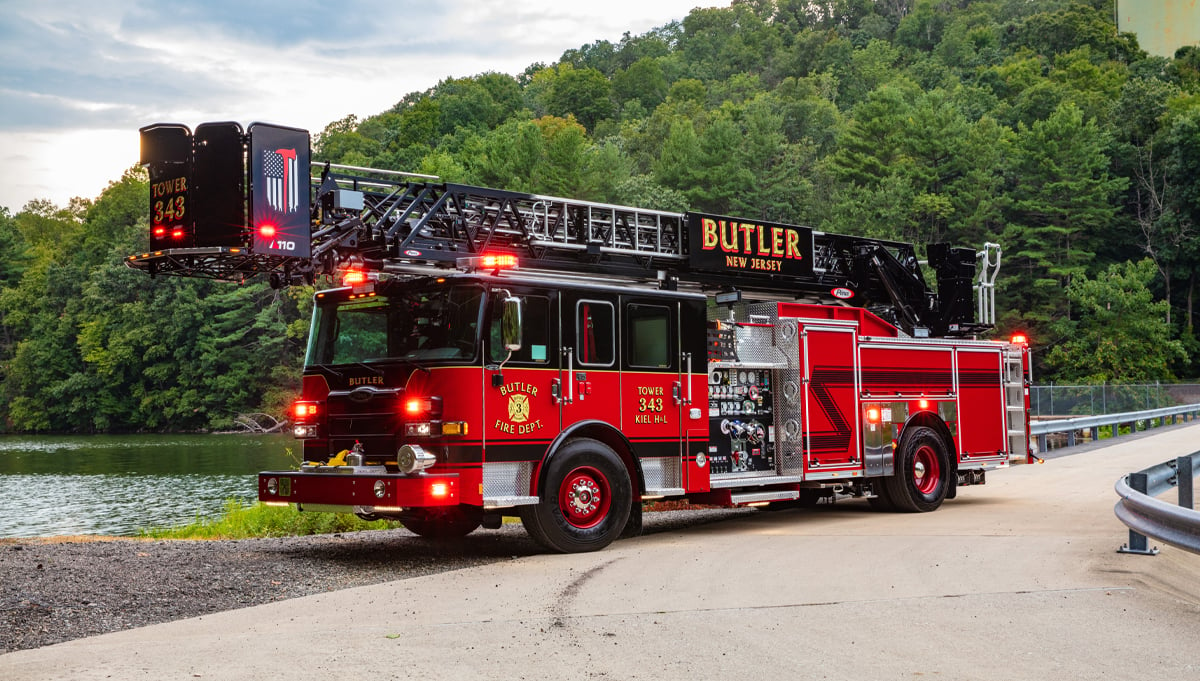 A platform fire truck features an aerial ladder with an attached platform, or basket, at the tip. The platform is an enclosed space that can transport passengers up and down the device with electronic controls.

Platform fire trucks are praised for their ability to function as an additional point of fire suppression in the air. Platforms can be elevated for long periods, flowing both water and fire suppression agents, like firefighting foam, at high rates.

Platform fire trucks are a great choice for fire departments that require high water flow for larger commercial or industrial facilities and when improved rescue capabilities may be required.
Platform Fire Truck Advantages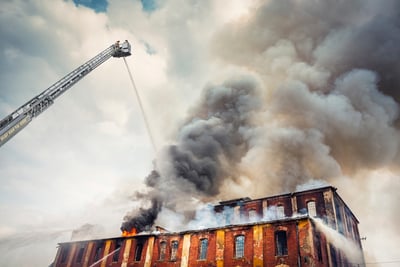 Firefighters cite the following items as the major advantages of platform fire trucks.
Higher payload capacity. With a larger overall vehicle size, more passengers and tools can fit onboard the truck.
Platforms are safer and more comfortable for operations. including rescue, ventilation, exterior overhaul, and aerial stream application.
Higher water flow capacity. Platform fire trucks often have an impressive flow rate, offering aerial firefighting capabilities including both water and foam.
Optional dual monitors. With dual monitors, one monitor can be used for exposure protection and the other monitor for fire suppression. For example, it allows operators to view a straight bore tip on one monitor and a fog nozzle on the other monitor.
Safer evacuations. One of the key benefits of an aerial platform is the safe extraction and evacuation of fire victims.
Greater in-air maneuverability. An aerial basket is designed with the ability to move from window to window accumulating victims, then lowering them to the ground like an elevator.
The ability to add rescue options at the tip. An aerial basket offers some tool transport and storage options at the tip, which means firefighters have quick access to fire fighting aids, like stokes, rappelling arms, winches, ventilation tools and roof ladders.
Platform Fire Truck Disadvantages
While there are many clear benefits of platform fire trucks, there are some fire departments that prefer the simple design and straightforward capabilities of a ladder truck. Here are some of the common disadvantages that loyal ladder fire department members cite.
Greater gross vehicle weight. A platform aerial device is much larger in size and weight than an aerial ladder device. This adds to the overall vehicle weight.
Bigger overall apparatus. To support the added weight and size of the aerial device, a platform aerial fire truck is typically a larger unit.
Platforms must hang in front or behind the apparatus. Aerial baskets are lifesaving, but they are large and they have to hang somewhere on the truck, blocking visibility or compromising maneuverability.
Large basket makes maneuverability more difficult. Unlike the slender and sleek design of an aerial ladder device, an aerial platform can snag obstructions, like trees, power lines or fire escapes.
Higher overall height, longer overall length. The addition of a platform to an aerial apparatus also comes with a larger vehicle footprint.
Wider stabilizer stance. To safely account for the higher weight of the ladder sections, tip load capacity and water flow capacity, an aerial platform requires a wider stance for stabilization. This can make it difficult to maneuver and stabilize around parked cars or in narrow roadways.
Higher cost. An aerial platform offers many added features to aid in aerial rescue and operations and as such, typically costs about $50,000 to $100,000 more than a ladder truck.
Ladder Vs Platform: How Do Fire Departments Choose?
With the purchase of any new fire truck, the decision ultimately comes down to the needs of the fire department and the primary mission of the truck. Once fire department representatives outline the goals of the truck and how it fits into the existing fleet, they can make an informed decision about the best truck option for the future.

If you have additional questions, please reach out to your local dealer to learn more about your aerial fire truck options.

Are you team ladder or team platform and why? Share your thoughts in the comments!