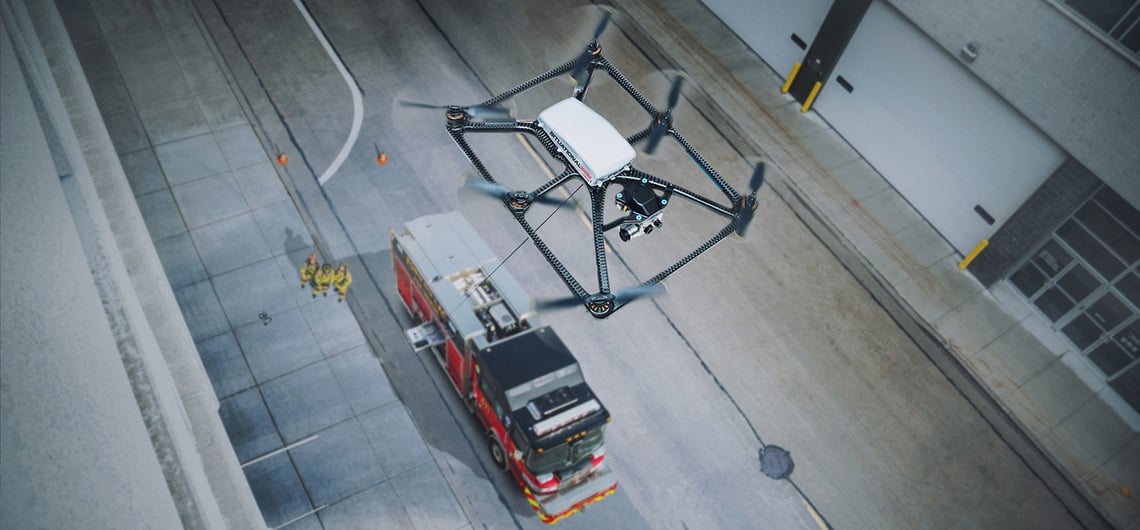 At the scene of an emergency, the value of aerial imagery to assess the size and scope of the situation, and to enhance safe, strategic fire operations is crucial. Access to advanced aerial camera technology and taking the time to license firefighters to operate aerial devices has long been a barrier to putting these services into practice, until now.

The Pierce® Situational Awareness System by Fotokite provides fire departments with the aerial capabilities they desire without the operational inefficiencies of traditional drones. As a self-piloting, actively tethered aerial device, the Situational Awareness System provides immediate aerial views of an emergency scene to help increase response effectiveness. The patented intelligent design and technology makes all mission-critical capabilities autonomous, allowing firefighters to stay focused on the emergency at hand.

This system is not a typical drone; it is a breakthrough in situational awareness capabilities that is available to purchase for your fire department through any Pierce dealer. This advanced tool can be added to any new fire apparatus or retrofitted to any fire apparatus currently in service, and can be brought to the scene of any emergency in a Pelican case.
What Is the Pierce Situational Awareness System by Fotokite?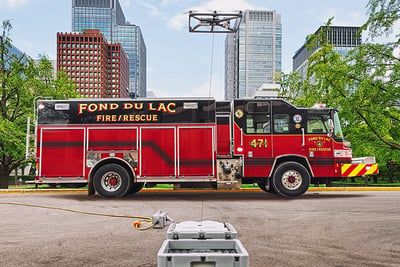 The Pierce Situational Awareness System by Fotokite is an actively tethered aerial device which allows fire departments to live stream and document aerial views of an emergency. This advanced tool is specifically designed to support first responders and public safety, providing immediate aerial views of an emergency scene. Additionally, aerial footage can be saved and retrieved for training and other purposes.

Unlike traditional free-flying drones, the Situational Awareness System is groundbreaking technology for three important reasons:
Self-Piloting. The Situational Awareness System does not require a firefighter to actively pilot the system during any part of aerial operation. More importantly, use of this device does not require Federal Aviation Administration certification and no spotter is required for use. With the push of a button, the tethered kite auto-launches and flies to a pre-set height above its ground station. When the mission is complete, another push of a button brings the kite down to the ground station, where it re-docks in its original position.
Unlimited Flight Time. The active tether of the Situational Awareness System supplies the device with unrestricted power, allowing firefighters to use the device for more than a continuous 24 hours when required. Unlike a free-flying drone that requires new batteries every 20 to 30 minutes, the Situational Awareness System means firefighters never have to worry about flight time when the device is connected to a fire truck power source.
Secure Data Deliverability. All imagery and data communications are sent through a secure network back to the ground station using an Ethernet connection over the active tether, providing constant secure data transmission. Firefighters can also wirelessly send information directly from the ground station to tablets or other mobile devices.
How Does the Pierce Situational Awareness System Work?
Setting up the Pierce Situational Awareness System to capture strategic aerial views at the scene of an emergency is simple and can be implemented by any trained member of your fire department. The system can be installed on fire apparatus or brought to emergencies in a Pelican case.
Here are the key steps involved in system operation:
Upon arrival at the scene of an emergency, roll out the system from a pull-out tray on the fire apparatus, or remove the system from a Pelican case.
Check for overhead obstacles to ensure the system can operate safely.
The system is launched using the Fotokite Live app on a tablet. Currently, the system automatically completes an internal safety-check to ensure all components are ready to deploy.
The rotors initiate in a matter of seconds, and the system launches to a predetermined height.
Using a tablet or mobile device to swipe up, down, left, and right, a firefighter can adjust the system's height and camera heading as needed to attain the required overhead views of the emergency.
The system can maintain flight up to 150 feet above the ground station.
The system features 8x EO digital zoom capabilities to attain detailed views on any area.
The system will remain actively tethered in place, full-powered, and while continuing to securely transmit data, unmanned and unmonitored, for as long as needed.
With a push of a button at the end of the operation, the system will self-orient back down to the ground station and power off.
How Does Inclement Weather Affect System Operations?
The Pierce Situational Awareness System operates effectively between -14°F to 104°F and is IP 55 Rated, which means rain and snow are not an issue for operational safety and efficiency.

Intelligently crafted with strong propulsion and self-stabilizing technology, the system will automatically adjust to a safe flying altitude if winds or weather conditions suddenly change. If conditions become dangerous, the system will automatically adjust and land at the ground station and power off. As such, firefighters never need to worry about the operation of the system in inclement weather.
Does the Situational Awareness System Work at Night?
The Pierce Situational Awareness system is equipped with highly visible lighting, meeting the Federal Aviation Administration's requirements for aircraft lighting. This visibility is essential where helicopters, aerial apparatus, and other devices may be also be required.
Benefits of Aerial Thermal Imaging with the Situational Awareness System
The Pierce Situational Awareness System by Fotokite features a visual and thermal camera providing firefighters with several views of ground situations.

The thermal camera stream features a resolution of 320x256/30fps and the visual camera features a resolution of 720p/3fps with 8x EO digital zoom. Both cameras and video streams are stabilized with a 3-axis brushless gimbal, keeping photos and live-video steady for optimal viewing. The dual thermal + visual camera capabilities are essential to help firefighters effectively gain situational awareness. Quickly finding and identifying hot spots on location, scanning the area during a search and rescue mission, and visualizing flare-ups within structures is now accessible with the Situational Awareness System.
Difference Between Pierce Situational Awareness System by Fotokite and a Drone
| | | |
| --- | --- | --- |
| | Situational Awareness System | Drone |
| Training | Any member of a fire department can learn how to use the tool and start using the system in 15-30 minutes. | Requires a trained drone pilot. Most departments require both a Certificate of Authorization and FAA Part 107 Authorization for drone operations. |
| Operation | No piloting necessary. Fully autonomous launch, flight, and landing operations. | Requires drone operator and additional visual observer at all times. |
| Flight Time | 24 hours continuous (as long as fire apparatus is running or plugged into a power source). | 20-30 minutes before drone batteries require changing or charging. |
| Security | Secure data delivery over the tether and WPA2 encrypted WiFi access. | Full dependency on wireless transmissions. |
| Weather Tolerance | Self-piloting and automatically repositions to safe flying altitudes in various weather conditions. | Requires continuous piloting. |
What Does Training and Maintenance Entail?
The Pierce Situational Awareness System by Fotokite is unique because as a tethered aerial device, it requires no operational licenses or certifications. The initial training session will have your department using the system within 15 to 30 minutes.

"The Pierce Situational Awareness System greatly enhances our department's strategic fire operations by using state of the art, cutting edge technology," said Peter O'Leary, Chief, Fond du Lac Fire Department. "Our firefighters felt comfortable with the system immediately and are amazed at how well it performs and how quickly we are able to train our team on the new technology."

Ongoing maintenance is equally as efficient, with common components such as propellers that are designed to be swapped in the field by firefighters. Additional maintenance and general servicing are available through any certified Pierce dealer or at any Fotokite location.
How Can Your Fire Department Purchase This System?
The Pierce Situational Awareness System by Fotokite is available now to all fire departments and can be retrofitted on any make or model of fire apparatus or emergency vehicle.

Additionally, you can purchase an easy to transport Pelican case system to place in any emergency or fire station vehicle.

Please take a look at the Pierce Situational Awareness System by Fotokite brochure or find a dealer now to learn more about how to purchase a system for your fire department.