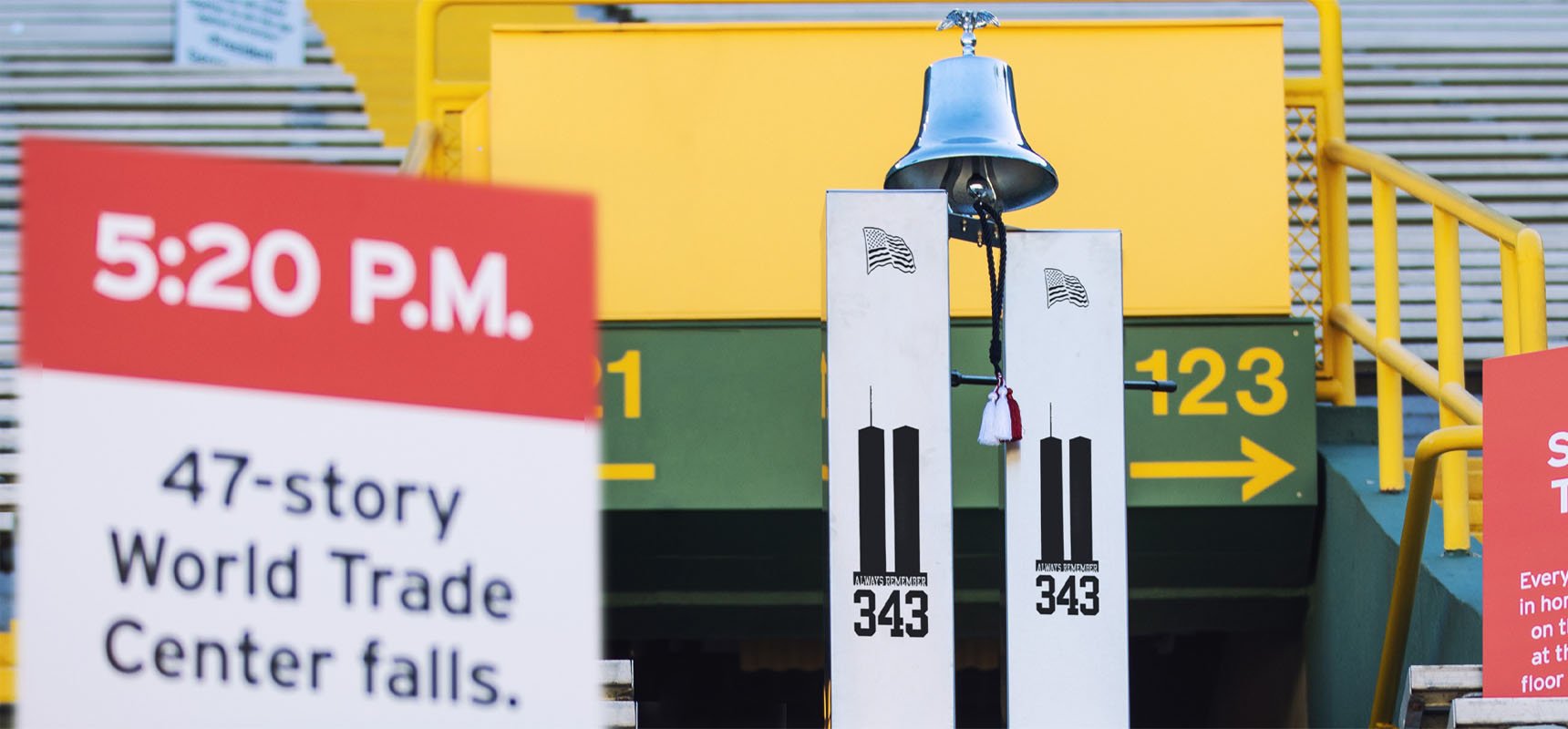 2021 marks the 20th anniversary of the September 11th terrorist attacks. No day has greater significance to the fire service than 9/11 when 343 FDNY firefighters died in the line of duty.
In the immediate aftermath of the September 11th attacks, our nation demonstrated fortitude and perseverance. Firefighters from around the country arrived in New York City within 48 hours to assist with the recovery missions. As the fire service mourned the loss of the 343 members of FDNY and other first responders and civilians who died that day, it was clear that collectively the members of the fire industry would never forget.
In 2013, Pierce Manufacturing marked its 100th anniversary with various activities to celebrate the milestone, including the first local 9/11 Memorial Stair Climb at Lambeau Field.
In honor of the 20-year anniversary of that fateful day and the ninth annual 9/11 Memorial Stair Climb, we collected stories and memories from firefighters, community members and past event participants to hear about their reason to honor the fallen heroes and raise critical funds to support the National Fallen Firefighters Foundation.
We hope these stories inspire you to climb, reflect and remember the brave men and women who died in the line of duty as well as the current members of the fire and emergency service who protect our communities everyday.
Peter O'Leary, Fire Chief - Fond Du Lac Fire Rescue Department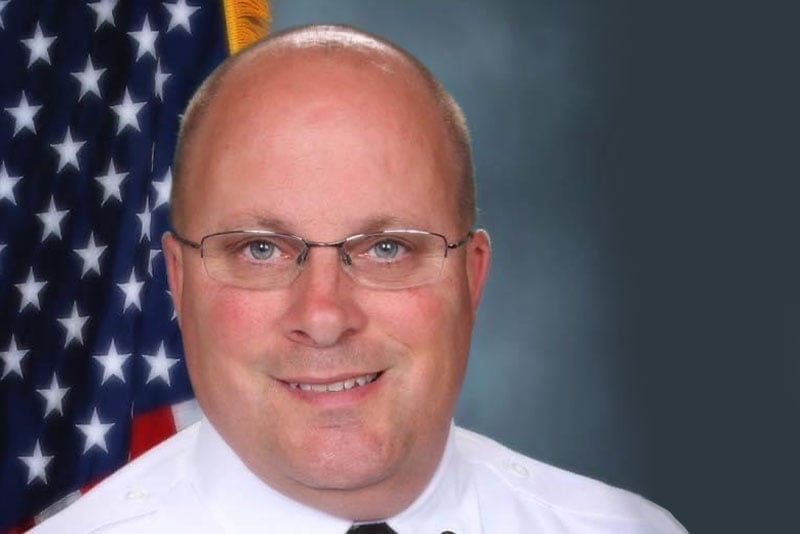 "On September 11, 2001, we did not only lose firefighters and police officers that day, but we also lost mothers, fathers, sisters, brothers, aunts, uncles and the list goes on and on. We honor them and their sacrifice and pause to look back, so we never ever forget the heroism that took place on 9-11 in New York City, Shanksville, Pennsylvania and the Pentagon.

I have been in the fire service since 1979. I began my fire service career in Wheaton, Illinois as a paid-on-call firefighter. I was hired on as a career firefighter in 1988, and over the past 33 years, I have worked in Illinois, New Hampshire and Wisconsin. My roots are in New York City; more specifically, Manhattan, my birthplace.

On September 11, 2001, I was like many firefighters, on-duty in a firehouse. I was in Wheaton in my role as a battalion chief. I was in to work early that morning—we were having a very rare department staff meeting and I was getting some items ready while I had the TV on in my office. I watched with disbelief as the attacks began and found myself feeling an incredible sense of vulnerability as an American. As things worsened, I began to wonder what would be next and how far the attacks would reach. I was somewhat scared—the fear of the unknown was quite real to me. I reached out to my family—first to my brother who lives in Pennsylvania and at the time was a pilot for USAIR and would frequently be flying in and out of airports on the east coast. Once I found out he was okay, my siblings all started checking on each other.

At the firehouse, we were all in a state of shock and quiet reservation. We watched the TV and searched the internet for information. I remember thinking, why is this happening and praying and hoping this was all just some kind of bad dream, but as we all know, it was no dream. Our staff meeting that morning became irrelevant as we monitored the network news on the big screen TV in the room.

In the days, weeks and months after the attack, and even today, especially on the anniversary of the terrorist attacks on America, random citizens have stopped by firehouses all over the country to express their love and support for us. The letters, emails and cards that I personally received were beyond my comprehension of the level of our country's humanity and love and respect they have for our profession.

To the men and women of the fire service: What you do each and every day matters and your dedication and commitment to honor the heroes of 9/11 is something that should make you proud."
Clint Mueller, Lieutenant, Sun Prairie Fire & Rescue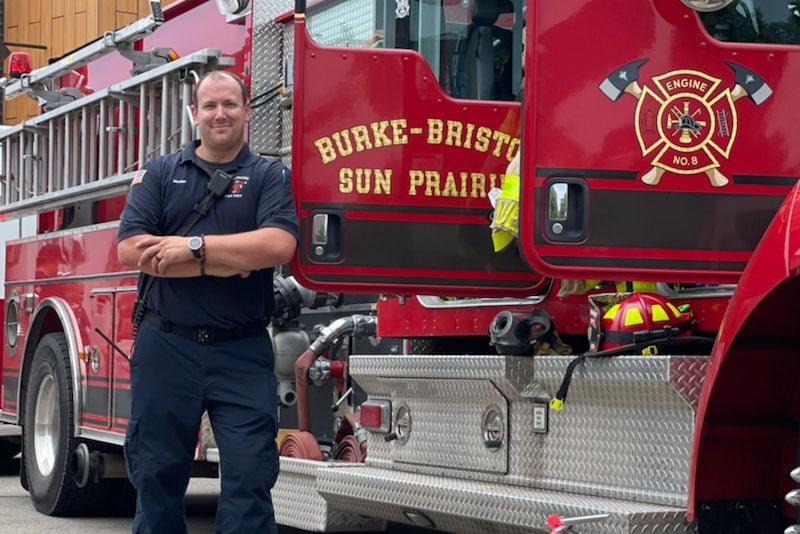 "I remember 9/11 vividly. I went off to class that morning not checking the news. My first sign things were off was seeing businesses closed with vague notes on their door. I got to my (almost empty) lecture hall and the professor made a comment about "trying to get through the lecture today." This was before smartphones were a thing so those of us who were there were quite confused and had no way to quickly look up what he was talking about. When I got back to my apartment, my roommates were glued to the TV and I finally saw what happened. I lived in Madison and felt safe, but I had family in Chicago and friends around the country and in the military. There wasn't any anger, just concern and fear for those people I knew who could be affected. The impact came much later when numbers, names and stories started coming out.

9/11 didn't impact my decision to go into the fire service, at least not directly. What motivated me to go into the fire service was actually the death of my Grandfather in 1999 and seeing how his department honored him. In the weeks and months after 9/11, I was reminded of his service and Last Page. It ultimately took me over 10 years of waffling before I finally decided to volunteer. 9/11's impact was in the culture. I knew there was a high standard of public service, selflessness and courage set that day that I didn't know if I had. I still don't know, but it gives me something to aim for every shift. Participating in climbs, public education and community events is one of those ways I try to reach that standard.

I've been doing stair climbs for the better part of my career, starting with the Cystic Fibrosis and Fight for Air climbs in Milwaukee before being introduced to the 9/11 Climb at Lambeau Field in Green Bay. This year will be my 5th year participating. The 9/11 Memorial Stair Climb is special because it forces a completely different mindset and motivation. My personal goals are different between Green Bay and other climbs. Being a slower climber, I get plenty of moments where I sit down and think I can't or don't want to continue, but unlike other climbs where it's my pride (and the stopwatch) that keeps me moving, here I get back up because I feel it's our duty to symbolically finish what the firefighters on 9/11 started. They kept moving, knowing what was ahead. My being tired isn't a valid excuse not to finish."
Cody Johnson, Lieutenant, Green Bay Metro Fire Department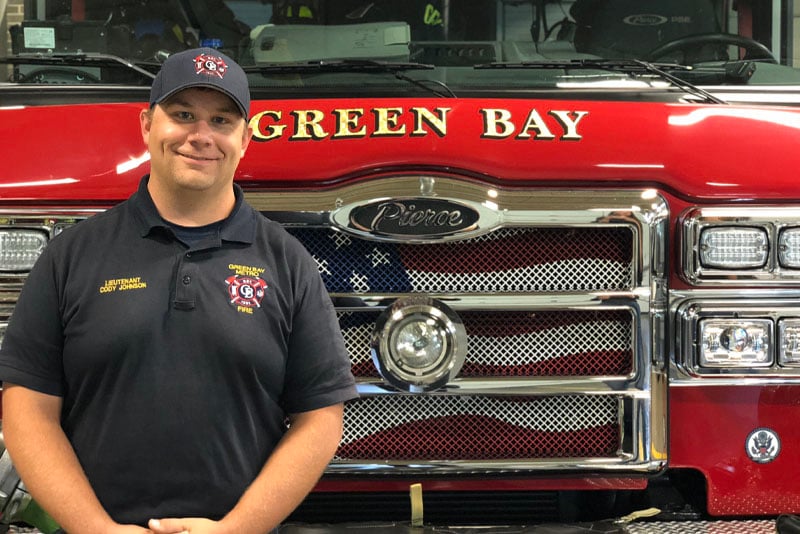 "When I finished high school, I was kind of a lost soul. After talking to a relative who was in the fire service, I enrolled in firefighter class and from there, it was hook, line and sinker.
I love being part of a crew, helping people—it's a feeling I can't describe.

I've participated in the 9/11 Memorial Stair Climb at Lambeau Field in past years. It's a day to reflect on what happened on 9/11—and whether you're a firefighter or not, that day affected you.
Participating in the Climb is a great way to pay homage to those who are no longer with us."
Tom Laumann, Retired Volunteer Firefighter - 13 years with the Wales-Genesee Fire Department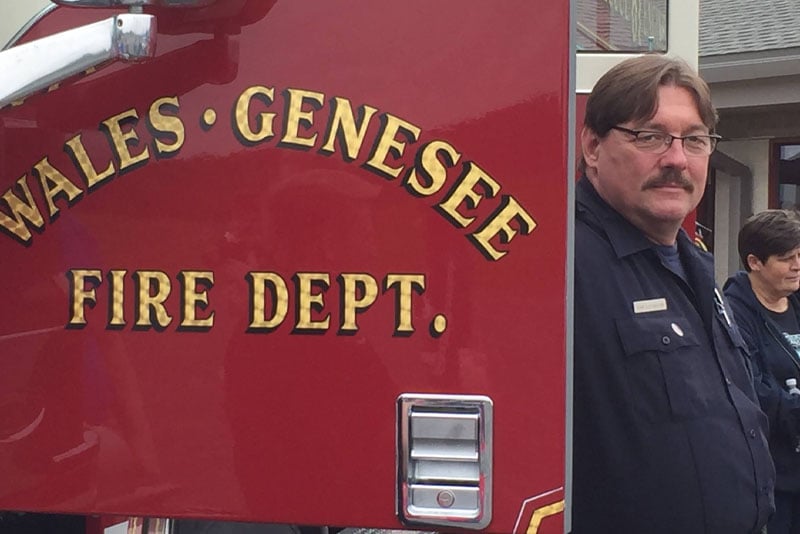 "After the terrorist attack events on September 11, 2001, I was motivated to become a volunteer firefighter and first responder EMT at the age of 43. It is my opinion that you don't become a firefighter without believing in something. 9/11 showed me how firefighters set the highest level of citizenship and how important their role in our community truly is.

In the fall of 2018, my wife and I were invited to join our daughter and two grandchildren for the sixth annual 9/11 Memorial Stair Climb at historic Lambeau Field. Unfortunately, first responders are too often forgotten after a tragedy. That is why I agreed to participate in the 9/11 Memorial Stair Climb. To make sure that never happens.

With the annual event scheduled for mid-September, I started a minimal training regimen in July. Soon into my routine, I developed bronchitis which later developed into a deadly and complicated case of pneumonia. To recover, I needed immediate surgery and an 11-day recovery in the hospital. Time was required to let my body heal but evoked hesitation about being able to participate in the 9/11 Memorial Stair Climb. I felt devastated and defeated but soon remembered what the climb symbolized and meant. This inspired me to not give up and believe in myself. I knew I could do it.

Just 29 days after my surgery, I joined more than 2,700 attendees, including my wife, daughter and two grandchildren in the symbolic climb that many firefighters were unable to complete on 9/11. I monitored my heart rate while I climbed and reached my goal of ringing the bell on the 78th floor."
Dan Meyer, Director of Strategic Development and Sales, Pierce Manufacturing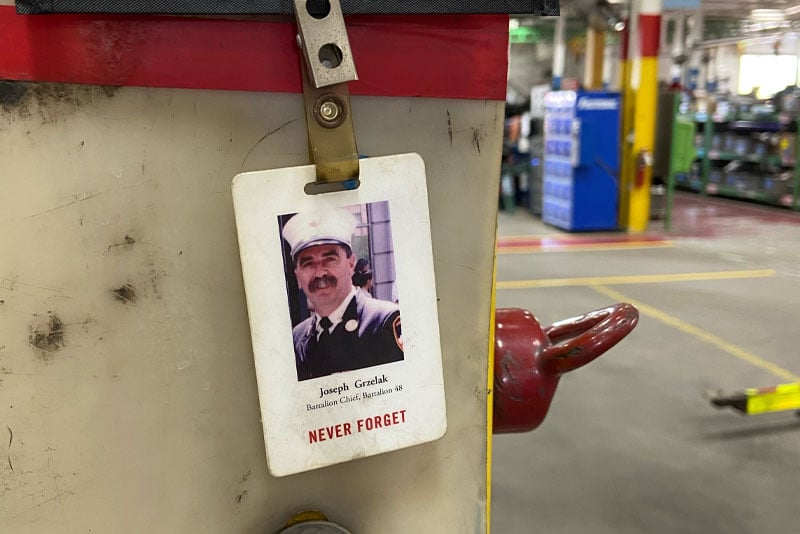 "In 2013, Pierce Manufacturing celebrated its 100th anniversary with various activities, including the first local 9/11 Memorial Stair Climb at Lambeau Field. My wife Aimie and I had just been married, and we did not have children yet. Since that time, I've participated in five climbs and it's one of my favorite events we do with our peers because the culture of the climb has made its way into Pierce.
When you walk through the halls at Pierce, you see pictures from past climb events everywhere. Many employees keep the badges with the name and photograph of one of the fallen firefighters at their workstations or tool boxes. There is even a badge attached to the fixture that mounts cabs on the production floor so that there is a firefighter that touches every cab we build.
What I'm most looking forward to for this year's 9/11 Memorial Stair Climb is that my three kids are old enough to understand it. On the back of my work I.D., I wear the badge of the fallen firefighter I climbed for that year, and my kids always ask me about it. We look up that firefighter's story together. Not only is it a good way to honor that firefighter, but it also shows my kids who their Dad gets to serve every day."
Donna Gesch, Past Lieutenant - Pewaukee Fire Department, and 9/11 Memorial Stair Climb Participant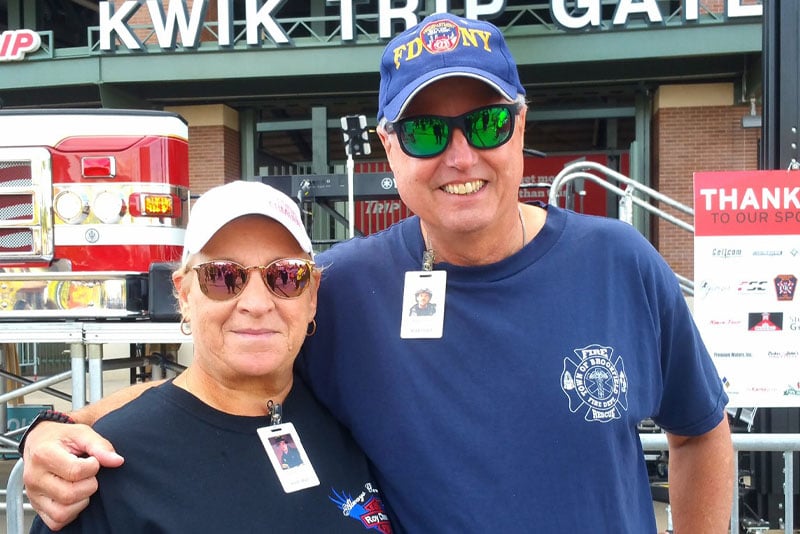 "I was a Lieutenant on the Pewaukee Fire Department at the time of 9/11. During a trip to New York the year following the 9/11 terrorist attacks, I met Roy Chelsen, a firefighter from E28 at one of the Manhattan engine houses at that time—purely by chance. He had an amazing sense of humor and I recall him picking on me for being a woman in the fire service. All good natured fun.

Years later, he showed up on a FDNY page that I was following, and posted his need for a bone marrow transplant due to his exposure at Ground Zero. Roy was diagnosed with multiple myeloma from his exposure after weeks of working at Ground Zero. His family formed an organization, Be the Hero, For a Hero, in hopes of helping Roy find the perfect bone marrow transplant match. I registered at that time and followed his story. Sadly, Roy passed away after two failed transplants on January 9, 2011.

I maintained contact with his family and they actually drove to Wisconsin so we could meet in person. Through this time, and many visits together since then, I have learned more of Roy's story from that day. After visits to E28 and talks with Roy's wife and sister, I learned that Michael Cammarata was in his ninth week of training at E28/L11 on September 11, 2001. He was Roy's probie / cub on Engine 28. On 9/11, Michael was switched to L11 for additional training. The entire crew of L11 died at Ground Zero. Michael's brother, Joseph, was also on the FDNY firefighter eligibility list, but got hired by NYPD first. He watched the towers fall, knowing his brother was there, while responding on the Staten Island ferry.

Over the years, I've taken part in the 9/11 Memorial Stair Climb and other walk events as a way to honor the 343 firefighters and heroes from that day. Learning about Michael after Roy died, and keeping in touch with the Chelsen family, I wear one of my Roy Chelsen memorial t-shirts and carry Michael's badge to respect and honor the legacy of these two amazing men."
Matt Hargas, Pierce Manufacturing Supply Chain Performance Engineer and Former Volunteer Firefighter - City of Houghton Fire Department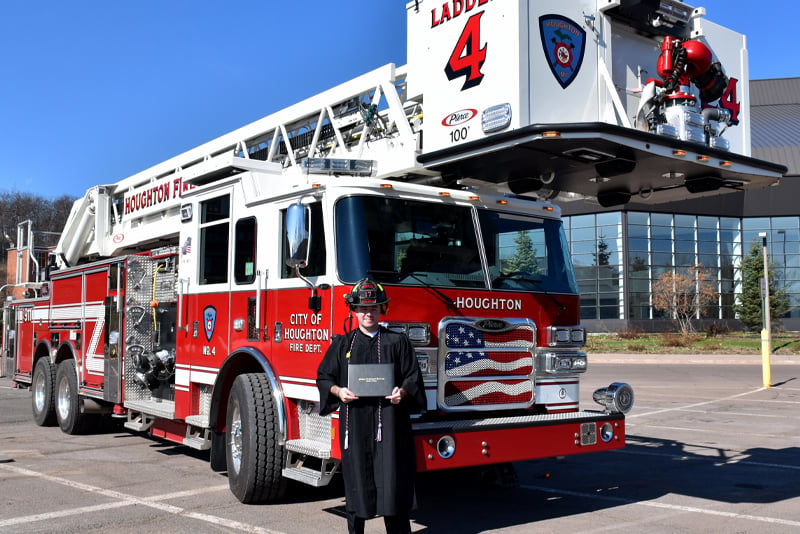 "This year will be my fourth 9/11 Memorial Stair Climb, and I participate to remember what happened that day. If you take a walk down our assembly line at Pierce, you'll see trucks that have the words "We Will Never Forget," referencing those that sacrificed everything on 9/11. It's not a catchphrase—it's a promise. A promise to remember the bravery and unwavering commitment those firefighters and police officers exhibited as they ran into those towers on that day, 20 years ago.

What I remember about 9/11 is that I was in 3rd grade when the towers came down. I remember where I was, coming out of the gym from recess (we were inside because it was raining out). I remember it because I saw my music teacher crying. It was the first time I can remember seeing an adult cry in my life and I think that's why I remember it so vividly. I remember seeing the videos of the planes crashing into the towers over and over on the news when I got home from school. I don't think I really knew what to think—I knew it was bad, but it was a couple of years after 9/11 until I fully understood what happened. Ever since then I've been angry and sad when I think about it.

I was in New York for the 10th anniversary of 9/11 and I thought about how 9/11 influenced my life to that point. It was interesting and still holds true today. 9/11 influenced the path I have taken in life probably more than anything else. What happened that day sparked a desire, possibly even a need, to serve. I joined my local fire department when I was 15 years old and absolutely loved it. I loved that I was giving back and providing a service to my community; I loved that it was exciting; I loved the great group of people I served with. As soon as I turned 18, I joined two more departments in my county. After high school, I wanted to serve on a greater scale—so I joined the Army. All of my service was stateside, but I enjoyed that as well.

After the Army, I went to college at Michigan Tech. Searching for an internship as a freshman, I wanted something that would still give me a sense of service—that's how I found Pierce. It was literally the perfect match. Pierce's mission to serve firefighters is really important to me and I understood both sides of it, so naturally I was pulled this way. Today, I've been with Pierce for over 7 years and spent almost 13 years as a volunteer firefighter. I'm currently taking a break as a volunteer firefighter to pursuit my masters degree, but if 9/11 never happened, I honestly don't think the path my life took would look anything like it does today."
Why Will You Climb?
Regardless of whether you are a firefighter, a family member of someone in fire service or a community member—everyone has a reason to climb.

The 2021 9/11 Memorial Stair Climb takes place on Saturday, September 11th, 2021, at Lambeau Field in Green Bay, Wisconsin. All proceeds go to the National Fallen Firefighters Foundation to provide resources to assist their survivors in rebuilding their lives, and work within the Fire Service Community to reduce firefighter deaths.

Pre-register for the event now.