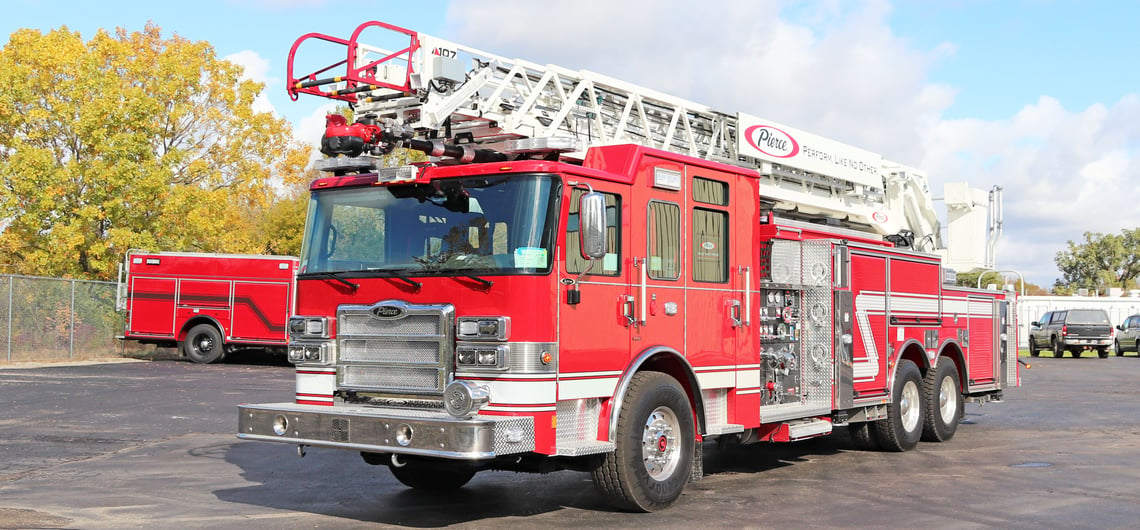 Have you ever considered buying a stock truck rather than creating a build-to-order? Build-to-order units allow you to customize your fire apparatus to a high degree and you design the apparatus from the ground up. Pierce's range of products also includes a robust stock program with limited option availability, allowing for quicker delivery and competitive pricing. Below are the main benefits of the Pierce® Stock Truck Program for you to consider before your next truck purchase.
Wide Variety of Inventory
Thanks to the financial backing of our parent company, Oshkosh Corporation, Pierce is fortunate to have a wide variety of stock trucks in production and on the ground that are available for immediate sale. Platforms, ladders, pumpers, PUCs, tankers, rescues, and commercial products; these configurations make up the most requested apparatus in the industry. The stock units are well laid out, equipped with the latest innovations and most popular options, and most importantly readily available for you.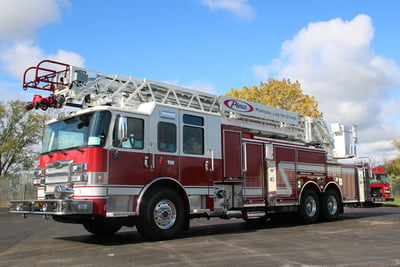 Cost Effective
If you have a limited budget, check to see what's available in stock. A trucks price is locked in at the time of the truck order. Even if there's a price increase in the industry, you're still going to pay the price of the truck at the time that it was ordered. For example, pictured to the left is a stock unit from the 2019 Road Rally.
Ideal Stock Truck Candidate
Maybe your truck didn't pass inspection, or you don't want to continue repairing your current truck and you're looking for a quick replacement. Maybe you received a grant and must spend it in a short amount of time, or you found an available stock truck online that already has all the options you're looking for. The Stock Program is built specifically to serve customers that find themselves in these situations.
Immediate Availability
The Stock Truck Program offers a faster delivery time because the units are already in process or complete when sold. Your Pierce sales representative doesn't have to put together a proposal file because it already exists. If the stock truck is complete, you can take immediate delivery of the unit. You're still able to make changes to a completed apparatus prior to delivery and your local sales representative will guide you through that process.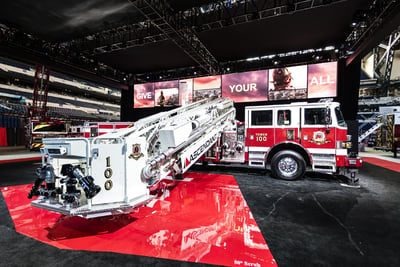 New Products
Did you know that every new Pierce product that we launch is built through our stock program? For instance, the Ascendant® 100' Heavy-Duty Aerial Tower that was launched and on display at FDIC 2018 was a stock unit. These stock units are on display at regional tradeshows and on the road visiting departments throughout the country.
I'm Sold!
Are you interested in buying a stock truck yet? All stock trucks are sold on a first come – first served basis. Your next step is to reach out to your local Pierce dealership to discuss your needs. Maybe you already found the perfect stock truck in our online inventory. If not, Pierce dealers are given a monthly stock truck report that outlines the types of trucks that just started and are finishing on the manufacturing line. Your sales representative can provide you with truck drawings and confirm which options are installed on any particular truck. As standard, every Pierce stock truck has foam system provisions or will have a Husky™ 3 or 12 foam system already installed, include a pump and tank, as well as TAK-4® Independent Suspension on applicable chassis. If you purchase a stock truck early enough in the production process, you can also add some options or make pre-approved changes as it's being manufactured.

Try Before You Buy
Are you interested in taking a stock unit for a test drive? Contact your local Pierce sales representative to determine when a field unit may be in your area. We encourage you to drive the apparatus down your streets with your sales representative and test it out in the community that you serve. Experienced, knowledgeable Pierce product specialists are also available to assist and answer any questions.
The Pierce Stock Truck Program gives you the reliability of a Pierce, the latest product innovations, and the knowledge of a product specialist; all in half the time of a build-to-order! Visit our stock trucks web page to find units available for sale.