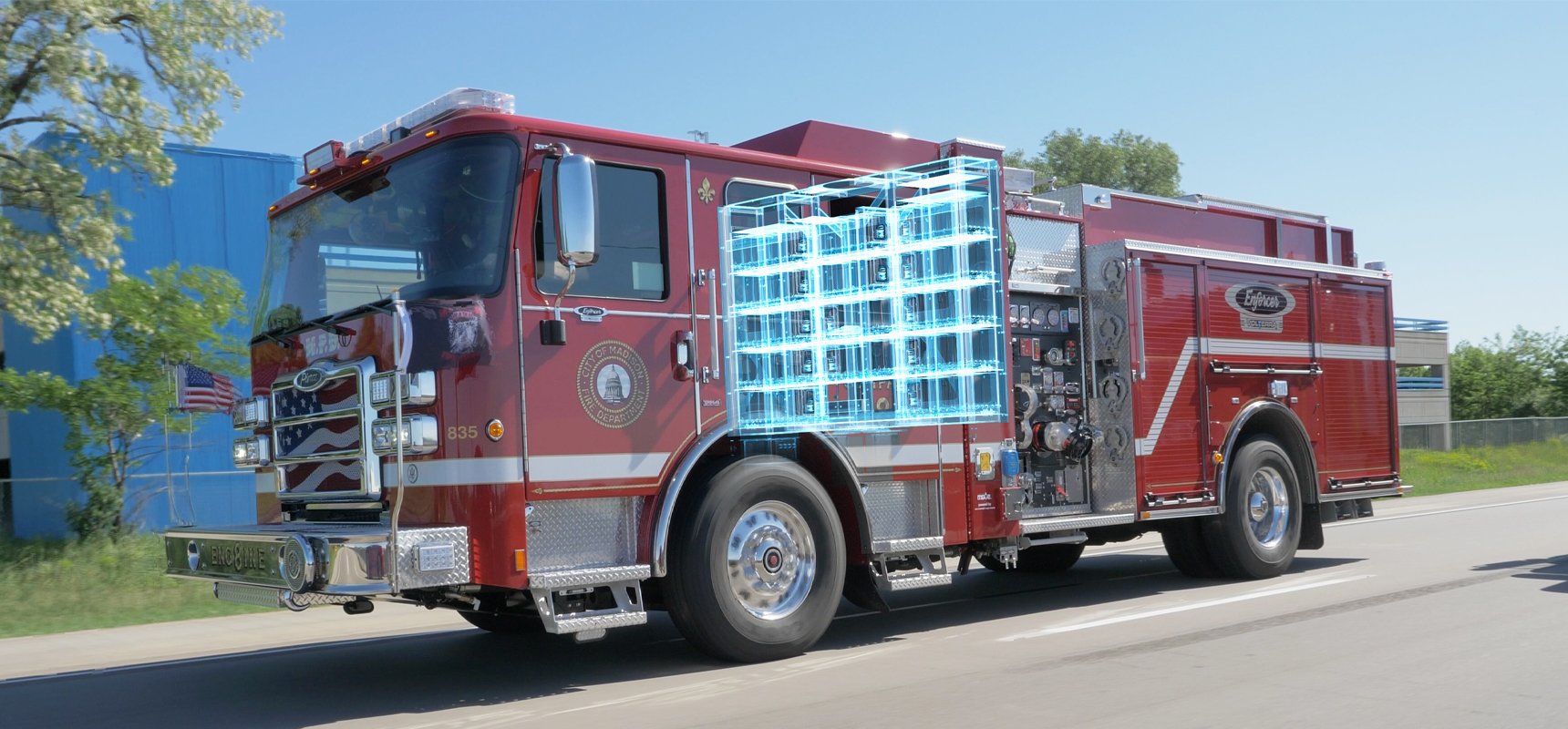 With the recent announcement of Pierce Manufacturing's development of the Pierce Volterra™ platform of electric vehicles for the fire and emergency market, there have been many questions about the demand for the technology, why this technology is critical, how it works and how it supports municipalities' environmental initiatives.

Learn more about the story behind the electric fire truck technology below.
There is an Increasing Demand for Electric Vehicles
Across the nation, U.S. cities are taking increased responsibility for pollution, climate change and green economic growth. As municipalities grapple with these challenges, there are several key indicators that are helping to drive change, including changing regulations, environmental initiatives and cost saving opportunities.
Changing Regulations and Legislation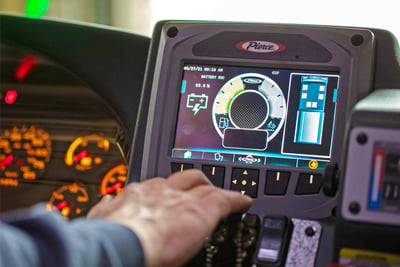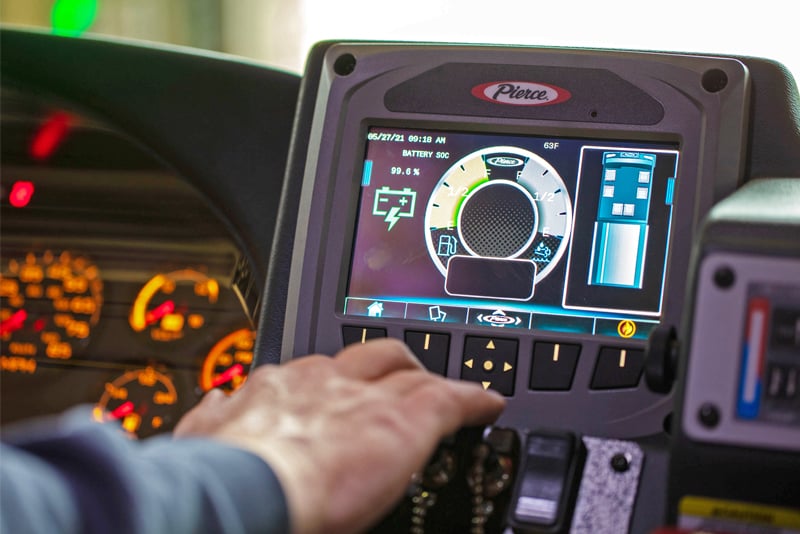 Over 170 cities, more than ten counties and eight states across the U.S. have goals to power their communities with 100% clean, renewable energy.

Some examples including the following:
In 2017, Gov. Jerry Brown of California passed legislation for 100-percent zero carbon electricity by 2045 and an executive order for economy wide carbon neutrality by 2045.
In March 2017, the City of Madison in Wisconsin became the 25th city in North America to set a goal of achieving 100% renewable energy and zero net carbon emissions.
In June 2019, New York Gov. Andrew Cuomo signed the Climate Leadership and Community Protection Act, setting a legislative target of zero net emissions economy wide by 2050.
Additionally, The Clean Air Act (CAA) requires every engine and motor vehicle in the United States to meet a set of emission standards and conformity requirements. All of the U.S. Environmental Protection Agency's (EPA) emission regulations specify test procedures to measure engine or vehicle emission levels, including fire trucks.
In January 2020, the EPA issued an ANPR for the Cleaner Trucks Initiative. The envisioned regulations, so-called low NOx emission standards, focused on further reductions of NOx emissions from heavy-duty engines and on achieving low emissions under real driving conditions.
In June 2020, CARB proposed a low NOx emission regulation for heavy-duty engines and adopted it in August 2020. The rule tightens FTP NOx limits to 0.050 g/bhp·hr from 2024 and to 0.02 g/bhp·hr from 2027.
With increasing demand to meet environmental goals, cities are seeking ways to reduce emissions and the carbon footprint of the community at large. Electric fire trucks, like the Pierce Volterra Platform of Electric Vehicles, provide municipalities with a sustainable solution to help meet their local and state legislative requirements.
Environmental Initiatives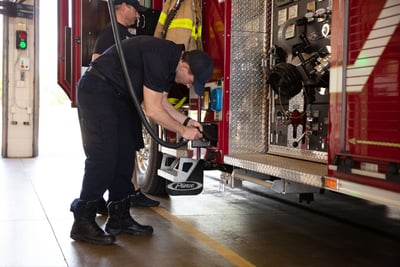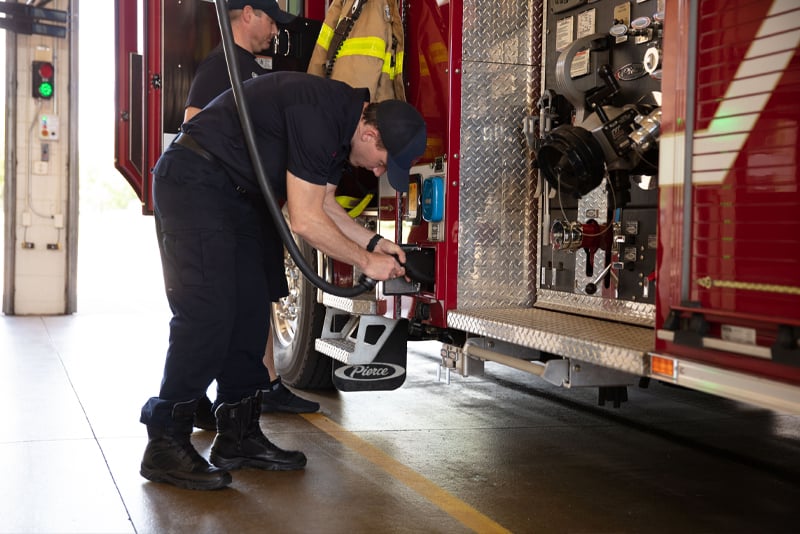 In addition to meeting legislative requirements, municipalities are also demanding electric vehicles to meet more broad environmental goals.

Currently, emissions from vehicles contribute to about one-third of all U.S. air pollution. Tailpipe emissions from gridlocked cars, trucks, and buses have profound detrimental effects on the health, safety and welfare of community members. Choosing electric vehicles for municipal fleets sets a standard for excellence with a focus on improving overall community health. By making the decision to support electric vehicles, municipalities are leading the charge for citizens to follow suit.

When it comes to transportation planning, municipalities have a lot of decision-making power. Environmentally focused initiatives can regulate taxis and ridesharing programs, and include plans to purchase electric vehicles for large municipal fleets. Moreover, municipalities can develop the required charging infrastructure to support electric vehicles.

When a municipality chooses to purchase an electric fire truck, it is helping to normalize new technology and set a high standard for environmental sustainability. The overall growth of electric vehicle use in municipalities supports reduced emissions and environmental initiatives.
Cost-Savings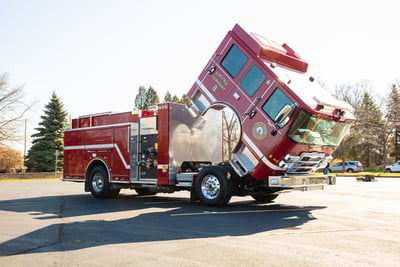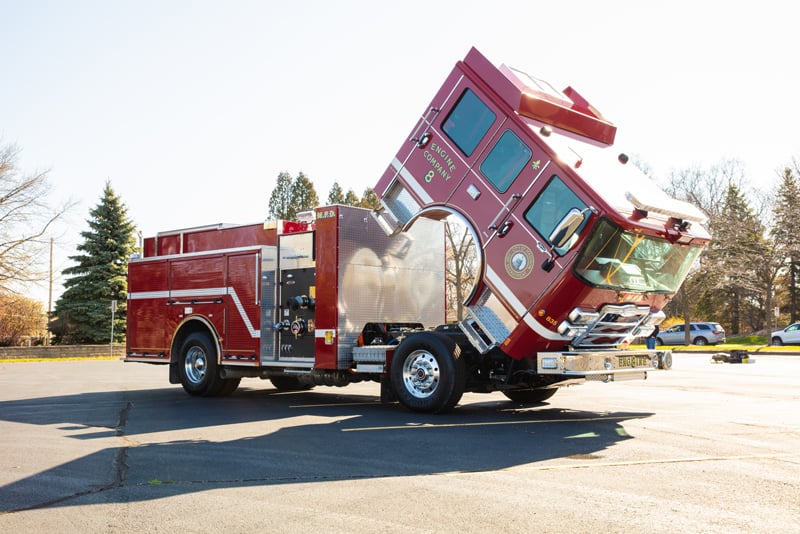 There are several cost-saving benefits that come with the use of electric vehicles and electric fire trucks.

Transportation fleets, including fire trucks, represent a major source of fuel consumption and can ultimately cause a detrimental environmental impact. The adoption of electric fleet vehicles can help significantly cut both fuel costs and the negative impacts of fuel consumption.

Electric vehicles require significantly less maintenance because the main source of power is not the internal combustion engine. The chassis operates under electric power in all normal operational situations and leverages the internal combustion engine only for backup power in extended emergency operations. As a result, there is less wear and tear on the engine. With fewer maintenance requirements, municipalities can anticipate savings on preventive maintenance and ongoing engine repairs.

It's important to factor these savings into long-term strategies to help offset potential concerns about the upfront capital costs.
How is Pierce Supporting New EV Technology?
The team at Pierce is continuously researching and developing technologies and products to improve firefighter safety and efficiency.

As part of this process, Pierce routinely partners with customers to prove these new concepts and technologies before they are released for sale to a broader customer base.
An Electric Vehicle Partnership with Madison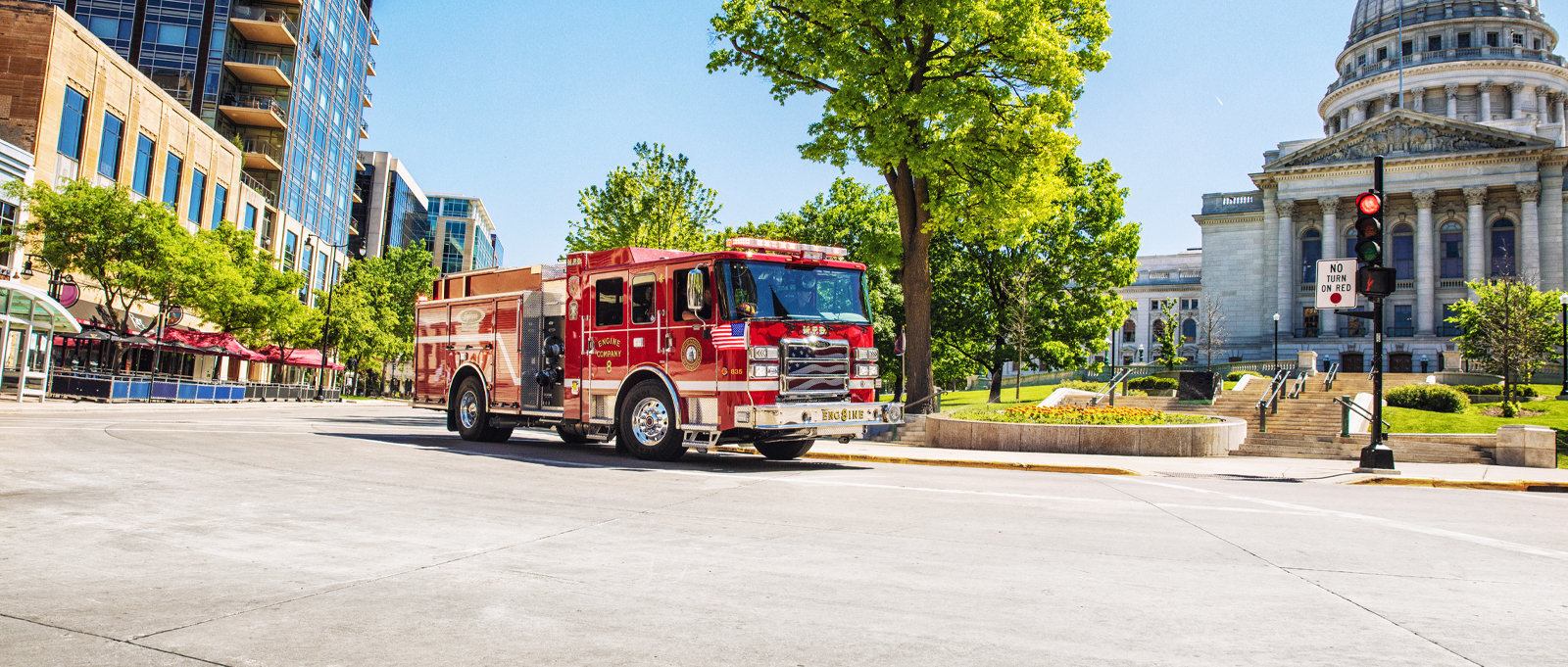 With the development of an electric vehicle in progress, Pierce approached the City of Madison to discuss the opportunity to partner on technology advancements for fire apparatus that aligned with the City's Climate Forward initiative. The City of Madison has been a pioneer in adopting new technologies to minimize its carbon footprint and has been purchasing fire apparatus from Pierce Manufacturing for many years.
Pierce Volterra Pumper First Electric Fire Truck in Service in North America

Here are just some of the key characteristics of the Pierce Volterra pumper now in service in Madison.
The vehicle is the first zero-emissions electric fire truck in service in North America.
The vehicle is equipped with a 155 kW Battery pack to meet the City of Madison's daily duty cycle. The battery system allows for flexibility in sizing so Pierce can customize the solution to meet various department's needs.
The operational range has been tailored to the City of Madison's needs and is designed for a minimum of a full-shift operation.
The electric drive is extremely powerful and emission free.
The electric fire truck also features significantly reduced noise emissions. This greatly reduces the noise level in the cab and on the ground, making it easier for the crew to communicate and benefiting nearby residents.
The electric drive train only uses fuel when the electrical system is fully depleted. While in electric mode there is no diesel fuel consumed.
The electric fire truck technology consists of a patented parallel-electric drive train featuring an electro-mechanical infinitely variable transmission which allows zero-emissions operation when powered by the integrated onboard batteries, and can be coupled to the internal combustion engine to provide continuous and uninterrupted power to the pumping system or drive system.

You can learn more about this fire truck announcement here.

"When Pierce approached us to discuss the opportunity to partner on technology advancements for fire apparatus that aligned with the City's Climate Forward initiative, it made perfect sense to partner on this project, " said Steven Davis, City of Madison Fire Chief. "We are proud to be responsibly supporting the environment with the use of an electric fire truck."

In partnership with the City of Madison Fire Department, Pierce is continuing the final development, evaluation, and on-highway certification process for their electric vehicle technology. Having this vehicle in service in the City of Madison's busiest fire station allows Pierce to closely monitor operator feedback and opportunities for further vehicle enhancements.

Pierce Manufacturing has been a leader in fire apparatus technology since it began more than 100 years ago. The push for green technology was fueled from within the organization as it began to focus on more environmental sustainability manufacturing and in reaction to global shifts in green-powered energy requirements.

With the introduction of the Pierce Volterra platform of electric vehicles, Pierce is proud to meet the needs of your fire department while providing advanced technology designed to support environmentally conscious initiatives.

Learn more about Pierce Volterra now.