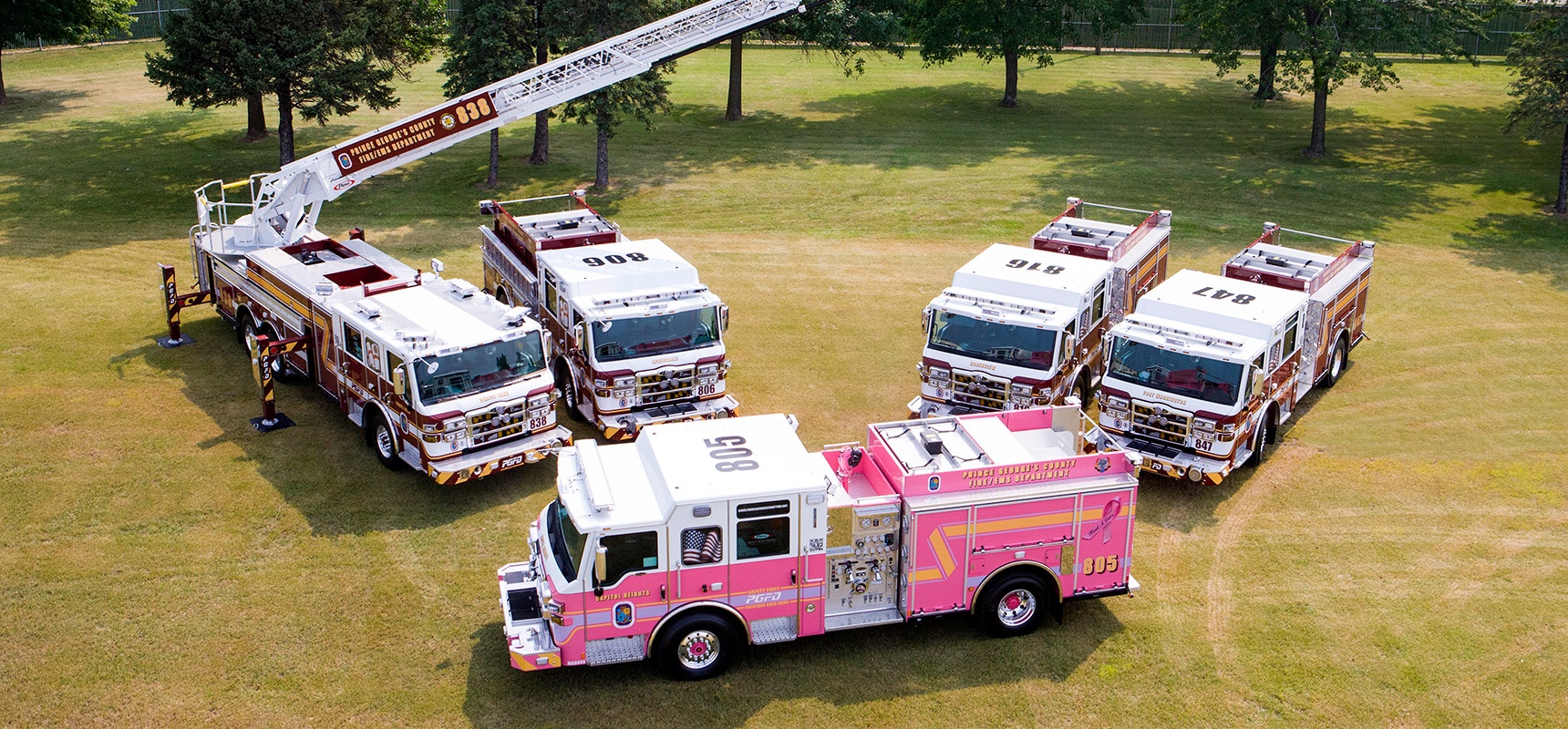 APPLETON, Wis. (September 30, 2014) – Pierce Manufacturing, an Oshkosh Corporation (NYSE:OSK) company, has delivered a Pierce® Velocity™ pumper to Prince George's County, Maryland Fire/EMS Department (PGFD) located in Largo, Maryland. Nicknamed "Courage" through a contest conducted through the department's social media outlets, it is one of six Pierce apparatus recently purchased by the department. PGFD chose to have the pumper painted pink with a lavender stripe – the first ever new Pierce vehicle so painted – as a way to promote its campaign to fight breast cancer and all other types of cancers.

The apparatus was introduced today during a dedication ceremony at the department's Capital Heights station where it is now on frontline duty. The ceremony was attended by county dignitaries and local politicians, as well as by representatives from the American Cancer Society, Pierce Manufacturing, and apparatus dealer Atlantic Emergency Solutions.

"This new Pierce pumper expands a conversation between our department and the citizens of Prince George's County; it's a real community relations builder," said Fire Chief Marc Bashoor of PGFD. "When we ordered these six Pierce apparatus, the decision was made to paint one of the pumpers pink in order to build momentum for our ongoing cancer awareness program. The typical reaction we get is that of amazement, but the underlying goal is to encourage citizens to get screened and tested on a regular basis."

"Pierce offers hundreds of custom colors, including more than one hundred shades of red, but this is our company's first-ever brand new pink pumper, and it generated lots of excitement amongst Pierce employees as it made its way through the plant," said Jim Johnson, Oshkosh Corporation executive vice president and president, Fire & Emergency. "We're proud to supply Prince George's County with this highly visible vehicle that will work to help protect lives even beyond what is typically expected from a Pierce pumper."

In addition to the Velocity pumper, PGFD purchased three additional Velocity pumpers, an aerial ladder, and a rescue squad scheduled for delivery later this fall.

PGFD is the nation's largest combination department. The department strives to improve the quality of life in Prince George's County by promoting safety, and providing the highest quality of fire prevention, fire protection, emergency medical services and community outreach programs. The Prince George's County Fire/EMS Department responded to a total of over 130,000 calls for service last year.

Pierce dealer, Atlantic Emergency Solutions, of Manassas, Virginia, provides local service and support.