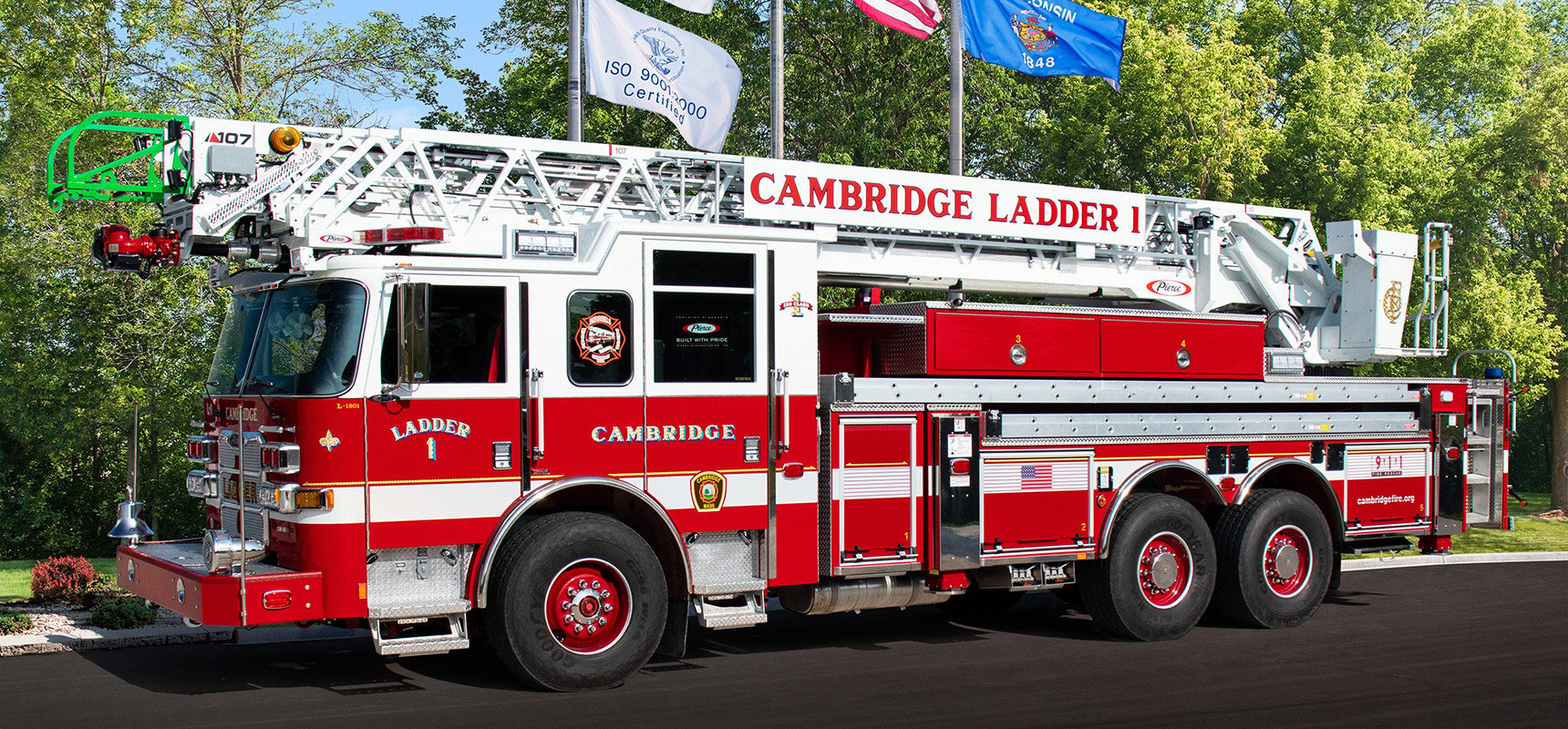 The new apparatus will address the historic community's fire safety and emergency response vulnerabilities with support from an innovatively designed, lighter apparatus equipped with a tandem axle chassis and TAK-4 T3™ technologies.
APPLETON, Wis. (January 23, 2019) – Pierce Manufacturing Inc., an Oshkosh Corporation (NYSE:OSK) company, announced today that it has delivered a custom Pierce Ascendant® 107' Heavy-Duty Aerial Ladder to the City of Cambridge Fire Department in Massachusetts. The new apparatus was sold by New England's exclusive Pierce® dealer, Minuteman Fire and Rescue. Features include a custom Arrow XT™ chassis, 107' of vertical and 100' of horizontal reach, 16' stabilizer spread, and 1,500 gpm waterway flow capacity. Additionally, a TAK-4 T3™ Independent Rear Suspension System utilizes coil springs instead of torsion springs, providing the apparatus with 100 percent mechanical rear steering for two axles on tandems. The customized apparatus is required to meet sustainable practices and the historic city's vehicle weight and maneuverability requirements. These features will allow Cambridge Fire Department members the ability to safely navigate and access narrow roads and tall buildings.
"With the newest addition of the Ascendant 107' heavy-duty aerial ladder, the significantly lighter and fuel efficient vehicle provides a tighter angle radius, and fulfills the department's need for an easier and cleaner response to navigating through confined city streets in a highly-populated community, said Gerard Mahoney, Acting Chief of Department for the Cambridge Fire Department. "We are an 'All Hazards Department' so this means we not only provide fire services and emergency medical advanced life support but are also equipped with technical rescue skills, including high-angle, collapse, trench, and confined space rescue while meeting the city's unique navigational challenges. Our community's 278 firefighters and officers have to be supported with very specific tools and apparatus to do our job and we are confident in Pierce Manufacturing and Minuteman Fire and Rescue's offerings."
The City of Cambridge encompasses a population of more than 113,500 and is part of the Boston metropolitan area. The city's old fire stations, historic streets, and landmark buildings influenced the decision to purchase a custom apparatus that is lightweight and highly maneuverable. Cambridge is recognized as a LEED Certified City with the highest 5-STAR rating in the U.S. from STAR Communities for its commitment to furthering clean energy practices, sustainable transportation options, and many other programs and initiatives.
This commitment to sustainable practices and transportation was a deciding factor for Cambridge Fire Department to replace a vehicle with ten tires, with the new aerial ladder that only has six tires.
"It's an honor for Minuteman Fire and Rescue and Pierce Manufacturing to continue supporting and offering service for a 30-year partner like the Cambridge Fire Department," said Jeff Fournier, President, Minuteman Fire and Rescue. "We delivered the department's first Pierce vehicle in 1988 and over the years have helped build a 100 percent Pierce apparatus equipped department."
The design, strength, and durability of Pierce apparatus have been rigorously tested and proven to show that lighter weight, tandem axle configuration vehicles provide numerous benefits, especially for weight restrictive and compact roads. In addition, lighter-weight fire rescue equipment allows departments like Cambridge, to comply with clean energy performance measures to meet city and state environmental standards.
For a comprehensive review of the Pierce Ascendant class of aerials and to learn more about the TAK-4 T3 Independent Rear Suspension System, visit www.piercemfg.com for specs, video, and images.