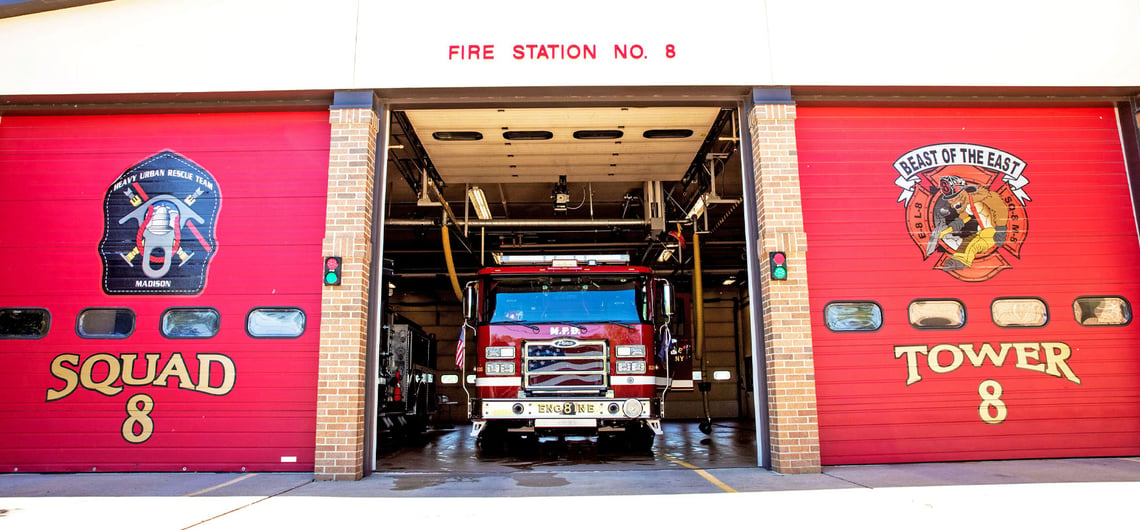 The firefighters in Madison, Wisconsin, have embarked on a journey with Pierce Manufacturing—to use, challenge and track the operations and performance of the Pierce® Volterra™ electric fire truck, the first electric fire truck ever put into service in North America.
Below, Assistant Fire Chief Scott Bavery from the City of Madison Fire Department provides an in-depth interview on a day in the life of Madison firefighters and the Pierce Volterra electric fire truck. Follow along on a typical day to see how the Volterra integrates into station operations, how it supports the local community and for an inside look at electric fire truck performance.
A Day in the Life of a Volterra Electric Fire Truck
Meet Madison Station 8
The Madison Fire Department is made up of 14 fire stations serving an area of nearly 100 square miles and a population of over 250,000. The Volterra electric fire truck is housed in Station 8, which has 10 firefighters on duty each day. The department features a ladder truck, the Volterra engine/pumper, and an ambulance, which is often the busiest ambulance in the city.
7:00 AM Shift Start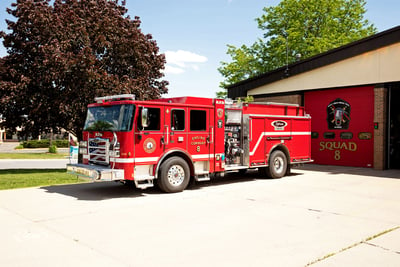 Most firefighters arrive between 6:30am and 6:45am for shift change. This allows firefighters to relieve their colleagues and discuss any logistics to set the new day up for success. They allow the teams to exchange pertinent insights regarding fleet vehicles and station- or task-specific information.
"When we brought the Volterra into our station, the goal was to use it like any other truck. Pierce's Volterra electric pumper allows us to keep an environmentally-conscious focus on reducing emissions while maintaining our traditional pumper configuration. We've been able to seamlessly integrate the new pumper into our fleet without impacting our operational procedures."
As the shift change occurs, firefighters begin their day with a vehicle inspection and placing their personal protective equipment (PPE) on the truck in preparation for the first call.
Apparatus engineers walk around each rig with a checklist of items to review, including:
Light operations
Pump panel performance
Fuel levels / battery charge levels
Running an engine cycle
If firefighters notice any operational issues, they put in a work order so items can be addressed as soon as possible.
7:30 AM Briefing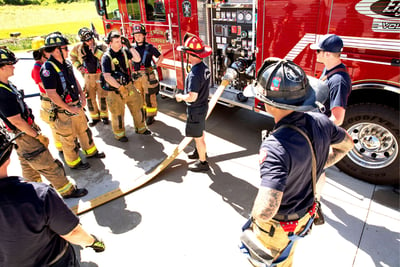 Every day at 7:30am, the City of Madison Fire Department holds a department-wide briefing. Led by the incident commander at Station 1, the briefing is held over Zoom and reviews the operational plan for the day. They discuss any special events, planned protests or key developments that firefighters should prepare for, and also review any training requirements or other department updates.
8:00 AM On Duty
Immediately after the briefing, firefighters can take up several tasks. Many take the time to clean the trucks in the station and perform minor station tasks to ensure they are ready for the day. From vacuuming, sweeping and mopping to cleaning bathrooms, station tasks are a way to kick start the day with a teamwork mentality.
Health and wellness are important to our firefighters. Some firefighters use the quieter morning hours to get in a daily workout. Each station is outfitted with a gym and each department prioritizes time for firefighters to get in a physical workout to stay in shape.
"What's great about the Pierce Volterra pumper is its ability to enter and exit the station without generating exhaust fumes, providing a better environment for our firefighters."
Additionally, the morning hours are often used for housekeeping tasks. For example, firefighters pool their personal money together to purchase food for the day so the assigned chef for the shift can make an early morning run to the grocery store.
If a call comes in, any incomplete tasks are resumed when firefighters return to the station.
Morning Drills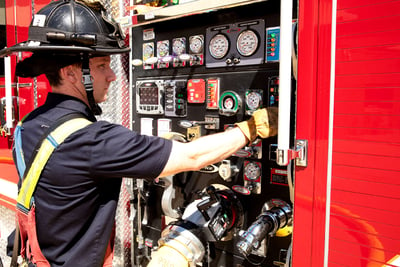 Each day is designed to remain flexible as calls come in and as crew members leave from and return to the station.
Most mornings include some kind of drill or training exercise. Some are based on requirements and certifications while others are hands-on initiatives to practice operational tactics and sequences.
"Training and station integration for the Volterra was straightforward with the collaboration between Pierce, our dealer and our team. We also worked closely with the municipality, and our utility, Madison Gas & Electric. Because the Volterra is built like a traditional fire truck and designed to match the setup of our other fleet engines, we did not require extensive operational training. We focused on battery operations and charging and have been pleased with having a traditional, familiar engine in our fleet."
When A Call Comes In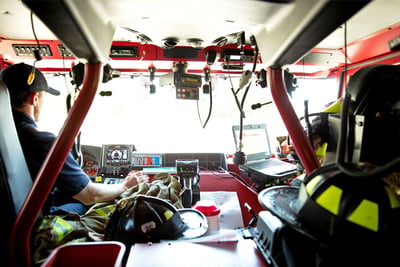 The Madison Fire Department has priority dispatching, which means the dispatcher determines the right rig to assign to each call based on the emergency type. Emergencies are ranked as Alpha, a minor injury or issue, followed by Bravo, Charlie, Delta or Echo, which is a significant injury, fire or medical event. The closest unit with the appropriate support supplies is dispatched immediately, and depending on the nature of the emergency, other support vehicles are also dispatched.
At Station 8, when the ambulance is on a call, the Volterra engine is on first response call. All engines and ladder trucks are staffed with four personnel, these men or women are either EMTs or paramedics.
"The Volterra electric fire truck has performed very well as both a primary and support vehicle in the field. Because the Volterra looks like a traditional fire truck, many people do not even know it is an electric fire truck responding to an emergency call. But we have heard feedback that it is quieter on-scene."
Returning to The Station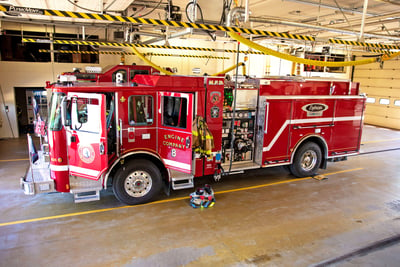 After a call, the Volterra fire truck returns to the station and is plugged into an overhead charging unit. The familiarity of overhead infrastructure makes it easy to integrate electric vehicle charging units into fire stations. Overhead charging is beneficial because it doesn't take up valuable floor space and it improves overall employee safety by reducing trip hazards in high traffic areas.
When the crew arrives back at the station, they follow a consistent routine. Once the truck is plugged into power, the crew takes time to remove any contaminated gear to ensure it gets washed or cleaned immediately to reduce carcinogens in the station. Any EMS or firefighting supplies used on the call are replenished and any used equipment is cleaned and checked for readiness. If during the course of the call, the cab interior or truck exterior becomes dirty or contaminated, the areas are washed clean.
The goal is to ensure that the truck is mission-ready as soon as possible once it returns to station because another call could come at any moment.
"Firefighters are built to go from one call to the next and we need our trucks to meet these rigorous demands. The Volterra has given us great in-the-field performance and with its ability to charge quickly, we've yet to have an issue with battery longevity or dependability."
Evening Hours and Downtime
The evening hours at the station follow a similar pattern to the early morning shift. Firefighters wind down the day with a vehicle review to make sure each truck is ready to perform and the hours pass with workouts, additional training or down-time.
Since the Volterra was put into service in 2021, fire and city representatives have been ambassadors to help share Volterra's story. To help educate others on the unique technology and to promote environmentally-conscious initiatives around the country, the Volterra is taken out of service for 4 hours every other Thursday. This time is used as an opportunity to allow visitors, industry professionals and other municipalities to see the Volterra and the charging infrastructure to learn more about how it performs and how the truck fits into station operations.
"The unique collaboration between Pierce and our team, The City of Madison and Madison Gas & Electric was phenomenal. We have worked cooperatively to bring this project together, sharing our successes, hurdles, and experiences is a great benefit to help other communities embrace environmentally-focused initiatives. Our staff and crew are proud to be a part of this unique moment in history."
Using Data for Volterra Advancement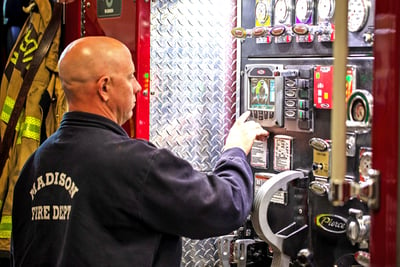 As with any new technology, the Volterra electric fire truck has had some hurdles over its first two years in service. Pierce's unique approach to put a concept demonstrator in service to validate the design, technology and performance is groundbreaking. The overarching goal of learning and refining the truck using the power of data and real-life scenarios means the Pierce team can truly understand the metrics behind truck requirements and performance and adjust the new technology accordingly.
When operational or mechanical issues arise, Pierce is often able to perform remote upgrades to address areas of concern. The truck has been brought out of service to study performance and opportunities for improvement, and for general updates and maintenance. New technology comes with unanticipated obstacles and great opportunities for advancement.
"Pierce's mission to manufacture an electric fire truck and their ongoing commitment to advancing the technology with day-to-day learnings is truly remarkable. With any new technology, there are problems to resolve and challenges to overcome. It's seldom you get to play an integral role in groundbreaking technology and we feel fortunate to have this opportunity with Pierce."
Since 2021, Pierce has been able to gather valuable daily operations data and information to make significant improvements in the electric vehicle technology and battery operation. In-depth discussions with each crew member, daily reports and a continuous stream of real-time data have allowed the Pierce team to learn performance capabilities and opportunities based on weather, temperature, power supply, emergency type, truck components in use, time of day and more.
Based on feedback from the station crew and Chief Bavery, Pierce has already integrated design adjustments to the Volterra. For example, Pierce received feedback that firefighter ergonomics could be improved if the charging port on the side of the vehicle was moved higher.
"If I had to give advice to other fire chiefs in the market for an electric vehicle I would recommend building your relationships now with your local utility, municipal representatives and Pierce Manufacturing. Working collectively to establish the infrastructure and build the right electric fire truck for your needs is something that is critically important to ongoing success in the field. Pierce's communication and support has been outstanding and the reliability and capabilities of this vehicle is exceptional—we are excited for what the future holds."
Take a look at our additional resources on the electric fire truck to learn more:
Electric Fire Truck Reference Guide
Questions? Please contact your local dealer or leave a comment below!