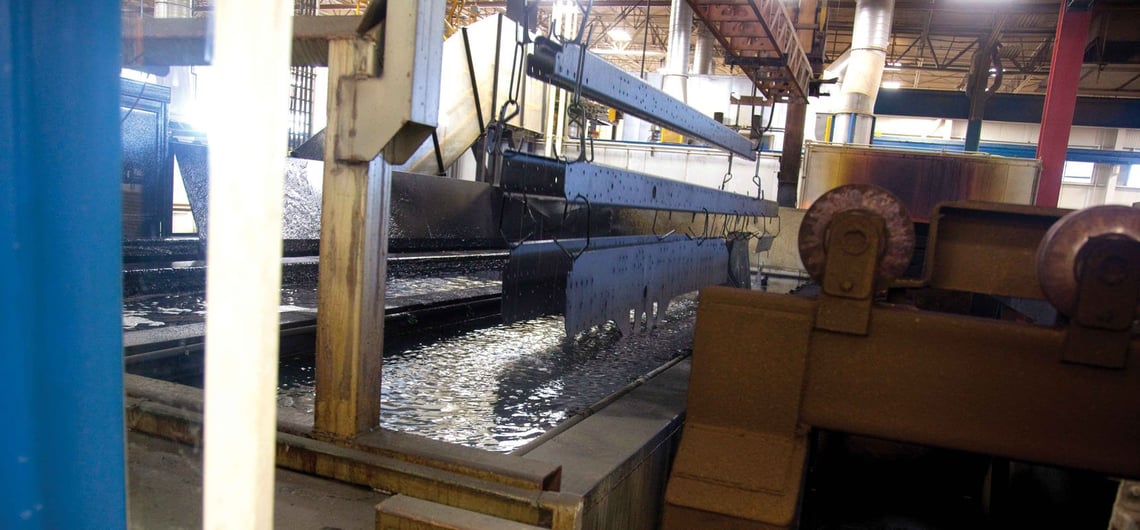 Corrosion on fire apparatus has long been a concern for fire departments in wet, damp or wintery climates where the increasing use of liquid de-icing agents, road salts and chemicals is a concern.

To combat fire apparatus corrosion, Pierce Manufacturing is on the forefront of advanced technology: electrodeposition coating. In fact, Pierce is the first and only fire apparatus manufacturer to incorporate electrodeposition coating into the apparatus manufacturing process.

What do fire departments, dealers, fire truck mechanics and technicians think about this technology? The feedback is unanimous: "What else can we e-coat?"

Learn more about this unique corrosion protection process below.
What Is E-Coat?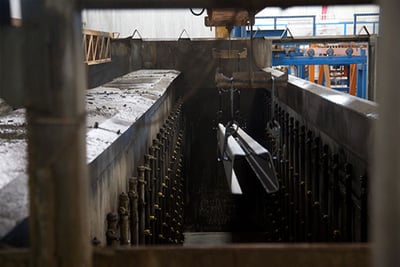 Electrodeposition coating, or e-coat, is a primer applied to a physical substrate that offers high performance and corrosion resistance, abrasion resistance and chemical resistance.

Conversion coating is a process of converting a bare substrate surface into surface ready for the next step in the painting process. Whether it begins with hot roll steel or galvanized metal, a conversion coating creates a layer between the substrate and the paint.

Pierce's e-coat coating is a protective layer designed to improve the corrosion protection on apparatus. Not only does it act as a barrier to protect against chemicals and corrosion, but it also services to protect against abrasion and surface scratches. If a fire apparatus is scratched down to the bare substrate, the protective layer keeps the scratch just a scratch, preventing the paint from peeling and ensuring that the scratch does not become a localized spot for corrosion.

Electrocoat immersion provides coverage for fire truck chassis, frame rails and many parts of apparatus undercarriage with a uniform thickness, without runs or drips.
Why Is the E-Coat Process Unique in Fire Apparatus Manufacturing?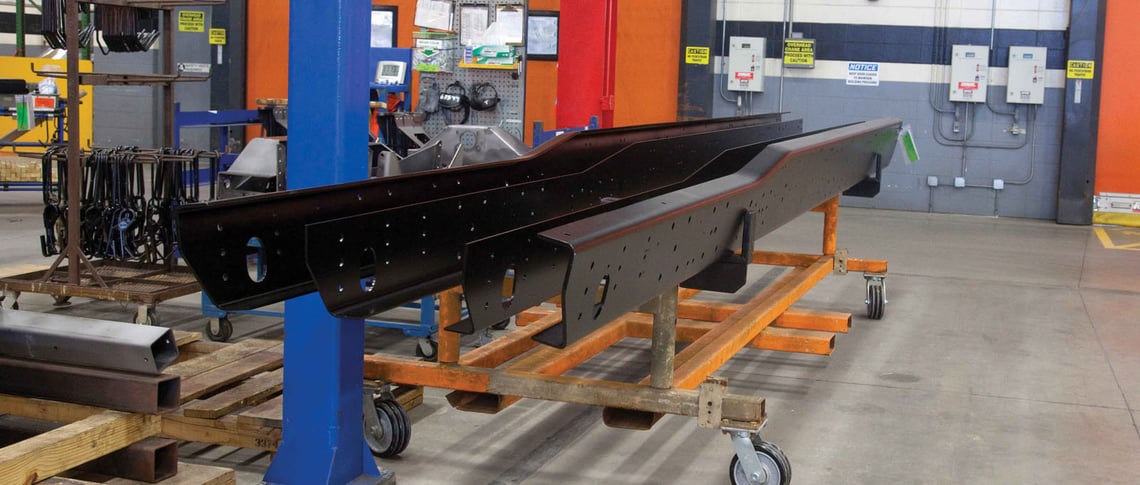 The process of electrocoating has been around for more than 50 years. The automotive and agricultural industries have long recognized the benefits of protecting components of the undercarriage from damaging chemicals and corrosion. In fact, it is likely that the vehicle you drive every day has undergone an e-coat immersion.

But why has the fire apparatus manufacturing industry not implemented this technology to protect fire trucks? The simple answer: fire trucks are really big.

As a subsidiary of Oshkosh Corporation, Pierce Manufacturing is the only fire apparatus manufacturer that can perform electrocoating. Pierce has the manufacturing facilities and the infrastructure to handle large industrial vehicles.

To appropriately immerse fire truck frame rails and chassis components, Pierce uses 17,000-gallon tanks that offer:
36 ft. length
8 ft. depth
Weight capacity of 5,000 lbs.
When a fire department chooses to work with Pierce Manufacturing to create their custom apparatus, they have peace of mind that the undercarriage and essential components of the apparatus will be protected with e-coat. In addition, Pierce can also provide replacement parts with e-coat, or provide additional e-coat applications if existing components become damaged.
When Does E-Coat Immersion Occur in the Manufacturing Process?
The e-coat process typically occurs after substrate fabrication. Once a fire truck component is bent, formed and welded into the appropriate shape, it is dipped in the immersion tank. 400 volts of direct current is applied while the part is submerged in the coating solution and then the part is cured (baked at a minimum of 350°F to ensure the crosslink of polymers and to allow the coating to become smooth and continuous).

After e-coat, the unique Pierce paint process begins. E-Coat is an excellent adhesion primer for topcoat paint, acrylic paint or even glue when required for graphics application.
E-Coat Quality Control and Testing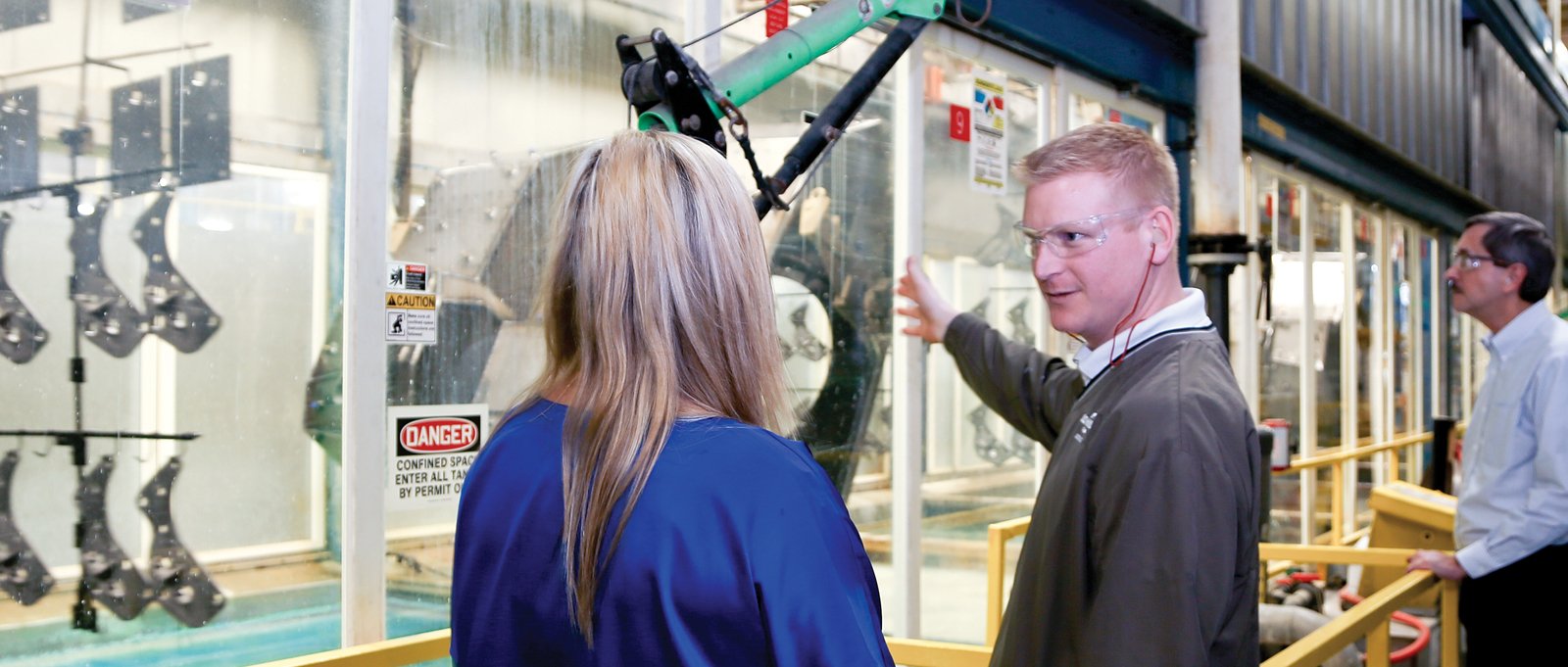 E-coat is not just a protective immersion technique; it is a highly monitored, continuously tested environmentally friendly process.

Every four hours of operation, the process steps and components are tested. This includes an analysis of the substrate materials and testing the chemistry of the cleaners, acid washes and the zinc phosphate conversion coating. The tank is also tested regularly to ensure operational efficiency and optimal safety.

Moreover, the waste from e-coat is also tested and treated on-site, reducing the environmental impact of the overall process.

Additionally, the final results are also tested to ensure high-performance for fire departments. The e-coat protection is tested to ensure maximum performance with up to 1,000 hours of salt spray testing.
Hot Dip Galvanizing vs Electrophoretic Coating: Which Is Better?
The chart below illustrates some of the key differences between the galvanization and e-coating processes.
Galvanized
E-Coat
What is it and how does it work?

Hot dip galvanizing involves the application of a heavy layer of molten zinc, a material that corrodes sacrificially to the underlying steel.
Over time, galvanized metal sacrifices itself to any chemicals, abrasions or corrosion.

E-coat is a barrier in the form of a primer that is applied to a physical substrate, offering high performance and corrosion resistance, abrasion resistance and chemical resistance.

Environmental impact

Hot-dip galvanization uses heavy molten metal, a highly hazardous material that leads to a lot of waste.
Galvanization must be performed in an open environment with excellent ventilation because of air pollution damage.

E-coat has no hazardous air pollutants and ultra-low Volatile Organic Compounds (VOCs).
Most Low-VOC spray products have ratios of 1 pound per gallon. E-Coat has a ratio of 0.1 pounds per gallon.
E-coat waste is non-hazardous and treated on-site.
Electrophoretic Coating vs Powder Coating: Which Option Offers More Protection?
For optimal apparatus surface longevity, the less porous the surface, the more protection provided. A powder-coating uses static electricity to apply paint. E-Coat uses 400 volts of DC power. This factor is one of the main reasons why e-coat is a superior protective barrier; it offers a strong bond to the metal substrate.
Will UV Exposure Damage E-Coat or Reduce Its Effectiveness?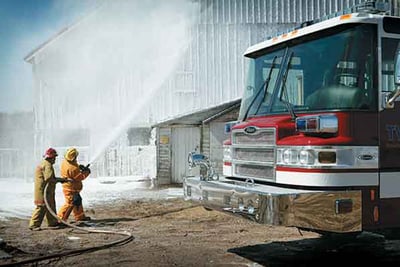 All epoxy primers are sensitive to UV light when exposed directly, but all Pierce e-coat surfaces are painted with topcoat and thus protected from direct UV sunlight. UV light will not degrade the corrosion and protective surface of fire apparatus. The only way UV exposure will damage e-coat is if an unpainted coated component is exposed to UV light for an extended period of time (years), which never occurs in the manufacturing process.


If you could e-coat any additional component of your fire apparatus, what would it be?
Would you like to talk directly to a dealer about the e-coat process? Find a dealer now and get started.