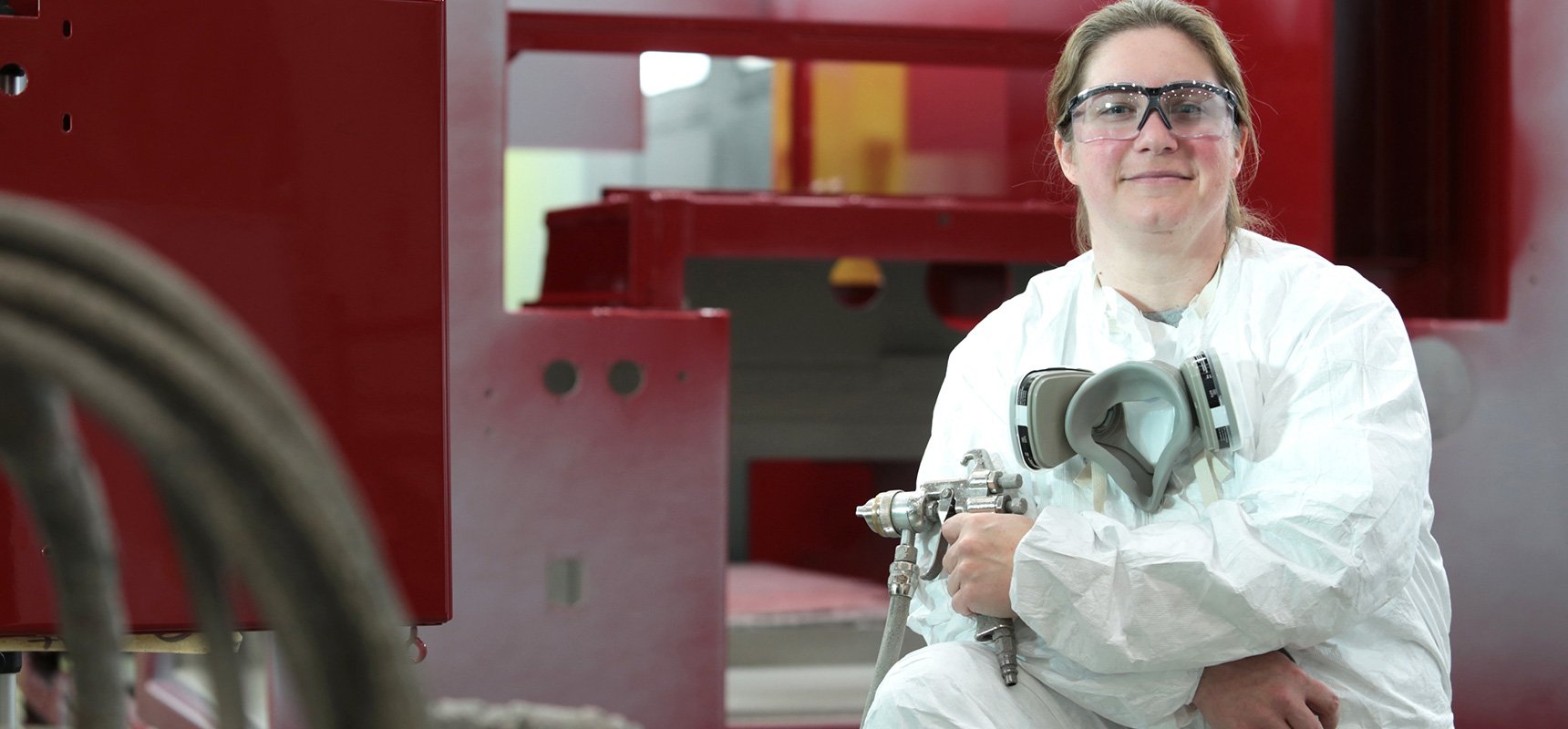 When it comes to your fire apparatus, you may think that all surface painting processes are created equal. You may be surprised to learn, however, that how the paint is mixed, and the steps used to apply fire truck paint can make a difference in the surface quality, paint longevity, and overall appearance of your fire apparatus.
By using a precision-based seven-step fire truck painting process, Pierce Manufacturing is able to deliver a superior quality product with superior accuracy and less environmental waste.
As you consider your next investment in fire apparatus, you may want to scratch beyond the surface paint to understand why the painting process really matters to your apparatus and department.
What Makes the Pierce Fire Truck Painting Process So Unique?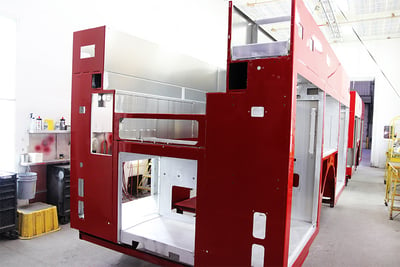 As with many manufacturing processes, advancing technology and innovation makes it possible to achieve optimal precision and superior outcomes. The painting process at Pierce Manufacturing is a point of pride for this very reason. The team at Pierce has developed a seven-step painting process that focuses on accuracy and exceptional quality, with every single gallon of paint.
How was this achieved?
Driven by an experienced workforce and innovative technology, Pierce developed its 'paint kitchen,' featuring 55-gallon drums of surface primer, sealer primer, and clear coat paint. A precision mixing machine combines the paint and the activator (which is a catalyst that is required for paint hardening and drying) in real-time. The final mixed product then pumps into the painting equipment to start the painting process. Pierce's real-time mixing process means that batches of paint are created and used only as needed.
This process is beneficial for a number of reasons, including:
Quality control remains constant. With a real-time mixing process, the paint and activator ratio are always accurate.
Environmental advantages with limited waste. Using a real-time mixing process, paint is created and pumped immediately into the painting equipment. The more the spray gun trigger is pulled, the more paint that is mixed and pumped into the painting booth.
Human error is eliminated. When a fire department selects a desired paint color, Pierce's precision color selection and mixing machines are tasked with developing the right color and product ratio, every time.
Pierce's exceptional fire truck painting process means we can deliver an industry-leading 10-year standard warranty. Take a look at some of our other innovations, like our e-coat corrosion protection.
Step-By-Step Fire Truck Painting Process
1. Manual Surface Preparation
The painting process begins by preparing the surfaces for painting. This process involves grinding, sanding, and fixing any imperfections in the metal to ensure the surface is smooth and free from blemishes.
2. Chemical Cleaning and Treatment
Following a thorough cleaning, the surface is prepared for primer with a chemical conversion coat. This step involves washing the surfaces and removing any grease, oil, or other materials so the painting process can begin on a clean surface to promote good adhesion.
3. Primer Surface Coat
The fire apparatus primer surface coat is a critical step in the painting process. The primer itself is thick and slightly viscous, which helps to fill in any small imperfections, improve corrosion protection, and creates a smooth surface for the coats of paint to follow.
4. Hand Sanding
After the primer coat is applied, the apparatus is hand-sanded with fine grit sandpaper. This gives the surface a nice smooth surface and helps minimize any surface imperfections.
5. Sealer Primer Coat
After the apparatus is sanded, a sealer primer coat is applied. The sealer primer has similar characteristics to the initial primer, but it is much thinner, which allows it to lay out flatter on the apparatus surface. This is the ideal texture to help fill in any fine grit sandpaper scratches, and it also helps with color hold-out and adhesion of the top coat paint. After the application of sealer primer, flash-off commences.

What is Flash-Off? One of the most critical steps in the fire apparatus painting process is called flash-off. Flash-off is a period where the apparatus and parts are left to sit and dry slightly. This short period of drying time improves surface tension and appearance, creating a glossy exterior. If the adequate time for flash-off is not included in the painting process, the final product will have a dull finish.
6. Basecoat Paint
Following sealer primer and flash-off, a basecoat paint is applied to the fire apparatus or parts. In the unique Pierce painting process, the basecoat is the color selected by the customer. As the basecoat paint is applied, the Pierce team verifies the customer color selection to ensure the final product, on the fire truck or parts, match the requested color sample.
Following the basecoat paint application, flash-off is again critical to help ensure a glossy final surface area.
7. Clear Coat Paint
The final painting process step is the application of clear coat paint. At Pierce, two coats of clear coat are used to help protect the surface area and increase the surface longevity, durability, and glossy look.
After a short flash-off period, the painted parts are cured. The curing process involves placing the painted parts in a bake oven for a minimum of two hours at 160℉. The paint and the clear coat require a catalyst to cure, so the baking process is a critical step in the overall apparatus painting procedure. The curing process is essential to harden the paint and prepare it for a lifetime of exposure to the elements and extreme environments.
Final inspections are completed once the apparatus or parts are removed from the bake oven to verify surface perfection.

Learn more about the custom detail Pierce Manufacturing can offer for gold leaf fire truck lettering in this article.
How Long Does It Take to Paint A Fire Truck?
In general, the fire apparatus painting process can take anywhere from one to two weeks. The final three steps in the painting process — sealer primer, basecoat primer, and clear coat — are typically completed at one time, taking approximately two hours.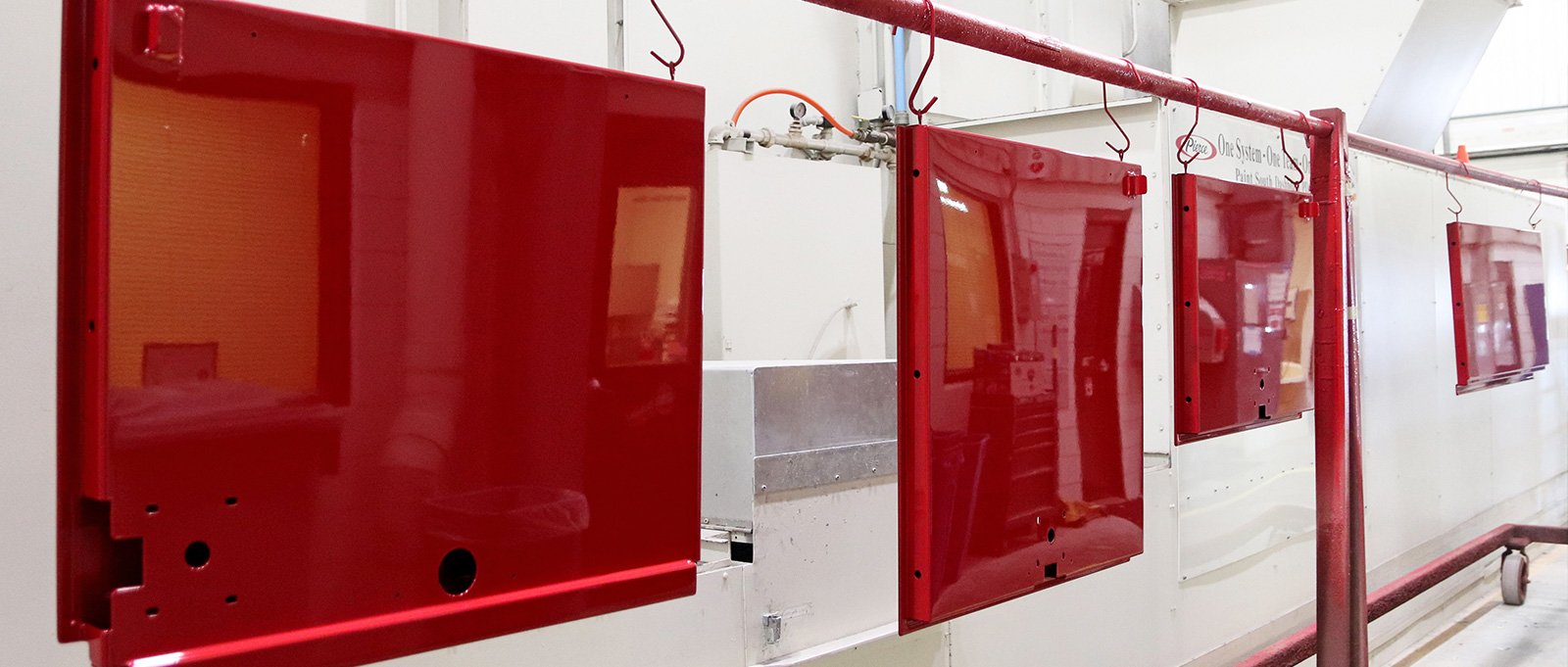 It may surprise you to learn that the entire fire apparatus is not painted together. In many instances the painting process follows this general timeline:

First: Cab

Second: Chassis

Third: Pump

Fourth: Body
This process improves protection, durability, and overall aesthetics. Once painted, all components, including piece parts, come together in the assembly process. From there, final inspections ensure that the completed product meets quality standards.
Why Are Fire Trucks Red?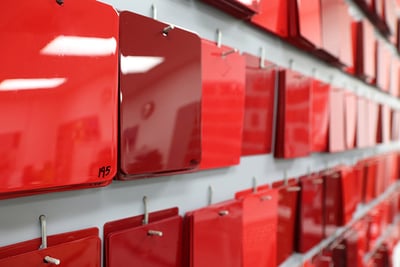 Pierce Manufacturing has more than 700 paint colors that can be used on fire apparatus, but one of the most common questions asked is "why are fire trucks red?" The answer — it's all about preference.
Historically, it is thought that fire trucks were painted red to stand out from the bland colors of early vehicles. Now, a fire department can select any custom color they'd like from a color library at Pierce, or they can create a new color that will get added to the Pierce color library, which incidentally, features more than 260 shades of red. Why so many shades of red? It all comes down to accuracy.
Precision Apparatus Paint Color Starts With Tolerances
Pierce's precision color selection process ensures that every customer gets their exact color preference. When color requests are received, a computer reads the color at a level of detail much finer than the human eye can see and from there, sets color tolerances. If the machine views a given color outside established paint color tolerances, it will create a new color. Therefore, Pierce has more than 260 shades of red, to ensure complete color accuracy and customer satisfaction.
What is Number 90 Red?
Number 90 Red, often referred to as "Fire Engine Red," is Pierce's most popular color choice and has been used on thousands of fire apparatus over the years. The color is so popular that it has generated quite a following, including a local pub in Neenah, Wis. Learn more about how the Number 90 Red color inspired a craft Vienna lager at Lion's Tail Brewing Company in this article.
Other Popular Fire Truck Colors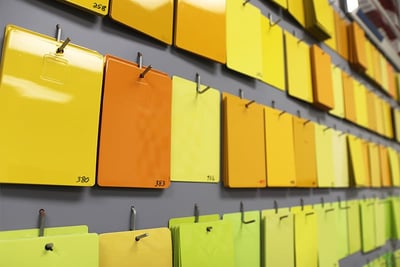 Color selection comes down to individual department preference, and in many instances, it's all about standing out. Many departments seek a different color than the neighboring town or choose to support the local high school or university flagship colors. Either way, the paint team at Pierce has painted fire trucks in shades of almost every color.
Beyond red, other popular fire truck colors, include:
White (with added graphics)

Blues

Metallics

Charcoal grey
Take a look at the variety of apparatus paint colors in our new deliveries gallery.
Interested in learning more about what makes the Pierce Manufacturing painting process so unique? Look at more videos, now.
What color is the fire apparatus in your community? What color would you love to see? Let us know in the comments below!