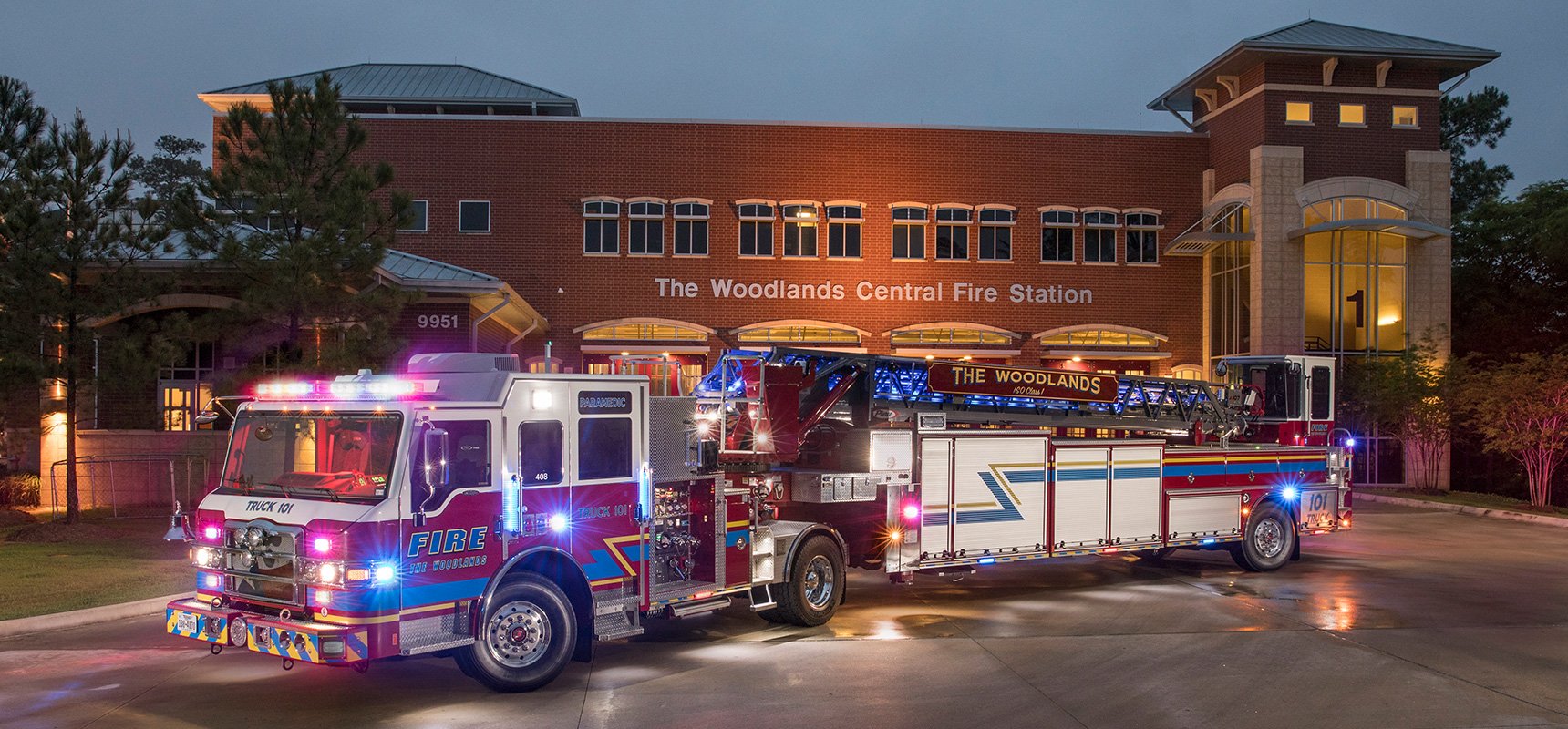 When firefighters respond to an emergency situation, the iconic rotating red and white lights catch the attention of drivers and pedestrians alike. But how have these lighting systems evolved and what should you consider as you look to upgrade your fire apparatus lighting system?
Pierce Manufacturing prides itself on creating custom fire apparatus, including the latest advancements and technology to keep firefighters and their respective communities safe. Learn more below about industry standards and trends in apparatus lighting systems so you can make the right lighting choice for your department.
A Brief Overview of NFPA Lighting Requirements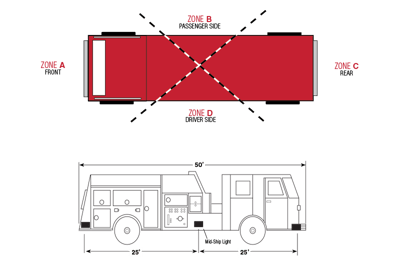 On fire apparatus, warning light systems are positioned throughout the required zones identified by the National Fire Protection Association (NFPA) 1901 Standard, and in areas that support the needs of individual fire departments.
The NFPA segments an apparatus based on four zones with upper and lower warning light requirements for each zone that address the needs of:
Calling for right-of-way (when the apparatus is responding/moving) and;

Blocking mode (when the apparatus is on-scene/parked).
Zone Colors
Zone Colors

Color

Calling For Right-of-Way

Blocking Right-of-Way

Red

Any Zone

Any Zone

Blue

Any Zone

Any Zone

Yellow

Any Zone Except A

Any Zone

White

Any Zone Except C

Not Permitted
When you are working with an apparatus manufacturer, one of the most important considerations is the NFPA lighting requirements for each zone of the apparatus to ensure the vehicle meets the standard.

Mode of Operation
Mode of Operation
Calling for Right-of-Way
Blocking Right-of-Way
Zone

Level

H Total
At Any H Point
At Any Point 5 Degrees Up or
5 Degrees Down from H
H Total
At Any H Point
At Any Point 5 Degrees Up or
5 Degrees Down from H
A
Upper
1,000,000
10,000
3,500
400,000
10,000
3,500
B
Upper
400,000
10,000
3,500
400,000
10,000
3,500
C
Upper
400,000
10,000
3,500
800,000
10,000
3,500
D
Upper
400,000
10,000
3,500
400,000
10,000
3,500
A
Lower
150,000
3,750
1,300
150,000
3,750
1,300
B
Lower
150,000
3,750
1,300
150,000
3,750
1,300
C
Lower
150,000
3,750
1,300
150,000
3,750
1,300
D
Lower
150,000
3,750
1,300
150,000
3,750
1,300

Notes:

1. All values are in candela-seconds/minute.

2. H = Horizontal plane passing through the optical center.
3. The values in the H Total columns are the total of 19 data point values for each light, with data points on the boundary between zones counted in both zones.
The chart above shows the required total output values for each zone on both upper and lower lighting systems based on either calling for right-of-way, or blocking right-of-way positioning. The output values help dictate light intensity requirements and the associated visibility of apparatus. These values are important to understand as you select the right warning light options and adjust settings to balance your fire department's needs with the minimum and maximum standards.
Additionally, custom warning light options should be considered that address the individual requirements of a fire department and its community. The major warning light manufacturers have created tools that provide an easy way to validate if a combination of lights will meet all NFPA requirements.
What Are the New Features of Fire Apparatus Warning Lights?
Low Intensity Emergency Response Lighting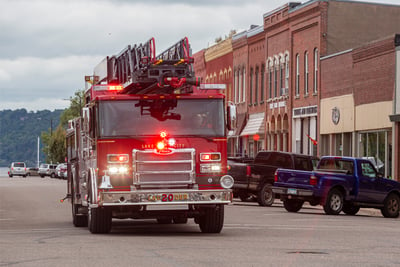 Low intensity emergency response lighting offers fire departments the flexibility to adjust the light output of a warning light to a lower level that is still within the NFPA required levels. The use of low intensity warning lights is ideal in low light or dark conditions because it may actually improve safety.
Warning light systems are designed to provide enhanced visibility to enable motorists to detect and safely react to the presence of emergency response vehicles. The trouble is, the current light intensity combined with the flash pattern minimums can actually confuse motorists and lead to collisions and accidents with emergency response vehicles.
Current NFPA standards require that the minimum flash rate be 75 flashes per minute (NPFA 1901 13.8.11.1). Based on the charts above, a single emergency vehicle blocking a right-of-way could have as many as eight warning lights flashing 75 times per minute with different colors and levels of intensity, as well as different flash patterns and synchronization.
Private and government agencies are now studying the effects of this high level of visual light intensity to understand what levels are most effective to aid approaching motorists. In fact, it is anticipated that the next NFPA standard may address these concerns directly and alter flash patterns and intensity minimums to reduce visual overload for motorists, thereby improving safety.
LED Lighting Systems
Today, lights used on apparatus as a warning signal during right-of-way, and when parked, have reached a new level of reliability, efficiency and output thanks to ever-advancing LED technology. For fire crews, recent trends and advancements mean a new dependence on warning light packages that can deliver the longevity needed to meet equipment, service and budgetary goals.
Apparatus owners now have the opportunity to select lights based on department preference, outfitting apparatus with customized lighting options. In fact, the options available when configuring warning light packages seem endless, including color, size, shape, depth and mounting styles.
New lighting trends first caught the attention of apparatus manufacturers and firehouses about 20 years ago after police vehicle light bars became equipped with the seemingly trouble-free, attractive, and more noticeable light-emitting diode technology known as LEDs. Over the years, LED products have continued to evolve. They now produce illumination approximately 90-percent more efficiently, and in the end, cost less than traditional bulbs.
What Are the Benefits of Using LED Light Packages for Fire Apparatus?
LED lifespan is between 50,000 and 100,000 hours, costing less money in maintenance and replacement costs.
LEDs have less electrical draw than previous lighting solutions.
LEDs can be controlled, focused and positioned for greater penetration.
The technology provides advanced heat control and stronger light output.
LEDs are known to be far more rugged and durable than traditional light bulbs and can withstand cold temperatures.
There is no warm-up period on an LED. They light instantly within nanoseconds.
Mercury and other hazardous substances are not found in LEDs making them an environmentally friendly option for departments focused on green community strategies.
Should My Department Update Our Warning Light System?
Updating warning light systems has also become a vital strategy for fire departments that need to address road safety concerns or for those facing changes within the community they serve that may require an upgraded system. While there is an investment associated with upgrading apparatus warning lights such as beacons, light heads and lightbars to an LED light source package, the overall value realized by a department is often much greater. Updating and adding warning lights ensure that a fire truck will be seen, helping to prevent secondary accidents from occurring.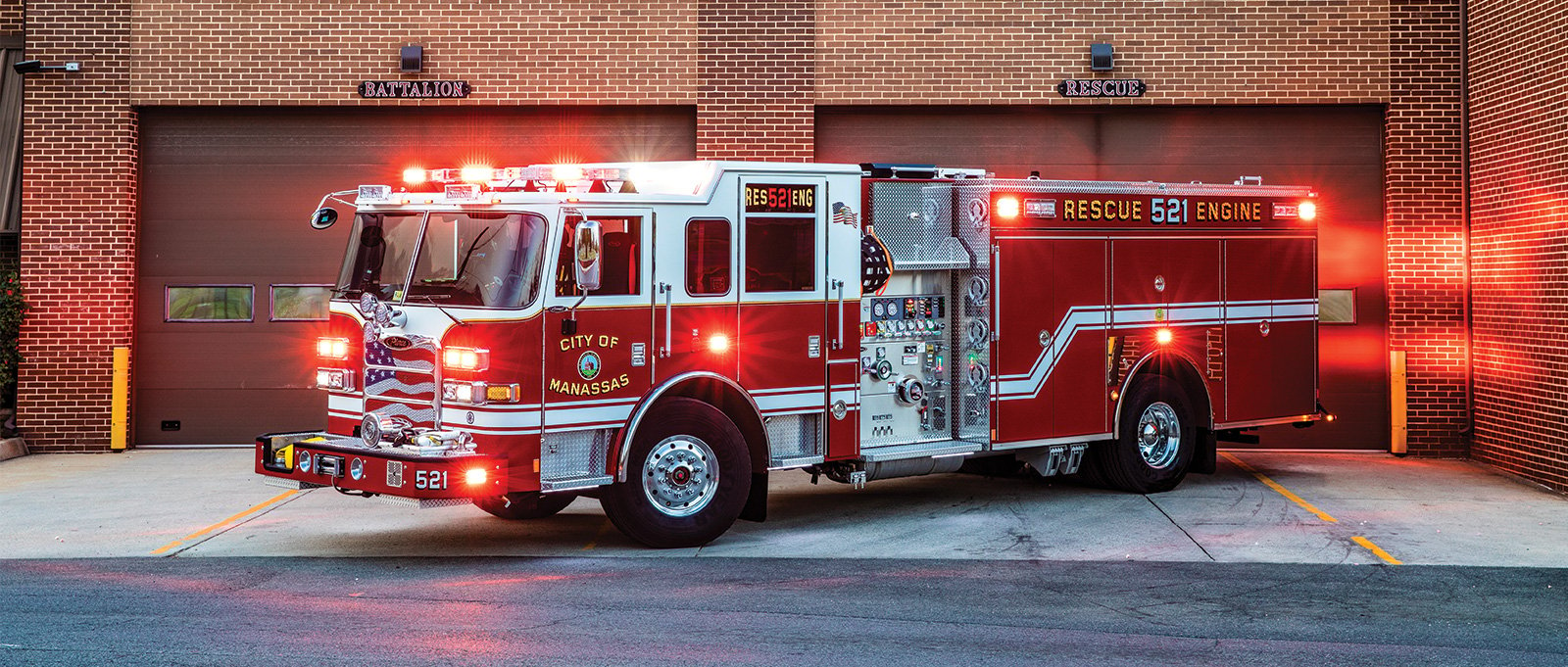 What Resources Are Available to Help Me Choose a Warning Light Package?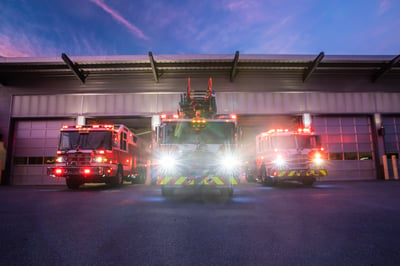 There are many resources available for departments that are either in the new fire apparatus design process or looking to upgrade an existing warning light system. Most apparatus owners or fleet managers let price and brand loyalty steer their choices.
However, working with an experienced apparatus manufacturer, dealer, and lighting provider will offer invaluable guidance to help make sure the warning lights selected best serve the department's needs.
Most apparatus lighting manufacturers will provide photos, customer reviews, compliance information and performance and design tools that make decision-making a bit easier.
What's Next for Apparatus Warning Lighting?
As apparatus technologies and design elements continue to expand the boundaries of safety and efficiency for departments across the country, there will likely be advances in warning light synchronization, combinations of warning light and scene light in a single housing and lighting that takes up less space on the apparatus.
What advances do we anticipate seeing soon?
All major emergency vehicle lighting manufacturers are developing smaller warning lights that can fit right in the rub rail on the body side of a vehicle. This creates a compact lighting solution that still meets NFPA standards, and an attractive option that is likely to be widely accepted.
It is expected that LEDs will continue to become more efficient and able to handle high temperatures.
New NFPA standards may address flash rate per minute and low intensity lighting options in the near future. Community and fire fighter concerns around the blinding effect of super LEDs on today's apparatus have started an important discussion. The NFPA may look to put an upper limit on warning light brightness or mandate a dimmer mode for nighttime use of warning lights.
Fire truck warning lights will continue to evolve as manufacturing innovation develops and new safety regulations are announced. The team at Pierce will continue to be on the leading edge of new advancements in warning lights, and will be sure to share these new trends as they emerge.
What warning light features do you want to see on your department's apparatus?
Contact an experienced Pierce Manufacturing representative to discuss all of your apparatus lighting options that best support you, your crew, and your equipment.