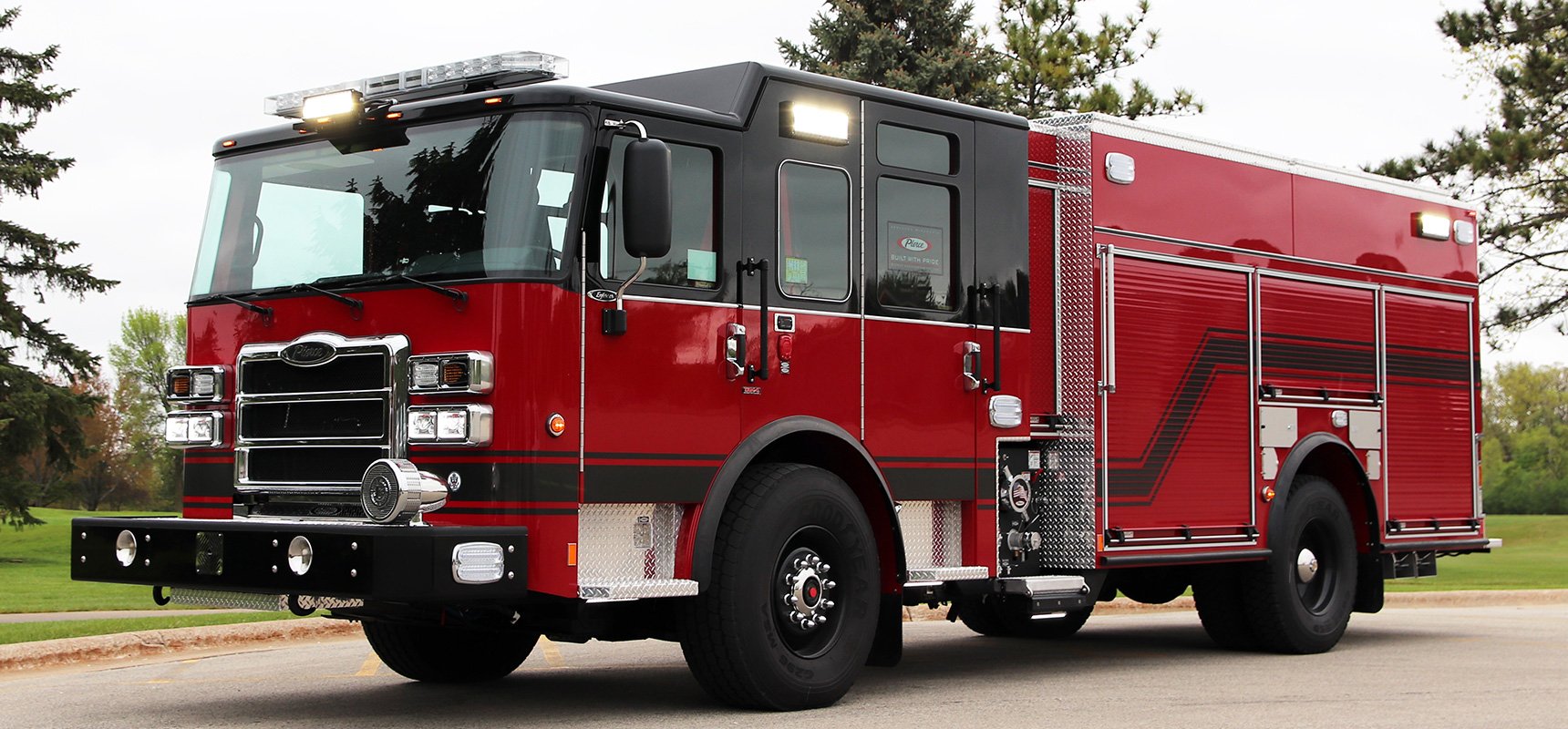 When firefighters and EMS responders arrive at an incident, scene illumination with apparatus lighting is often necessary to quickly assess the situation and identify potential hazards. To ensure the team's safety, especially at night or when visibility is limited, having appropriate fire truck scene lighting coverage is critical and should be considered when retrofitting an existing or designing a new fire apparatus. In line with many other custom engineered and design features, all of the apparatus manufactured by Pierce include scene lighting packages that meet not only the
National Fire Protection Association (NFPA)
requirements, but also a fire department's unique needs including: equipment accommodations, voltage requirements, power availability, light output, and budget.
Crews respond to incidents at any time and in all conditions. It's essential not to overlook the role scene lighting plays in the safety of both responders and the individuals involved in an incident. Whether departments are looking to replace existing technology or are in the process of designing a new fire apparatus, all fire truck lights should be specified to maximize crew performance throughout the life of an apparatus. The custom combinations and types of scene lights are numerous with the only real limitations being: available power, mounting space, and budget.
Where Can Scene Lighting Be Placed?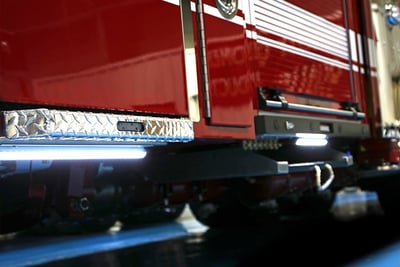 While emergency scene lighting can be mounted just about anywhere on an apparatus, to most effectively illuminate a scene the lights should be mounted as high as practical around the perimeter of the vehicle. Scene lighting can be surface or recessed mounted, pedestal or pole mounted, visor or bail bracket-mounted or mounted in custom housings on the body of an apparatus. Some fire truck scene lighting can also be portable such as those lights mounted on tripod brackets.

The most common areas scene lighting is placed on Pierce apparatus include:
Top center of the cab
High on the cab's sides
High on the body's sides
High on the rear of the body
Either side of an aerial device
Rear surface of the cab
Above the pump house area
On a basket
NFPA regulation dictates there must be scene lighting placed to illuminate the ground at least 10 feet directly behind an apparatus and anywhere crew members may step off the apparatus such as cab steps, a running board, or ladder. The water stream from an aerial water monitor must also be illuminated. In addition to areas off the vehicle, NFPA also requires all designated standing, stepping, and walking areas on the apparatus to be illuminated.
What Type Of Light Technology Is Used?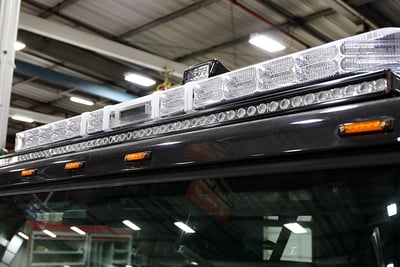 Scene light technology is expanding at an exponential rate and cannot be ignored when deciding which lights to include on your apparatus. Over the last ten years, the industry has made the successful conversion from primarily halogen to primarily light-emitting diode (LED) lighting systems because high wattage halogen bulbs proved to be inefficient, fragile, and offer a lower intensity light output. While LED scene lighting systems require a higher initial investment, these lights offer a number of valuable features including:
More favorable light output to power consumption ratio
Longer lifespan
Instant "ON" ability
Higher durability
Ability to more closely recreate sunlight on the color spectrum
LED scene lighting systems are the most prominent technology now used in designing top performing scene lighting equipment.
What Is The Maximum Illumination Range For A Vehicle-Mounted Scene Light?
This depends on the power source and voltage rating of the light, as well as the type of bulb and lens, but some high-power LED scene lamps can light up buildings up to 300' away from a stationed apparatus. Typically, banks of scene lights mounted on deployable towers on the top of the cab or body will provide the most effective overall scene lighting. With LEDs, it is also possible to combine a spot and flood pattern into one light to serve the near and far field of a scene.
What Are The Power Demands Of A New Scene Lighting Package?
LED scene lighting has a better light output to power consumption ratio than legacy technologies. However, it is important to understand how the output of your vehicle alternator or onboard generator should guide your scene lighting selections.
Do you plan to operate off battery voltage (DC) or a generator (AC)?
When do you plan to use your scene lights?
Are you able to load manage your scene lights if the total amp draw of your vehicle exceeds the alternator's capacity?
How Customizable Is Fire Apparatus Scene Lighting?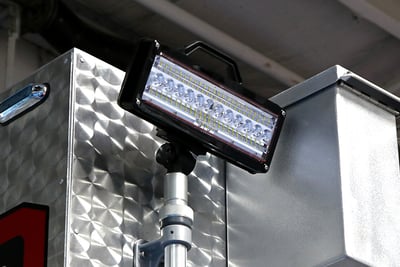 Many departments ask about the options available for customizing fire apparatus scene light packages. Pierce offers many options to customize the positioning and functionality of apparatus lighting including:
Multiple switch locations
Park brake activation
Door open activation
Directional light activation
Surfaced or recessed mounted
Pedestal or pole mount
Visor or bail mount
Infinite amount of possible mounting locations
Accommodations can be made for custom requests regarding the movement of a light location and activation of scene lights.
Who Are The Major Manufacturers Of Apparatus Scene Lighting?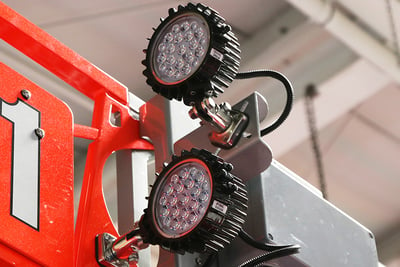 There are several reputable companies that develop the high-impact fire apparatus scene lighting systems used today. Whelen® remains a prevalent brand recommended by Pierce and they offer several variations and options for scene light packages. The Whelen Pioneer™ series features lights that are easy to mount and widely used. A relative newcomer to the scene light market is HiViz LED Lighting/Fire Tech. HiViz has gained significant market share with its low-profile brow light which provides optimal light coverage in the front of an apparatus and can also be mounted in other locations.
Looking Ahead
In the future, we'll likely see fewer apparatus on the market that depend on expensive 120/240-volt generators to power scene lights and more apparatus with integrated 12-volt scene light packages. Considering voltage drop concerns over long 12-volt circuits alternator capability, this evolution may pose challenges for older apparatus and some aerial devices. However, industry trends point toward updated scene lighting packages that decrease cost over the life of an apparatus and improve overall response outcomes.
Looking for examples of how Pierce Manufacturing can help you appropriately manage fire truck scene lighting? Take a look at our recent new deliveries.