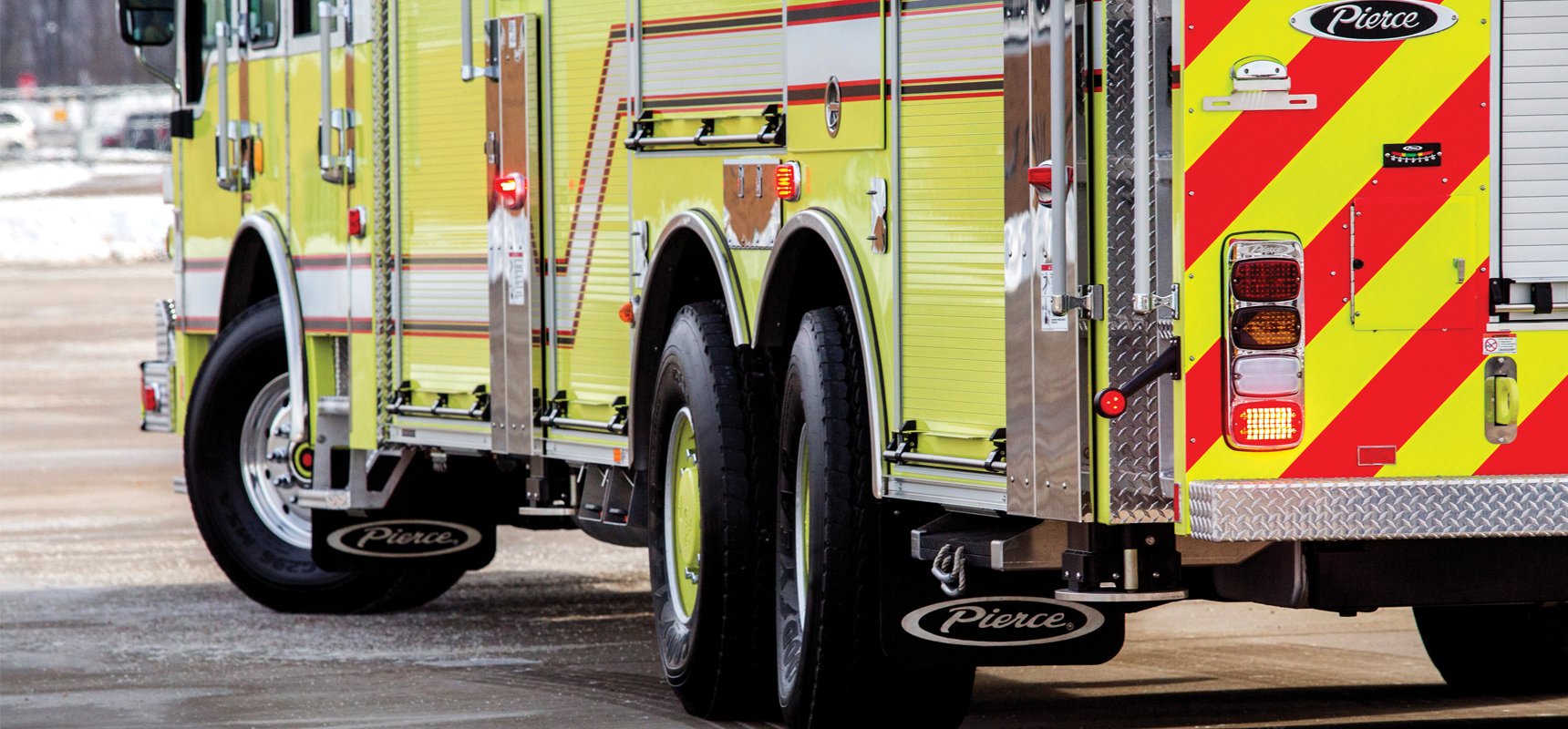 There are many essential components and design elements of a fire truck, but when it comes to comfort, ride and general vehicle performance, nothing compares to the value of a good suspension system. What information are you missing when it comes to selecting the right suspension system for your fire truck? This helpful fire truck suspension comparison guide reviews all of the information fire departments need to know to make an informed decision.
What is a Fire Truck Suspension?
The suspension system of any vehicle has a critical mission—to carry the truck's weight, connect the body to the wheels and isolate the vehicle from the road. A fire truck suspension system can be thought of as the cushion that balances vehicle stability and control with ride quality. Several different suspensions can accomplish this mission. As with any truck component, it's really a matter of need and preference.
Common Suspension Systems in Fire Apparatus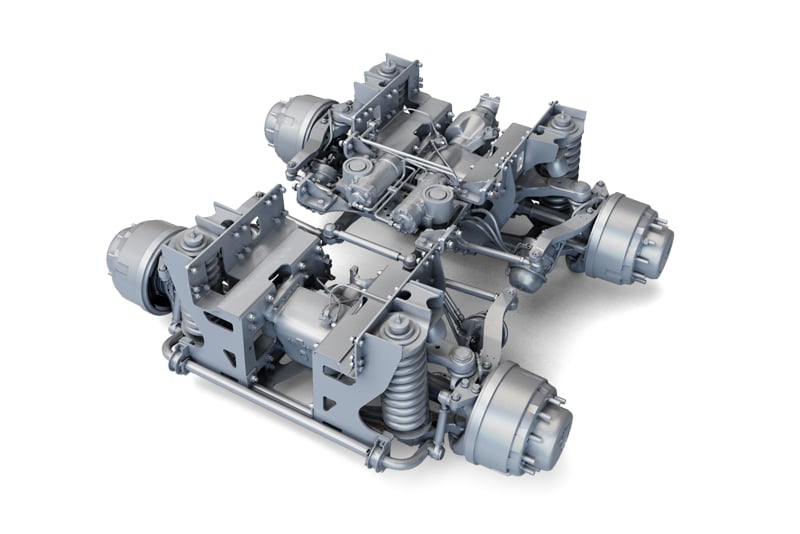 Multi or Stacked Leaf Spring: Can be used in any axle position and configuration and typically incorporates spring steel sections, or leafs, that are the same thickness and width and get shorter in length from the top down until the weight capacity is reached. The stacks can have eight or more leafs—all of which are bolted together with a common center bolt or pin and clamps on the longer sections that make direct contact with each other.
Parabolic Leaf Spring: Similar to multi-leaf systems in regard to simplicity and maintenance, however, the leaf has a parabolic taper along its length to distribute stress equally. A similar but alternate design is a straight taper leaf. In this case, the leaf is tapered like a wedge, however, the stress distribution is not as efficient as the parabolic design.

Walking Beam or Bogie: Only used in tandem drive axle configurations and in the heaviest applications. These systems are typically very stiff and offer little in the way of ride quality. This type of suspension offers springs from very stiff to rigid. Due to the stiff nature of the suspension lateral roll is minimized.
Air Ride: Ride height remains constant regardless of load weight. This suspension provides for a comfortable ride, however, is softer in lateral roll stiffness than the walking beam suspension.
Independent: Allows each wheel on the same axle to move vertically and react independently of the others. Independent suspensions typically offer the highest quality ride without making sacrifice in lateral roll stiffness. Generally speaking, the independent suspension provides the best performance of the options available. Ride quality is directly proportional to the wheel travel offered by the suspension. The goal being to absorb the road bump in the spring and not bottom out the suspension. Independent Suspension typically offers the most travel.
Suspension Combinations: Suspension choices listed above can be combined on a chassis, meaning front and rear suspensions can be of differing types. These combinations offer a good, better, best scenario to consider for each combination. For example, front leaf and rear walking beam suspensions will offer an economical combination but has the least to offer in overall vehicle handling and ride quality. Adding the independent front suspension softens the ride to the front of the vehicle and provides handling improvements, however, in combination with walking beam rear suspension does not provide benefits to overall ride quality or handling. In addition, this combination does not tame the body and equipment jarring impacts.
Why Is Choosing the Right Suspension Important to Fire Departments?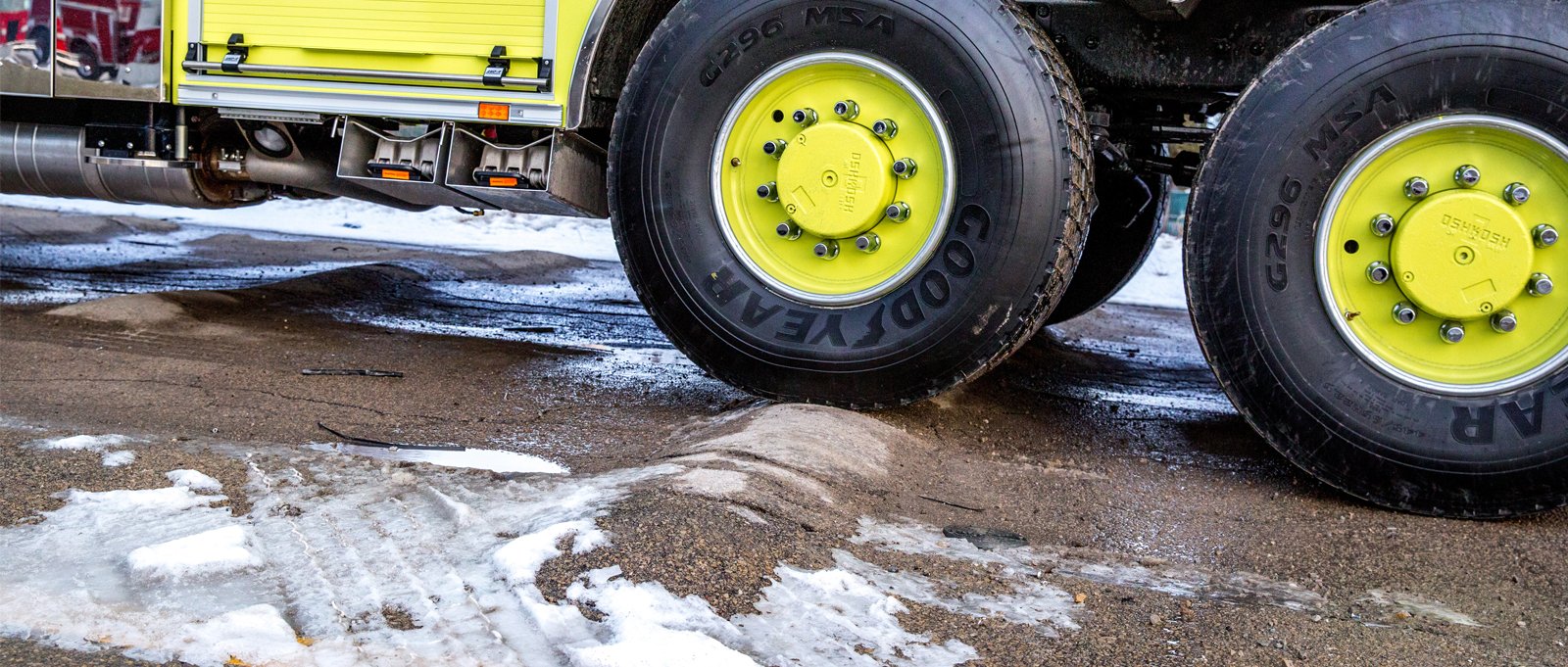 Fire truck suspensions are not created for equal tasks and environmental conditions. Many characteristics vary with each type of suspension system, and some qualities, while important to one fire department, might not be relevant to another. Let's review some of the common qualities that a suspension system controls:
Ride quality: Suspension systems directly affect ride quality. Bouncing up and down in the cab as a truck maneuvers over rough terrain is directly related to a suspension system's ride quality. Some fire departments with smooth roads and city driving may not require a suspension system that focuses specifically on ride quality. In contrast, a rural fire department with variable terrain may value a suspension system that offers a smoother ride. A suspension system with a higher ride quality will help to protect firefighters inside the vehicle, the contents of the truck and the vehicle in total when traveling over rough conditions.
Roll Stiffness: Turning tight corners and navigating narrow, populated city streets requires roll stiffness, a quality of a suspension system that delivers more stability and control. The balance between ride quality and roll stiffness is a critical consideration for fire departments.

A fire truck with a firm suspension can result in greater control of vehicle body movements and quicker reactions, which can be very important in urban areas.
Wheel Travel: Wheel travel is the distance the wheel and tire assembly moves vertically without bottoming out either at the top or the bottom of the motion. A fire truck suspension system is designed to ensure that as a vehicle navigates over bumps, the vehicle stays as level and smooth as possible. Different types of suspension systems offer various levels of wheel travel, often referred to as soft wheel rates or stiff wheel rates.
Lateral Stability: As a fire truck rounds a corner, the vehicle tends to roll in the opposite direction due to the acceleration of the mass. Lateral stability is what manages the tendency to roll and protects fire trucks from tipping. Lateral stability is managed in several ways. First the center of gravity of a fire truck needs to be low when loaded. This can be accomplished by keeping heavier items as low as possible. Second, the fire truck suspension needs roll stiffening features or components designed into it to ensure the vehicle loads can be carried safely on all types of terrain.
Equipment Protection: Fire trucks are designed to safely transport firefighters and equipment to the scene of an emergency. A high-quality suspension system offers a ride quality that improves the journey for firefighters and also protects valuable equipment on board the truck. As your fire department evaluates each of the attributes of a suspension system, you should determine which factors are the most important to your common missions.
How Does A Fire Department Choose the Right Suspension System?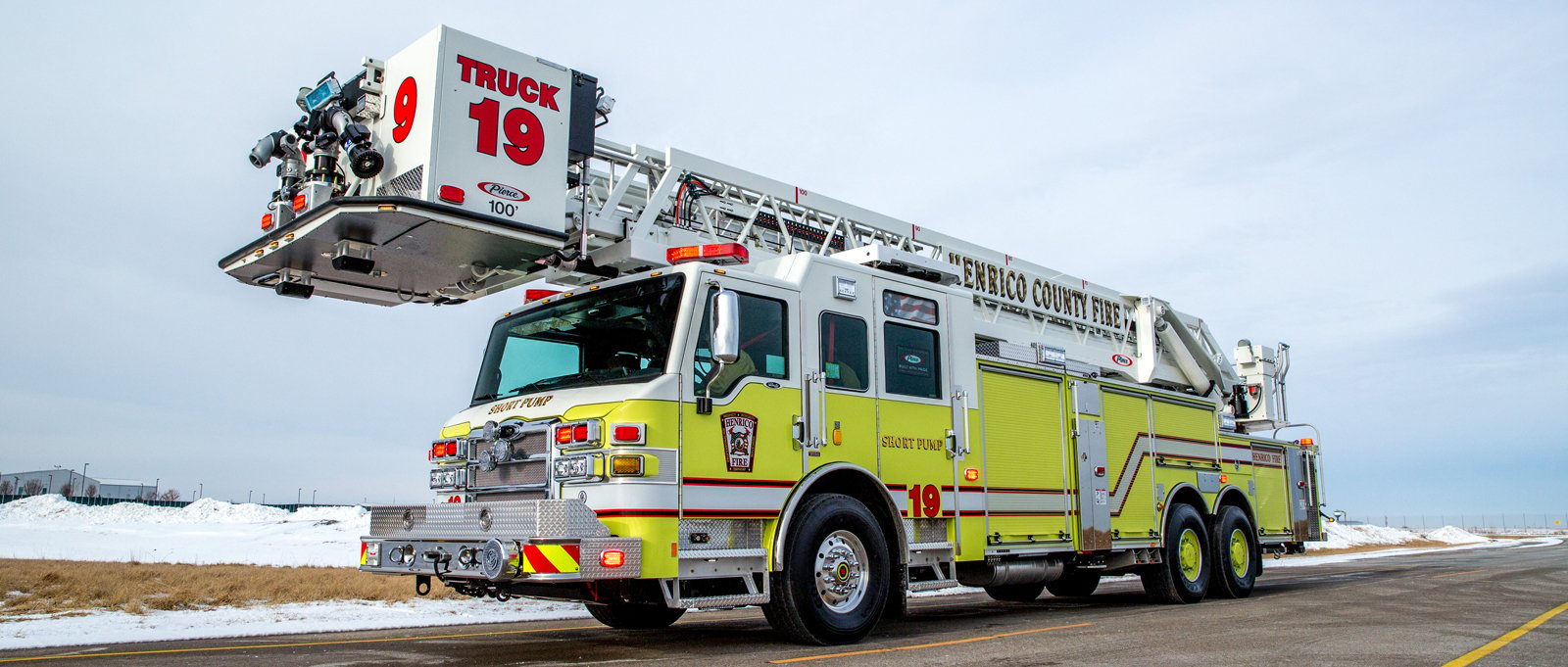 Choosing the right suspension system for a fire truck depends on many factors:
The type of truck you are looking to purchase
The primary mission of the vehicle
Equipment that will be on board the apparatus
The type of terrain in your service area
The layout of roads and structures in the community
Here are some real examples that can help demonstrate these variables.
A tanker truck may be seldom used and called only to specific types of emergencies. Its primary mission is to carry a heavy load a short distance and empty the load. In addition, it is not likely carrying a full crew or a lot of equipment. As a result, a fire department may choose a more economical suspension system focused on lateral stability and stiffness.
A metropolitan pumper, aerial or rescue fire truck that is used daily and carries firefighters and valuable equipment may benefit from a higher quality, independent suspension system with good ride quality and roll stiffness. Firefighters need to be comfortable, the truck must be able to maneuver easily on urban streets and the equipment must remain protected from continuous bumps and jostling.
A fire department needs to evaluate how the vehicle is used, and the frequency of use, to make the right suspension system choice. Keep in mind that a fire truck manufacturer or dealer can help you understand your department's requirements, determine what may work best for your application and provide guidance on various suspension system options.
Why Should You Consider an Independent Suspension System?
Pierce Manufacturing offers customers all types of suspension systems to meet their needs. In many circumstances, customers are seeking a suspension system that maximizes wheel travel and ride quality while maintaining roll stiffness to improve maneuverability. When these qualities are important to a fire department, Pierce representatives often recommend an independent suspension system.
Another aspect to the independent suspension to consider is the ability to match the steering geometry to the suspension geometry. Because of this roll steer and bump steer can be nearly eliminated using independent suspension. These negative inputs to the driver manifest as a jerk in the steering wheel when the suspension is being worked.
The rear independent suspension can also take advantage of this paring and include the rear steering T3 system. This ultimate combination maximizes ride quality, roll stiffness and maneuverability in ways that other suspension systems can't match.
Watch this brief video overview of Pierce's TAK-4® Independent Suspension System.
TAK-4 Independent Front Suspension
TAK-4 Independent Front Suspension (IFS) was originally engineered and developed by Pierce's parent company, Oshkosh Corporation, for off-road aircraft and military rescue missions. TAK-4 offers fire departments many benefits, including:
Improved ride quality and control.
Shortened stopping distances and advanced braking performance.
Increased load-carrying capacity.
Maximized maneuverability and cramp angle.
Learn more about TAK-4 and its components.TAK-4® Independent Rear Suspension
TAK-4 Independent Rear Suspension (IRS) operates in a similar capacity to TAK-4 IFS, but IRS can drive or provide power to the wheels. TAK-4 IRS utilizes coil springs instead of torsion springs through the use of upper and lower control arms and springs. Benefits of independent rear suspension include:
Improved ride quality with reduced road input.
Increased vehicle stability and operator comfort.
Reduced wear and tear on equipment.
Improved wheel traction.
Ability to add TAK-4 T3™ to increase control and mobility.
Learn more about TAK-4 IRS and its proven technology.TAK-4 T3™ IRS with Tight Turning Technology
The Pierce TAK-4 T3™ system combines the advantages of TAK-4 IRS with a 100-percent mechanical rear steering system free of electronics. It uses a mechanical-over-hydraulic system with two steering gears that provide power to the steering linkage. TAK-4 T3 is available for steering on one or two axles on tandems.

Some of the main benefits of T3 IRS include:
Improved turning radius and turning diameter.
Increased tire life with reduced tire scrub.
Lane-to-lane turning.
Improved maneuverability and safety.
Selecting the right fire truck suspension system starts with a detailed understanding of your vehicle's mission and the functional needs of your fire department. The team at Pierce can help you understand the requirements of your new fire truck and work with you to select the best fire truck suspension system to ensure maximum performance for your community and environment.
Learn more about independent suspension systems in this blog post: 4 Ways Independent Suspension Improves Fire Apparatus Performance. Or reach out to your local Pierce dealer to determine what may work best for your fire department.