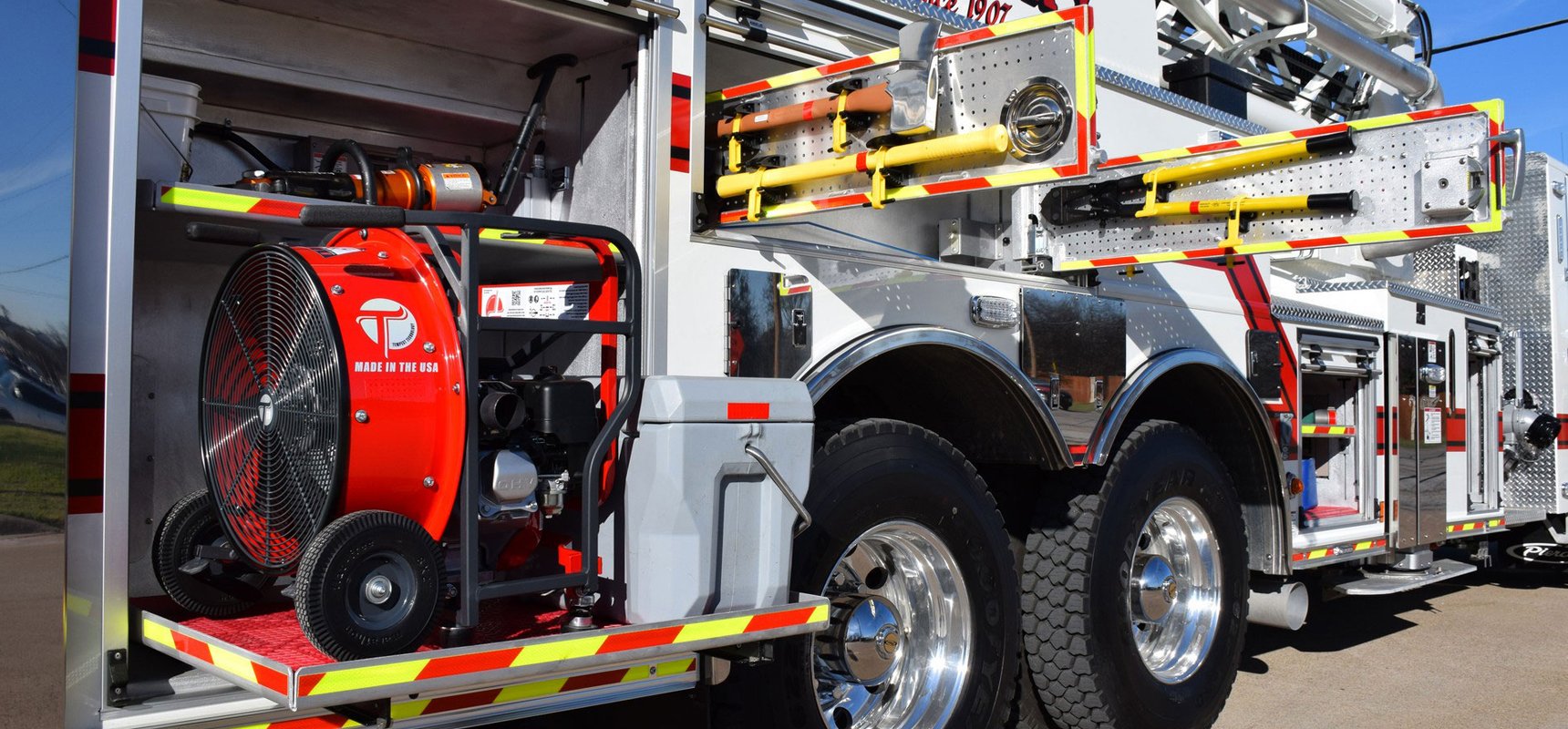 When a fire department is looking to add an aerial tower to its fleet, the Pierce dealer network and sales team often hear this question:
How is it possible that the short overall length of the Ascendant 100' Heavy-Duty Aerial Tower is able to fit all of the equipment required to meet NFPA 1901 standards for a truck company or a quint?
The best way to understand is to see for yourself below.
Tips to Maximum Aerial Apparatus Storage
Maximizing aerial fire truck storage is critical to ensure that firefighters have all required tools and equipment at an emergency scene. Well-utilized and well-organized compartment storage can enhance department operations, safety, time, and efficiency.
Below, we outline several tips to help fire departments understand how to maximize storage and compartments, which applies to not only aerial apparatus but any type of fire truck.
1. Dedicated Equipment Locations

Fire apparatus storage compartments should be designed and organized by the equipment required on board. One of the keys to storage success is having designated storage spots for every tool and piece of equipment on a fire truck. Not only does this help firefighters find the tools and equipment quickly in an emergency, but it can also keep better track of the equipment used at the scene.
When each tool has a dedicated location, it is easy to determine if any equipment is missing when firefighters are finishing up on a call and completing their inventory check. This ensures that valuable tools and equipment are accounted for and nothing is left or lost at the scene.
Above, the images show how three different fire departments used storage strategically. Tools, like fans and chainsaws, are stored together in slide-out trays for easy access, while the long and narrow compartment was created specifically to house additional fire extinguishers.
2. Mounting Brackets

Many equipment storage methods are designed to support firefighters efficiently and to protect valuable tools and equipment during transport.
A custom bracket is designed to hold and protect a single piece of equipment securely.
Custom mounting brackets are among the most effective ways to establish designated tool locations and protect valuable tools and equipment. A custom bracket can be created during the manufacturing process or crafted by your local Pierce dealer after truck delivery.
The images included above show how effective custom brackets are to organize and secure tools and equipment. Shovels and axes are secured in place in a vertical position to make it easy for firefighters to grab and go. Extrication equipment and hand tools with sharp edges are fastened behind brackets to improve safety during transport and to keep the equipment secure when not in use.
3. Pull-Out Trays

Pull-out storage trays are particularly useful in the field because they provide firefighters with more visibility and easy access to supplies. A pull-out tray can feature custom brackets or straps to hold equipment in place.
Pull-out trays are designed to be ergonomic storage solutions to help firefighters quickly locate and grab necessary tools and equipment. Combined with custom brackets, pull-out trays are easy to slide in and out and they make it simple to store equipment safely and securely.
The fire departments featured above use pull-out trays to store and secure chainsaws, hand saws, extra hose, rope bags and extrication equipment, as well as smaller hand tools in pull-out drawers.
4. Pegboards and Swing Boards

Strategic storage can help improve firefighter efficiency and make more tools quickly accessible at an emergency.
A pegboard often uses special bracketry to secure hand tools in plain sight for easy access and use.
A swing board maximizes storage with the ability to store equipment on both sides of the board.
Wall storage is a great way to maximize storage potential. Hand tools and small equipment can be securely fastened in spaces that would otherwise be empty.
Tool storage boards are constructed with stainless steel for maximum strength and durability. They can also include reflective markings to improve visibility.
In the images above, the fire departments are using swing and pegboards to secure highly used items, including axes, forcible entry bars, hooks, and pike poles.
5. Strategic Equipment Loading

One of the best ways to maximize fire truck storage is to be strategic with how equipment is loaded in each compartment. If the majority of the department's calls require specialized equipment, outfitting the most accessible compartments with the necessary equipment to support those calls is recommended.
Fast access to the most essential equipment should be taken into consideration in the order process and design-phase of a new custom apparatus.
One fire department featured in the images above chose to load hoses and nozzles on a pull-out tray with reflective edges for fast access and visibility. The other photograph shows how a fire department loaded extra hose and hose attachments, accessories, and nozzles neatly and positioned for optimal visibility.
6. Strategic Equipment Placement

On an aerial apparatus where storage is more limited, getting creative with compartment solutions can help. The use of pull-out trays, bracketing, and specific mounting locations makes it easy for firefighters to find, use and replace equipment effectively.
The fire department featured in the image above chose a roll-up door above the wheels to store the critical equipment they need when they first arrive on a call. Traffic cones and fire truck wheel chocks are essential items to secure the area around an aerial apparatus. Strategic placement of this equipment in an easily accessible compartment improves firefighter's efficiency and speed upon arrival.
7. Well-Lit Compartments Make Storage More Accessible

Compartment lighting can be very beneficial on aerial apparatus to ensure that no matter the scenario or time of day, equipment remains visible and accessible.
Compartment lighting is often based on customer preference and may include rope lighting on each side of the compartment or lighting built-into the top and bottom edges. Depending on preferences, compartment lighting can be tailored to a department's specifications.
Effective Storage Starts with Communication
Effective fire truck storage starts with a well-outlined plan. Communication between fire department representatives, the fire truck dealer, and the manufacturer make all the difference in finding the right storage solutions for an aerial apparatus.
In these early conversations, storage discussions often include some of the following considerations:
A discussion of the truck's function. Storage is often dependent on the types of emergency calls within a given community. The types of calls may dictate the storage set-up and how to best use storage to ensure an aerial truck is outfitted with equipment appropriately.
Only include the tools and equipment required to support the mission. Based on the truck's primary functions, outlining a list of required equipment can be helpful to eliminate unnecessary equipment and tools and ensure the truck is as streamlined and efficient as possible.
Additional truck components. It is also important to consider the other types of components that may be required on the truck. For example, does the truck require a pump and water tank?
Design preferences of the fire department. Many fire departments have specific design preferences that must be considered. Deciding between roll-up and hinged doors and the placement of SBCAs, for example, will impact important storage capacity and should be discussed in the design phase of the order process.
The number of firefighters. Available storage space can increase or decrease depending on the number of passengers in the cab. Understanding the mission of the vehicle and the associated personnel will dictate storage opportunities.
Additional gear required on board. As a department evaluates storage space, they must consider what the firefighters are trained in and what additional gear may be required on board the truck.
As a fire department considers a new aerial fire truck, it is important to have conversations throughout the fire truck order process to identify the right type of strategic storage required.
It is clear that even with a compact design, the Ascendant 100' Heavy-Duty Aerial Tower can hold all of the NFPA 1901 standard requirements for tools and equipment that fire departments need to answer emergency calls successfully.
Learn more about this topic on our blog: Fire Truck Storage: Compartment and Storage Systems FAQ
What type of storage solution would provide your department with the greatest benefit? Let us know in the comments!