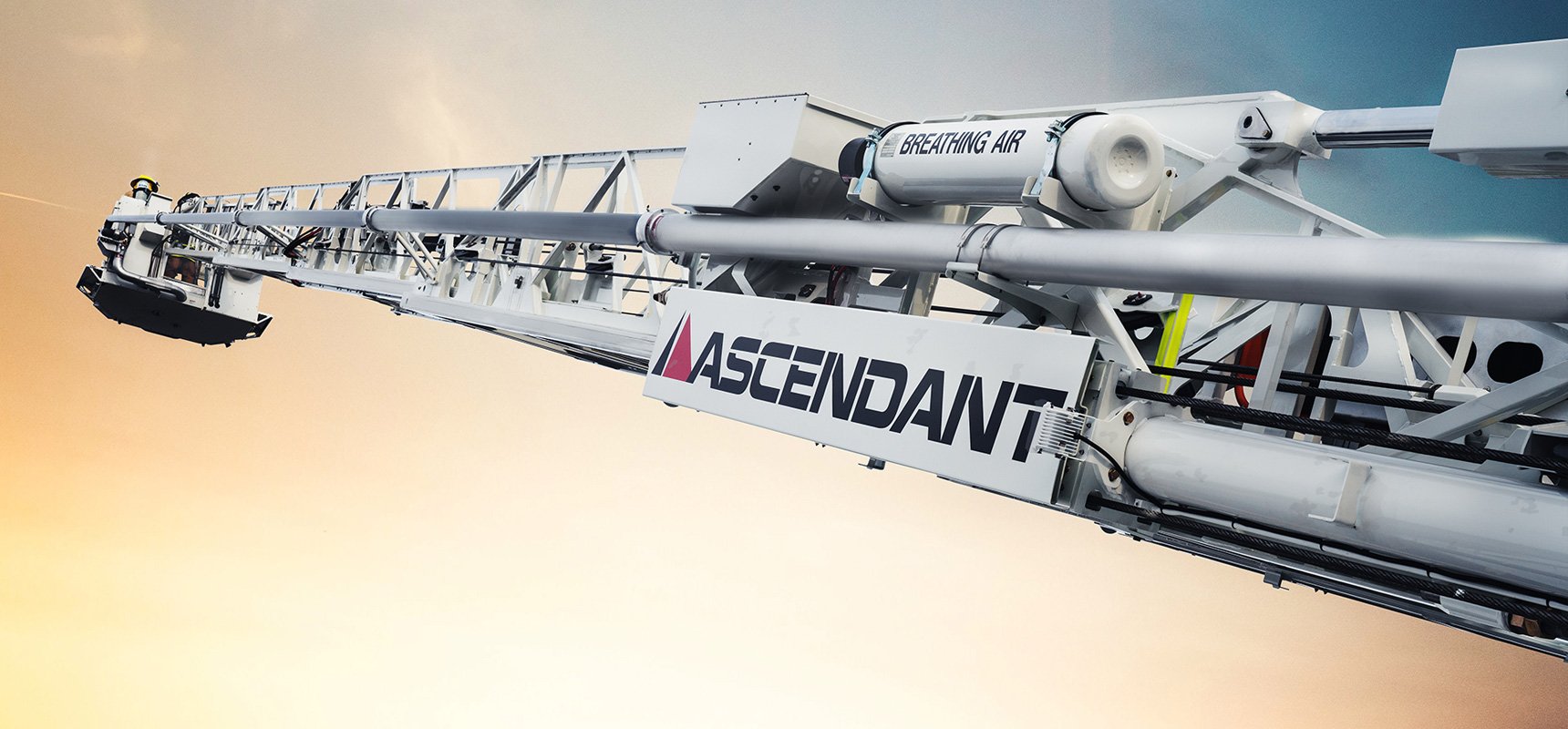 As your fire department chooses an aerial fire truck, you are faced with decisions regarding geographic coverage, call volume, and adherence to local weight regulations — combined with budget restrictions and finding an aerial to support the structures your department must protect — you may be wondering if a single aerial apparatus can check all of the boxes.
As the industry leader in aerial and fire apparatus manufacturing, Pierce Manufacturing's Ascendant® Class of Aerials offers the aerial solution for your department needs.

Learn more about the unique characteristics of Ascendant aerials, how to select the right aerial for your department, and get to know Pierce's Ascendant aerial offerings in more detail below.
What Makes an Aerial an Ascendant?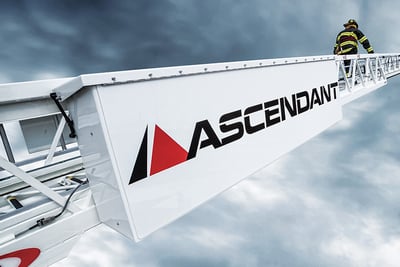 The Ascendant class of aerials are aerial devices optimized to perform. With voice-of-customer data and the input of an experienced workforce and talented engineers, Ascendant aerial devices were created to address the unique needs of fire departments — offering the heavy-duty capabilities you need, and the dependability your department deserves.
Optimized for performance. It may sound cliche, but the Ascendant class of aerials have been designed to outperform the competition. This was achieved by increasing the capabilities of the aerial itself, addressing critical areas of concern for fire departments, including:
Increased tip-loads
Increased water flow
Superior extension, including vertical, horizontal, and below-grade
Lower cost of ownership
Improved rescue capabilities
A heavy-duty 100K psi high-strength steel design
Reduced overall vehicle weight. Vehicle weight restrictions are easier to adhere to with Ascendant aerials because the aerial has been designed to maximize capabilities with a reduced overall vehicle weight. Optimizing the aerial design using high-strength steel results in an aerial device with a lower overall weight which allows for a reduced vehicle weight.
Available on a number of custom chassis. Ascendant aerials are available on a number of custom chassis options, which allows your department the versatility to meet your unique needs.
Custom Chassis Availability
Ascendant 100' Heavy-Duty Aerial Tower
Arrow XT™, Enforcer™, Velocity®
Ascendant 107' Heavy-Duty Aerial Ladder (Single Rear Axle)
Arrow XT™, Enforcer™, Impel

®

, Velocity®
Ascendant 107' Heavy-Duty Aerial Ladder (Tandem Rear Axle)
Arrow XT™, Enforcer™, Impel®, Quantum®, Velocity®
Ascendant 107' Tiller
Arrow XT™, Enforcer™, Quantum®, Velocity®
Ascendant 110' Heavy-Duty Aerial Platform (Single Rear Axle)
Arrow XT™, Enforcer™, Impel®, Velocity®
Ascendant 110' Heavy-Duty Aerial Platform (Tandem Rear Axle)
Arrow XT™, Enforcer™, Impel®, Quantum®, Velocity®
Ascendant Aerial Tower Fire Apparatus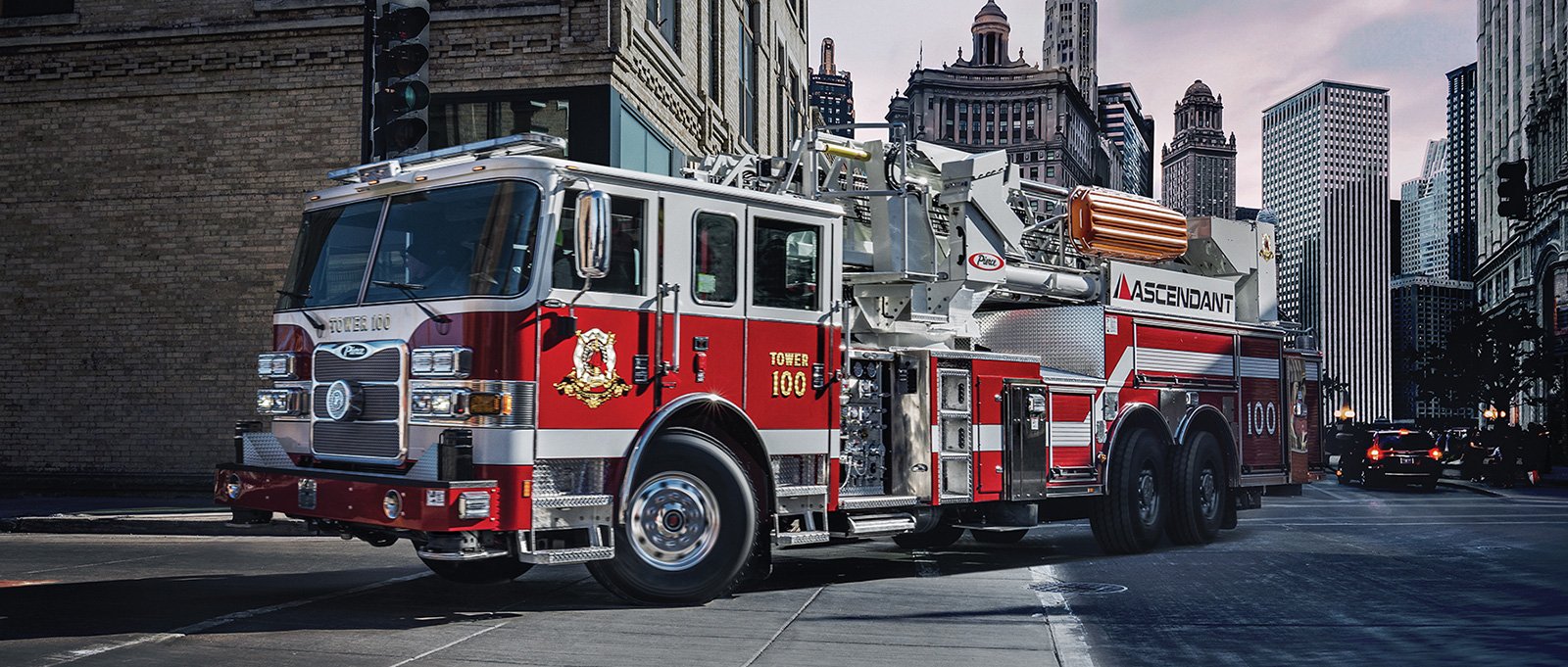 Aerial towers are the ideal apparatus when large water flow capacity and rescue capabilities are required on the fireground. The problem — to support these fireground challenges, aerial towers are typically large and difficult to maneuver. If your department is faced with weight restrictions, narrow roadways, difficult terrain, and size and height limitations, the right aerial device may be difficult to find.
The Ascendant 100' Heavy-Duty Aerial Tower was designed specifically to resolve customer's challenges with a mid-mounted aerial, offering unmatched maneuverability, drivability, operability, and serviceability.

The key features of the Ascendant 100' Heavy-Duty Aerial Tower include:
Mid-mount configuration that can also satisfy the needs of the traditional rear-mount market
An apparatus that is nearly 6 feet shorter than other mid-mounted aerial options, improving vehicle maneuverability (length under 42')
Lower overall height than traditional rear-mount apparatus (overall height as low as 10'8")
Flow capacity of 2,000 gpm
1,000 lb tip load capacity
Up to 20-degree below grade operation
50-degree below grade scrub area
The 100' Ascendant Heavy-Duty Aerial Tower can offer your department superior dependability with added features no other aerial tower truck can offer. Learn more about the 100' Heavy-Duty Aerial Tower now.
Ascendant Aerial Ladder Fire Apparatus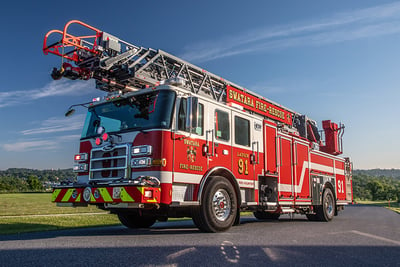 Fire departments often choose to include aerial ladder apparatus in department fleets to function in small spaces where quick setup and maneuverability are required. Mountainous or hilly terrain also require apparatus that can setup on uphill or downhill slopes, while meeting NFPA stability requirements.
An apparatus with the Ascendant 107' heavy-duty ladder offers:
107' vertical reach
100' horizontal reach
750 lb tip load dry
500 lb tip load wet
1,500 gpm flow
Store front blitz feature as standard
Replaceable egress
Heavy-duty high-strength steel construction
The Ascendant 107' Single Axle Heavy-Duty Aerial Ladder has truly redefined the single rear axle aerial market, without compromising on water capacity, performance or safety. It is the first ladder apparatus of its kind to package all of these performance capabilities on a single axle configuration.

Seeing the demand for a lighter-weight, higher performance ladder truck, and fielding department requests for enhanced configurations, more compartmentation, and a bigger vehicle, Pierce stepped up to the challenge, designing the innovative 107' Tandem Axle Heavy-Duty Aerial Ladder.

The Ascendant 107' Tandem Axle Heavy-Duty Aerial Ladder is beneficial to customers who require more compartmentation that comes with a tandem axle body yet a lighter overall vehicle weight. A lighter vehicle results in shorter stopping distances, less wear and tear on brakes and wheels and a lower total cost of ownership. The Ascendant ladder on a tandem axle chassis has a rear axle rating of only 44,000 lbs.


Learn more now about the Ascendant 107' Heavy-Duty Ladder or view recent deliveries.
Ascendant Aerial Tiller Fire Apparatus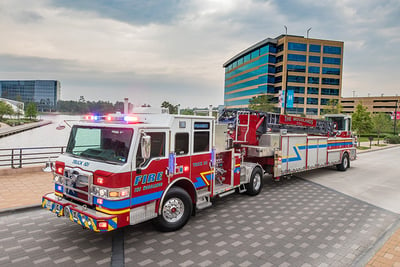 A tiller truck or tractor drawn aerial is critical in populated city areas where tight corners and narrow roadways are standard. But the sheer size and weight of traditional tractor drawn aerials make them out of reach for many fire departments.

As a result, Pierce developed the Ascendant 107' Tiller Heavy-Duty Aerial Ladder apparatus. The Ascendant heavy-duty ladder on a tiller configuration offers longer reach both vertically and horizontally. In addition, it offers higher tip loads and higher flow ratings with added set-up capabilities.
Ascendant 107' Tiller Heavy-Duty Aerial Ladder apparatus features:
Up to 60-degree jack-knife angle improving setup capabilities.
4,000 lbs vehicle weight reduction, giving your fire department more flexibility with configurations – whether it be lighter axle ratings, increased water capacity, or more storage options.
Storage of up to 500 cubic feet of equipment, increasing compartment options and overall storage capacity.
Learn more about the Ascendant 107' Tiller Heavy-Duty Aerial Ladder.
Ascendant Aerial Platform Fire Apparatus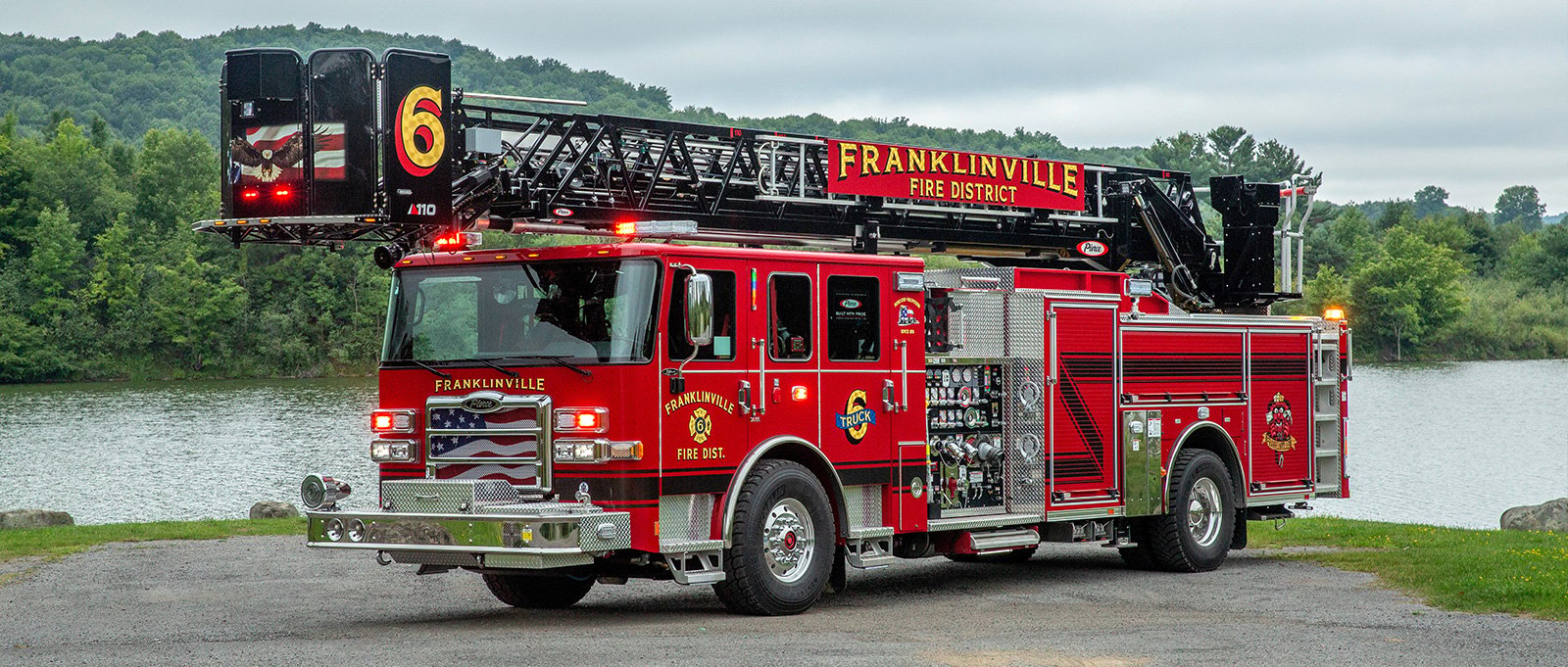 Aerial platform fire apparatus combines the benefits of a ladder truck but allows firefighters to ride, rather than climb during rescue operations. Aerial platform trucks offer a safer workplace and evacuation method.

However, the limitations of aerial platforms may deter some fire departments from the investment. These limitations include larger apparatus and greater gross vehicle weight rating, increased vehicle height and length, and higher overall cost.

To accommodate requests for a superior aerial platform fire apparatus at a lower price point, Pierce delivered. The Ascendant 110' Heavy-Duty Aerial Platform offers a maneuverable quint fire truck with full rescue capabilities.
The key features of the Ascendant 110' Heavy-Duty Aerial Platform include:
110' vertical reach
90' horizontal reach
Lower acquisition costs
An impressive operational range of -10 degrees below ground level to 77 degrees above ground level
750 lb (dry) / 500 lb (wet) tip load capacity with an additional 100 lb equipment allowance
Water flow of 1,250 gpm from a single monitor located at the end of the fly section
Access to the basket by extending the device only 8'
The 110' Heavy-Duty Aerial Platform is available on a wide variety of Pierce custom chassis with either a single rear axle or a tandem rear axle. View recent deliveries now.
How To Choose an Aerial Truck for Your Fire Department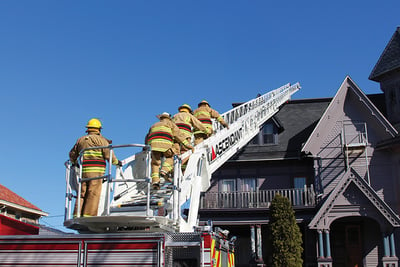 Choosing the right aerial device for your fire department can be challenging, but as you consider your next investment in apparatus, review these key considerations.
Department needs. Determine what key features your department is looking for in an apparatus. Do you require maneuverability or a platform for safer rescue operations? Consider the main tasks your apparatus will be challenged with and weigh that against the available options with each configuration.
Geographic region. City or rural, flat or rolling landscape — these factors will help you determine the best aerial apparatus for your region.
Overall budget. Each aerial configuration varies in overall cost. Determine the budget your department has available and assess your vehicle requirements.
State-laws and other restrictions. Do you have weight restrictions to factor in or other restrictions like bridge-heights or department bay size to consider? Be sure that your new aerial apparatus can fit in your fire department and meets all state requirements.
Aftermarket support. Your aerial apparatus may be in service for more than 20 years. As such, be confident that your dealer and fire apparatus manufacturer offer aftermarket support and accessible maintenance facilities to keep your apparatus in service.
Why Choose Pierce Manufacturing for Aerial Fire Apparatus?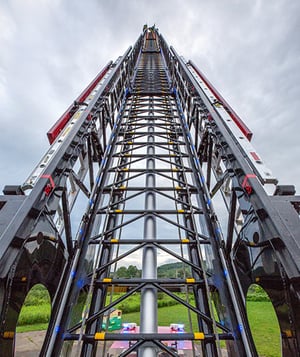 Manufacturing fire apparatus requires experience, extensive knowledge, and attention to detail. When you choose to work with Pierce Manufacturing, your investment is supported by more than 100 years of manufacturing experience and innovative success, along with the sustainability of Oshkosh Corporation.

When you select a Pierce aerial apparatus, you can count on an investment designed to serve the needs of your community with superior dependability, and high quality backed by a robust dealer network, an experienced workforce, and aftermarket support services with coverage in all 50 states and Canada.
Learn more about the Ascendant class of aerials or find a dealer who can walk you through which Ascendant aerial will work best for your region.

Do you currently have an aerial apparatus in your fleet? What do you love about it?
Tell us in the comments below.