November 29, 2018

Pierce Manufacturing offers seven different type of chassis builds, the: Arrow XT, Dash CF, Enforcer, Impel, Quantum, Saber, and Velocity. Each configuration is unique, however; some builds are almost identical. The Enforcer and Saber are so similar that it is hard to distinguish the two apart. Both chassis have recently had significant improvements made in the areas of visibility, space, ergonomics, and serviceability.
The Enforcer is Pierce's most popular chassis due to its advanced space in the cab, ergonomic step heights, and price point. The all new Saber chassis was built with the value-driven department in mind - making it another popular Pierce chassis.
What are the Similarities?
Although both chassis have unique features, recent improvements on each have made them even more similar than before.
1. Visibility & Space
The Saber and Enforcer chassis have exceptional visibility achieved through a large, bonded, single-piece, wrap-around windshield. They also feature a smaller engine tunnel that sits lower and is more contoured for increased occupant space, particularly up front for the driver and officer.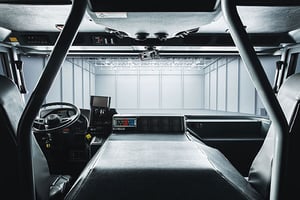 2. Ergonomics
Each chassis has exterior cab door handles that are functionally designed for a firefighter's glove hand. The steps on both chassis are lower to the ground and offset to function like a stair step, making it easier for firefighters to enter and exit the cab. Lastly, the console and metal overhead switch panel are ergonomically designed for maximum convenience and comfort, keeping all of the gauges and switches within easy reach of the driver.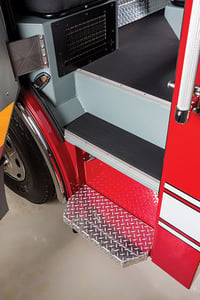 3. Serviceability
There is easy access to the defroster and wiper motors through removable officer-side panels. The power distribution relocation in front of the officer provides more interior space and fewer harnesses in the frame and up through the cab for easier servicing. Built-in wire raceways throughout the cab reduce the chance of wire chaffing and make it easier to service or add cab harnesses and wiring.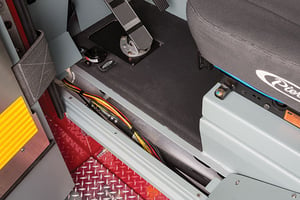 4. Maneuverability
There is a maximum 50-degree cramp angle and 15-degree angle of approach for improved maneuverability in tight areas and challenging situations.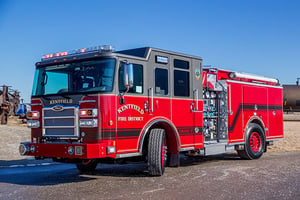 What are the Differences?
Saber

Enforcer

Engine

Medium Block:

Ford Power Stroke or Cummins L9

Medium or Big Block:

Cummins L9 or Detroit Diesel DD13

Engine HP
330 - 450 hp
370 - 525 hp
Transmission

Ford Torqshift HD or

EVS 3000
EVS 3000 or 4000
Alternator
270 - 360 amp
275 - 430 amp
Front GAWR (max)
20,000 lb
24,000 lb
Front Axle
Straight
Straight or TAK-4® Independent Suspension
Rear GAWR (max)
44,000 lb
48,000 lb
Rear Axle

Straight, Rubber, or Air

Straight, Rubber, Air, or TAK-4® or TAK-4™

Cab Length
60" or 70"
60", 70" or 84"
Body Configurations

Pumper

Single Axle Tanker

Tandem Axle Tanker

Pumper

PUC

Tandem Axle Tanker

Rescue

Aerial
Even though both chassis are very similar, they each offer unique features that attract different departments. For example, if a department would like to maximize space on their apparatus, they will more likely choose the Enforcer chassis with a PUC body; and if a department wants a Single Axle Tanker body, they would likely go with the Saber chassis. It is critical elements like these that help determine what chassis is the best for a particular department.
Download the Saber and Enforcer custom chassis brochures for more information. We want your input, which custom chassis do you prefer?