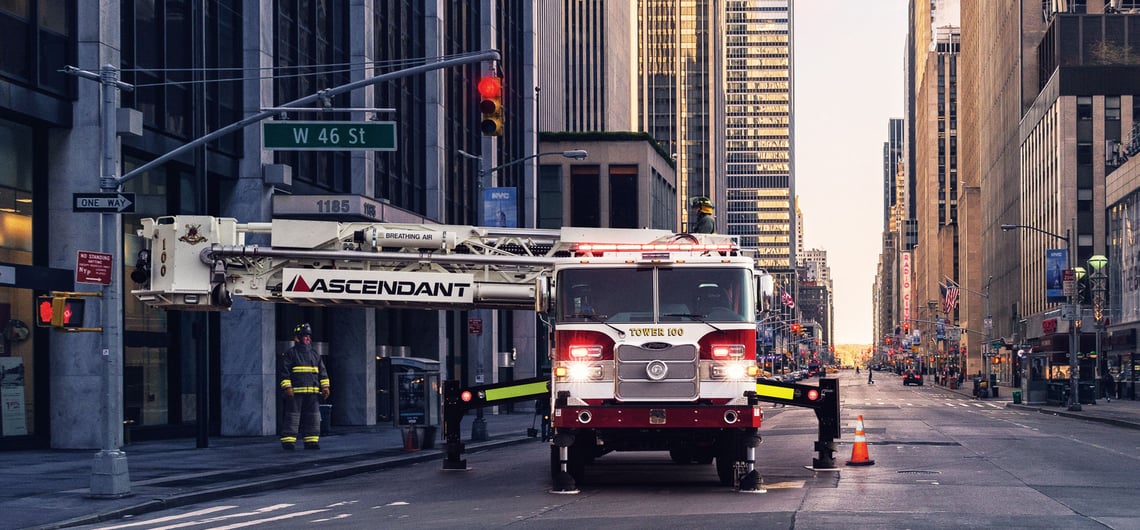 When an alarm rings out and fire trucks rush to the scene, standardized procedures as well as aerial placement and operation are all part of a well-orchestrated strategic response. An aerial device provides additional support on the fire ground; how it's used and the operational efficiencies it offers can make a significant impact on lifesaving tasks.

Learn more below about aerial placement and operation and how the Pierce Ascendant® Class of Aerials have been designed to improve efficiencies throughout both processes.
Fire Truck Placement Strategy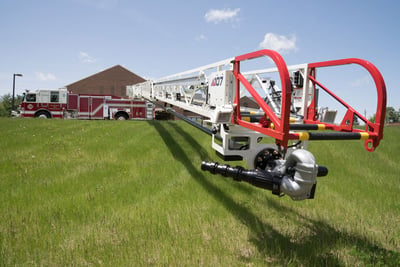 The placement of an aerial device at an emergency scene can greatly impact the effectiveness of an operation. There are two fire truck placement strategies: horizontal and vertical. The type of placement used is dependent upon the type of fire and the structure that requires protection.
Horizontal placement focuses on the reach of the aerial or ladder device. For example, in a residential area with two-story homes, a fire truck can remain parked on the road and the aerial device can reach the roofline to execute rescue operations or ventilation.
Vertical placement focuses on the height of the aerial or ladder device. Vertical placement is required in many big cities with tall apartment buildings and hotels. Aerial devices must be able to ascend upwards to perform rescue operations.
As fire departments practice ground operations, they consider placement and how the aerial trucks in their fleet are designed to perform.

Pierce Ascendant aerials are designed to support smooth fire ground operations and provide ample vertical and horizontal placement versatility. Some of the key benefits of Ascendant aerials for aerial placement and operations are outlined below.
Benefit #1: Aerial Choices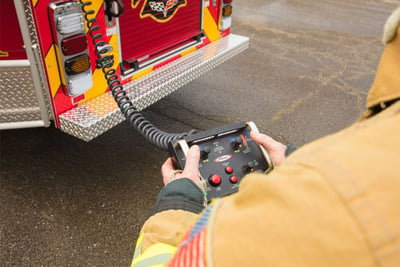 Choosing the right aerial device for a fire department can be challenging and many considerations come into play. These considerations include the geography of the coverage area, the length, height and weight of the completed apparatus, the types of structures to be protected, the size of the fire station where the aerial will be housed, and a number of other strategic and tactical issues.
The Ascendant technology was first introduced in 2015, and since that time has expanded into 6 innovative products. The Ascendant Class of Aerials was engineered to equip firefighters with more aerial choices than ever before. Whether it be size of the apparatus, weight restrictions, station sizes, compartment space, preference to ride rather than climb, the lower cost of ownership, or rescue capabilities, the Ascendant technology provides flexibility and a wide range of options to meet each department's needs.

Learn more about how to choose the right aerial for your department.
Benefit #2: Smart Design and Superior Testing
Aerial devices and ladders are getting smarter. Technology and improved functionality are designed to mitigate dangers on the scene. For example, Ascendant aerial technology will stop an operator from hitting the truck with the aerial device or extending the ladder too far. The control parameters are set in the manufacturing process to ensure the safety of firefighters and the integrity of the aerial device.
All Pierce Ascendant aerials are multiplex trucks, which means the operator maneuvers an electric hydraulic system. All control commands run through a computer to ensure smooth movements. There is a ramp-up to start when the device begins operations, as well as the ability to coast down speed when the device stops. The ability to cushion movements protects the safety of firefighters positioned at the end of the device.

These strategic design parameters are tested and the calibrations are all confirmed during the testing and final inspection phase of apparatus manufacturing.
Benefit #3: Aerial Devices Designed for Strategic Placement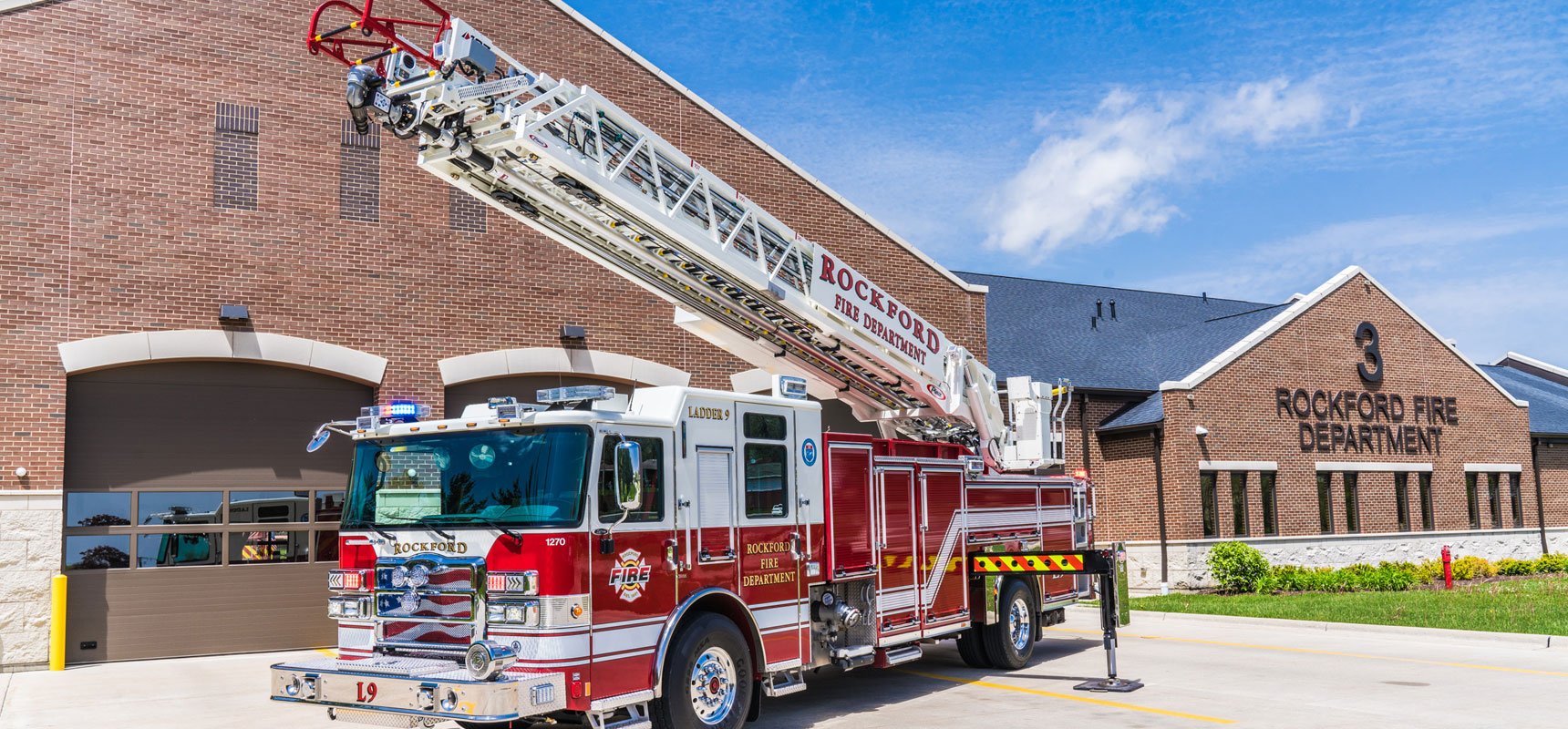 Aerial placement and operation depend on the type of fire truck in use, either rear-mount or mid-mount.
A rear-mount aerial has the turntable positioned at the rear of the apparatus, which means the ladder can be positioned to work on either side or off the rear of the truck. The pivoting turntable allows the truck position to vary based on the assessed need at the emergency scene.
A rear-mount fire truck, like the Ascendant 107' Heavy-Duty Aerial Ladder, features a 4-section heavy-duty steel ladder and the following attributes:
107' of vertical reach
100' of horizontal reach
Operating Range of -10° to 77°
750 lb tip load capacity
A mid-mount fire truck features a turntable directly behind the cab, in the middle of the truck. As such, aerial operators are working off the side of the truck. The Pierce Ascendant 100' Heavy-Duty Aerial Tower has a 5-section heavy-duty steel ladder, an overall height of 10'-10" and length of only 41'-5" and a rear overhang that minimizes tail-swing. In addition, the 100' Heavy-Duty Tower also features:
100' of vertical reach
93' of horizontal reach
Up to 20-degree below-grade operation
50-degree below-grade scrub area
20' building set-back
1,000 lb tip load capacity
Whatever your need, a Pierce Ascendant aerial can provide the operational placement and efficiency required. Learn more specifications now.
Benefit #4: Aerials Designed with Operators In Mind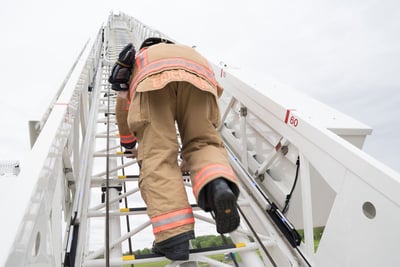 At an emergency scene, there are enough things to worry about without adding in complicated aerial operations—which is why Pierce aerials have been designed to optimize efficiency.

Hydraulic controls paired with simplified operations and monitoring, allow firefighters to get to work quickly and operate safely. Ascendant technology provides flexibility and a wide range of options to meet each department's needs. Aerial operators can focus on the basics: getting the ladder into position, adding water and making the rescue.
Benefit #5: Comprehensive Aerial Training
Ongoing training is essential for fire departments to keep up with advancing technology and to ensure operators continually practice and hone their skills.

Every Pierce aerial purchase includes three (3) days of factory training on aerial operation with the option to purchase additional days if desired. In addition, Pierce trainers travel across North America daily to provide on-site training opportunities for fire departments.

Not only does Pierce offer factory and on-site training options, but training classes are regularly scheduled at several regional training facilities. This training is designed for both firefighter operators and mechanics, with classes covering operations and aerial maintenance.
Looking for aerial training opportunities? View our training schedule now.
Benefit #6: Strong Dealer Network
When it comes to ongoing training, product support and customer service, you can count on Pierce's strong network of dealers.
With 21 dealerships across the United States covering all 50 states, and three additional dealerships in Canada, Pierce provides services and expertise from coast to coast, including:
Sales service and support
Fire truck customization knowledge
Customer service and support through the life of your apparatus
Aftermarket services, maintenance and repair services
Your Pierce dealer can help provide answers to your questions on aerial operations and work with your department on training, maintenance and more.
Learn more now about the benefits of a strong dealer network.
From positioning at the scene to precise operations when time is of the essence, Pierce Ascendant aerials are designed to perform. Learn more about Pierce's aerials now, or contact a dealer to discuss what type of aerial may fit your fire department's needs.
Do you have additional questions about aerial placement and operations? We can help! Leave a comment below.