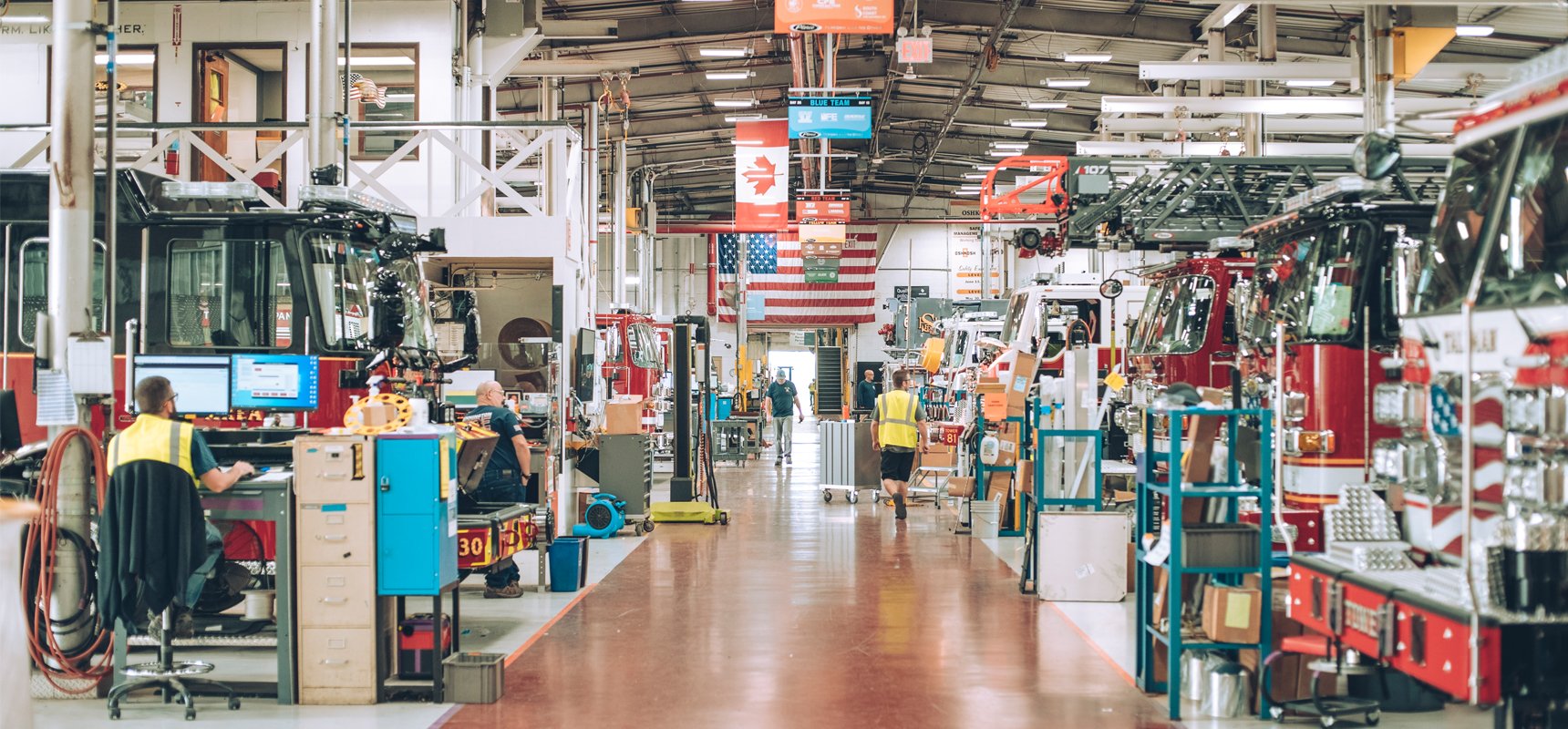 Fire truck manufacturing and the planning required to build a fire truck or custom apparatus is a detail-oriented, step-by-step process that requires precision, ingenuity and a great deal of expertise. From the very first cut of sheet metal to the final apparatus delivery, there are processes in place to ensure each custom apparatus is crafted to not only exceed customer expectations but also perform like no other.

Engineers and manufacturing facility teams lead the custom fire apparatus building process in 1,500,000+ square feet of design, manufacturing and assembly space. From welding to assembly, experienced team members throughout the manufacturing process have mastered every working feature of each pumper, tanker, aerial and rescue unit component.

Through continued innovation, research and development, Pierce Manufacturing has remained at the forefront of advancing technology and fire truck manufacturing practices. The production of custom fire apparatus helps support communities worldwide and Pierce is up to the task.

Take a look at the detailed process to build a fire truck below, which demonstrates the labor and devotion that goes into every inch of a new fire truck and be sure to watch this detailed video showing the step-by-step process of fire truck manufacturing.
Fire Truck Metal Fabrication Process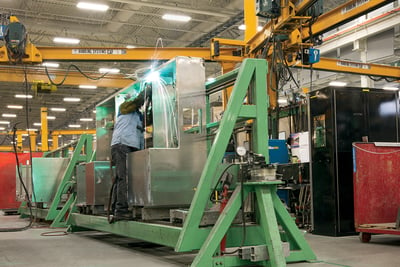 The first step to build a fire truck involves several metal fabrication processes. To start, sheet metal is cut into parts using a combination of lasers, turret punches and water jets; this includes cab and body components, sub-assemblies that go into the frame-up, such as bumpers and cross members, and cab doors and sidewalls, to name a few.

Once the flat sheet metal cut-outs are completed, parts are formed according to the engineering specifications using a combination of machinery including press brakes and fully automated world-class panel bending equipment.

Once metal fabrication is complete, a fire truck begins to take shape in welding operations.
When a fire department is thinking about building a fire truck, how do they get started? Read our latest resource Fire Apparatus Design: A Step by Step Guide.
Welding Operations
Once the parts for an assembly or sub-assembly are fabricated, the welding process begins. The video below walks through the metal fabrication and welding processes in one of Pierce's manufacturing facilities.

Pierce has several departments in the welding operation; each is tasked with a different type of part or process step. From fire truck cabs to bodies to pump structures and other subassemblies, experienced welders create customized fire truck components with precision. All welders have received the same Pierce Custom Welding Certification. This ensures quality and superior craftsmanship for all apparatus orders.
Painting Process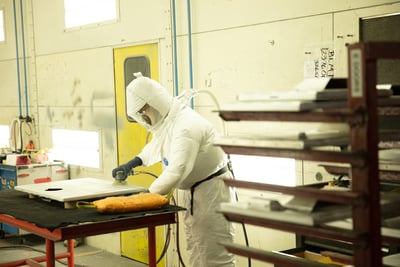 When the welding process is complete, the fire truck cab, body and parts are further prepared for final assembly with a protective coating or paint application process.

At this time, the frame rails and other requested parts undergo electrodeposition coating (e-coat) application or galvanization. Both processes increase performance longevity and provide corrosion resistance, abrasion resistance and chemical resistance.

In a parallel step, the fire truck components undergo a detailed painting process, either within the manufacturing facility or down an automated paint line.

The fire truck painting process follows these important steps:
Sanding and surface preparation.
Chemical cleaning and treatment to remove any grease, oil or other materials.
Primer surface coat application.
Hand-sanding with fine-grit sandpaper to create a smooth surface.
Sealer primer coat to improve adhesion of base and top-coat paint.
Basecoat paint application.
Clear coat paint application to help protect the surface and increase surface longevity, durability and the glossy look.
Once the paint has cured on the fire truck components, the assembly can begin. To review the automated paint line painting process in detail, view our blog now.
Frame-Up, Cab and Chassis Assembly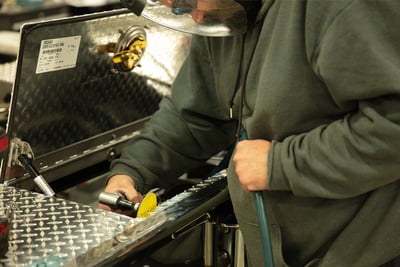 During the chassis assembly phase of the fire truck build, a number of items come together in parallel, including the sub-assemblies within the frame rails, wheels and axles, engine and transmission, and the cab.

Frame-up is the process of bringing together the frame rails into a squaring fixture, installing cross members, mounting axles and suspension components, and outfitting the wheels and tires.

Once frame-up is completed, the frame assembly continues into the chassis assembly process. Harnesses are put in place and air lines and sub-assemblies for the air system are installed. The engine, radiator, cooling package and exhaust systems are also installed. As these elements come together, the cab is assembled and is almost ready to be mounted.

Cab assembly is unique because it starts from the outside and moves in. The first steps involve the assembly of the instrument panel, doors, electrical systems, insulation, walls and headliners. Once walls and headliners are installed, the interior assembly begins. Seats and EMS compartments are installed, steering systems are added and interior components begin to look more like a fire truck.

Through each stage of the assembly processes, there are quality checks along the way. This ensures that each stage of assembly is up to Pierce's high-quality standards.

When the frame-up, chassis and cab assemblies are complete, the fire truck is almost ready for final assembly. The chassis is filled with fluids and the engine is started for the first time. At this point, the electrical system programs are loaded, and the axle steering and suspension parameters are set, along with many other final adjustments.
Final Assembly
When someone asks 'how to make a fire truck,' this is the step that may make the most sense in their mind—final assembly.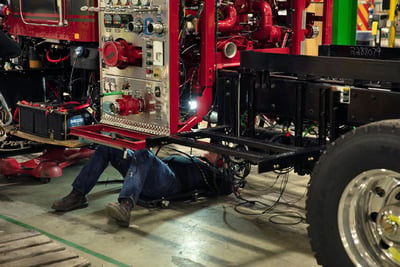 In this step, final assembly of the fire truck and interior finishing begins. As the cab and chassis come together, the painted body, or back end of the fire truck, gets assembled as well. This includes the installation of harnesses, compartments, lights and doors.
Once the painted body is assembled, it is mounted on the chassis along with the water tank. From here, all of the electrical and mechanical components are installed, including cord reels, breaker boxes, body doors and any additional shelves, trays and lights.
As the fire truck comes together, the electrical wiring systems are connected, as are the plumbing systems. If the fire truck requires an aerial device, the assembly of the necessary components is also taking place at this time. As the fire truck body and aerial device are finalized, assembly and testing of those components begin.
Testing and Final Checks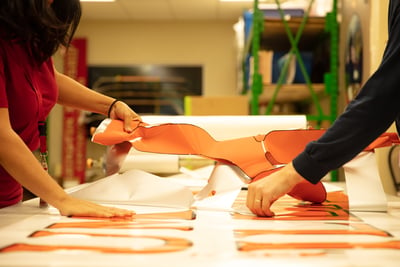 In the final stages of fire truck manufacturing, the components and systems are tested for safety, accuracy and performance, including but not limited to the following:
The vehicle steering, suspension alignment and ABS systems are appropriately calibrated.
The pump is tested and 3rd party certified for performance.
Foam systems are calibrated.
Electrical systems are tested and 3rd party certified for performance.
Once Pierce employees have tested the fire truck, a 3rd party inspector completes an independent review to verify the truck meets or exceeds NFPA specifications.

If the fire truck includes an aerial device, there is a comprehensive aerial testing and inspection process, which involves taking the ladder through its range of motion and testing all components. A 3rd party inspection follows to verify the aerial device meets or exceeds NFPA specifications.

When all of the final testing is complete, graphic application can begin. Custom graphics are applied by the Pierce team and the truck is now ready for the final inspection process.
Final Inspection and Delivery
The final step in the manufacturing process to build custom fire trucks allows fire department representatives the opportunity to inspect new fire trucks and test components. Over the course of the final customer visit, the truck will be evaluated to ensure the truck meets the customer's expectations. The three-step final inspection process concludes with the delivery of the completed apparatus.

The fire truck manufacturing process at Pierce Manufacturing is a highly-efficient, detailed-focused process designed to create custom apparatus that fire departments are proud to drive and use. If you'd like to learn more about how to order a custom fire apparatus, find a dealer near you.

Do you have any questions about the fire truck manufacturing process? Leave us a comment below and we'll answer it for you