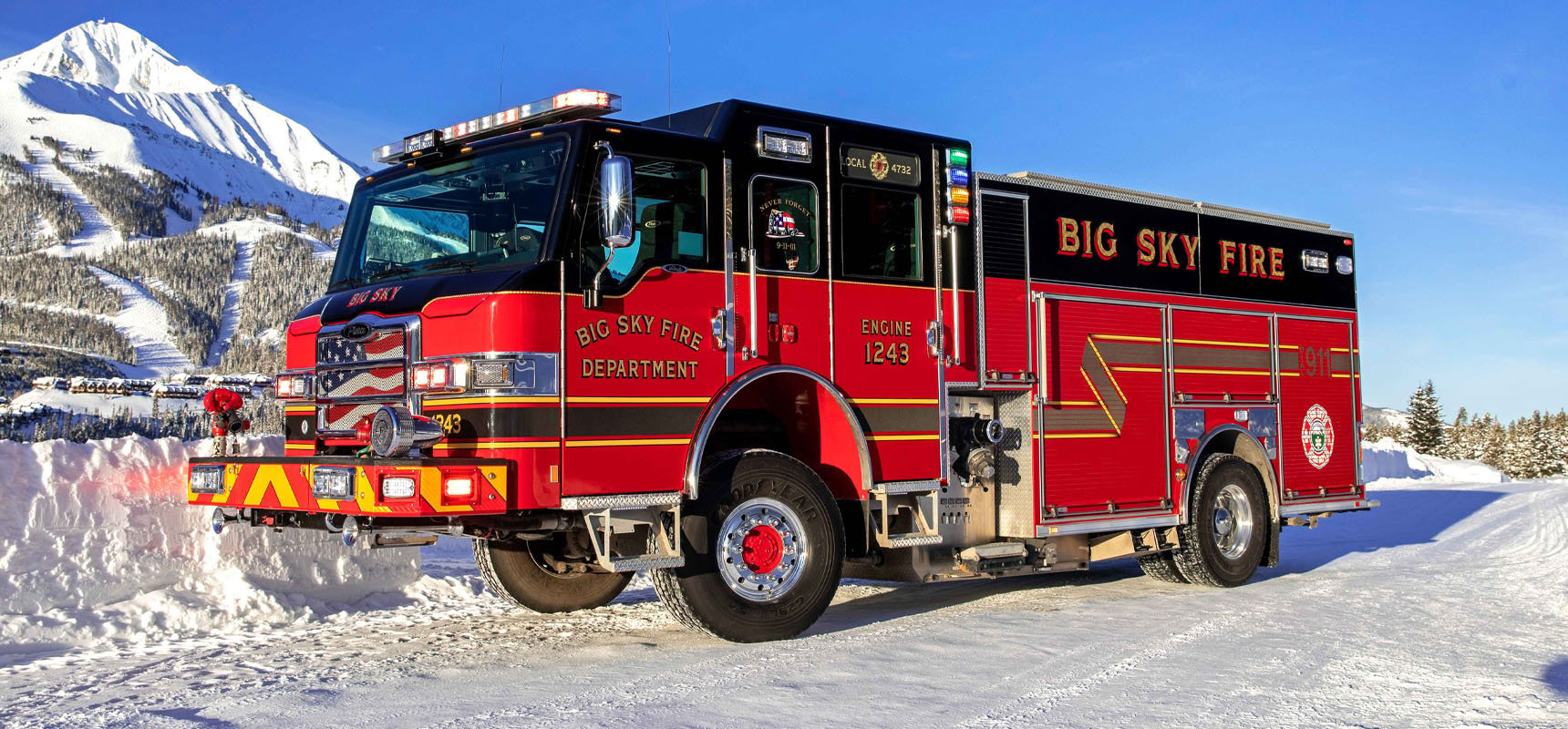 Winter weather and sub-zero temperatures can present operational challenges for fire departments. Preparing fire apparatus to operate effectively in sub-zero temperatures, often called winterizing a fire truck, is usually a matter of preparation and determining the right operating procedures to fit departments' unique needs.

This article will review some of the best practices a fire department should consider to help winterize and protect apparatus from winter weather, including:
How to prepare fire apparatus for winter weather
The appropriate time to winterize a fire truck
Cold weather operations review
The difference between a wet pumper truck and a dry pumper truck
Protective fire truck features for cold weather
Prepare Your Apparatus: Winterizing and Preventive Maintenance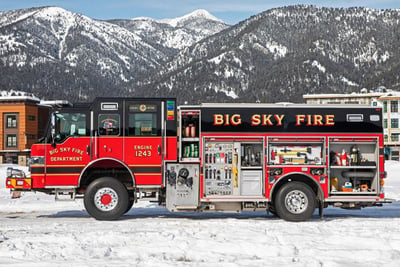 Winterizing a fire truck and preparing for cold weather is essential because many trucks carry and pump water. The freezing and expansion of water within specific parts and components of fire apparatus can present some hazards for fire departments and even render apparatus inoperable.
The good news is that even in cold temperatures, there are simple things your fire department can do to ensure a fully operational rig when duty calls. The National Fire Protection Association's Standard 1911 offers a detailed review of how to service and maintain in-service fire apparatus.

Here are a few of the factors a fire department should consider:
Regular preventive maintenance to stay on top of minor repairs and any required part replacements.
Check oil fluid levels.
Ensure windshield wipers are performing appropriately and top-off proper fluids.
Check antifreeze levels and make sure levels are adequate.
Consider the benefits of installing cold-weather accessories, like heat shields and a pump house heater, to help protect the pump and related components from cold conditions.
Check the water tank valve and pump valve to make sure neither is leaking.
Review the apparatus undercarriage, including the frame rails and cross members, to ensure that any corrosion protection material, such as CARWELL, is fully covering all of the components.
Have the corrosion protection material re-applied to any areas in which it has be scraped off or otherwise removed. Salt spray build-up on frame rails is much more prevalent at this time of year, but preventive checks of the undercarriage can reduce the damaging effects of road salts.
Routine preventive maintenance is the key to maintaining an operational fleet through the change of seasons. Well-maintained apparatus will require less time for the winterization process.
Prepare Your Fire Department: A Review of Safety Operations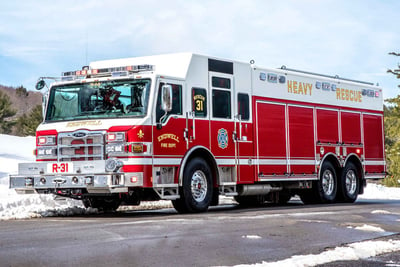 While it is critical to prepare your fire apparatus for cold weather, many fire departments also review cold weather operations to encourage safe practices.

Some examples include:
Having sand and salt on hand at the fire station and at the scene of an emergency to prevent dangerous conditions around the trucks.
Refresh and retrain firefighters on all cold-weather operations and on the use of cold-weather fire truck accessories like pump heaters, on spot chains and heat shields.
Reviewing standard operating procedures referencing the use of a wet or dry pump and how to appropriately engage the pump upon arrival at the scene of an emergency.
Even though winter weather can be unrelenting, firefighters find a way to persevere in even the harshest conditions. Combatting weather challenges is possible with the right apparatus and team preparation for managing cold, snowy conditions.
When Should a Fire Department Winterize a Fire Truck?
Choosing when to winterize a fleet really depends on the needs of each fire station. Some cold-weather climate departments need to be prepared for snow and ice in October, while others need not worry until December.

Each fire department typically establishes a set of cold weather operations catered to their climate, their terrain and the communities they serve. Typically, fire departments practice routine preventive maintenance. But if a department fleet requires a little extra time for inspection and repairs before the cold weather hits, it is recommended to begin the winterizing process in September and early October.

It is also essential that your fire department make one critical decision as cold weather approaches: will you maintain a wet or dry pumper truck during the cold winter months?
What Is the Difference Between a Wet Pump and a Dry Pump?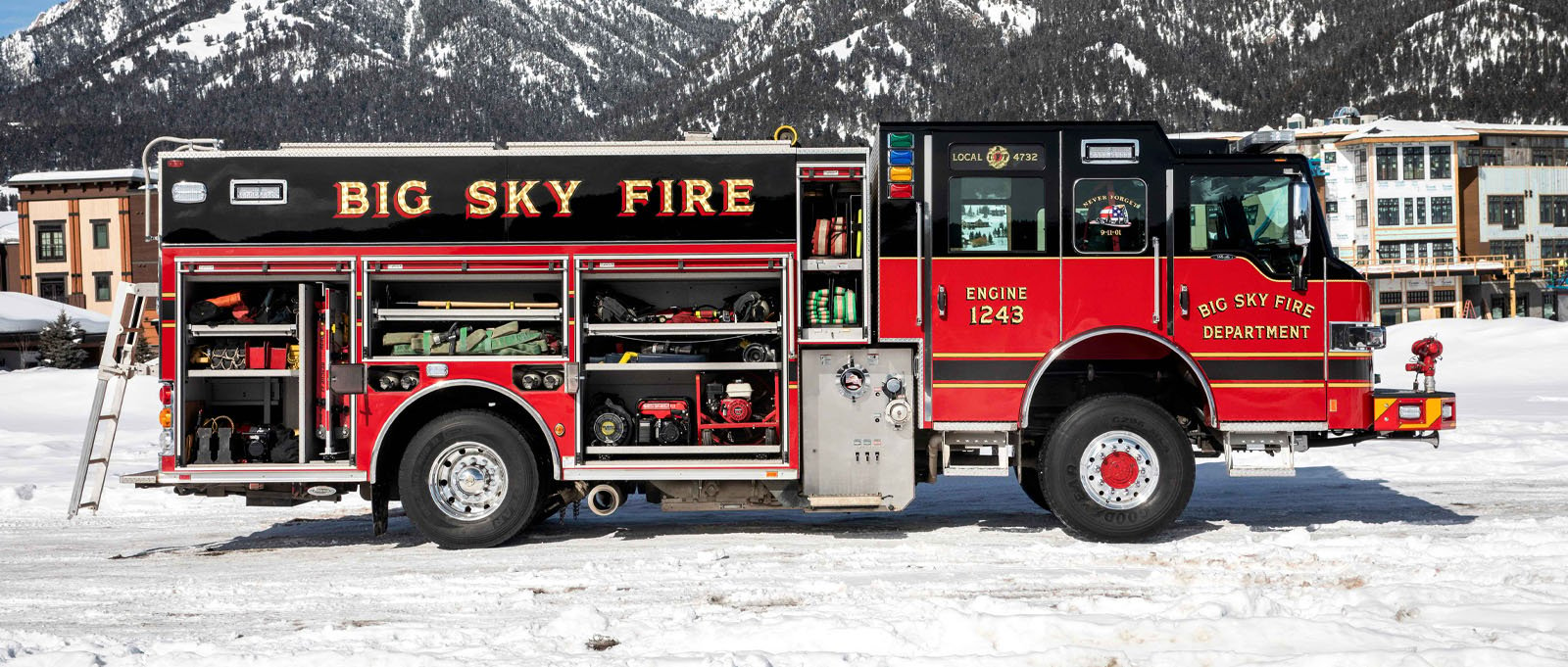 As winter weather approaches, a fire department must determine whether they want to run a wet pumper truck or a dry pumper truck during cold weather operations.

Why?

Inside a fire station, the temperature is regulated, typically between 60 and 70 degrees Fahrenheit. At this temperature, the roughly 750-gallon booster tank and the 20-25 gallons of water within the water pump have no threat of freezing. But once a truck leaves the station and enters frigid temperatures, fire truck operators must be cognizant of what is happening to the water in the apparatus tank, pump, valves and components.
When water is not circulating, it can freeze, cracking the pump, the housings and internal pump components, rendering the apparatus inoperable.
It's difficult to freeze a 750-gallon water tank, but the water housed in the pump can freeze quite quickly, which is why departments must determine whether to keep their pumps wet or dry.
What Is a Wet Pump?
A wet pump is an apparatus pump that contains water. Because moving water cannot freeze, a wet pump should be engaged with circulating water during cold weather conditions.

In many instances, full-time departments in urban communities will run a wet pump because the average response time is shorter and water will not have enough time to freeze as the truck travels. With shorter distances for calls and the ability to initiate circulating water immediately at the scene of an emergency, wet pumps are ideal because the pump is ready to operate.
The benefits of a wet pump include:
Faster on-scene operations because priming the fire pump before use may not be necessary.
The pump seals remain moist and pliable, reducing the risk of drying out or calcium build-up.
The potential drawbacks of a wet pump include:
If the pump is not engaged and water is not properly circulated, there is a greater potential for pump, valves and component damage in freezing conditions.
Extremely low temperatures and long response distances and travel times may increase the chance of pump and components freezing.
If the pump or components were to freeze, the fire truck would be out-of-service and the potential repair costs could be considerable.
What Is a Dry Pump?
A dry pump is an apparatus pump that contains no water. Water can remain in the booster tank, but the pump and discharge lines are drained and the pump valve is closed to ensure no water leaks into the pump.

A dry pump is ideal for rural departments or departments with longer emergency response times and travel distances. If water can freeze in the pump or components during travel time, a dry pump might be the right choice for your fire department.
The benefits of a dry pump include:
There is little chance that the pump can freeze.
There are fewer opportunities for pump components or accessories to incur damage.
The potential drawbacks of a dry pump include:
Apparatus operators must close all of the drains before they leave on a run, or when they arrive on-scene.
Priming of the fire pump may be required before the pump is operational.
If drains are left open and still have water left in the truck that didn't drain properly, the valves can freeze in the open position, which leaves the truck inoperable.
If the pump valve leaks, the booster tank will slowly drain.
If the pump is left dry for an extended period, calcium or rust may begin to accumulate inside the cavity.
For a pumper truck that is going to remain dry and not used for an extended period of time, the water tank should be drained, all intake and discharge caps removed, all of the drains and valves should be opened to drain the pump and then the pump should be pressurized with air to blow all of the water out of the entire pump system. In this full-drained state, a fire apparatus could remain outside, even in extremely cold weather, with little risk of damage.
How Are Fire Trucks Designed for Cold Weather?
There are many fire truck features specifically designed to enhance apparatus performance in cold weather.

Some of these cold-weather features include:
Heating tape. Used primarily on and around gauge lines, heating tape can help keep these components warm in cold weather.
Pump house heaters. A pump house heater can be installed to keep the gauges, plumbing valve(s) and the water pump from freezing.
Heat shields. Installed to protect the pump accessories underneath and inside the pump house, metal heat shields enclose the pump area to retain heat. In most installations, the apparatus exhaust system runs through the enclosure.
Tire Chains. At the push of a button, tire chains drop in front of the tires to improve grip in less than six inches of snow.
Pierce's Dealer Network Can Help
Whether your fire department is considering a custom apparatus designed to perform in cold weather or requires assistance with preventative maintenance and winterization preparation for an apparatus currently in service, the Pierce dealer network can help. Contact a dealer today to learn more.

What are some of the ways your fire department prepares for cold weather? Share with a comment below!