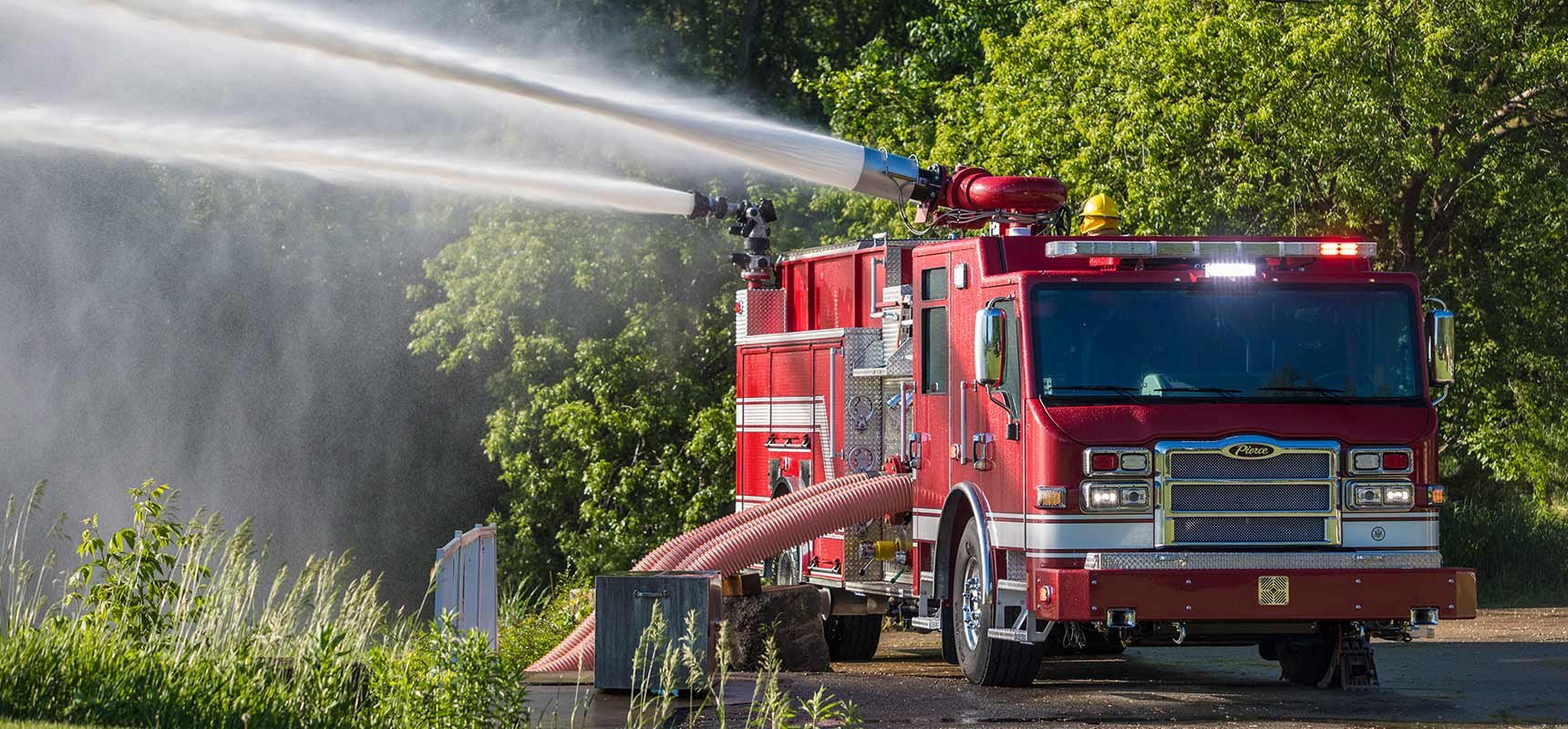 Industrial fire trucks have traditionally served secluded industrial areas and private companies in the oil and petrochemical industry by providing reliable and fast fire suppression capabilities in dangerous situations.
But as cities and suburban areas expand closer to industrial zones and huge freeway systems connect metropolitan areas, these dangers can be right in our own backyards.
Municipal and local fire departments are starting to recognize these present dangers and are outfitting their fleets with an industrial apparatus that can manage major chemical and hazardous incidents.
Below, we outline some of the key design characteristics of an industrial fire truck and review how to determine if an industrial apparatus may be required for your community.
What is An Industrial Fire Truck?
An industrial fire truck is a heavy-duty apparatus specifically designed to manage high-risk and dangerous fire scenarios requiring the highest capabilities of both water and foam suppression systems.
While a traditional pumper truck features a water flow rate of 1500 or 2000 gallons per minute (GPM), an industrial fire truck, or high-flow industrial pumper, offers water flow rates between 3000 and up to 10,000 GPM.
When is An Industrial Fire Truck Needed?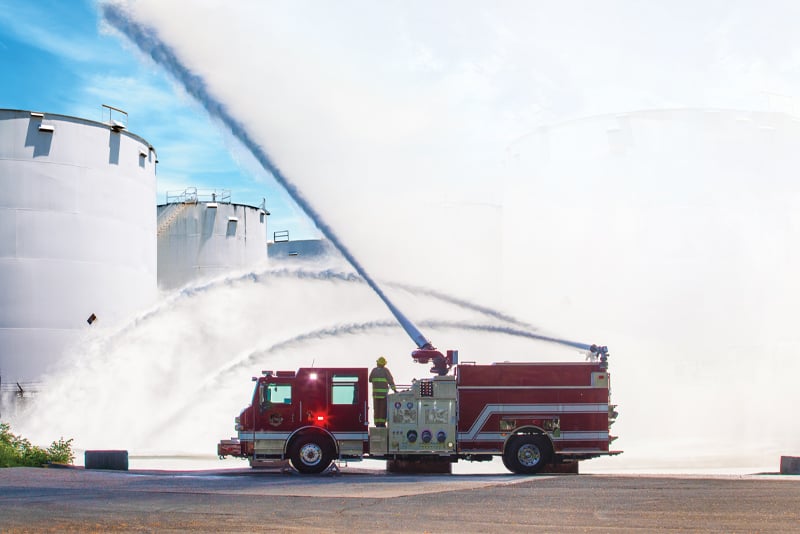 Industrial fire trucks are used in industrial and oil refineries, petrochemical plants and chemical companies—anywhere large, dangerous fires can occur that need to be managed very quickly to prevent large disasters.
In recent years, more and more fire departments are recognizing the value of having an industrial fire truck in the department fleet because communities are growing and changing rapidly, including:
Larger and higher volume freeway systems, which have more transport trucks carrying potentially hazardous substances.
Railway tracks and railway yards are now surrounded by cities, roads and residential communities.
Fuel depots and chemical storage facilities that were once far removed from cities and towns are now close to expanding suburban areas.
Large populations of people are closer to dangerous industrial areas.
An industrial fire truck offers fast and reliable fire suppression capabilities because it is designed to quickly and efficiently manage fires with very unique design characteristics. Learn more about high-flow industrial pumpers now.
What Are the Key Design Qualities of An Industrial Fire Truck?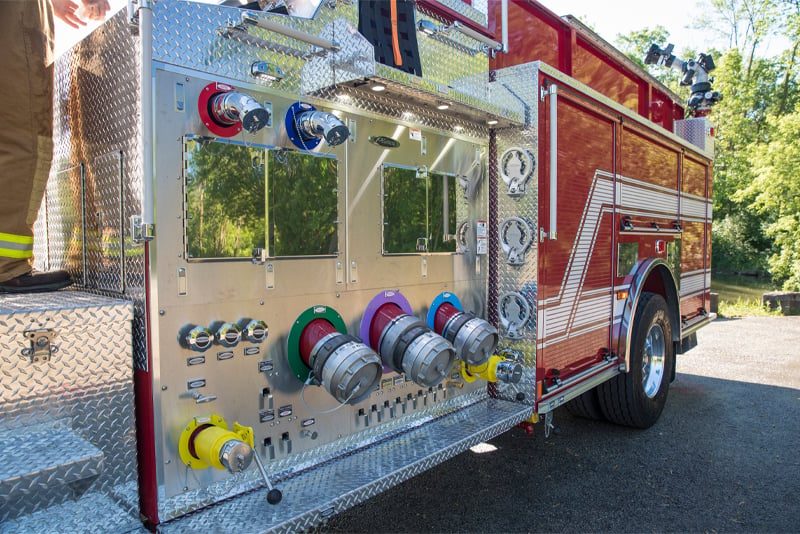 A heavy-duty industrial apparatus provides fire departments, municipalities and private companies with reliable fire suppression capabilities for the toughest jobs because they are designed to maximize performance and efficiency.
The key design characteristics of an industrial fire truck are a high-performance water pump, a reliable chassis, a powerful foam suppression system, a strong engine and adequate hose storage space. These are reviewed in detail below.
A Powerful Water Pump
An industrial fire truck is usually outfitted with a large and powerful water pump that can pump 3000 to 10,000 GPM.
Strong, Reliable Chassis and Engine
An industrial fire truck chassis must be strong enough to manage the weight and abuse of a powerful water pump and supporting fire suppression systems. To support this function, the frame rails must be strong and are designed for durability and strength.
Additionally, an industrial fire truck often features a powerful engine. The engine must have enough horsepower and torque to drive the water pump.
A Foam Suppression System
A foam system allows a specific amount of foam to be mixed with water through the fire apparatus pump mechanisms. Anytime water is used, a foam system can be activated to improve the effectiveness and help expedite firefighting capabilities. It is similar to washing dishes with water alone versus washing dishes with water and dish soap combined—the latter offers faster, more effective performance.
For industrial applications and for fires involving fuel, oil or chemicals, Class B foam is required. Class B foam floats on top of the fuel source and cuts off the vapor barrier, so there is not a fuel or vapor source to be burned, extinguishing the fire.
Industrial foam pumps start at 12 GPM and go up to 450 GPM in capacity. Different size pumps and systems are available based upon the different types of foam and their applications.
Ample Compartment Space
Industrial fire trucks use a lot of water, and as a result, require a lot of hose. Therefore, the body of an industrial fire truck must include strategic compartmentation to hold the appropriate amount and sizes of hose required for large industrial jobs.
An Accurate Flow Meter
A flow meter is designed to accurately monitor the amount of water and foam in use when the systems are engaged. A flow meter can help ensure the water-to-foam ratio is exactly where it needs to be based on the operator settings. Adding more foam to water than required doesn't make the water more effective at extinguishing a fire and can be wasteful and costly.
Pierce Manufacturing's patent-pending flow meter provides accurate and reliable readings to ensure optimal functionality and cost-effective performance.
Determining The Right Industrial Fire Truck for Your Needs and Community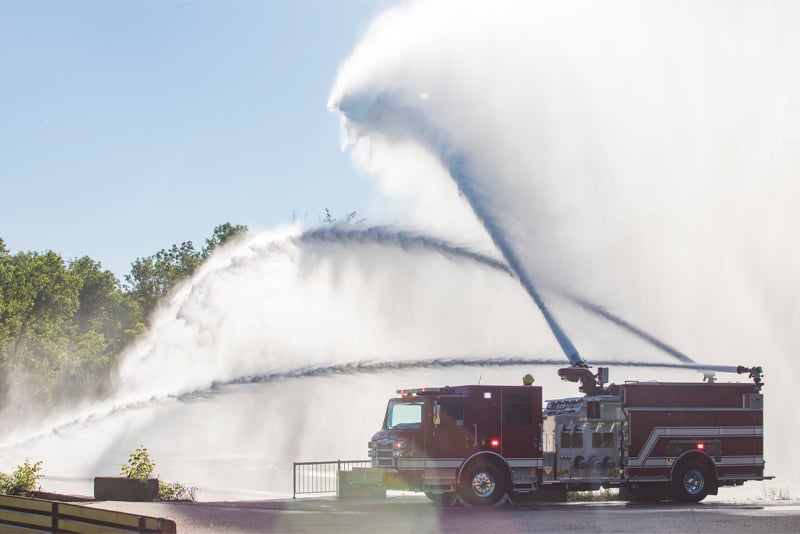 Not every business or community requires an industrial fire truck, but it's important for business owners and fire departments to regularly evaluate if there are any present dangers that may require more fire suppression support.
If there are any large freeways or oil, fuel or chemical companies within a jurisdiction, it may make sense to consider adding an industrial fire truck to a local fleet. In many circumstances, mutual aid makes it possible for one or two trucks to support the needs of a large community.
Why Choose Pierce Industrial Apparatus?
Pierce Manufacturing has been customizing and manufacturing industrial fire apparatus for more than 30 years, with many customers who keep coming back. Here are just some of the reasons why.
Ease of Operation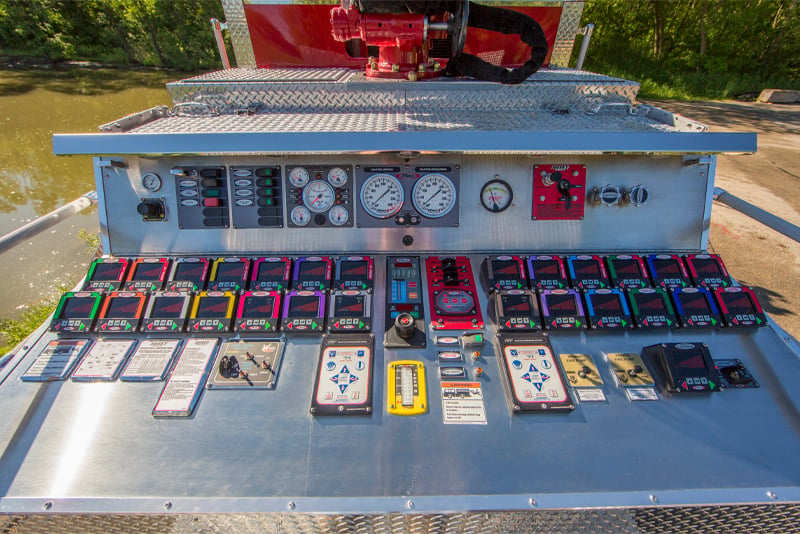 It may sound like a simple reason, but creating a simple operating process is extremely beneficial for industrial environments.
Many large companies with industrial fire trucks have volunteer firefighters who are employees that work on site. These employees complete training, but because large fire incidents are not common, complex manuals and operations would be forgotten. Pierce product training is straightforward with simple controls and an easy-to-use operator panel. The process of engaging the water and foam systems is simple, with just a few buttons, to ensure that the complexity of operation does not delay response time in an emergency.
When the operators' panel and procedures are simple and straightforward, it makes firefighting more effective and reduces the risk of human error.
Pierce Apparatus Offer Reliability
In firefighting, engine, pump or mechanism failure is not an option. The inability to quickly constrain and control an industrial fire could spell disaster for any company or community. When seconds matter a durable and reliable industrial fire truck that can be counted on is essential.
All Pierce industrial apparatus is tested by Underwriters Laboratory (UL) to ensure they will perform as designed. Underwriters Laboratory is an independent, third-party organization that verifies all NFPA testing criteria on fire apparatus. All parts and pieces of equipment have undergone UL endurance testing and are validated and verified to ensure optimal performance.
In fact, Pierce has gone above the requirements and completed a full 24-hour endurance test of all components at total capacity to mimic a worst-case scenario fire.
As the largest industrial fire truck manufacturer in the world, Pierce Manufacturing is proud to support fire suppression capabilities designed to keep workers and communities safe.
Do you have enough fire suppression equipment to put out a large fire? Take a look at some industrial fire truck examples below to see what may work for your unique needs. Questions? Let us know in the comments!
Industrial Fire Truck Examples
Watch this industrial fire truck walk around video now to see some of the extensive features available.
Recent Industrial Fire Truck Deliveries
Pasadena Industrial Pumper Truck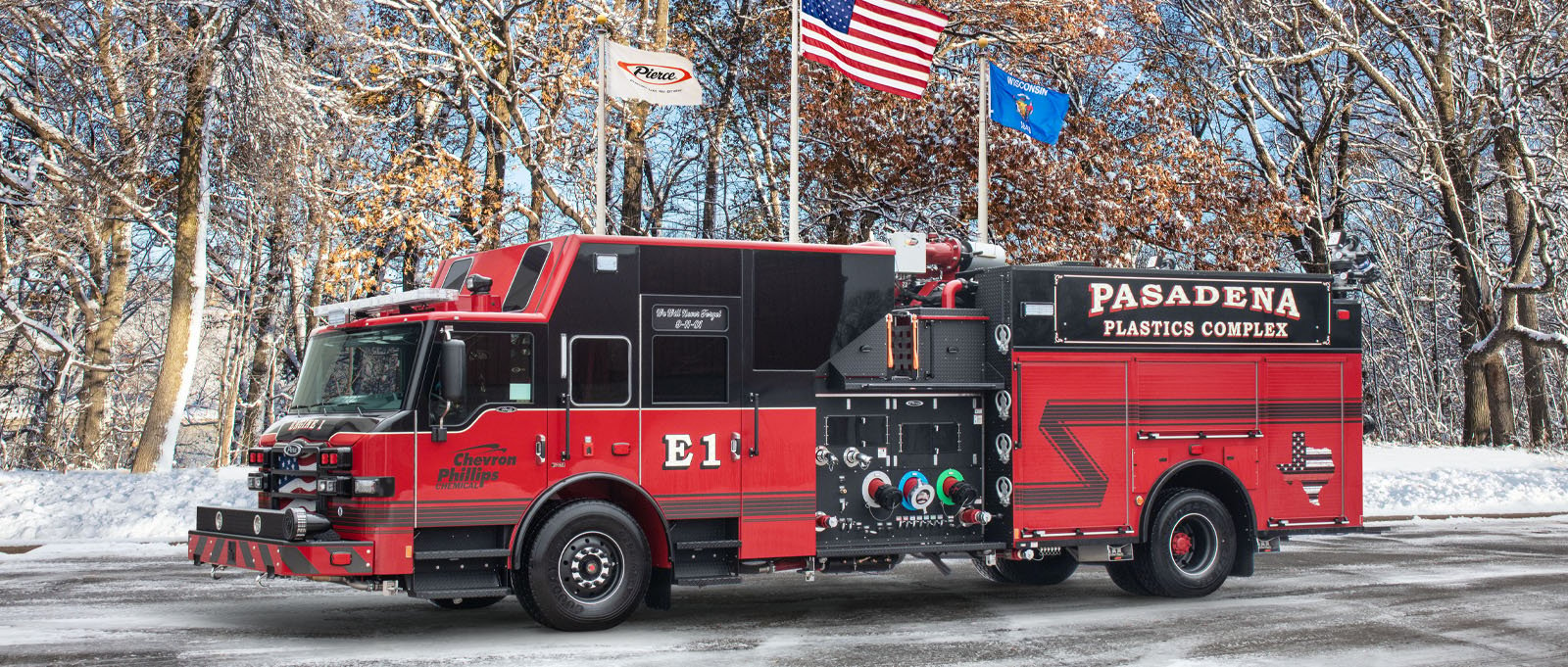 The Pasadena industrial pumper is on a Velocity® chassis featuring a Cummins X15 engine with 605 HP. The truck includes a 750-gallon water tank, pumps 5500 GPM and includes a Husky™ 3 foam system and Command Zone™ technology.
Celanese Clear Lake Aerial Fire Truck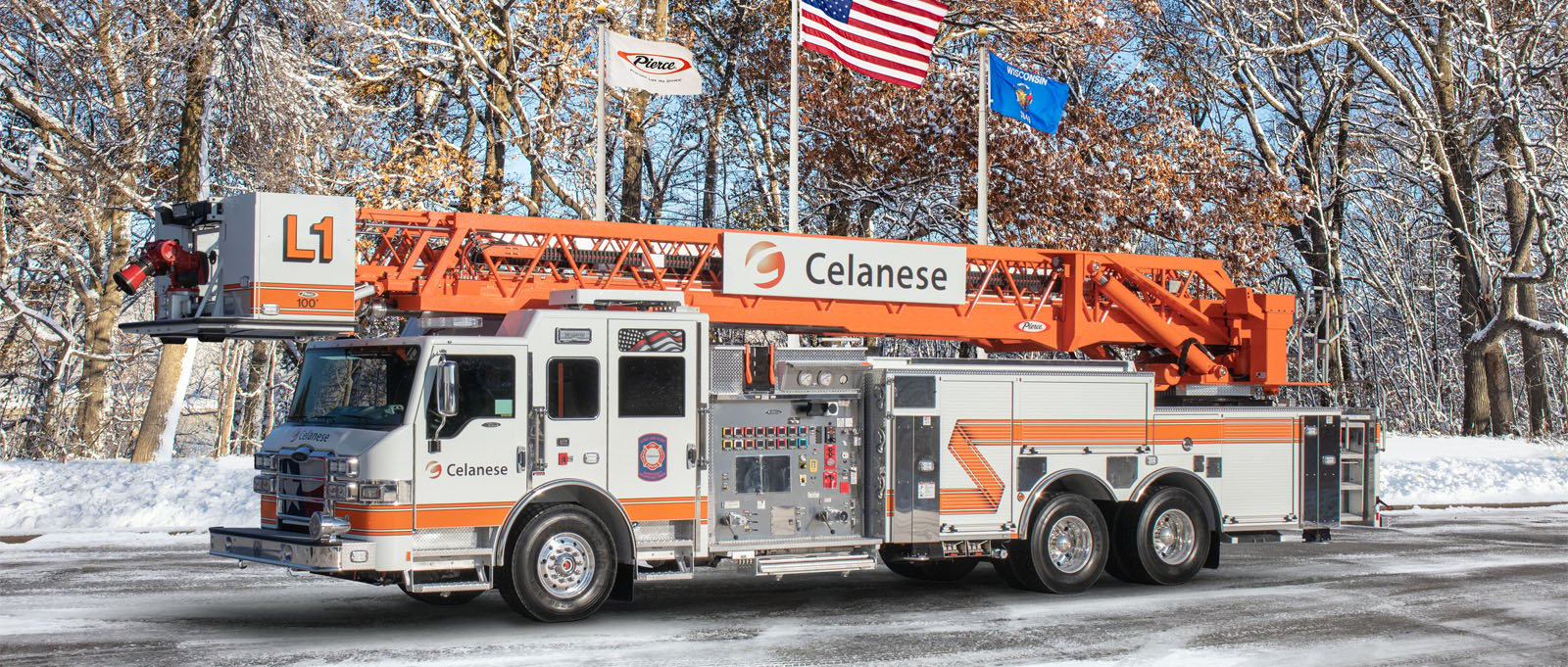 The Celanese Clear Lake aerial fire truck is a 100' Heavy-Duty Steel Aerial Platform on a Velocity® chassis featuring a Detroit Diesel DD13 with 525 HP. The apparatus pumps 3000 GPM and includes a Husky™ 3 foam system and Command Zone™ technology.


HollyFrontier Pumper Fire Truck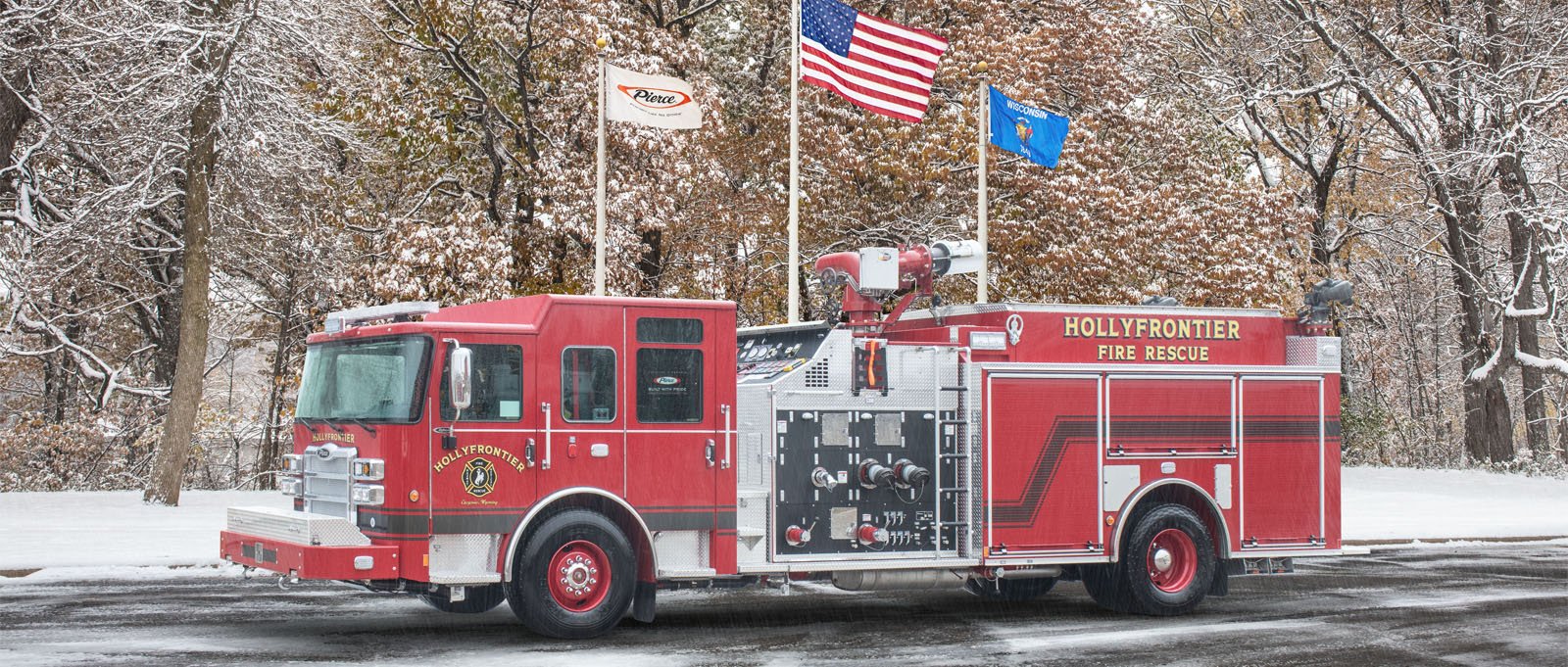 The HollyFrontier pumper is on an Enforcer™ chassis featuring a Detroit Diesel DD13 with 525 HP. The apparatus includes a 250-gallon water tank, pumps 3000 GPM and includes a Husky™ 3 foam system.