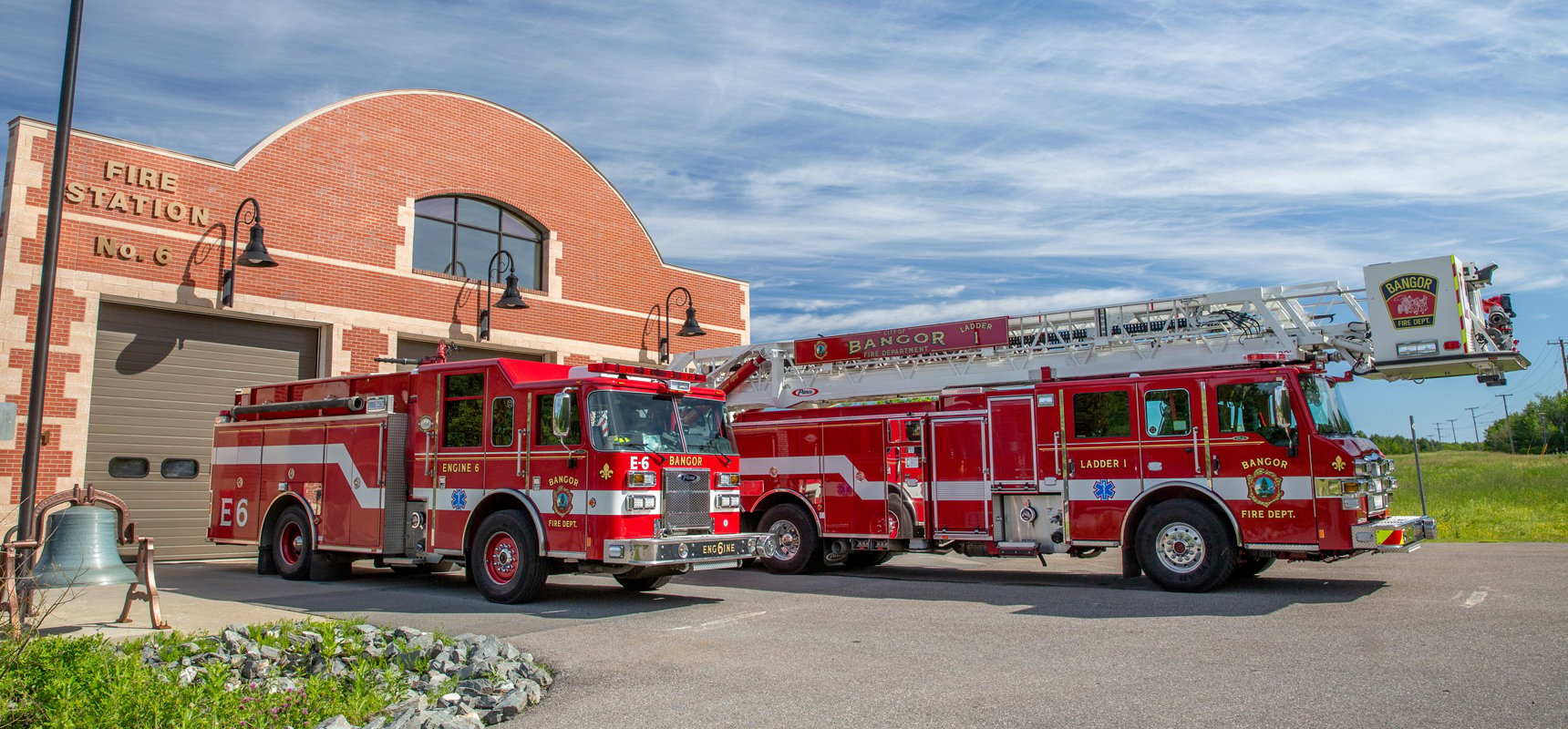 The National Fire Protection Association (NFPA) Standard 1906, Standard for Automotive Fire Apparatus, as well as the NWCG Standards for Wildland Fire Resource Typing classifies vehicles by type and function. The standards mandate that every fire truck 'type' is designed with specific components and features and must carry specific gear.
Why are the types of fire trucks important, you may wonder?
It ensures that regional terminology does not compromise prompt rescue support and resources. What may be called a "brush truck" in one community is a "wildland truck" in another. The creation of universal fire truck standards and terminology means that a fire department can request support for a specific engine type, knowing that it carries the required equipment for the emergency. As a result, fire departments can appropriately manage mutual aid and know exactly what kind of support they are getting for every emergency call.
Learn more about the types of fire trucks below and find out the distinguishing characteristics that make each truck unique.
Type 1 Fire Engine

A Type 1 fire truck, often referred to as an engine company, engine pumper or structural firefighting truck, is the most common type of fire engine in use today.
Type 1 fire trucks are purposefully designed to support urban, rural and suburban departments because they carry all of the required NFPA firefighting equipment. These versatile vehicles are often the first on the fire scene because they support both structural firefighting and initial Emergency Medical Service (EMS) response.
Every Type 1 truck is required to have a pump with a minimum tank size of 300 gallons, although most Type 1 trucks feature a 400- to 500-gallon water tank. Additionally, the truck must offer a minimum of 1000 Gallons Per Minute (GPM) of water transfer.
Following the standards of NFPA, Type 1 trucks are equipped at a minimum with a 2 ½ inch and 1 ½ inch thick hoses of varying lengths.
In addition, these types of fire trucks must include a full complement of ground ladders, nozzles, forcible entry equipment, rear access and egress, some level of first aid equipment and other unique items depending on the local jurisdiction. Some examples include self-contained breathing apparatus (SCBA), chainsaws, full EMS gear, hazmat equipment, advanced life support (ALS) equipment and additional structural or ballistic gear as needed. Typically, Type 1 fire trucks are designed to carry 3 to 4 firefighters.
A fire truck manufacturer can work with your fire department to design and configure a Type 1 engine to meet your community's unique needs.
Take a look at some recent deliveries of Type 1 fire trucks.
Type 2 Fire Engine

A Type 2 fire truck features many of the same specifications and tools of the Type 1 fire truck. Type 2 trucks are not as common in fire departments, but they are versatile trucks that are often found in urban and suburban applications performing vehicle accident and rescue response as a first response unit or heavy rescue engine.
Type 2 trucks may be ideal for a fire department looking for a more compact rescue engine, wet rescue or heavy-duty rescue featuring a smaller water tank and pump, but with storage capabilities that can still hold a lot of equipment. A Type 2 truck is an ideal fire truck to arrive on the fire scene first to start fire extinguishing tasks until more support arrives.
Much like a Type 1 engine, a Type 2 engine typically carries 3 or 4 firefighters. It includes a lot of basic firefighting gear and tools, like SCBAs, circular saws, as well as many different types of specialized equipment.
Take a look at various type 2 truck configurations now.
Type 3 Fire Engine

A Type 3 fire truck is often referred to as a wildland fire truck or a brush truck. Typically used in rural and wildland settings, a Type 3 fire truck includes several unique design and configuration details to match the terrain it services.
Wildland fire trucks commonly sit on a commercial 4x4 chassis and can be used as wildland urban interface vehicles. They are designed to be sleek and maneuverable with the ability to manage off-road and variable terrain. Type 3 fire trucks are often responding to wildfires and must be able to get as close to the fire as possible while maintaining both stability and vehicle control. The Gross Vehicle Weight Rating (GVWR) is often more than 26,000 lbs. and the vehicle must be equipped to carry at least 3 passengers.
NFPA standards require a Type 3 engine to have a minimum of a 500-gallon water tank and a pump capable of a minimum of 150 US gallons per minute at a pressure of 250 pounds per square inch.
Type 3 fire trucks can be equipped with a power-take-off (PTO) pump. A PTO pump is designed so that a vehicle can remain in motion while fighting fire simultaneously.
Many Type 3 fire engines also feature an auxiliary pump in addition to the main water pump configured on a truck. The auxiliary pump can be powered by a separate diesel engine that is connected to the pump, or a hydraulic auxiliary pump can be powered by an additional PTO hydraulic circuit with its own pressure governor. This pump-and-roll technique means that a truck operator can drive the truck while crew members man the pump and hoses walking beside the moving vehicle. This is critically important to allow firefighters to follow along as forest fires and brush fires move with the weather, and to create fire lines, wetting down areas ahead of an advancing wildfire.
Here's a closer look at some of the features of a Type 3 fire trucks or view some of our recent deliveries.
Here's a closer look at some of the features of a Type 3 truck or view some of our recent deliveries.
Type 4 Fire Engine

A Type 4 fire truck is very similar to a Type 3 however with a larger water tank and reduced hose capacity requirements.
According to NFPA standards, Type 4 fire trucks must carry 2 people and feature a 750-gallon water tank that offers 50 US gallons per minute of water transfer at a pressure of 100 pounds per square inch. The larger water tank means that a Type 4 truck often has lower rated pump potential and includes less hose than a Type 3 fire truck.
Type 4 fire engines are often used in wildland firefighting, but with a 4-wheel drive chassis and a large water tank these vehicles can be used for emergency response.
Type 5, Type 6 and Type 7 Fire Engine

Type 5, Type 6 and Type 7 fire trucks are often grouped together because they feature many of the same design qualities. These vehicles are typically pick-up truck-based with 4-wheel drive on a medium duty-chassis.

The main difference between Type 5, Type 6 and Type 7 fire trucks is the difference in their maximum GVWR.
Type 5 fire engines have a maximum GVWR of 26000 lbs.
Type 6 fire engines have a maximum GVWR of 19,500 lbs.
Type 7 fire engines have a maximum GVWR of 14,000 lbs.
Type 5, 6 and 7 fire trucks are used in various ways depending on a fire department's needs. For example, some trucks are used as a fire response unit and include a small EMS response kit, while other vehicles are equipped with a water tank and water pump and can provide water suppression resources before larger rigs arrive on the fire scene. This configuration is common in wildland environments, where they are often referred to as mini pumpers or brush trucks. When equipped with water suppression capabilities Type 5, 6 and 7 trucks typically carry a 300-gallon water tank and a small booster pump with a minimum capacity of 50 gallons per minute.
Here is an overview of the NFPA truck standards:
Engine Typing Standard

Types 1 and 2 are structure; Types 3-7 are wildland

Requirements
Type 1
Type 2
Type 3
Type 4
Type 5
Type 6
Type 7
Tank Minimum Capacity (gal)
300
300
500
750
400
150
50
Pump Minimum Flow (gal/min)
1,000
500
150
50
50
50
10
At Rated Pressure (psi)
150
150
250
100
100
100
100
Hose: 2 1/2-inch
1,200
1,000
N/A
N/A
N/A
N/A
N/A
Hose: 1 1/2-inch
500
500
1,000
300
300
300
N/A
Hose: 1-inch
N/A
N/A
500
300
300
300
200
Ladders per NFPA 1901
Yes
Yes
N/A
N/A
N/A
N/A
N/A
Master Stream 500 gal/min.
Yes
N/A
N/A
N/A
N/A
N/A
N/A
Pump and Roll
N/A
N/A
Yes
Yes
Yes
Yes
Yes
Maximum GVWR (lb)
N/A
N/A
N/A
N/A
26,000
19,500
14,000
Personnel (minimum)
4
3
3
2
2
2
2

N/A = Not Applicable
NFPA = National Fire Protection Association
GVWR = Gross Vehicle Weight Rating

Notes:
1. All types shall meet federal, state and agency requirements for motor vehicle safety standards, including all gross vehicle weight ratings when fully loaded.
2. Type 3 engines and tactical water tenders shall be equipped with a foam proportioner system.
3. All water tenders and engine types 3 through 6 shall be able to prime and pump water from a 10 foot lift.
The development of the types of fire trucks and requirements has been an invaluable addition to NFPA standards, providing fire departments with a universal language to help improve mutual aid and firefighting support.
Electric Fire Truck

While it may not be a formal 'type' of a fire truck, the electric fire truck is making a name for itself in stations across the country.
Electric fire trucks are growing in demand as municipalities strive to meet environmental standards and to help reduce emissions, minimize fuel use and costs, and improve firefighters' safety with less exposure to carbon emissions.
Learn more about electric fire trucks now.
Regardless of the type of fire truck required, Pierce Manufacturing can help support the concept, design and configuration of a custom apparatus to meet your fire department's unique needs.
Do you have questions about the types of fire trucks and how they are designed and manufactured? Let us know in the comments!
Take a look at other comparative blogs that may be of interest to you: