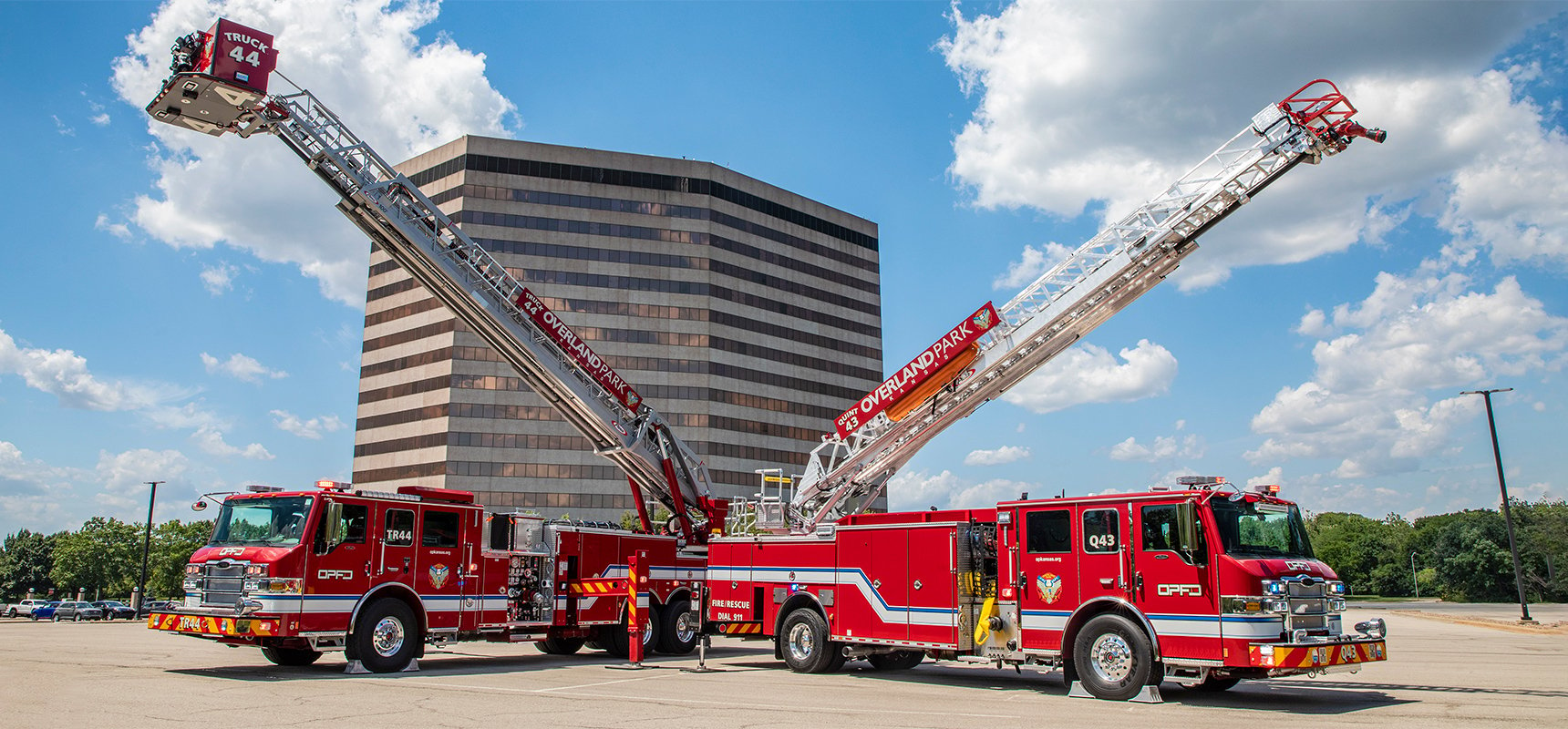 There are 3 types of aerial devices as defined by the NFPA each with it its own unique configuration, functionality and design characteristics.

What type of aerial device is the right choice for your fire department?

Use this blog to help you understand the types of aerial devices and compare their features side-by-side.
Aerial Ladder Device
An aerial ladder device is a mechanically-operated extendable ladder mounted on a fire truck with either a mid-mount, rear-mount configuration or tractor-drawn configuration. It's designed to maximize vertical reach for rapid response, ventilation, extinguishment and rescue operations.
Aerial Ladders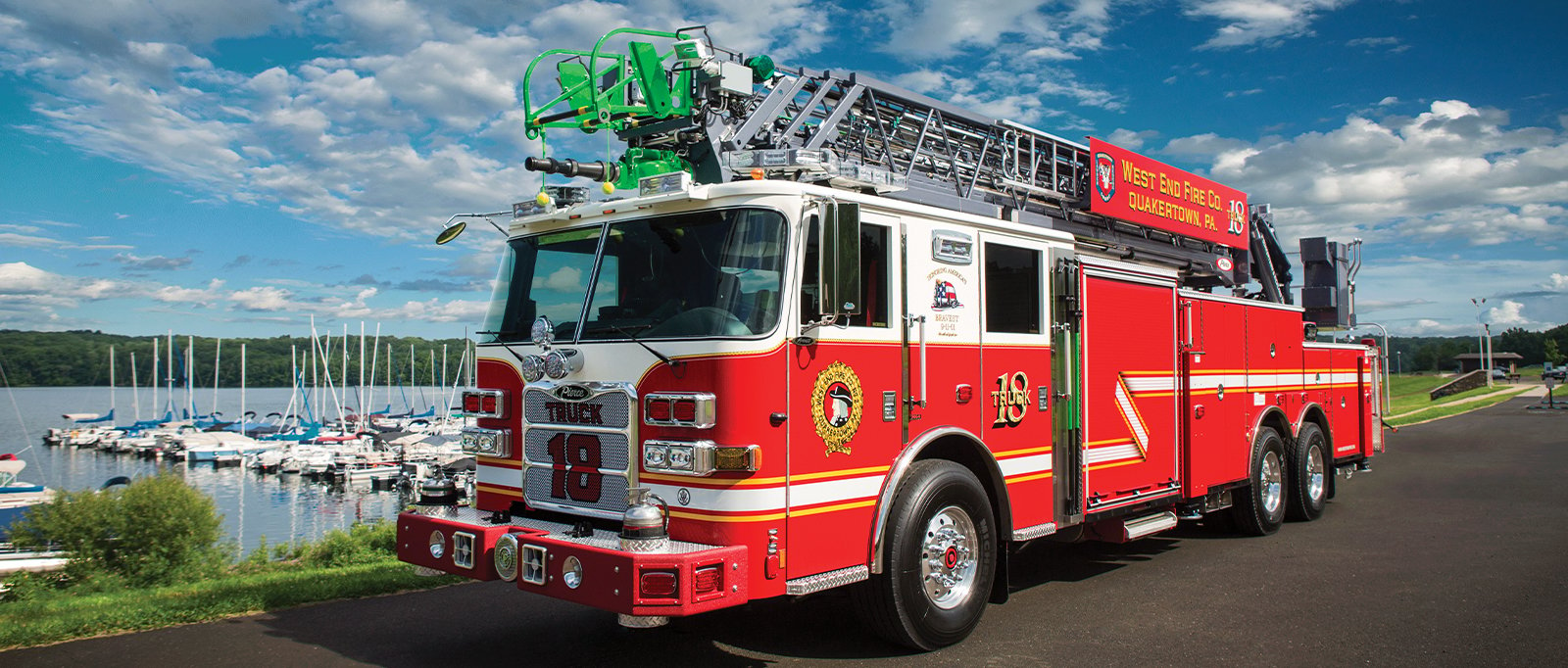 Aerial ladders are compact, making them ideal if limited space and overhead obstacles are a concern. The tip of the ladder allows for easy and agile access amongst trees, electric lines, balcony railings and closely spaced buildings. Aerial ladder trucks are typically lower in overall height than platform fire trucks and are a great option for older infrastructure and in communities and cities with narrow streets and lower overhead doors.
Tractor Drawn Aerials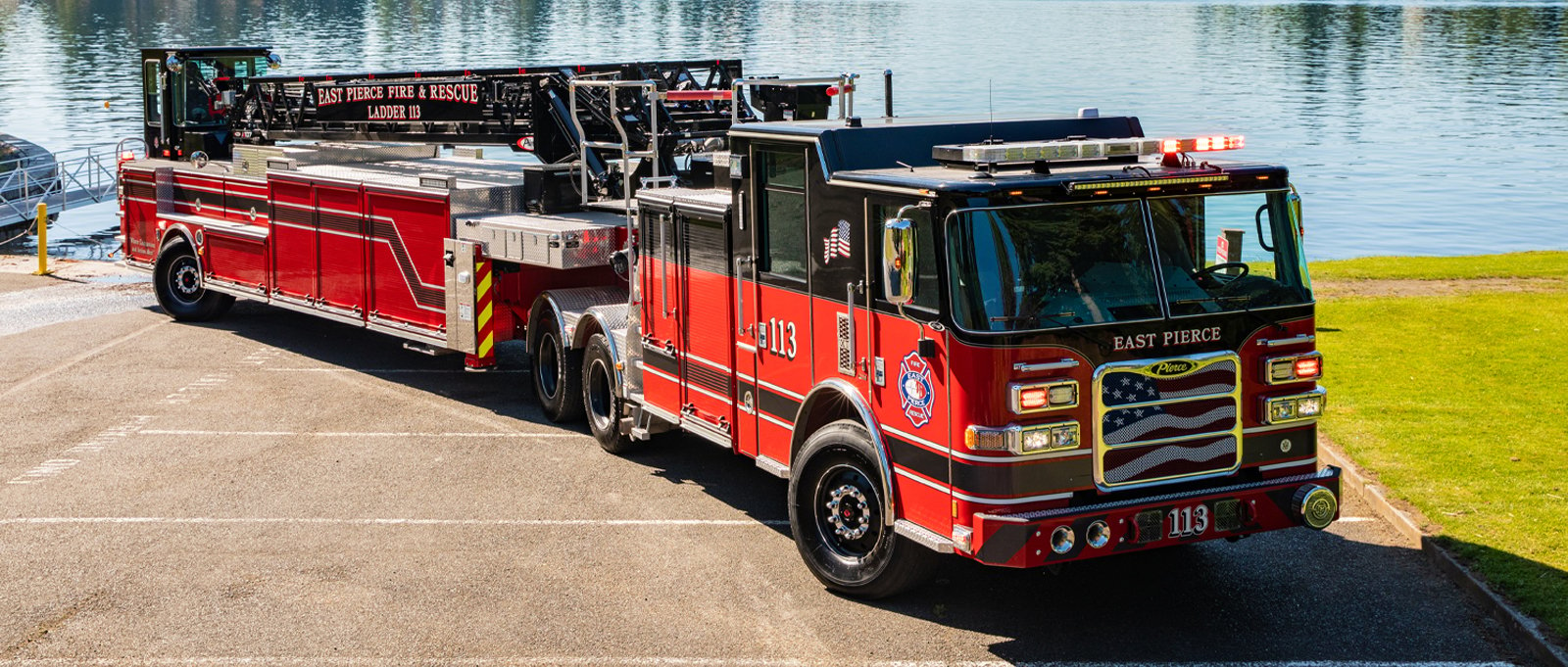 View this truck in more detail in our New Delivery Gallery.
A tractor drawn aerial fire truck consists of a tractor, a trailer and a tiller cab. Despite being much longer than a straight-frame aerial, a tractor drawn aerial is the most maneuverable aerial apparatus available. With its unique design, it can navigate obstacles and easily steer into narrow and tight locations making it ideal for suburban communities with cul-de-sacs and busy urban areas.
The length of Pierce tractor drawn aerials can range between 57 to 63 feet with a typical height of approximately 11'2''.
Elevating Platform Device
An elevating platform device features an aerial ladder equipped with a platform or basket at the tip, also known as a tower. The platform is an enclosed space and allows for safe up and down passenger transportation. A platform fire truck is ideal for communities or cities with many people working and living in elevated locations.
Elevating platforms also have a high tip load capacity and can support both firefighters and firefighting equipment. They are equipped with single or dual mounted deck guns, making them a great choice for fire departments that require higher water flow for larger buildings and industrial facilities.
Mid-Mount Aerial Tower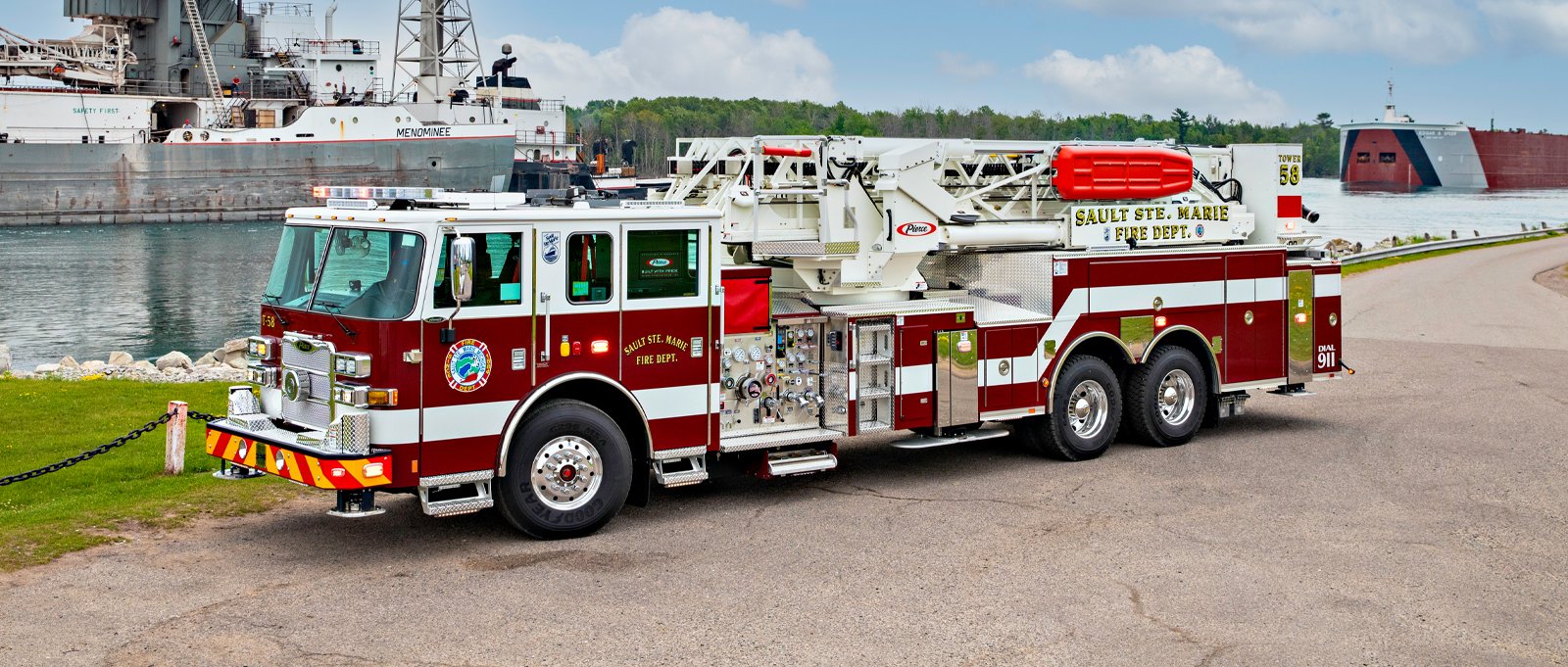 View this truck in more detail in our New Delivery Gallery.
A mid-mount aerial tower features an aerial device that is mounted in the middle of the truck and consists up to five telescoping ladder sections. The placement of the ladder allows lower travel height and greater below grade operation, along with shorter setbacks due to the multiple ladder sections.
Mid-mount aerial ladder trucks are ideal for departments looking for the ability to operate the ladder in confined space areas and are designed to maximize driver visibility.
A mid-mounted aerial configuration will provide the lowest vehicle overall height.
Rear-Mount Aerial Tower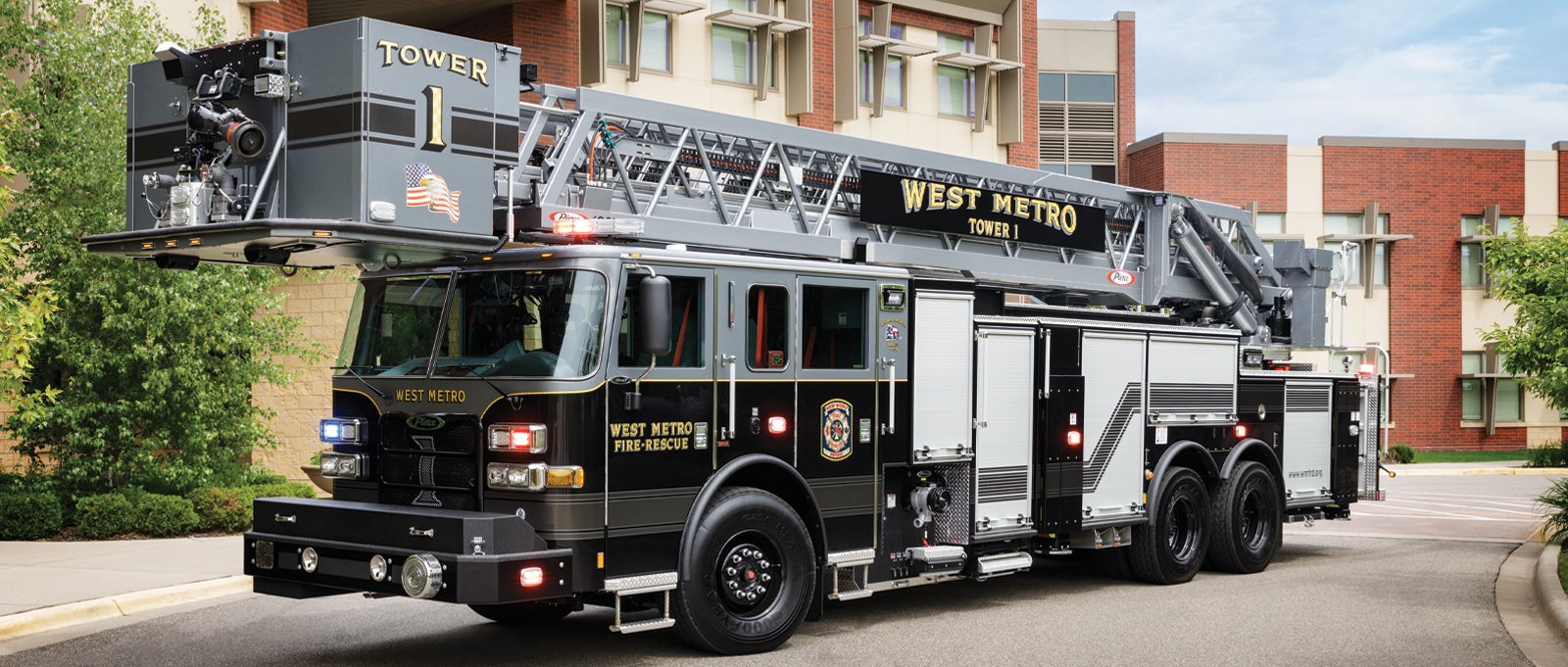 View this truck in more detail in our New Delivery Gallery.
A rear-mounted aerial tower features an aerial device that is mounted at the back of the truck. Rear-mount towers are a reliable option for fire departments, offering simple design and functionality for on-scene operations.
Rear mount aerials are often touted for their ample storage space and room for additional ground ladders and equipment.
Learn more about how to choose the right aerial for your department.
Water Tower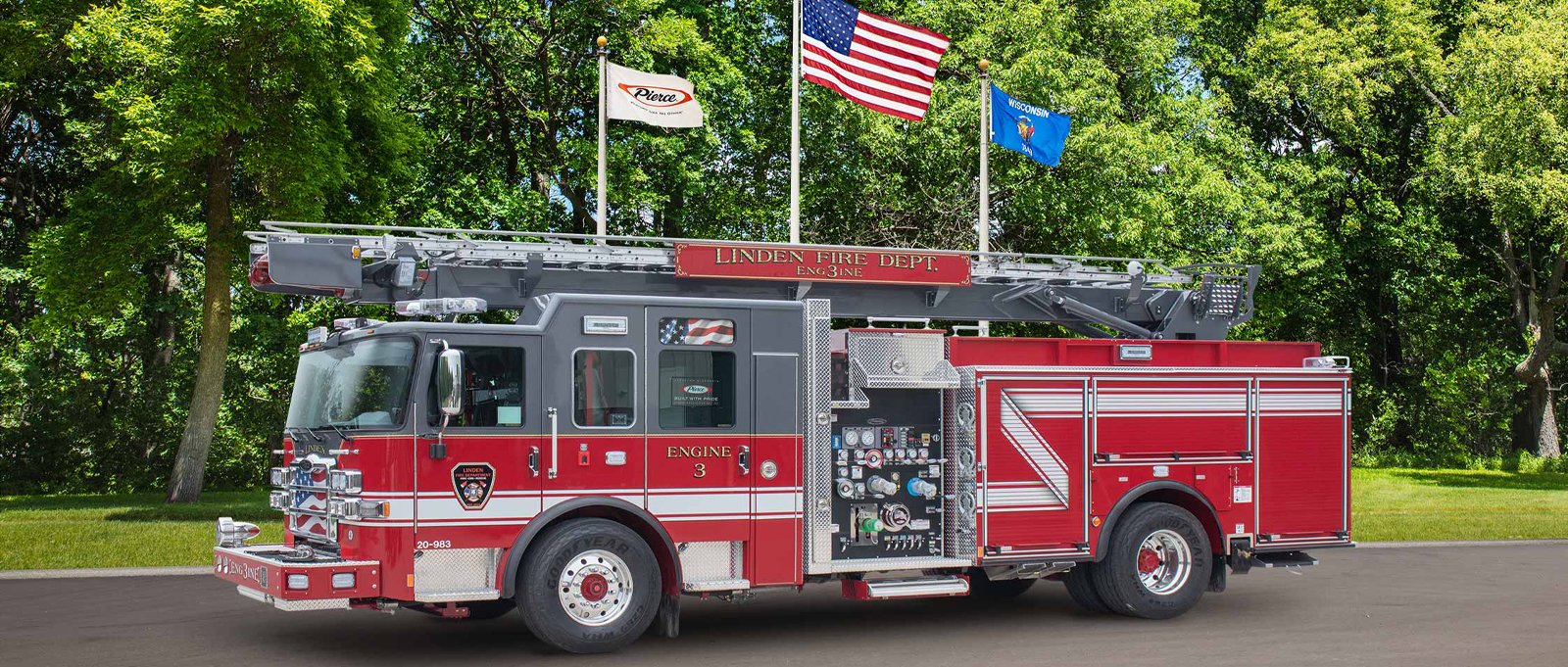 View this truck in more detail in our New Delivery Gallery.
A Pierce water tower is a fire truck equipped with an extendable telescopic boom featuring a permanent waterway capable of delivering water flows up to 1250 gpm. An extendable ladder with optional folding handrails to minimize overall height is attached to the top side of the boom.
Pierce water tower fire trucks offer operating heights that range from 55 to 61 feet. Water tower's are commonly found in industrial fire service or departments looking for elevated master stream capabilities.
Why Choose Pierce Aerial Fire Trucks?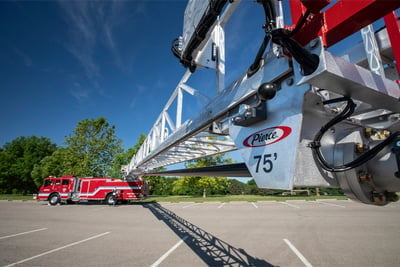 No matter what type of aerial device your fire department is looking to purchase, you can rely on Pierce Manufacturing, offering customers more than 100 years of manufacturing experience and innovative success, along with the sustainability of Oshkosh Corporation.
When you select a Pierce aerial apparatus, you can count on an investment designed to serve your community's unique needs with industry-leading reliability and quality backed by a robust dealer network, an experienced workforce and aftermarket support services with coverage in all 50 states and Canada.
If your fire department is interested in learning more about types of aerial devices, take a look at these additional resources:
If you have any additional aerial device questions, please reach out to your local dealer or post them in the comments below!