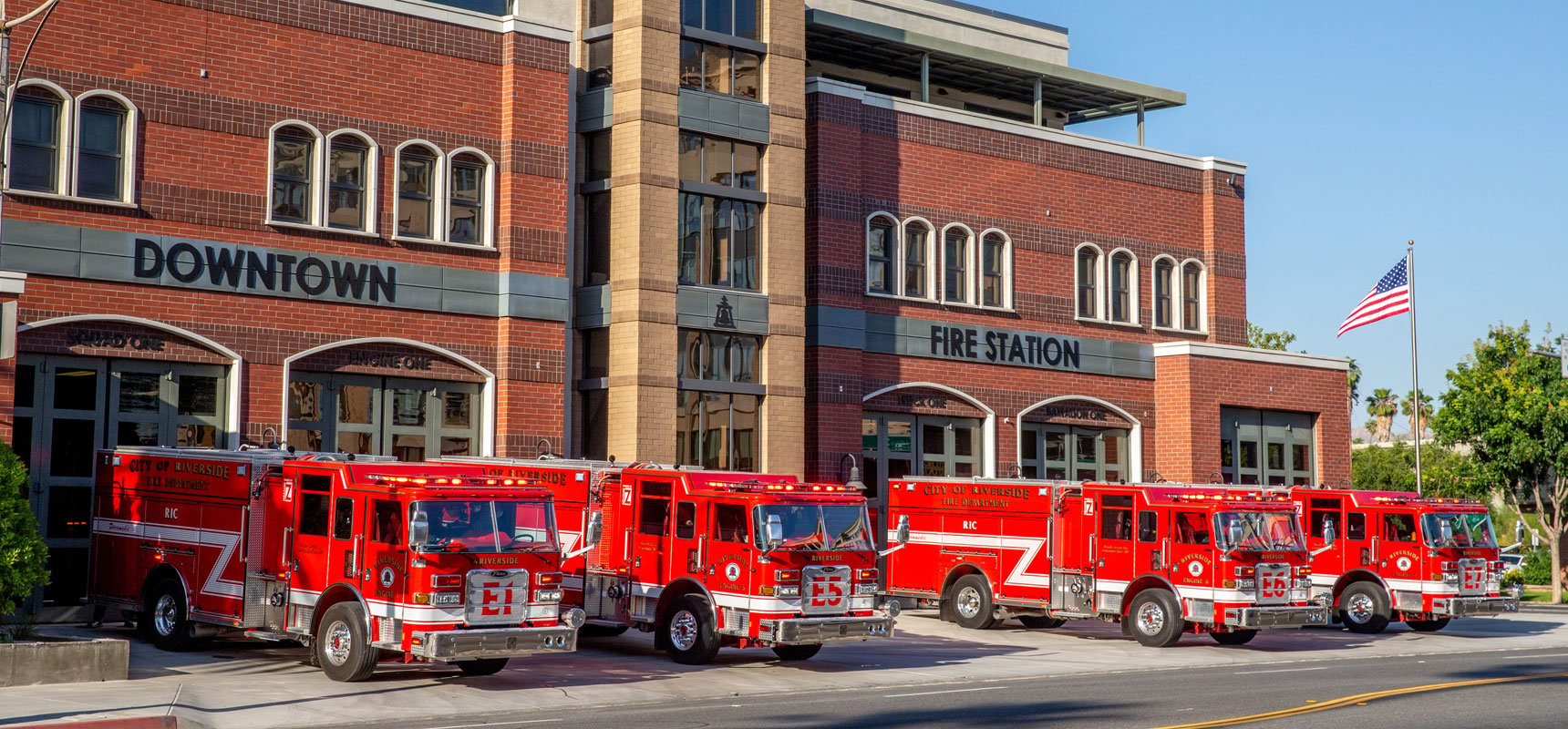 There are many challenges that come with maintaining vehicles that require 24-hour readiness. Fleet management and maintenance requires a network of specialized support for when and where a fire department needs it.

So what exactly goes into fire truck fleet management and maintenance?
Continue reading below to gain an understanding of the five critical elements for fleet management, including the requirements for fleet maintenance, warranty coverage, understanding an apparatus' systems and tools and the availability of parts and training programs.
1. Understanding the Requirements for Fleet Maintenance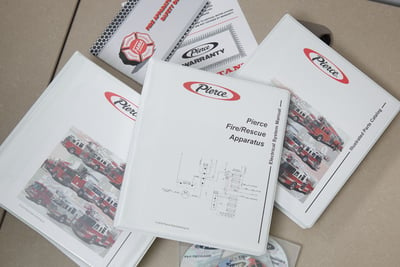 As a fire department considers a manufacturer for a new fire apparatus or works with its current manufacturer to maintain established vehicles, knowing the requirements of fire truck maintenance and how to find educational resources on the topic is critical.

Ideally, a fire department should have simple and easy access to manuals for each apparatus, as well as all of the component manuals. These manuals contain detailed information for the appropriate management of the vehicles, including the optimal maintenance intervals to support the vehicle's service life.
Pierce Manufacturing provides all manuals and fleet maintenance requirements online at pierceparts.com. Here, fire departments can access fleet maintenance information about their unique vehicles.

Scheduling regular maintenance check-ups for your vehicle is not only beneficial for the truck itself but also critical to ensure fire trucks are always ready when an emergency arises.
Learn helpful preventive maintenance tips to protect your fleet throughout the winter months in this Pierce article: 4 Fire Truck Winter Maintenance Tips to Prevent Corrosion.
2. Warranty, Provisions and Requirements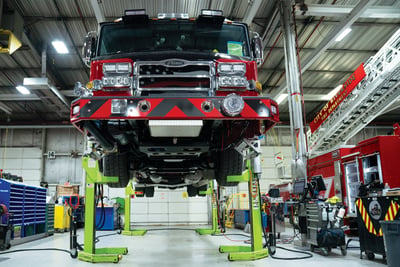 Fleet management requires a thorough knowledge of which items are covered under warranty and the scope of both preventive and scheduled maintenance required to meet the warranty requirements.

Following the manufacturer's recommendations for maintenance can include, for example:
Chassis maintenance to include fluid and filter changes, lubrication and inspection criteria
Air filtration cleaning and replacement
Inspection, cleaning and lubrication of aerial components
Pump maintenance
Cooling system maintenance
If these and similar preventive measures are completed following the manufacturer's guidelines, the warranty provisions will be met, and any warranty claims will be honored.

Not only is this practice recommended for preventing unforeseen service setbacks, but it also allows customers to maximize the coverage under their warranties.
3. Understanding Special Tools or Systems Required to Work on the Vehicle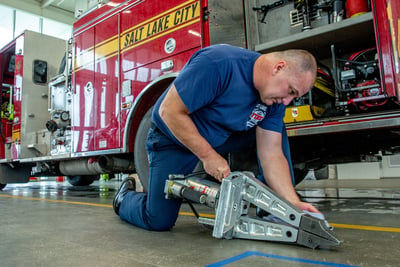 When a fleet vehicle is serviced, the individuals tasked with fleet maintenance and management are responsible for understanding the proper ways to maintain the vehicle. This includes knowing the types of specialized tools and systems that keep vehicles performing at the optimal level.

For example, knowing the types of tools for adjusting the ride height and removing nuts and bolts, and knowing how to operate Command Zone™ and Pierce safety systems appropriately is important.

Look for a fire truck manufacturer that works with your fire department to help you learn and manage the appropriate tools, equipment and systems to keep your fire truck in good working order.
Did you know that standardizing your fire truck fleet can save time, money and resources? Learn more now in this article highlighting the benefits of fleet standardization.
4. Availability of Parts
Another component of managing a fire department fleet is not only knowing when an apparatus needs maintenance, but also learning and sourcing the required parts. Working with a fire truck manufacturer and dealer network that offers a large spare parts inventory can help your fire department get vehicles back on the road quickly.
With more than 15M+ dollars of spare parts inventory in stock every day, Pierce can source and replace fire truck parts quickly and efficiently. With the help of Pierce's robust parts catalog and an online inventory (Pierceparts.com), finding the right part is easy.
Pierce understands why timely access to parts and service is essential for a fire department. Learn about the ways Pierce's aftermarket and product support services set the industry standard in this article: 6 Facts You May Not Know About Pierce Parts & Product Support.
5. Training Opportunities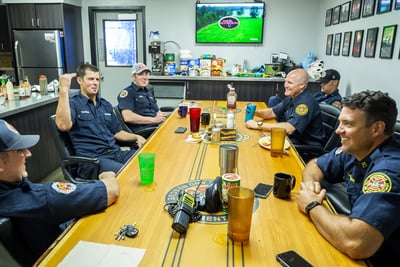 When a department invests in a fire apparatus fleet it is also investing in ongoing product support. For the lifecycle of your fleet vehicles, you should expect ongoing training opportunities to ensure your department staff has the education required to appropriately operate and service fleet vehicles.

When you purchase a fire truck through Pierce, your department is provided with training to learn about the new apparatus and additional annual training opportunities as required. Various courses are scheduled throughout the year and located regionally, including options in Appleton, WI, Bradenton, FL, and Las Vegas, NV.

Pierce Manufacturing is proud to offer a wide curriculum in addition to offering master technician training classes. As a fire department considers its next apparatus purchase, they should remember the importance of access to hands-on service training and service maintenance tailored to match custom apparatus.

Learn about Pierce master technicians, the benefits of fire truck service training and the types of service training classes that Pierce offers in this article: Pierce Manufacturing Fire Truck Maintenance and Service Training.
Best Practices for Fire Truck Fleet Maintenance
To get the most out of your fleet vehicles and maximize their time in service, follow these best practice tips.

Share how you perform maintenance and repairs on your vehicles. Working with your truck manufacturer and fire truck dealer to support and facilitate service and maintenance can help maximize fleet performance. When you purchase a Pierce fire truck, keeping your Pierce and dealer team informed of your maintenance schedules and how services are completed means they can understand and support your needs and stay ahead of training opportunities.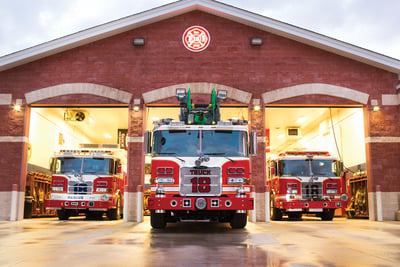 Share who's providing your maintenance and repairs. To help support fleet management, it can be helpful for your department team members and your dealer to know who performs service and maintenance. When you work with Pierce, your dealer can help provide maintenance expertise and they can support your in-house technicians and mechanics if needed.

Explain your plan for maintaining the vehicle. Working with your dealer and manufacturer to stay on top of required and preventive maintenance can ensure your fleet vehicles stay in service. Working with a support system in place means you'll know when warranty provisions and requirements come up, which can help you keep your vehicles in the best working condition.

Maintaining your fire truck fleet starts with having a detailed plan in place and following the best practices for success. At Pierce, we work diligently to continuously evolve our service offerings from a parts, service and training perspective to make sure we are always meeting and exceeding our customer's needs. Both Pierce and our network of trusted dealers continue to reinvest in facilities, infrastructure and personnel to support fire departments and their fleets with 24/7 readiness support.
Learn about the benefits of standardizing your fleet with Pierce, here.

Talk to a dealer today about Pierce's fleet maintenance and preventive care programs. Find a dealer near you or visit Pierceparts.com for maintenance requirements, our parts inventory and training schedules.