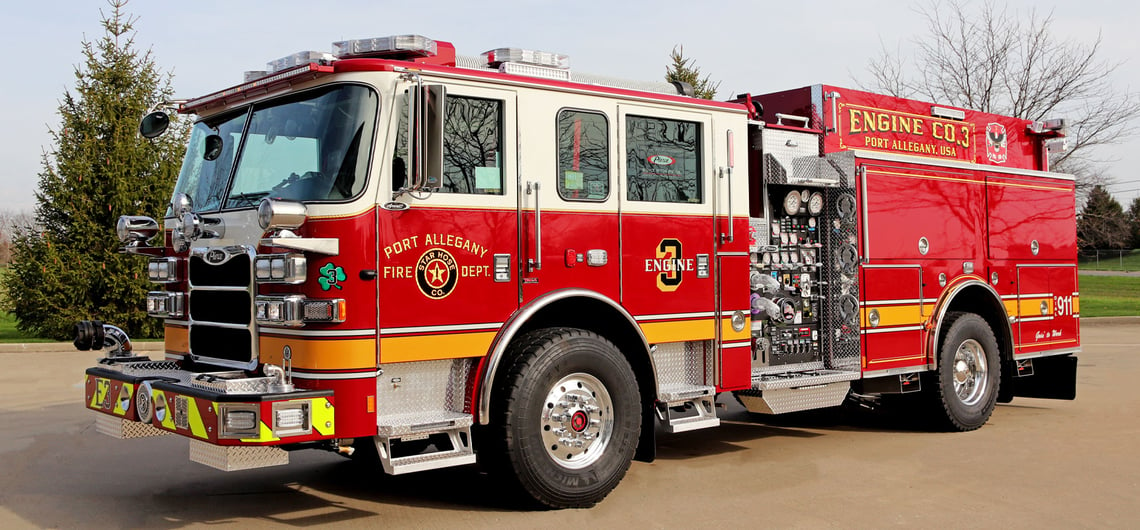 Balancing a lack of manpower during the day, managing structure fires and wildfires, and covering large geographic regions lacking water infrastructure are just some of the daily challenges facing rural fire departments.

As fire departments and their representatives consider purchasing a new rural fire apparatus, what are some of the significant challenges, truck configurations and fire truck features they should learn more about?

This blog outlines fire truck features that best serve rural markets and includes several rural fire truck examples that can help your department compare functions and customization options.
What Types of Calls Do Rural Fire Departments Routinely Respond To?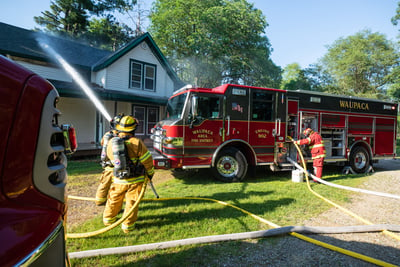 Rural fire departments often respond to unique types of fires and emergency incidents. Based on geographic location, population, infrastructure and the types of structures in the environment, rural firefighting can look quite different from urban or suburban firefighting.
Road accidents. Much like any community, rural fire departments often respond to motor vehicle accidents. The difference here is that rural firefighters must be prepared to respond to accidents on dirt country roads, on county and state highways, and on large interstates that may run through the area.
Grass fires. In the countryside, many roadways are lined with brush and long grasses, which are subject to grass fires after long periods of dry weather.
Structure fires. Serving in both unincorporated and incorporated small towns, firefighters must be prepared to manage many types of structure fires, from homes, garages, barns and machine sheds, to business operations, including commercial, industrial and manufacturing facilities.
Feed mill emergencies. Unique to rural settings, feed mills can present several dangers to members of the community. When grain dust ignites, it presents a dangerous fire situation. Rural fire departments are also called upon to rescue workers who may have accidentally become buried in the grain.
Railroad response and rescue. Many small communities connect commerce and supply chains using railroad lines. Train sparks can ignite grass fires, and derailments are a particularly challenging danger, especially when hazardous materials are being transported.

Wildland and marsh fires. It may seem counterintuitive, but a swamp fire is one of the most dangerous and challenging types of fire rural departments face. Swamps are full of dried organic matter that can burn for weeks at a time once ignited. Rural wildland areas are also prone to wildfires.
Farming accidents. With large tractors and machinery in constant use, there are many types of farm accidents rural fire departments support, including machinery road accidents, tractor turnovers, falls and entanglements.
What Are the Challenges of Rural Firefighting?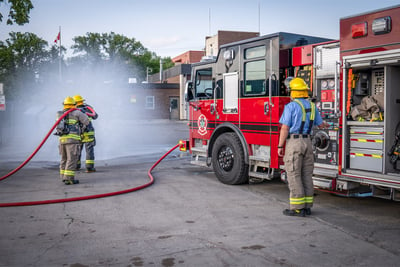 Rural fire departments face a unique set of challenges as they work to protect local communities. Understanding the types of challenges can help highlight how a strategically designed fire apparatus can bring aid and support where it's needed most.

Some of the unique challenges for rural firefighting include:

Response Time. There are several underlying factors that contribute to longer emergency response times to get all the resources needed to a fire in rural communities. During the day, many volunteer firefighters are working other jobs and must travel from their place of employment to the station, or in some cases, directly to the emergency scene to provide support. During the evening hours, more firefighters are readily available, potentially improving response time. The other key factor is the distance required to bring aid. Rural fire departments cover large geographic areas, sometimes over dirt roads or in difficult terrain, contributing to longer response times.

Lack of Water Supply. Water is a lifesaving resource that rural fire departments must bring with them to complete their job. Unlike urban and suburban communities, rural communities may not have consistent fire hydrant placement. As a result, firefighters must transport and use water strategically. Many fire departments have multiple tankers or tender fire trucks that bring additional water to the scene, and they have drop tanks that are filled on scene. Water shuttle is an important element to rural fire fighting. The trucks in the shuttle are filled using a dry hydrant or drawing water from a nearby lake, pond or stream.

Advanced Fire Scenarios. When response times are longer, even small fires have the opportunity to grow larger and more challenging by the time all the resources arrive on scene.

Difficult Access. In rural communities, it's not uncommon to have very long driveways to homes and remote barns, tools sheds and other large structures. Traversing narrow, gravel driveways to access remote structure fires can be a big challenge for firefighters and their trucks and equipment.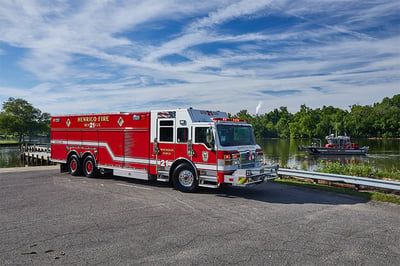 Being Prepared for Anything. When it comes to fighting in rural areas, there is one common theme—firefighters must bring everything they'll need to the scene. Rural fire trucks must be outfitted with a large water supply and a tremendous amount of strategic compartmentation to bring tools and equipment to support many types of emergencies. From drop tank storage to EMS support, chainsaws to shovels, rural fire trucks must include a wide variety of equipment to support every type of emergency.

Broad coverage with limited resources. Rural fire departments service residential, agriculture, industrial and commercial calls. Providing coverage for all types of incidents can be a challenge for firefighters if resources are limited.

Mutual aid is a critical need. Many rural fire departments rely on mutual aid to provide water and manpower. When resources are limited, fire departments must work together to protect citizens of their respective and neighboring communities.


What Types of Trucks Are Best Suited To Meet Rural Fire Department Needs?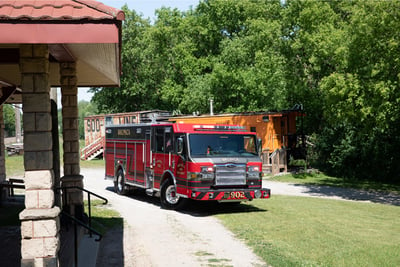 To support the needs of rural communities, there are several common truck types and features you'll often find in rural fire houses.

Trucks with a water pump and larger water tank. Trucks with a water pump and a larger water tank are often ideal in rural environments because first responders need to bring enough water with them to start fire suppression until help arrives. Many rural pumpers are equipped with 1000 to 1500 gallons of water, along with a full compliment of fire suppression equipment, and ample storage for drop tanks and other equipment needs.

Water trucks. Many rural fleets include more than one tanker. The tankers can be a traditional design or elliptical shaped. The primary mission is to bring additional water and equipment to the scene and to be a part of the very important water shuttle, refilling the drop tanks.

Wildland or mini pumper vehicles. Many rural fire departments also have a secondary vehicle that offers four-wheel drive to navigate in rough terrain, snow and brush. Whether they choose a type 3 wildland vehicle, mini pumper, or another supporting vehicle, an off-road truck of some kind is often beneficial to access remote locations.

Equipment vans. Equipment vans are vehicles designed to transport equipment and they are common in rural fleets. These trucks carry extra gear for firefighters arriving directly to the scene and are outfitted with additional equipment that may not fit on other rigs.

Learn more about the types of fire trucks that can support your fire department in our blog: Types of Fire Trucks: An Overview and Comparison.
What Types of Features Are Often Included on Rural Fire Trucks?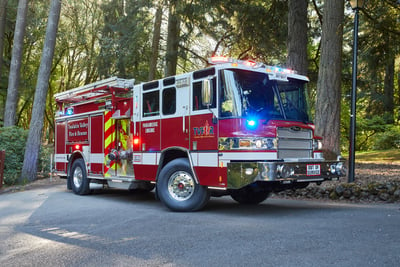 There are several unique fire truck features that are commonly found on rural fire trucks.

NFPA required equipment. The type of call in a rural setting could be anything, so rural fire trucks need to carry a full compliment of NFPA required equipment like ladders, pike poles, axes, portable lights, and fire extinguishers.

Capabilities to carry drop tanks. Drop tanks are almost always included on one or more of the fire trucks in a rural fleet to help manage water supply on scene.

Hard suction hose. When water must be drafted from unpressurized sources, like a pond or creek, a hard suction hose is a critical requirement. Most rural fire departments carry at least 20 feet of hard suction hose on board a rig.

Scene lighting. Because rural environments very rarely have streetlights and ambient lighting is not always reliable, scene lighting is critical to ensure firefighters can appropriately see and manage the situation at the site of an emergency.

Thermal imaging. This is a lifesaving tool that can help locate people trapped in structure fires. Additionally, when fire trucks respond to a vehicle or farm accident where there appears to be no one around, thermal imaging can scan the area to determine if occupants may have been thrown from the vehicle.

CO2 and Liquid Propane (LP) gas detectors. These are critical pieces of equipment on rural fire trucks because many rural residents rely on natural or propane gas to fuel and heat homes. So, having prompt access to gas detectors helps keep neighborhoods safe.

Generators. Rural fire departments often have to travel great distances for emergency response, which means backup power in the form of generators and batteries are often included on board.

Lots of equipment. Everything rural firefighters need to respond in an emergency must be brought to the scene. From chimney cleaning tools to positive pressure fans and drop tanks, fire trucks must include strategic compartmentation to allow firefighters access to the tools required for each unique call.

Below, watch a walk-around video of an Arrow XT™ Pumper fire truck for Star Hose Company No.1 in Port Allegany, PA. Department Fire Chief Michael Johnson talks about how they designed the fire truck to meet the diverse needs of the local community.
Rural Fire Truck Examples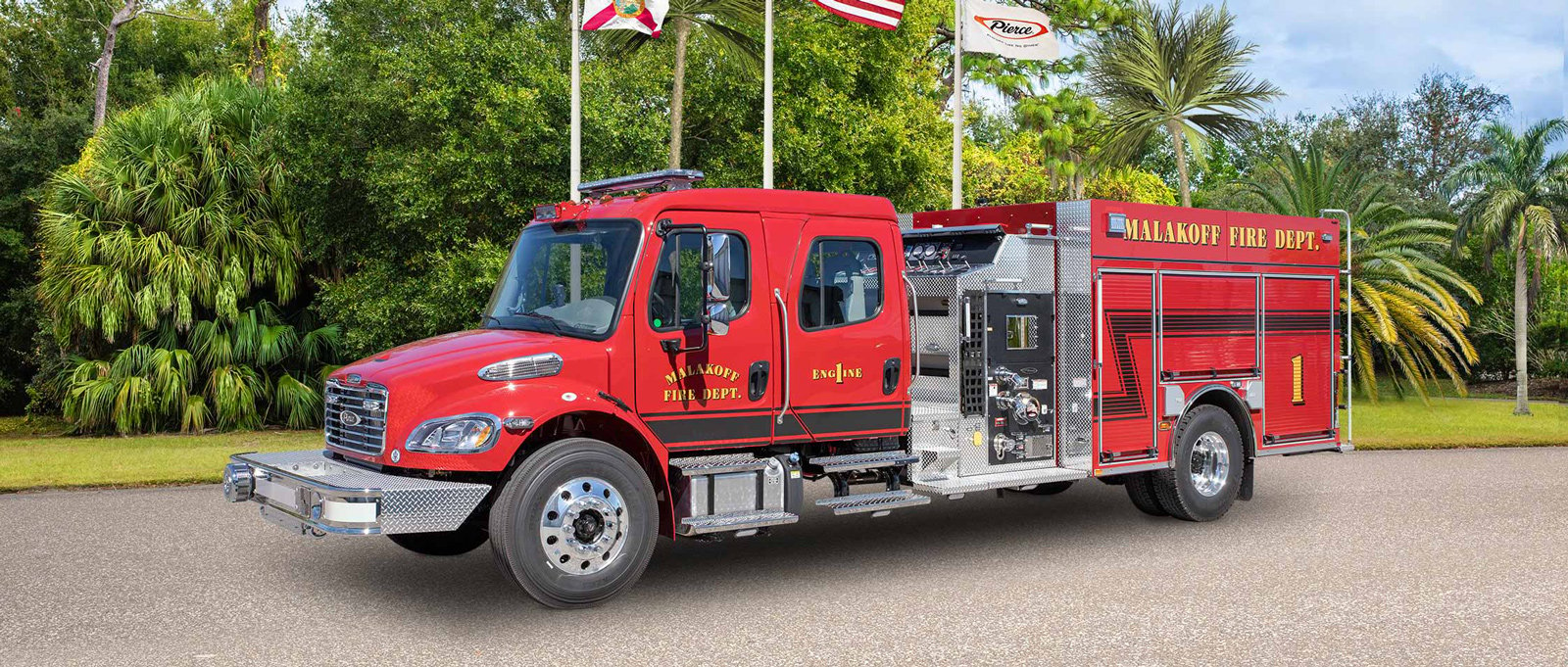 Malakoff Volunteer Fire Department - Pumper
Built on a Freightliner chassis, the pumper truck for Malakoff Volunteer Fire Department features a 360 hp Cummins B6.7 engine, a 1000 water tank, a 1250 gpm water pump with an included foam system.

View more details about this truck now.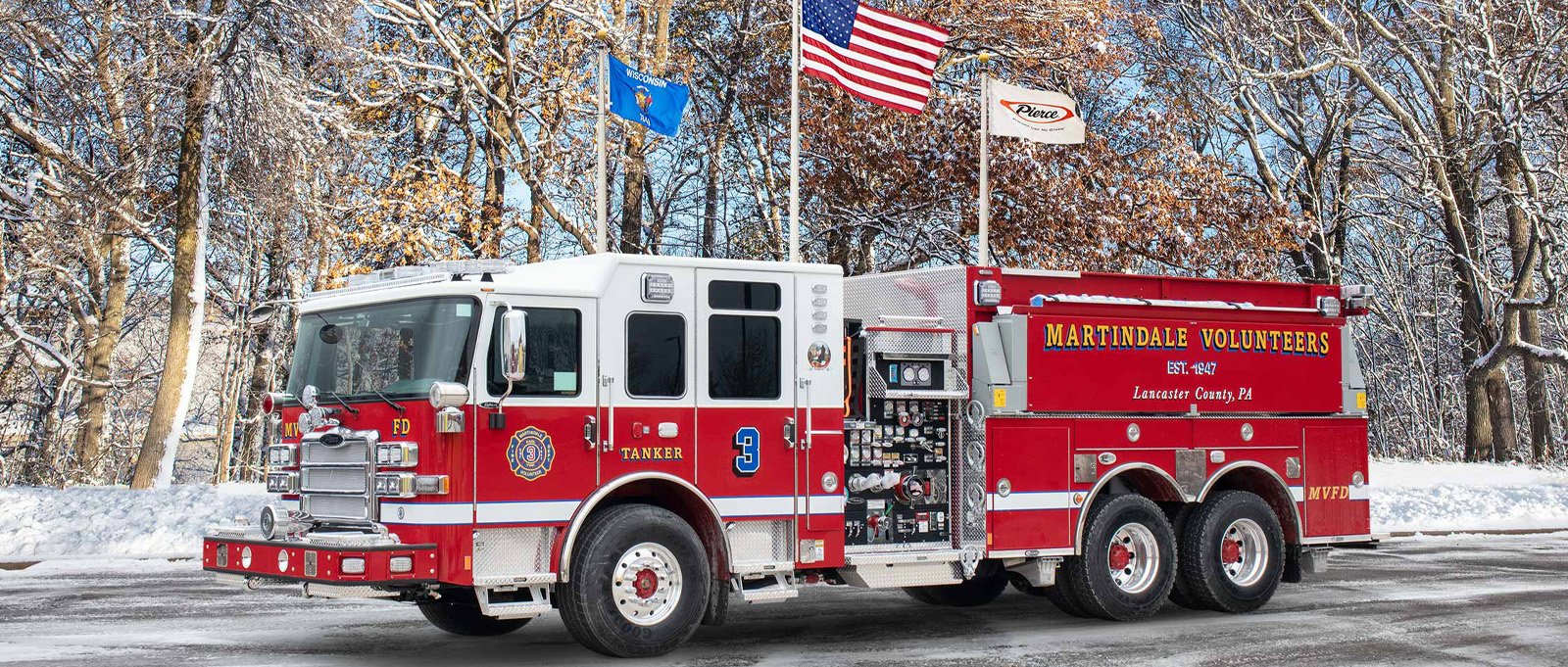 Martindale Volunteer Fire Company - Tanker
The Martindale Volunteer Fire Company tanker fire truck features a 2500 gallon water tank. It is built on an Enforcer™ custom chassis and includes a PACCAR MX-13 engine, a 2000 gpm water pump, dump valves on three sides of the truck, drop tank storage, suction hoses, ladders, and a hydraulic generator.

View more details about this truck now.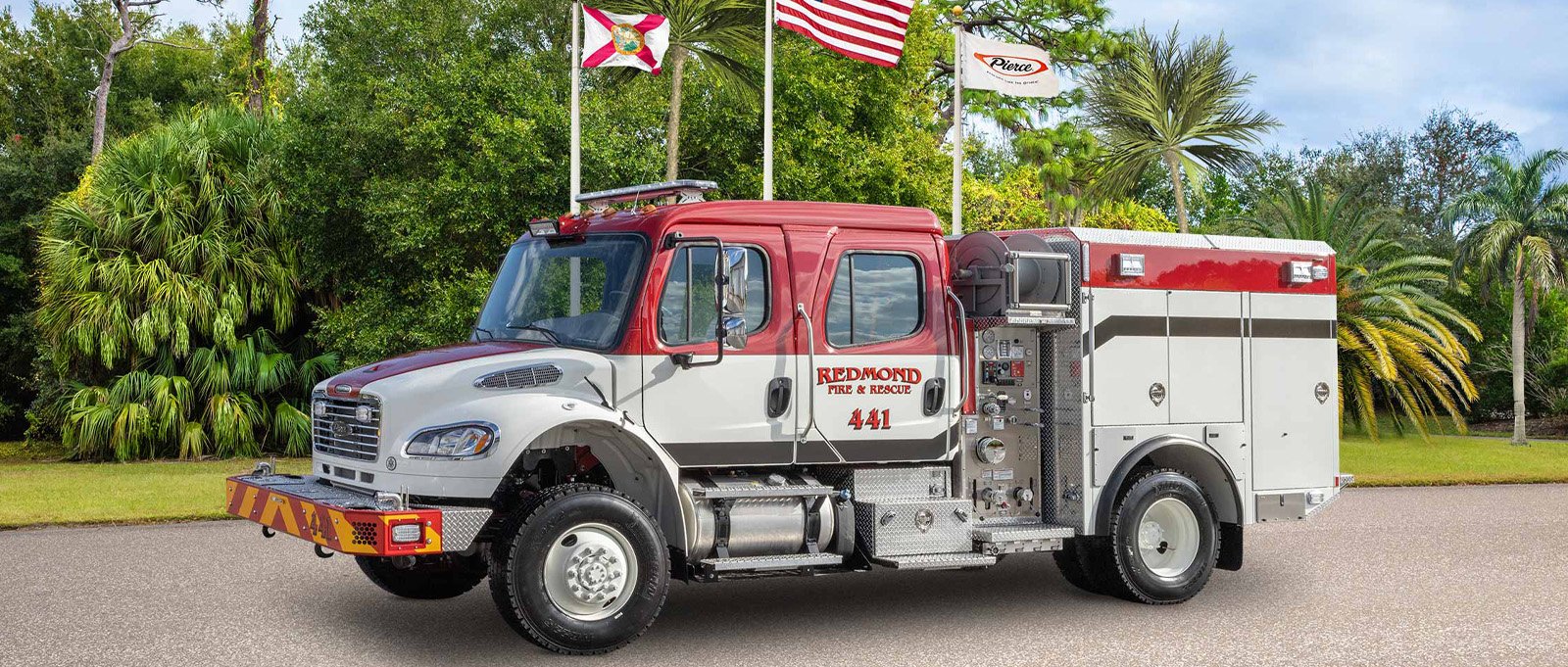 Redmond Fire & Rescue - Pumper
The Redmond Fire & Rescue pumper includes a BX™ Wildland body on a Freightliner chassis. The truck is four-wheel drive and features a 360 hp Cummins B6.7 engine, a 1000 gpm water pump with a hydraulic 150 gpm auxiliary pump, pump and roll operations, a 500 gallon water tank and the Husky™ 3
Foam system.

View more details about this truck now.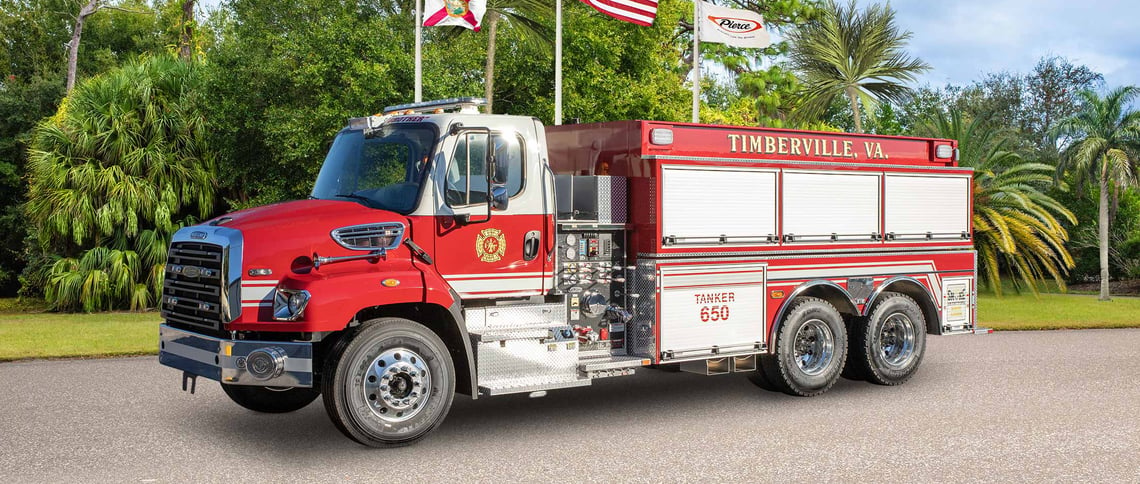 Timberville Volunteer Fire Department - Tanker
The Timberville Volunteer Fire Department BX™ Tanker fire truck is built on a Freightliner chassis with a 400 hp Cummins L9 engine. The truck features a 1250 GPM pump and 3000 gallon water tank.

View more details about this truck now.

If you are looking for a rural fire truck to meet your departments' unique needs, reach out to your local dealer to learn more about the fire trucks and features Pierce Manufacturing can offer for rural communities.

What features do you love on your rural fire truck? Share your thoughts in the comments!